Biggest Weekend Takeaways from the 2013 NFL Scouting Combine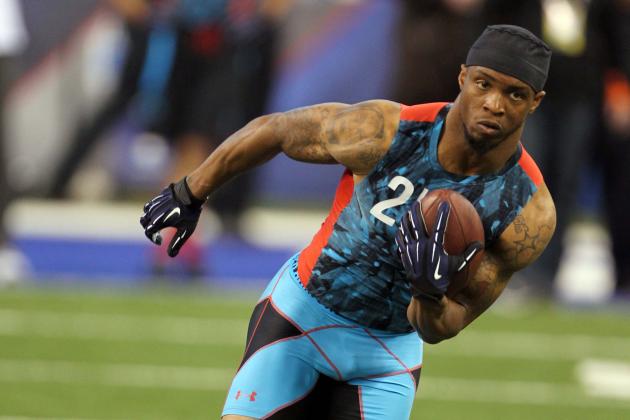 Brian Spurlock-USA TODAY Sports
Tavon Austin was one of this weekend's combine standouts.
It's all about defense for the rest of the 2013 NFL Scouting Combine. Offensive linemen and tight ends took the field Saturday at Lucas Oil Stadium in Indianapolis, while quarterbacks, running backs and wide receivers had their day Sunday.

With the weekend of the combine now behind us, we had our chance to watch many of the top offensive prospects in the 2013 draft class take the field to run 40-yard dashes, participate in on-field drills and take on other athletic tests such as the vertical jump and the three-cone drill.
While ultimately every takeaway from the combine field has to be taken back to the game tape and confirmed, some players certainly made a bigger name for themselves—both in good and bad ways.


All combine results courtesy of NFL.com.
Begin Slideshow

»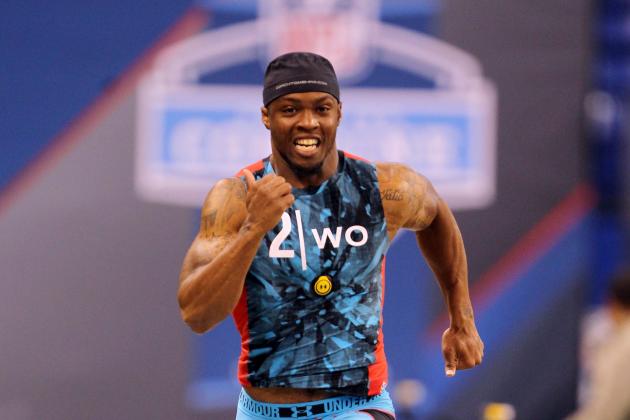 Brian Spurlock-USA TODAY Sports
Tavon Austin had 4.34 reasons to smile Sunday.
If you've ever watched Tavon Austin play, then you already knew that he is a dynamic athlete who does an exceptional job changing direction and making defenders miss in space. On Sunday, he proved just how athletic he is, running a 40-yard dash time that confirms him as one of the fastest players in this year's class.

Austin was officially credited with a 4.34-second 40, the second-fastest time among all wide receivers and the third-fastest time of any player through two days at the combine.

Austin's time should not have a drastic effect on his stock, because he was already considered one of the draft class' best athletes and a potential first-round pick. That said, his time should set him apart from the class as the draft's best slot receiver.

In a surprising move, Austin did not run the three-cone drill, a lateral agility workout in which he was expected to have a very fast time. He did, however, complete the 20-yard shuttle in 4.01 seconds, tied for the second-fastest time among wide receivers in the combine.

Another small but quick and shifty slot receiver who has drawn comparisons to Austin is South Carolina's Ace Sanders, but his combine was a disappointment. With a 40-yard dash time of 4.58 seconds and 20-yard shuttle time of 4.37 seconds, even calling him a poor man's Austin now seems like a stretch.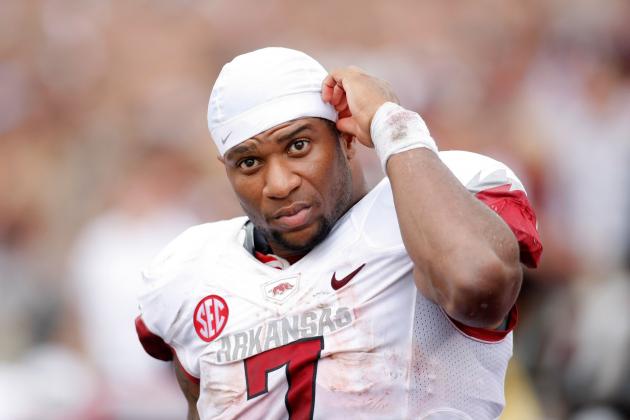 Brett Davis-USA TODAY Sports
Knile Davis is trying to bounce back after two rough seasons.
Going into the 2011 college football season, Arkansas running back Knile Davis looked like a potential future first-round pick. A back with great speed, good open-field moves and also size and strength, Davis had a breakout sophomore season in 2010, rushing for 1,322 yards and 13 touchdowns.

Unfortunately for Davis, he never played a down in 2011 due to a broken ankle. Last season, he didn't look like the same back. He didn't show the same athleticism that he had in 2010, and he struggled with fumbles and only ran for 377 yards as a result.

On Sunday, that athleticism showed up again. Davis ran the 40-yard dash in 4.37 seconds, the second fastest among all running backs. He cut well in on-field drills, tested well across the board and also put up a very impressive number with 31 repetitions of 225 pounds in the bench press.

Until Davis returns to his explosive self in game action, we can't know if he's back to his old form, and as a result, he will likely only be a Day 3 draft pick. But if Davis' performance at the combine is a sign of good things to come, he could end up being a steal in the fourth or fifth round.

Another player who bounced back strong after a rough 2012 season was Washington State wide receiver Marquess Wilson. Wilson, who ended his collegiate career early in November due to differences with coach Mike Leach, needed to perform well Sunday, and he did.

Wilson caught everything that came his way in the on-field drills, looked smooth running routes and tested well, including a 4.51-second 40-yard dash.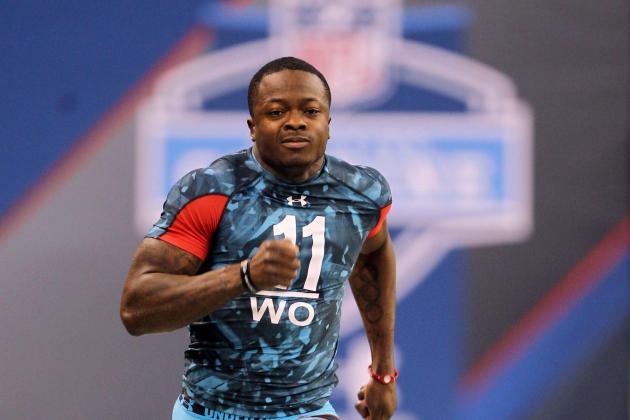 Brian Spurlock-USA TODAY Sports
Marquise Goodwin is the fastest player through two days at the combine.
Austin and Davis weren't the only players to run blazing-fast times at the combine this weekend. In total, seven players ran official 40-yard dash times faster than 4.4 seconds Sunday, the first time since 2008 that seven or more offensive players ran sub-4.4 40s.

The fastest time, unsurprisingly, came from Texas wide receiver and defending U.S. Olympic Track and Field Trials long jump champion Marquise Goodwin. Goodwin's official time of 4.27 seconds was the fastest since Chris Johnson's 4.24 in 2008.

Auburn running back Onterio McCalebb and Texas A&M wide receiver Ryan Swope both proved their speed on Sunday, tying Austin for the second-fastest time at 4.34. Davis, Oklahoma wide receiver Kenny Stills and TCU wide receiver Josh Boyce were the other players to break 4.4.

In total, 19 players ran faster than 4.5 seconds on Sunday, proving that there is no shortage of fast wide receivers and running backs in the draft class. On Saturday, Arkansas' Chris Gragg ran the fastest time among tight ends in 4.50 seconds.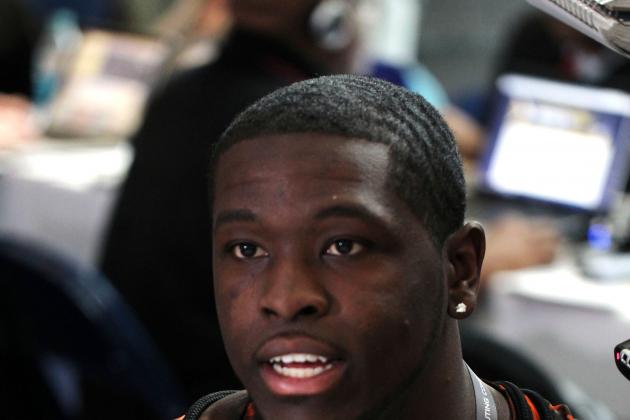 Brian Spurlock-USA TODAY Sports
Terron Armstead made a big name for himself on Saturday.
The speed wasn't limited to the skill positions this weekend. The most impressive 40-yard dash time of all may have come from Arkansas-Pine Bluff offensive tackle Terron Armstead.

Armstead was already known to be one of the draft class' most athletic offensive linemen coming into the combine, but he proved just how special of an athlete he is Saturday. The 306-pound lineman ran the 40 in 4.71 seconds, a record for offensive linemen. He also reached 34.5 inches in the vertical jump, the best mark among offensive linemen, and was fourth among linemen with a broad jump of 9'4".

Armstead proved that he has a rare combination of size, length (34-inch arms) and athleticism. That makes him a very intriguing project as a left tackle and a likely Day 2 selection.

Armstead wasn't the only athletic standout among offensive tackles. Oklahoma's Lane Johnson, a former tight end who is now a projected top-15 pick as a left tackle, was also fantastic. Johnson ran a 4.72-second 40-yard dash, vertically jumped 34 inches and led all linemen with a 9'10" broad jump.

One other offensive tackle who was expected to stand out athletically was Florida State's Menelik Watson, but he was a disappointment. Watson's 40 time was only 5.29, his three-cone drill time of 8.31 seconds was the worst of every offensive lineman in the drill, and he failed to finish among the top 20 linemen in any of his athletic measurable tests.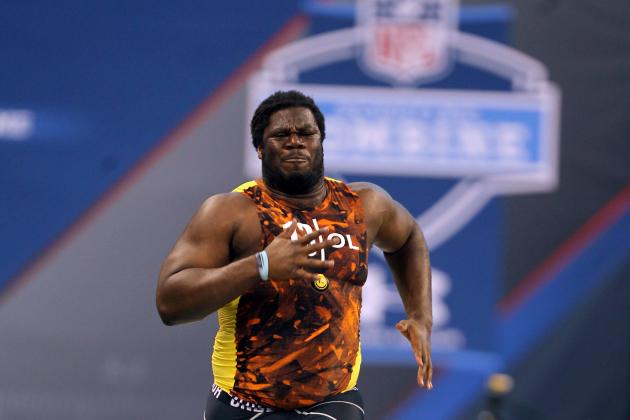 Brian Spurlock-USA TODAY Sports
Jonathan Cooper had an excellent day Saturday.
North Carolina's Jonathan Cooper has rare foot speed and mobility for a guard, which was clear on Saturday. Cooper's movement skills stood out in on-field drills, and he made an overall very strong case to challenge Alabama's Chance Warmack to be the first guard drafted.

Cooper developed into a dominant guard over the past four years at UNC, exhibiting a rare combination of athleticism and strength for an interior lineman. He would be the clear-cut top guard in most draft classes; he just happens to be in the same draft class as Warmack, an outstanding guard prospect in his own right.

Both players stand out on a consistent basis on the field, but if Warmack led the battle coming into the combine, Cooper made up serious ground in Indianapolis. The combine was much more favorable to his athletic skills, while Warmack did not look particularly athletic in the drills and failed to stand out from his competition.

Cooper was best in on-field drills, but he also put up good numbers in the measurable drills. Cooper's 40-yard dash time of 5.07 seconds was in the top 10 among offensive linemen, while he also had an outstanding showing in the bench press with 35 repetitions of 225 pounds.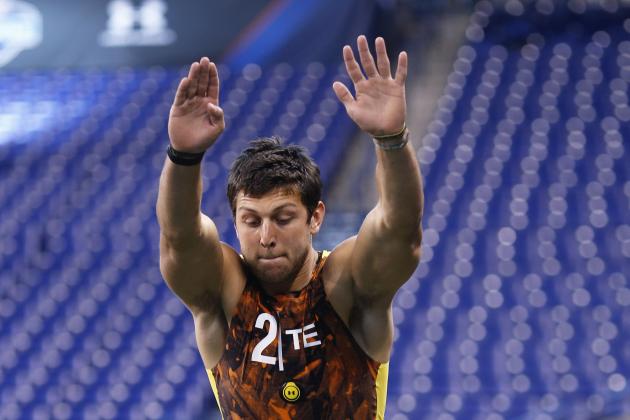 Joe Robbins/Getty Images
Tyler Eifert's athleticism stood out Saturday.
Coming into the combine, some members of the draft media ranked Stanford's Zach Ertz ahead of Notre Dame's Tyler Eifert as the top tight end in the 2013 draft class. If they plan on sticking with that evaluation, it will be much more difficult to justify after Saturday.

While Ertz is a better in-line blocker than Eifert, Eifert is a bigger receiving threat and better athlete, and he proved that on Saturday.

Eifert ran a 4.68-second 40-yard dash, vertically jumped 35.5 inches, broad-jumped 9'11" and had a tight end-best time of 6.92 seconds in the three-cone drill. Ertz's measurables were less impressive (4.76 40, 30.5-inch vertical jump, 9'3" broad jump and 7.08 three-cone drill).

Eifert already came in with a first-round grade on my board while Ertz was in as a second-round pick, but the gap widened as Eifert stood out among the entire tight end group on Saturday.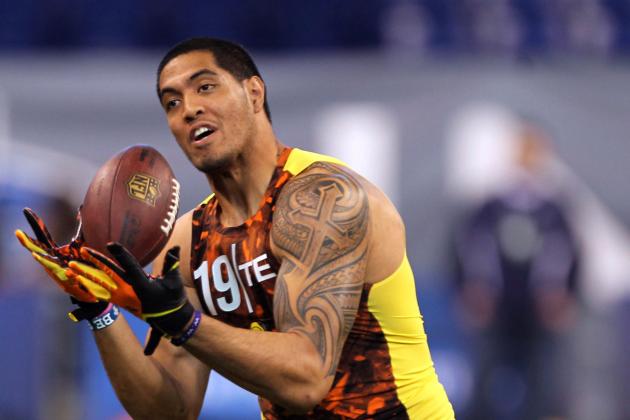 Brian Spurlock-USA TODAY Sports
Levine Toilolo had trouble keeping the ball in his hands Saturday.
One of the easiest things to expose in skill-position players at the combine is poor ball-catching ability. A number of tight ends and wide receivers were unfortunate victims of this during on-field drills this weekend.

On Saturday, Michigan State tight end Dion Sims and Stanford tight end Levine Toilolo both struggled to catch the ball throughout on-field drills. Sims (6'5", 262) and Toilolo (6'8", 260) are both intriguing in-line blocking prospects, but both had many passes go off their hands Saturday and struggled to track the ball.

As it stands, Sims and Toilolo should be early Day 3 draft selections, with both being very solid blocking tight ends but needing to become more polished receivers.

On Sunday, it was Tennessee Tech and former Tennessee wide receiver Da'Rick Rogers who had trouble securing the ball. Although Rogers did a decent job making plays during the deep passing drills, he dropped a number of passes on short and intermediate routes.

Eastern Kentucky's Tyrone Goard and Oklahoma's Kenny Stills were among the other receivers who had issues with drops Sunday.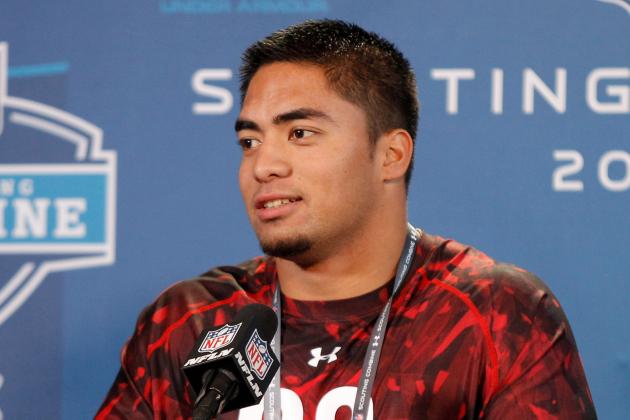 USA TODAY Sports
Manti Te'o made headlines addressing the media Saturday.
Notre Dame linebacker Manti Te'o addressed the media Saturday for his first press conference since Deadspin unveiled his girlfriend hoax on Jan. 16. It was clear that Te'o, likely with the help of his agent and public relations professionals, used that time to prepare for the onslaught of questions he would face Saturday.

Te'o knew he would have to answer questions about the incident, and he handled the questioning with professionalism and grace. While Te'o (unsurprisingly) said nothing particularly revealing about the situation, he did not say anything to stir up any further controversy and answered the questions he was asked.

The New York Times documented what Te'o said about the incident affecting his family:
That had to be the hardest part. And for me, something that I've always had a problem with is when I can't do something about it, I can't help. To know that my family was in this situation because of the actions I committed was definitely the hardest part for me.
While Te'o came across well with the media, one player who may have been a little too honest was LSU defensive end Sam Montgomery.

Montgomery not only told the media about a $5,000 bet he has with fellow LSU pass-rusher Barkevious Mingo for who will be drafted first (it will be a major upset if he wins that bet), but also about his lackluster effort in some games of his college football career.
"You know, some weeks when we didn't have to play the harder teams, there were some times when effort was not needed," Montgomery said (h/t USA Today).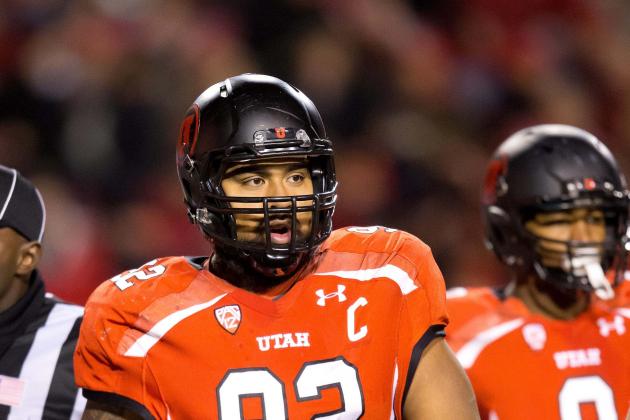 Russ Isabella-USA TODAY Sports
Star Lotulelei won't get a chance to work out at the combine.
In my most recent mock draft, I had Utah defensive lineman Star Lotulelei and Georgia outside linebacker Jarvis Jones tabbed as the first two picks. Either prospect going into the top two seems far less likely after this weekend's developments at the combine.

Jones' medical concern surrounding spinal stenosis, a condition he has which increases his susceptibility to spinal cord injuries, has been well known throughout the draft process. But while NFL.com's Gil Brandt tweeted on Feb. 12 that Jones had been cleared by doctors medically, team doctors at the combine apparently didn't see it the same way.

According to a Saturday report from TFY Draft Insider, there is "word circulating" that Jones could have a "Da'Quan Bowers type drop" in April's draft. Bowers, once on top of many boards leading up to the 2011 NFL draft, ended up falling all the way to the No. 51 overall pick due to medical concerns.

The more stunning medical news of the weekend, however, came for Lotulelei. ESPN's Chris Mortensen reported Sunday that Lotulelei would not work out at the combine due to a heart condition.

While it remains unclear whether Lotulelei's condition is chronic, it certainly presents a significant medical red flag that makes him a sure-fire first-round pick no longer.

A number of players suffered injuries during workouts over the weekend as well. Two running backs, Clemson's Andre Ellington and Notre Dame's Theo Riddick, pulled up running their 40-yard dashes and did not participate in any further drills. The bench press also claimed two victims, Rutgers tight end D.C. Jefferson and USC center Khaled Holmes, to pectoral injuries Friday, according to Pro Football Talk.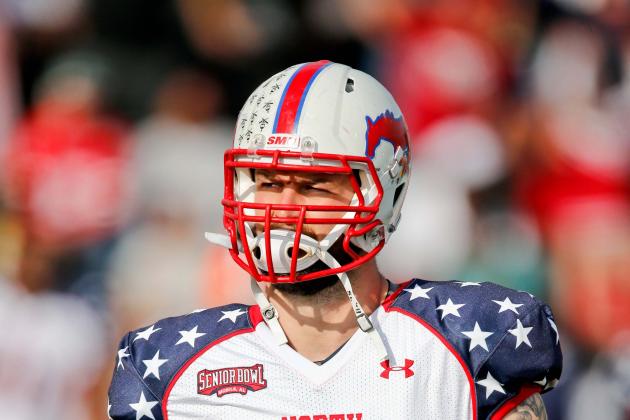 Derick E. Hingle-USA TODAY Sports
Margus Hunt will be a player to watch Monday.
SMU defensive end Margus Hunt had a very up-and-down collegiate career, but if there's any player primed to start a hype train with his workout Monday, Hunt is a great candidate. With a rare combination of height, size and athletic ability, Hunt could prove to be the freak of nature of this year's combine.

Hunt, who weighed in at 6'8" and 277 pounds with 33.75-inch arms Saturday, followed that up Sunday with 38 repetitions of 225 pounds in the bench press, tied for the best mark among all combine participants thus far. These numbers are already very intriguing, and he could really build upon that if he tests well Monday.
Tying Hunt in the bench press Sunday was 6'1", 335-pound Missouri Southern State defensive tackle Brandon Williams, who could surprise people with his athleticism Monday.

Other impressive bench press participants who should test well Monday, when defensive linemen and linebackers take the field, include Missouri defensive tackle Sheldon Richardson (30 reps), LSU defensive tackle Bennie Logan (30 reps) and LSU linebacker Kevin Minter (25 reps).

What else stood out to you from the combine over the weekend? Let us know in the comments below!

Dan Hope is an NFL Draft Featured Columnist for Bleacher Report.