Duke Basketball: Comparing Each 2013 Player to a Past Blue Devil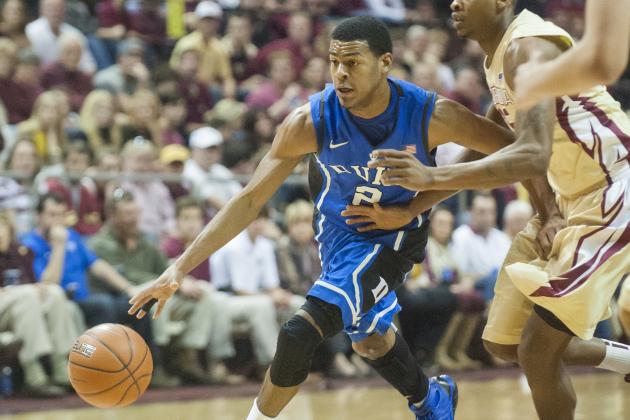 Jeff Gammons/Getty Images

Mike Krzyzewski doesn't talk about comparisons. He doesn't do it because it's not fair to the players.
Instead of telling a guy like Alex Murphy to be the next Kyle Singler, he would tell him to be the first Alex Murphy.
Krzyzewski does the same thing with his teams. He treats each season and team as its own individual unit and does not compare it to seasons past. Its part of the motivation he uses to get a team to strive to win its own championship.
Yet, for the fans, comparisons are a fun and interesting conversation. We like to look at the players on the current roster and argue about how they would fare against past members of the Duke basketball program.
So, without the permission of Coach K, let's look at how each member of the 2013 Duke basketball team compares to a past Blue Devil.
All statistics and measurements from GoDuke.com.
Begin Slideshow

»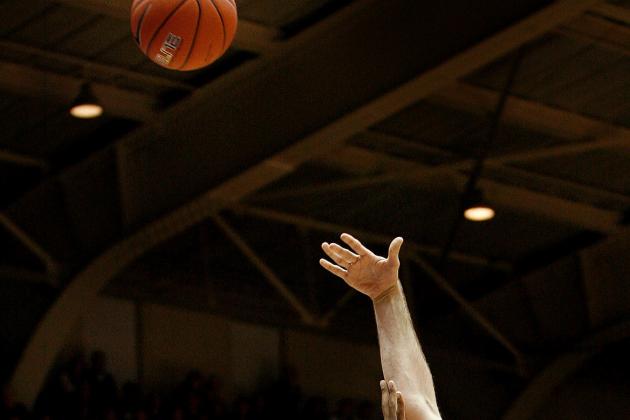 Mark Dolejs-USA TODAY Sports

Todd Zafirovski is a walk-on who rarely sees game action but contributes to the team with his effort in practice.
At 6'9", 245 pounds, Zafirovski is a big body who helps prepare guys like Mason Plumlee and Josh Hairston for the physical pounding they will take against other teams' frontcourt players.
Patrick Johnson served a similar role for the Blue Devils from 2002-2006.
At 6'9", 250 pounds, Johnson had the same physical frame as Zafirovski and was expected to bang in practice against guys like Shavlik Randolph and Shelden Williams.
Although neither filled up the box score during their careers at Duke, both were fan favorites who put in a tremendous amount of effort to help their teammates improve.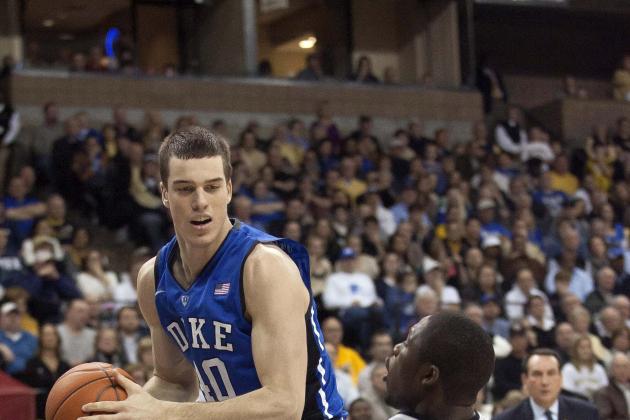 USA TODAY Sports

It is challenging to come up with a comparison for Marshall Plumlee because we have seen so little of him, but he appears to be an athletic player with a very raw game.
Although he has some similarities to his older brother, Miles, Marshall also appears to have many similarities to Erik Meek.
Meek was a 6'10", 240-pound center for the Blue Devils from 1991-1995 and served as a role player for most of his career. Meek was an athletic presence but didn't contribute much statistically until his senior year, averaging 10 points and eight rebounds per game.
Although Duke needs Marshall Plumlee to become a major contributor next season, he might follow the path of Meek's career and take some time to develop.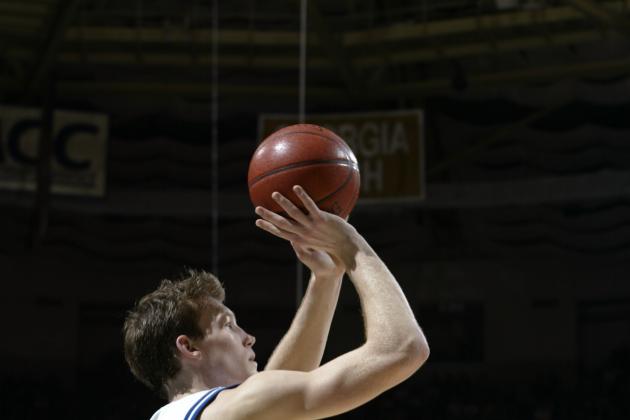 Craig Jones/Getty Images

When you watch Alex Murphy play, it's clear he has all the physical tools to be a special player.
He can knock down outside shots or drive the ball to the basket and finish at the rim.
Mike Dunleavy Jr. played the game the same way when he was at Duke from 1999-2002. Dunleavy Jr. was a difficult matchup for opponents because of his terrific outside shooting touch and his ability to beat people off the dribble.
Murphy's biggest struggle has been playing with confidence and thinking too much when he's on the court. If he can learn to trust his ability, he will contribute in the ways Dunleavy Jr. did when he was a Blue Devil.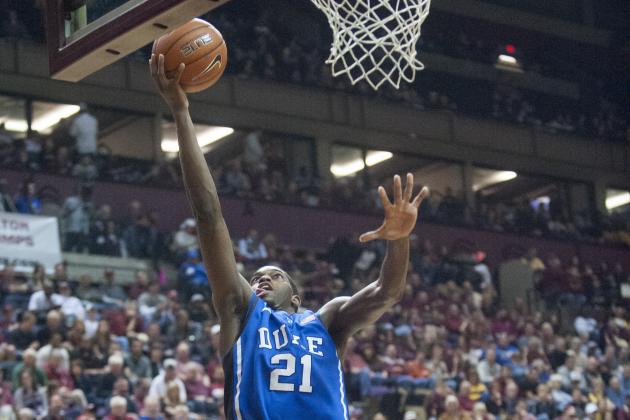 Jeff Gammons/Getty Images

Amile Jefferson is a long, quick forward who lacks the bulk that most frontcourt players have. Instead of strength, Jefferson uses his long arms and quickness to make plays on both ends of the floor.
Although he is already much further along in his development as a freshman, Jefferson's style of play is similar to Lance Thomas.
Both players are 6'8", and do not be surprised if Jefferson, who is currently 195 pounds, ends up at a similar weight as Thomas, who weighed 230 pounds by his senior season.
The two have similar roles on the team, but it appears the ceiling is much higher for Amile Jefferson.
Streeter Lecka/Getty Images

A physical player who was recruited as a point guard but developed a role as a defensive stopper who occasionally makes outside shots.
That statement perfectly describes Sean Dockery and Tyler Thornton.
Dockery was a backup point guard who worked hard to develop his shooting range but earned playing time because of his tough defense. Thornton has earned a similar role during his three years as a Blue Devil.
Let's hope Thornton can follow in Dockery's footsteps and make a game-winning buzzer-beater from half court.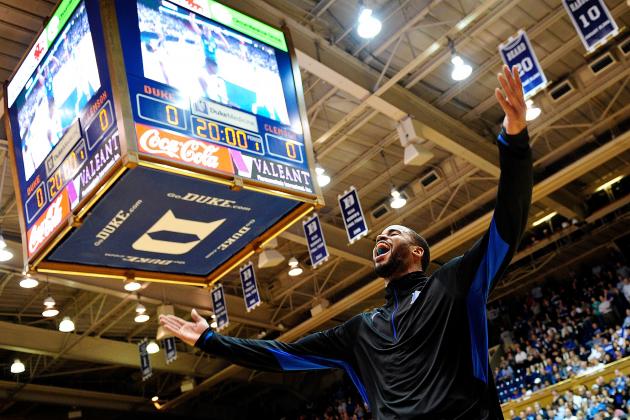 Grant Halverson/Getty Images

In his three years at Duke, Josh Hairston has become known as a guy who plays hard and is always willing to set screens and take charges.
He doesn't do much to create his own offense but occasionally has success playing as the second big man who gets opportunities to score because of all the attention on Mason Plumlee.
Jay Bilas had the same sort of game when he played at Duke from 1983-1986. Bilas could knock down the mid-range jump shot and benefited from playing alongside Mark Alarie, who was Duke's primary scorer in the post.
Bilas was a better all-around player than Hairston will probably ever be at Duke, but the two have very similar styles.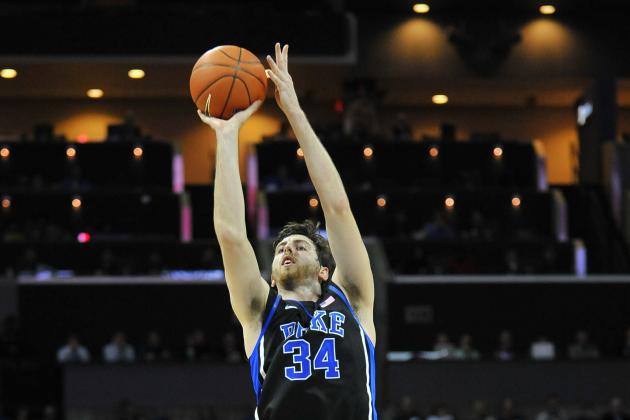 Lance King/Getty Images

Ryan Kelly is not anywhere near as good as Danny Ferry was when he played at Duke.
Ferry was the 1989 National Player of the Year and helped lead the Blue Devils to three Final Fours during his career.
At 6'10", 230 pounds, Ferry had the frame to be able to make plays in the post, but what made him difficult to defend was his deadly outside shooting touch. Ferry was also talked about by opposing coaches as having a tremendous basketball IQ.
Sound familiar?
Before being sidelined with a foot injury, Ryan Kelly was shooting over 52 percent from beyond the three-point line. He is also regarded as one of the smartest players in college basketball.
Even if Ryan Kelly is a poor man's Danny Ferry, that's quite a compliment to Kelly's game.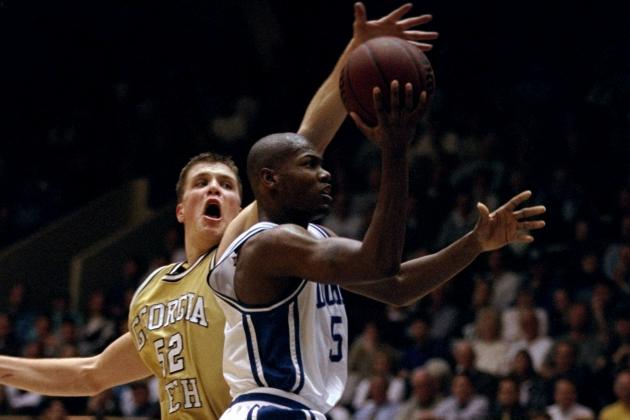 Craig Jones/Getty Images

It is a challenge to compare Quinn Cook to just one player in the past because there are elements of his game that remind you of multiple Blue Devils.
At times, he combines the passing ability of Bobby Hurley with the defensive pressure of Tommy Amaker and the shooting touch of Chris Collins.
But because of his ability to make plays in the lane and his streaky shooting, Quinn Cook plays a lot like William Avery.
Avery, who played at Duke from 1997-1999, was a point guard with a better shooting stroke than Cook but not quite as good a passer or defender.
Unfortunately for the Blue Devils, Avery declared for the NBA draft after his sophomore year and went on to a disappointing career in the NBA. Hopefully, Cook will accomplish much more during his time at Duke.
Jeff Gammons/Getty Images

To compare any player to Johnny Dawkins is dangerous.
Dawkins is the recruit Mike Krzyzewski credits for helping establish Duke as an elite basketball program and is one of the greatest Blue Devils of all time.
Yet, Rasheed Sulaimon is showing all the tools and is one of the most impressive all-around freshman guards to play at Duke in a long time.
Sulaimon's long arms and quickness make him an excellent perimeter defender, and he has a silky-smooth jump shot that is becoming increasingly difficult to stop.
Johnny Dawkins had one of the most impressive four-year careers in Duke history, but Sulaimon is showing the potential to have his own incredible career as a Blue Devil.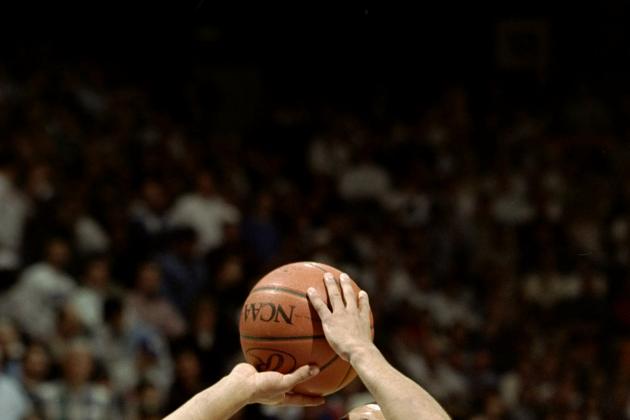 Todd Warshaw/Getty Images

Trajan Langdon played at Duke from 1995-1999 and was known for his incredible outside shooting ability.
Known as the "Alaskan Assassin," Langdon is one of the most prolific shooters in Duke history, who finished his five-year career at Duke with a senior season where he averaged 17 points per game while shooting over 44 percent from three-point range.
The numbers for Seth Curry, who is also a fifth-year senior, are nearly identical.
Similar to what Curry is going through this season, Langdon had to battle a leg injury that took away some of his explosiveness and quickness.
And it appears both share the same coldblooded ability to knock down big shots in clutch moments.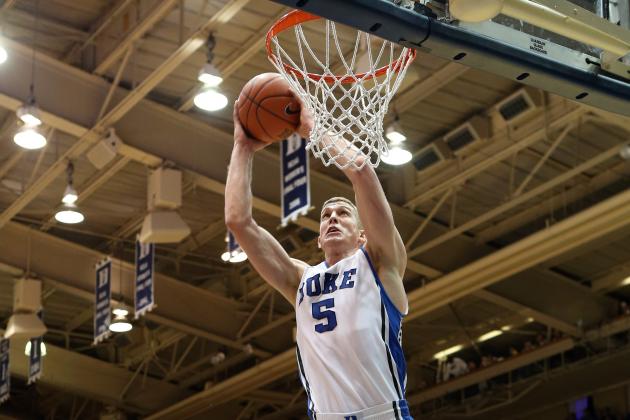 Streeter Lecka/Getty Images

In many ways, Duke has never had a player like Mason Plumlee. His combination of size, speed and leaping ability are something you don't usually see from a Blue Devil.
But his steady growth over the course of a four-year career and emergence as a star during his senior season is nearly identical to what happened with Cherokee Parks.
Parks, like Plumlee, won a national championship as freshman and continued to develop until he became one of the best players in the country as a senior.
Cherokee Parks played at Duke from 1991-1995 and usually doesn't get mentioned in the conversation of great Duke big men. Ironically, I think Mason Plumlee will be viewed in the same light.