There are moments in sports that fans will always remember. There are people that can't recall birthdays or anniversaries, but they'll remember what pair of socks they were wearing when they witnessed that one big sports moment in their lives. For some, UFC 157 may have been one of those moments.
If I were to venture a guess, UFC president Dana White will be one of those people. It'll be easy for White to remember what he was wearing on Saturday night. It was, after all, a pay-per-view fight card, so black shirt, black suit, black shoes was the uniform, but I'll venture a guess that he'll also be able to tell you much more about the evening when the first women's bout took place inside the Octagon.
However, it should be noted that some did not share White's enthusiasm for the event. After the night had come to a close, Fuel TV's Ariel Helwani caught up with White, who had the following to say: "It's 2013. I never realized the hate that some weirdos have in this country about women in sports until we did this fight. It's sickening and it's ridiculous."
If you think Dana White is referring to fans outside of the MMA bubble, you'd be partially correct, and that's somewhat easy to understand. Let's face it, not everyone is going to enjoy seeing two athletes stand inside a cage and attempt to do bodily harm to each other, male or female. That's just an undeniable fact.
The more puzzling group of "weirdos" are those that are in fact fans of MMA that vomited out their opinions on UFC 157's main event, some of which were collected here.
I'm not the most enlightened person, but when it comes down to this thing called MMA, I don't care who's fighting inside that cage or ring. If they've trained to do so and are talented enough to do so as professionals on the biggest stage, I'm going to watch and I'm going to do so without judgment or hesitation. Why others are looking down at a women's fight is something I can't comprehend.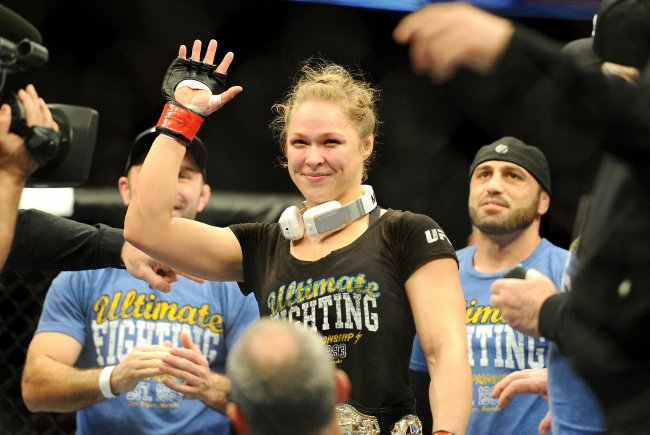 Jayne Kamin-Oncea-USA TODAY Sports
Well, maybe I shouldn't say that. It is something I can comprehend, and it's pretty ugly and dumb when you boil it down to its core, which seems to be some type of mentality that says women (or is that girls?) don't belong in combat sports.
That's an indefensible position. An outdated and indefensible position. Anyone that tries to justify their sexism (and yes, that is what it is) through some convoluted reasoning is lying.
You know when White goes off and tells fans that he doesn't want their money? I would venture to guess that the people who refused to purchase UFC 157 because it was "two chicks" in the main event would fall squarely into the group that he would be glad to never receive another dime from.
What really shocks me about all of this is the fact that White is one of the most influential figures in sports. One could argue that he is the most popular figure in the UFC and his fans are usually rabidly loyal to the UFC boss, at times blindly supporting him to a fault. That they didn't follow his lead on this move is pretty depressing.
At this point it seems like WMMA is going to be around in the UFC for a while and that's nothing but a good thing; for those that think otherwise, we'll be here waiting for you when you catch up with the times.