Ten Head Coaches Who Could Be Job Hunting After 2009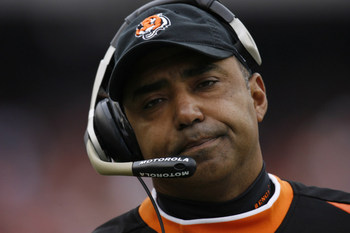 With the 2009 season still a few months away, I figured I'd take an early look at some of the potential head coaching vacancies to watch out for in 2009.
A few interesting coaches are on this list that you may or may not expect. I believe with the three big head coaches becoming available once again in 2010 (Cowher, Holmgren, Shanahan), it could shake things up once again in the NFL Coaching Carousel.
Here is a glance at some of the names I believe could be shown the pink slip come the end of the 2009 season.
Jack Del Rio—Jacksonville Jaguars
Jack Del Rio is an interesting name to put on this list. He has been the head honcho since the 2003 season for the Jaguars. Over the course of his six seasons as head coach, he has had four winning seasons, two playoff births, and one trip to the divisional round of the playoffs in 2007, where he lost to the undefeated New England Patriots.
The problem here is that Del Rio has only one playoff win in six seasons and is coming off of a 5-11 season with a fourth place finish in the AFC South. He'll return for a seventh season, but this could be the make or break season for Del Rio.
Lovie Smith—Chicago Bears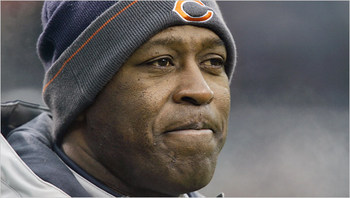 I couldn't decide if I wanted to put Lovie's name on this list, but in the end, I decided I needed to. Despite the acquisition of Jay Cutler, I wouldn't guarantee Lovie's job just yet. He is just 16-16 since his loss in Super Bowl XLI and hasn't been to the playoffs since then either.
The Bears have brought in Jay Cutler and Orlando Pace and are making all the right moves so far in terms of getting back to the playoffs. They will definitely need to address the wide receiver spot in the first or second round of the draft.
A make or break season for Lovie. I could see him being let go if the team fails to make the playoffs for the third consecutive season.
Jim Zorn - Washington Redskins
Jim Zorn got his first taste as an NFL head coach last season when he was named as the heir to Joe Gibbs. He finished the season 8-8, but last in the NFC East.
Owner Daniel Snyder missed out on grabbing his franchise quarterback when the Bears came along and took Jay Cutler off the Broncos hands. With that said, it raised the question if the Redskins were trying to lure veteran coach Mike Shanahan here by attempting to trade for his former quarterback.
Pending a deep playoff run, I think with Snyder's money, we'll be seeing one of the big three (Cowher, Holmgren, Shanahan) here in 2010.
Norv Turner—San Diego Chargers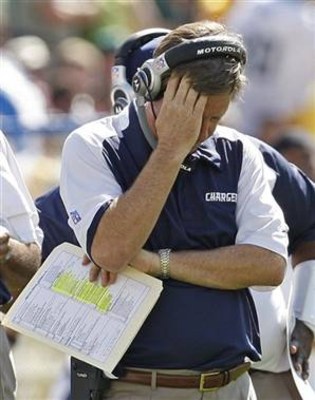 Norv Turner made it to the AFC Championship game in his first year as Chargers head coach, but despite winning the division title in a very weak AFC West, he managed to do so with an 8-8 record. He made it to the divisional round before they lost to the would-be Super Bowl winning Steelers.
If the Chargers take another step back in the win column, the pink slip could be on Turner's desk come the Monday following his Week 17 game.
Dick Jauron—Buffalo Bills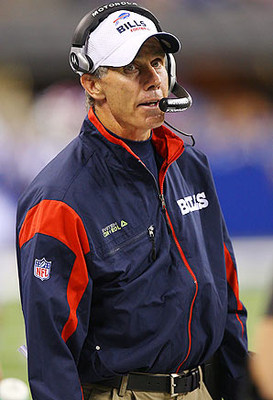 Dick Jauron has spent three seasons running the ship in Buffalo. He has failed to make it over the .500 mark in each of the last three seasons, recording a 7-9 record in all of them.
Jauron is getting another key playmaker on this team, but will also lose one for perhaps the first three games of the season. Terrell Owens joins the team on a one-year deal and with him next to Lee Evans, you can bet Trent Edwards is going to have a solid touchdown number this season.
Marshawn Lynch won't be around for the first three games this season (pending an appeal)...and that will hurt. The Bills do have Fred Jackson on the roster, but he's currently complaining about a contract, and right now holds the leverage over his team because of the Lynch suspension and the fact that they will need to rely on him to start in his place.
Jauron is going to face the challenge of being in one of the toughest divisions, if not the toughest in the entire league. The Dolphins won the division at 11-5 last season, the Jets are going to be a force to be reckon with on defense with the addition of Rex Ryan as their head coach, and the Patriots' prodigal son returns behind center.
Pending a 9-10+ win season, I think Jauron could be replaced at the end of the year, but the Bills will definitely give him the full year to prove his value.
Tom Cable—Oakland Raiders
Why Tom Cable you ask? Well...it's because he's the head coach of the Raiders. You might have better job security working at a local Home Depot.
Cable did his best to clean up the mess Lane Kiffin left before he was fired after going 1-3 to start the season. Cable went 4-8 to close out the 2009 season and give the Raiders a 5-11 record overall.
At this point, with the Raiders only have 24 wins in 96 tries over the past six seasons, I don't think anybody on the Raiders roster or coaching staff are safe.
Al Davis needs to get somebody in there with experience. Could he make a run at one of the big three on the market next year? Holmgren, Shanahan or Cowher?
Wade Phillips—Dallas Cowboys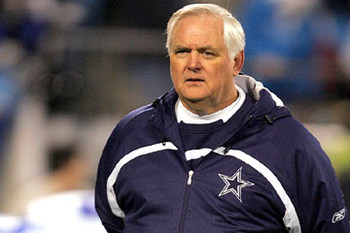 I believe Wade Phillips is a goner barring a deep postseason run...if he even makes it that far. If this team is under .500 around week seven or eight, I could definitely see the always unpredictable Jerry Jones pulling the trigger on Phillips and hiring assistant head coach/offensive coordinator Jason Garrett midseason.
Tony Romo's play will have a lot of effect on Phillips job security. If Romo can get the Cowboys off to a good start to the 2009 season, it would definitely help.
Romo missed three games last year and the fact that backup Brad Johnson went 1-2 in those missed games. The Cowboys went out and got Jon Kitna to replace Johnson as Romo's backup. Significant difference and excellent backup. The Cowboys should make a playoff run.
Gary Kubiak— Houston Texans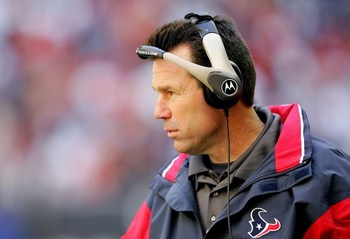 Texans head coach Gary Kubiak appears to be in what could be his final season with the Texans. He has gone 8-8 over the past two seasons and is probably going to need a playoff spot to keep his spot on this team.
Personally, I am not a Texans fan, but I always show some sort of interest in expansion teams. I am waiting for this team to get over the hump and make it in to the postseason for the first time in their seven year tenure in the NFL.
I am not sure if Kubiak is the guy that is going to do it though. I think the Texans will finish with around 7-8 wins once again and Kubiak will be shown the door for someone who can get them to the playoffs.
It doesn't help when you share a division with the Tennessee Titans, Indianapolis Colts and the Jacksonville Jaguars either....
Brad Childress—Minnesota Vikings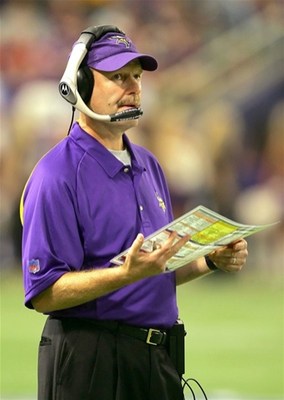 It's hard to believe that Brad Childress is still the head coach of the Minnesota Vikings right now. Childress has won two more games during each of the past three seasons (6-10 in 2006, 8-8 in 2007, 10-6 in 2008), but it just appears they might be a new head coach and a quarterback away of being a solid contender.
I believe we could be seeing a new head coach in there perhaps midseason if the Vikings don't get off to a good start. Childress is surely playing for his job this season.
Marvin Lewis—Cincinnati Bengals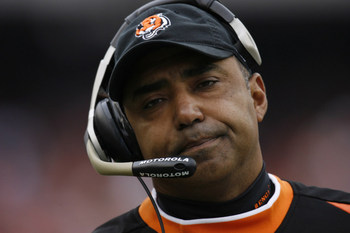 I haven't quite understood this relationship between the owner and head coach here. Marvin Lewis has coached this team for six seasons and has just one winning season in 2005, in which he went 11-5 and lost in the first round of the playoffs.
The lack of playoff appearances is convincing enough to me that it may be time for a change. Carson Palmer is one hell of a quarterback and is 29 heading into this season. Give this guy a shot to get to the Super Bowl, he won't let you down.
Keep Reading

Cincinnati Bengals: Like this team?