Key Tactical Decisions Barcelona, Real Madrid Must Make to Take El Clasico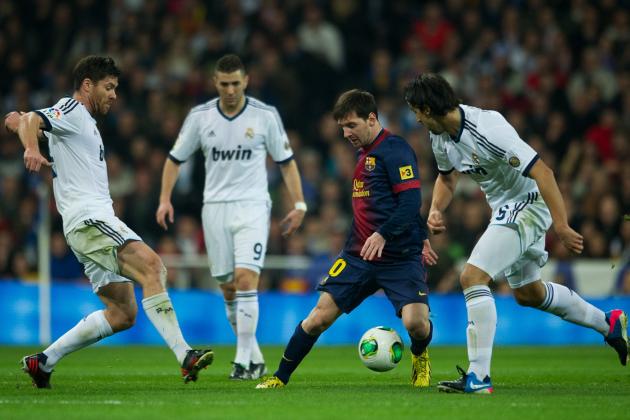 Jasper Juinen/Getty Images
Barcelona and Real Madrid are set to square off yet again.
Another day, another edition of El Clasico. This will be the second of three matchups between the two rivals over a five-week span, with Tuesday's clash the second leg of the Copa del Rey semifinals. Saturday evening sees the two face off in a match in La Liga.
The first leg of this cup tie was intriguing, as hosts Real required a Raphael Varane header within the last 10 minutes to salvage a 1-1 draw. Barcelona would have been hoping for more, but they at least have a vital away goal.
In the end, there's still everything to play for at the Camp Nou. Draws could send the tie either way depending on how high-scoring it is, while both teams will surely want to defeat their enemies. In order to do so, they'll have to make some big decisions when setting up their squads.
Here's a look at some of the key choices Jordi Roura and Jose Mourinho will have to think about.
Begin Slideshow

»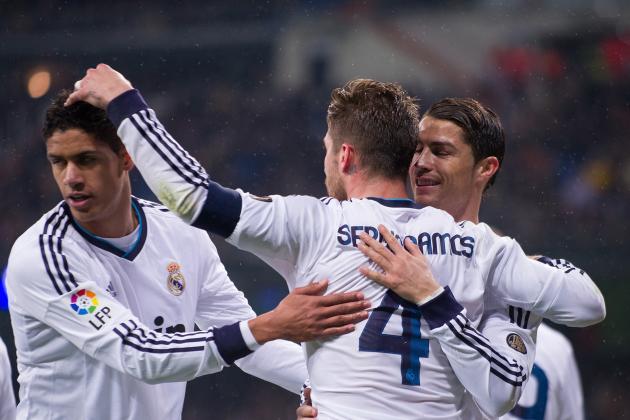 Denis Doyle/Getty Images
Are Varane (L) and Ramos Madrid's best central-defense duo?
Defending is obviously a key to any matchup. With Real Madrid, they've got to do a lot of work to control Barcelona's free-flowing football. The likes of Lionel Messi and Andres Iniesta will surely be looking to score in this huge match, and the Blaugrana will likely dominate possession.
As such, preventing that possession from being converted into goals will be a tough task for Jose Mourinho's defense. They held their opponents to a solitary goal in the first leg and will hope for similar results this time around. But who will he pick to do it?
Raphael Varane, once a peripheral figure of sorts, is now a lock to make Tuesday's starting lineup. The Frenchman, whom teammate Pepe declared will be one of the world's best in a short time, dominated the first leg, shackling Messi and even scoring the vital equalizer (via Goal.com).
Speaking of Pepe, who will partner Varane is an interesting debate. The Portugal international was given the runaround by Deportivo at the weekend, and with Sergio Ramos returning from suspension, Pepe could be rested on Tuesday, at least in anticipation of the Liga clash next weekend.
Mourinho could opt to play all three, shifting Ramos out to the right-back spot, at which he earned his sending-off against Rayo Vallecano. Or he could bring in fellow Spaniard Alvaro Arbeloa, who will offer less going forward but will stick to his defensive duties.
This leaves the left-back spot. Fabio Coentrao was rested against Deportivo, perhaps hinting he could get the starting nod over Marcelo. The Brazilian got the start Saturday, being substituted after less than an hour and feels "in good shape (via Goal.com)."
Both players will offer plenty of attacking threat, but their abilities to cancel out Barca's fluid attacking threat will surely be tested. Marcelo's lack of full fitness would be a detriment to his side.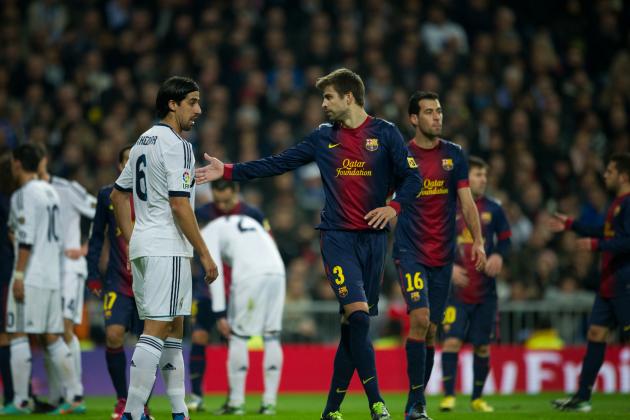 Jasper Juinen/Getty Images
Gerard Pique will likely anchor Barcelona's back line.
On the other side of the pitch is a defensive unit marked by instability and poor play. Barcelona's defense has been their Achilles heel over the last few seasons, and this season has been no different.
Carles Puyol's struggle for fitness has seen him miss many a matchup, with Gerard Pique providing the consistent presence at the back. Even so, Pique has not always been at his best, and he has to have a lot of help to corral the likes of Cristiano Ronaldo and Gonzalo Higuain.
Javier Mascherano is a decent deputy, but he gets caught out far too often. He struggled against Sevilla at the weekend, and he was lucky his inconsistency did not cost his side points. Perhaps Jordi Roura will counter Madrid's youngster (Varane) with one of his own in Marc Bartra.
Given Bartra's relative lack of experience, and "better" options being available, this is unlikely to happen. However, Bartra will surely be a suitable option off the bench. He has shown signs of brilliance in his somewhat limited first-team opportunities.
Who will flank the central defense is also up for discussion. Surprise star Adriano is battling a hamstring problem and will likely not feature, meaning Jordi Alba would be the favorite to take up the left-back position.
Also, Roura will surely be delighted, like all Barcelona fans, that Eric Abidal is available for selection once again (via FC Barcelona). Tuesday will mark one year to the day since the Frenchman's last appearance, but if he is fit, he could see a place on the bench.
Right-back will probably see Dani Alves penciled in, since he is probably the best option overall. But one could wonder if he is better suited to play a more advanced role that could see Barcelona play with three at the back. Who those three will be is up for discussion, too.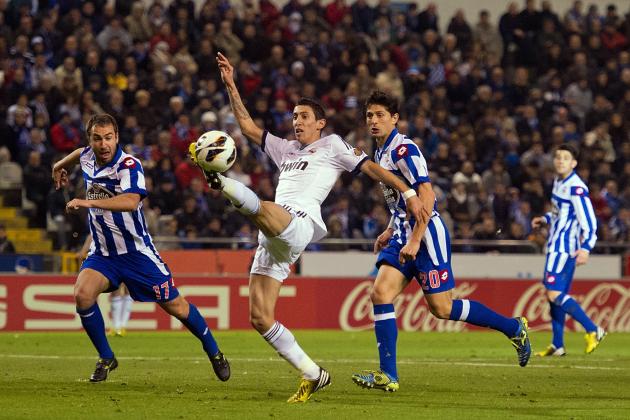 Gonzalo Arroyo Moreno/Getty Images
Angel di Maria, before being stupidly sent off.
One player that Barcelona will not have to worry about Tuesday evening is Angel di Maria. The Argentine attacker received two quick-fire yellow cards for time-wasting against Deportivo, and he is thus suspended for this crunch clash.
The tricky winger's actions are open for discussion, but let's not dwell on that right now. Instead, let's focus on whom Mourinho will draft into the squad to cover for the loss.
Di Maria's usual spot on the right side of the attacking midfield trio would likely be handed to Jose Callejon, the most obvious choice in terms of positional ability. The youngster was decent in the Deportivo match, but can he carry the load in such a big fixture?
Of course, Cristiano Ronaldo can move around a bit, and did move to the right at times against Manchester United. He went after Patrice Evra then, and he could reasonably expect to get the better of Jordi Alba here. But that leaves the left flank open.
Real's main attacking options, Gonzalo Higuain and Karim Benzema, are strikers and not suited to wing play, nor is youngster Alvaro Morata. Players like Kaka and Mesut Oezil are central players as well.
One theory: A 4-3-1-2 formation. The back four would have Xabi Alonso, Sami Khedira, and perhaps Michael Essien in front of them, with either Kaka or Ozil (skip forward a couple slides) behind Ronaldo and one of Benzema or Higuain.
It'd be a narrower formation, but at least there's more protection for the defense. Cramping up the midfield could help slow down Barcelona, if only slightly. Basically, di Maria's moment of craziness has thrown a wrench into Mourinho's plans.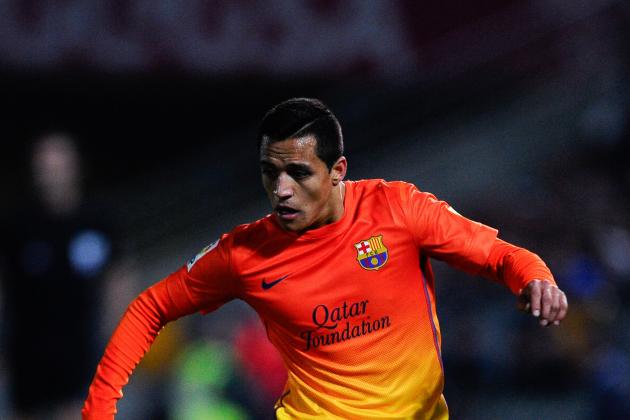 David Ramos/Getty Images
Alexis Sanchez hasn't been what Barcelona expected him to be.
The summer 2011 acquisition of Chilean winger Alexis Sanchez was an interesting piece of business for Barcelona. He had a stellar season at Udinese the year before, and he was quickly snapped up by then-Barca manager Pep Guardiola.
A decent 2011-12 campaign has been followed up by a disastrous second season. With just a single Liga goal in 17 appearances (compared to 12 in 25 last year), this has been nothing short of a disappointment.
Indeed, his confidence appears to be completely shot. His cameo in the loss to AC Milan was nothing short of poor, and B/R Featured Columnist Xoel Cardenas was quite outspoken in his criticism of the player after that match.
Yet somehow, Jordi Roura decided to give the Chilean a starting berth in the match against Sevilla. He worked hard tracking back, but his forward play was pretty much a failure as a whole, and he was hauled off at half-time.
With such an important fixture on tap for Barcelona, Roura must certainly realize that Sanchez does not merit a place in Barcelona's starting lineup, now or in the near future. As such, I would not hesitate in considering dropping him from the 18-man match squad altogether.
Sure, that will do nothing to help with the player's low confidence levels, but it seems like not much can help that at this point. But as a whole, there are far more deserving players in the ranks looking to make an impact.
Pedro, David Villa and Cristian Tello are a few options that come to mind, while Andres Iniesta and Cesc Fabregas can both play on the wing when needed. With some of those names perhaps relegated to the bench, there's no real place for Sanchez here.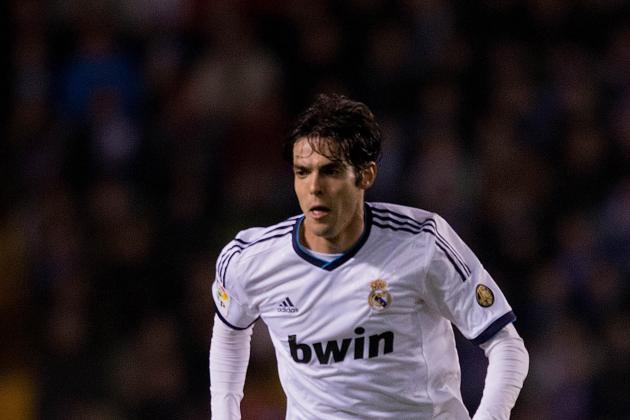 Gonzalo Arroyo Moreno/Getty Images
Kaka played a key role in Real Madrid's weekend win.
As I mentioned a couple slides ago, Real Madrid could opt for a formation with a central attacking midfielder in behind a pair of strikers. Who that option would be comes down to a battle between Kaka and Mesut Oezil.
Kaka's time in Madrid hasn't been a great one on a personal level, despite having won several trophies along the way. The Brazilian has struggled for form and fitness at times, but his performance against Deportivo will give Jose Mourinho food for thought.
While he had trouble getting things going, having Cristiano Ronaldo enter the fray opened the entire game up, and Kaka netted the equalizer with a sublime effort. But having played the full 90 minutes, perhaps Mourinho will not want to push it with the former Ballon d'Or winner.
As such, Mesut Oezil will provide a perfectly suitable option. The German provided a spark alongside Ronaldo in the Deportivo win, keeping pressure on his opponents with great passing, as is customary for the former Werder Bremen man.
Both players put in good spells at the Riazor, and both are probably deserving of a starting spot here. However, based on Kaka having played a full match just days before this hugely important clash, Oezil should probably get the nod.
In any case, having either of these guys on the bench will make for an excellent option to change the flow of the game when needed.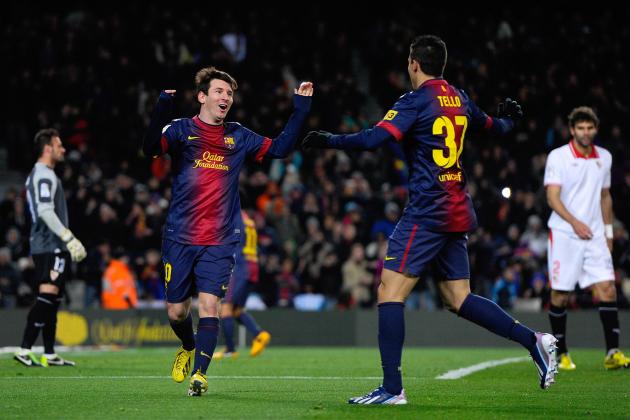 David Ramos/Getty Images
Cristian Tello (R) could play a big role at Camp Nou on Tuesday.
A key aspect for Barcelona's attack is getting the ball out wide to open things up in the middle. Stretching Real Madrid's defense could unlock the perfect opportunities for Lionel Messi and Co. to strike.
The ultimate weapon at Barcelona's disposal for this purpose is Dani Alves. The "defender" enjoys bombing up the right flank, with his great pace a real asset to get past opponents into dangerous positions.
Indeed, the Brazilian delivered on Saturday, as his cross directly led to Barcelona's equalizer. Realistically, he is less of a right-back than he is a winger these days. As I discussed earlier, Barca could see fit to operate a three-man back line, giving Alves license to make his attacking forays.
In terms of the players that typically play as forwards, there are plenty of wide options available as well. Pedro and David Villa are the more talked-about names, given their veteran status in this squad.
While Villa is a striker at heart, he has been deployed on the left with Barcelona. But he could easily move his way into the middle during games as Lionel Messi drops back in search of the ball and open space.
With the left side open, Andres Iniesta or Cesc Fabregas can push forward from midfield, possibly supported by Jordi Alba's runs from the back. Meanwhile, Pedro will enjoy similar support from Alves on the other flank.
The X-factor here is Cristian Tello. The Catalan native possesses blazing speed and plenty of technical ability, and he played a key role in the Sevilla comeback. While he may not get a starting role, he could be a hugely impactful late-game play to finish things out.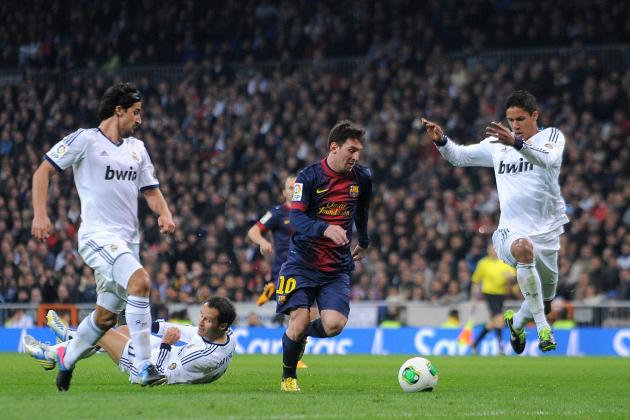 Denis Doyle/Getty Images
This installment of El Clasico ought to be a cracker.
Real Madrid are down a key player, meaning they have to really shuffle the pack to get the right formula. Playing against their eternal enemies will add extra motivation to this one for Jose Mourinho, and he'll look to his stars to carry the load.
Real Madrid (4-3-1-2): Lopez; Arbeloa, Ramos, Varane, Coentrao; Alonso, Khedira, Essien; Oezil; Higuain, Ronaldo
Barcelona have a mostly full squad at their disposal; it's just a matter of how they organize things. A couple of inconsistent performances of late will have some worried, but expect the Blaugrana coaching staff to get their side in the right mindset to get things done.
Barcelona (4-3-3): Pinto; Alves, Pique, Puyol, Alba; Xavi, Busquets, Iniesta; Pedro, Messi, Villa
Regardless of how everything lines up, the 22 players that step onto the pitch at Camp Nou Tuesday evening will be fully motivated to get their teams a result. With a place in the Copa del Rey finals on the line, the stakes are as high as ever in this always-thrilling rivalry matchup.