Duke Basketball: Report Card Grades for Coach K on the 2013 Recruiting Trail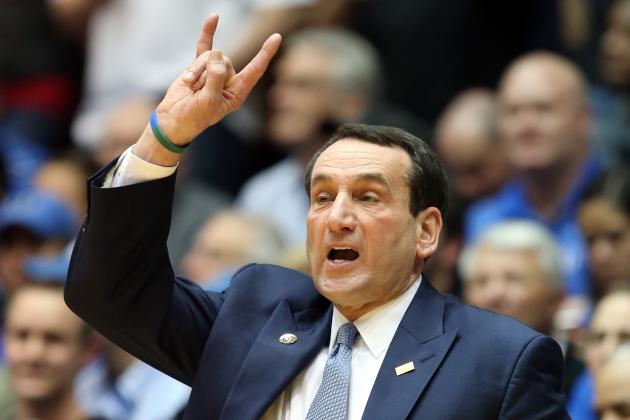 Streeter Lecka/Getty Images

I know that this season isn't over and it's premature to look ahead to next year. But really, a blowout win over Boston College didn't generate many talking points for Duke.
And with Rasheed Sulaimon and Amile Jefferson, both freshmen, having great games that showed off just how much they've grown, there is reason for excitement about the Duke program going forward.
So, since you need something to talk about at work, why not look into the grades for what Mike Krzyzewski has done in terms of building for the future of Duke basketball?
Begin Slideshow

»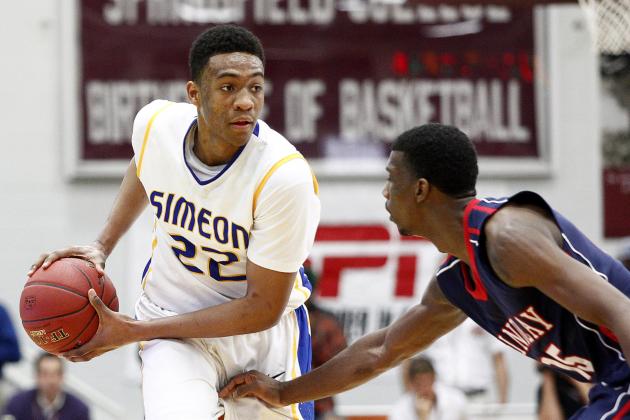 Mark L. Baer-USA TODAY Sports

ESPN ranks Duke's incoming 2013 class fifth in the country. Even though the criteria for such rankings are fraught with subjectivity, there's no arguing that Coach K brought in a good haul of players.
All three recruits, Jabari Parker, Matt Jones and Semi Ojeleye, are ranked in the ESPN Top 100. Parker is one of the best recruits in the country, and it was a major coup when Duke landed him.
While it's unlikely that Parker will live up to the hyperbolic LeBron James comparisons bestowed upon him by Sports Illustrated, the 6'8", 220-pound forward is a uniquely skilled individual. Parker can shoot from mid- and long-range and is constantly praised for his passing ability. Add to that his rebounding prowess, and the result is an offensive juggernaut.
Matt Jones and Semi Ojeleye are similarly spectacular on offense. Jones projects to be the next in a long line of great Duke three-point shooters. Ojeleye just broke the Kansas state record for career points and is averaging 40.3 points per game. Better still, Ojeleye is touted as a remarkably unselfish player, while Jones has developed a drive to go with his hot shooting stroke.
In all, Duke has recruited what promises to be an offensively explosive class. Though it's only three guys, each of them can score in different ways and should positively impact the 2013-14 Blue Devils right away.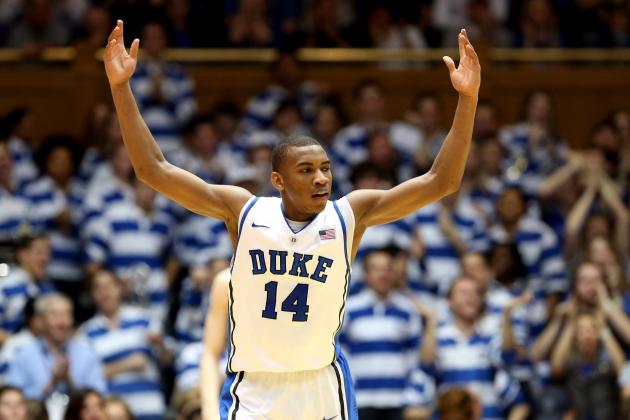 Streeter Lecka/Getty Images

Though Duke is only bringing in three recruits, next year's team will be a deep one.
Duke will lose Mason Plumlee, Seth Curry, Ryan Kelly and Todd Zafirovski. Those four players will be replaced by the three recruits and transfer Rodney Hood. In effect, while none of the newcomers are as developed as the departing senior starters, Duke will replace three starters and a walk-on with four players capable of starting for the Blue Devils.
Parker and Hood are likely starters for next season. They'll join returning starters Rasheed Sulaimon and Quinn Cook. The fifth spot will be up for grabs between Amile Jefferson, Marshall Plumlee, Tyler Thornton, Alex Murphy, Josh Hairston, Matt Jones and Semi Ojeleye.
Any one of those potential fifth starters would constitute a top-notch lineup.
Not only could Duke go with a multitude of lineup combinations, but each one offers a different advantage. Duke could go small, go big, go defensive or go offensive. Almost all of the Blue Devils who will be back next year are players capable of playing multiple positions.
That sort of versatility will be a nightmare for teams trying to scout Duke and a blessing for a Blue Devil coaching staff that could adjust to any game situation. Next year's team will have 11 players all worthy of starting, and that doesn't even account for the possibility of a potential Andre Dawkins return.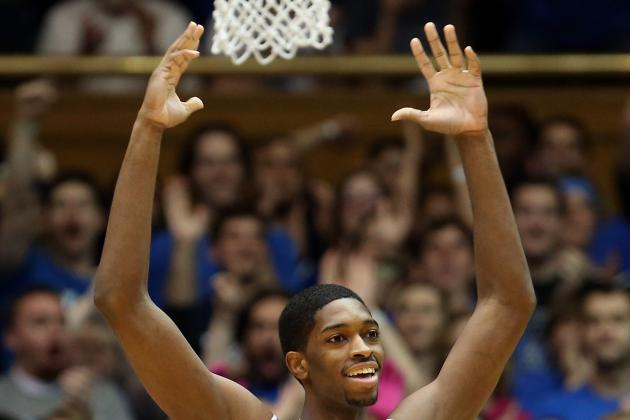 Streeter Lecka/Getty Images

There's a fine line between versatility and diversity. Duke has a ton of versatile players, which is great. Unfortunately, those versatile players are somewhat similar to one another. That's not so great.
While Duke will be able to roll out one athletic wing player after the other, the Blue Devils don't have much height down low. The only true center next season will be Marshall Plumlee, who hasn't appeared to be a polished product just yet.
There's certainly room for Plumlee to grow, and Jefferson will likely fill out over the summer. Yet, even a best-case scenario would leave Duke with an abundance of small and power forwards, but limited options at the center position.
That is by no means the end of the world. This season, Ohio State has effectively used a rotation replete with forwards but no true big man. Plus, any defensive difficulties caused by being undersized are offset by the matchup problems Duke's roster would present to opponents.
Still, it will be interesting to see how Coach K copes with a team loaded with wing players. Not only will it will be a challenge in terms of offensive and defensive schemes, it will also be difficult to ensure that everyone gets enough minutes to stay happy.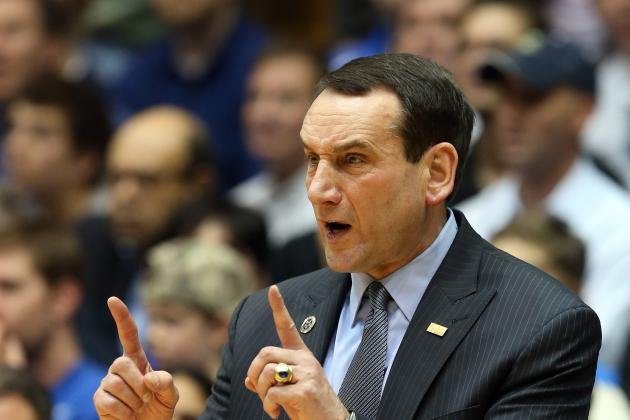 Streeter Lecka/Getty Images

This low grade isn't anyone's fault really; it's just the way college basketball works these days.
It's pretty clear that things are bright in regard to Duke's short-term prospects. Next season's team will be an embarrassment of riches. However, modern college basketball doesn't allow a team to hold on to top prospects for very long.
Jabari Parker is most likely a one-and-done player bound for the NBA. By all accounts, Rodney Hood anticipates heading to the NBA after one year at Duke. So they'll both basically have one foot out the door from day one.
Also, at the end of next season, both Thornton and Hairston will graduate. The woes could continue because Quinn Cook has improved drastically as a sophomore, and it's not hard to imagine him leaving for the pros after his junior season. The loss of both Thornton and Cook would leave Duke without a point guard.
Another potential early entry is Rasheed Sulaimon. He's already shown his vast potential, and even though he seems happy at Duke, he could potentially flee the college scene after a second year as a Blue Devil.
That would leave Duke with Marshall Plumlee, Alex Murphy, Amile Jefferson, Matt Jones and Semi Ojeleye. While those are five good players, a mass NBA exodus could leave the cupboard bare down the bench.
Coach K and his staff are already looking to prepare for the future by targeting class of 2014 recruits Jahlil Okafor and Tyus Jones.
Okafor might be the best player of the 2014 class and would provide Duke with a top-notch center. Jones, meanwhile, is one of the nation's best point guards. It'd be great if Duke could land both prospects since they'd fill the Blue Devils' upcoming vacancies at point guard and center. Unfortunately, top recruits attract a ton of attention, and Duke is just one of many teams in the running for their commitments.
The nature of basketball's ridiculous, and frankly unconstitutional, requirement that everyone attend at least one year of college creates so much instability that long-term planning is impossible. When even programs like Duke are staring down the barrel of having to replace over half its roster due to early draft entries, it's evident that the system is broken.
So, even though Duke gets a low grade with respect to the long-term outlook due to troubling vacancies at point guard and center and the potential of a blight of early NBA draft entries, the low grade is more reflective of basketball's systematically stupid disregard for player development.