5 Reasons Victor Hedman Is an Emerging Star for the Lightning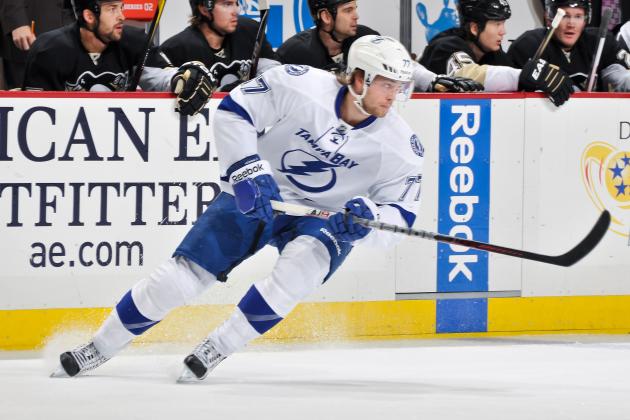 Jamie Sabau/Getty Images
Victor Hedman is one of the brightest young defensemen in the game.
When people hear about the Tampa Bay Lightning, a few things come to mind. Defense isn't one of them. Despite their depth, the Lightning are one of the worst defensive teams in the league.
Even with the struggles, Tampa Bay has one of most talented groups of young defensemen. The youngest of the group is 22-year-old Victor Hedman, who is having a great 2013 campaign and should be one of the biggest stars emerging for the Lightning.
Begin Slideshow

»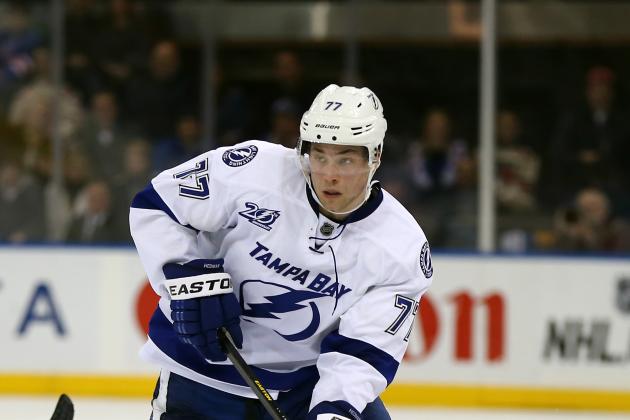 Elsa/Getty Images
Victor Hedman is earning his No. 2 draft position.
Victor Hedman was the second-overall pick in the 2009 draft. The Swedish defenseman could have been the top pick if it weren't for John Tavares.
Gare Joyce of ESPN.com previewed the top 10 draft picks in the 2009 class and said this about Hedman (via ESPN.com):
It's easy to look at the towering Hedman and see Chris Pronger. If anything, the 6-foot-6, 220-pound Hedman is a little farther along than Pronger was at the same age, a better skater as a junior. He's also still growing. Hedman was on the ice for all the important shifts in Sweden's run to the world juniors final and has been a dominant player in under-18 play. Most scouts liked Hedman over Tavares a year ago, but there has been a shift in opinion since the start of the season. Hedman was sidelined with a shoulder injury in early December, though, and wasn't impressive at the under-20s.
Victor Hedman is big. He's not Zdeno Chara big. But at 6'6" and 233 pounds, Hedman has a commanding presence in the defensive zone.
The fourth-year pro has improved his physical presence every season. After 54 hits in his second season, Hedman notched nearly 100 the following year.
Hedman doesn't just throw his body into other players. He was one of three Lightning to record over 100 blocked shots last season and is averaging nearly two blocks per game this year.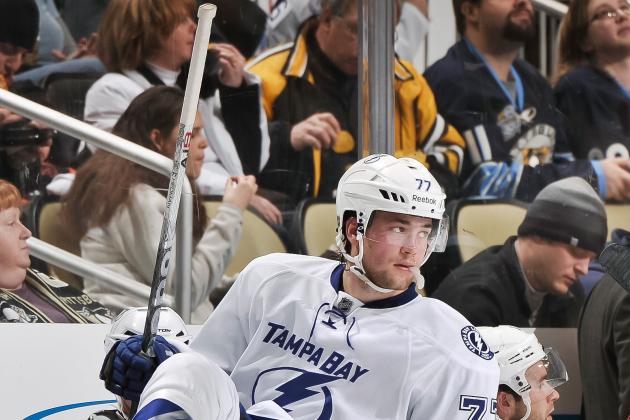 Jamie Sabau/Getty Images
Hedman's minutes keep going up and so do his numbers.
Some of the best defensemen in the league aren't the ones that put up big numbers on the scoreboard, but a large amount of time on the ice. Players like Shea Weber, Dion Phaneuf, Zdeno Chara and Alex Pietrangelo are staples to their team's success.
Victor Hedman plays that role for the Lightning. He averages over 22 minutes of time per game, nearly three minutes of shorthanded time and another couple minutes on the power play.
In his four years, he has averaged over 20 minutes per game. That situational experience will pay dividends as he develops his game on the NHL level.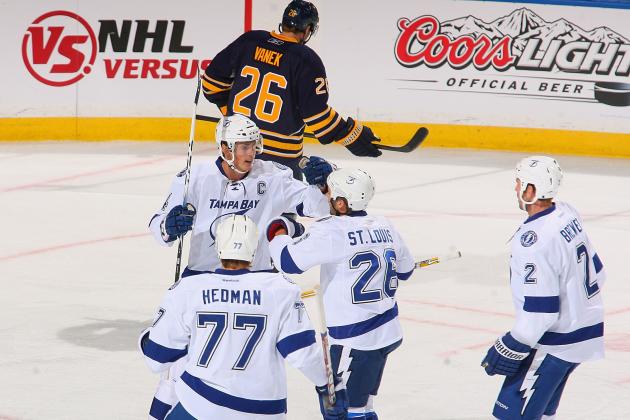 Rick Stewart/Getty Images
A career plus-two rating, Hedman provides stability on the blue line.
Not only does Hedman log a bunch of minutes, he provides the Lightning with quality minutes. The Swede is a solid puck-moving defenseman with great awareness and skating skill.
Statistically, that equates to a career plus-2 rating through 231 games. He has 227 penalty minutes, 344 blocked shots and 232 hits on his career.
The Lightning likes his skill so much they signed him to a five-year extension that will run through the 2016-17 campaign.
Skilled, high-scoring forwards are expected and becoming more and more common throughout the NHL. The top tier that used to be reserved for few is becoming less exclusive. That parity has led to an increased pressure on offensive production from the blueliners.
The Ottawa Senators' Erik Karlsson may have changed the future of the game after his 78-point season last year. Defensemen that can produce offensively are a sought-after prize.
The Lightning have Matt Carle and Victor Hedman to provide that offense. NHL.com's Brian Metzer provided a summary of Hedman's offensive skill (via NHL.com):
Hedman's offensive game has matured greatly this season. The monstrous rearguard seems to have learned when to jump into the play and when to stay back, and he has already logged nine points (4G), 24 shots on goal and a plus-11 rating in just 15 games. He plays with a group of very talented forwards and could see his point totals grow even higher.