College Football Fanbases Most Desperate for a Successful Season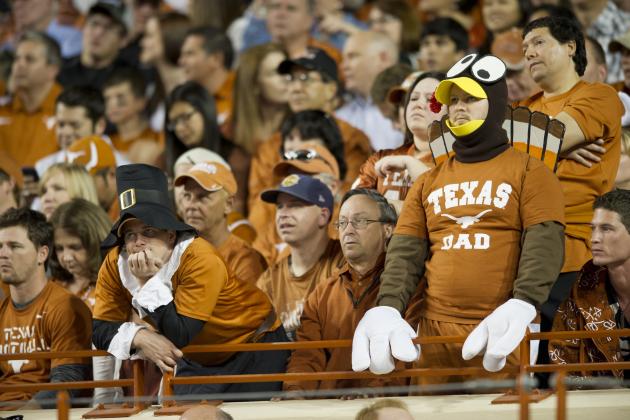 Cooper Neill/Getty Images

One of the few, if any, unpleasant truths about college football is that for every jubilant, victorious and elated fan base in a given season there are 20 to 30 times as many disappointed, frustrated and thwarted groups of enthusiasts.
To illustrate, in 2012 fans of Alabama, Notre Dame, Oregon and Utah State danced in the streets while the followers of teams gracing bottom half of nearly every FBS conference were left with wounds to lick and nightmares to get over.
Though you could rightly label an entire slew of college football fan bases as "desperate" for a successful season in 2013, the following slideshow whittles the list down to a mere 10 factions in need of some serious hope.
These are the devotees whose need for comfort has gone above and beyond a homemade casserole or a meaningful greeting card, these fan bases need wins, and they need them right now.
Begin Slideshow

»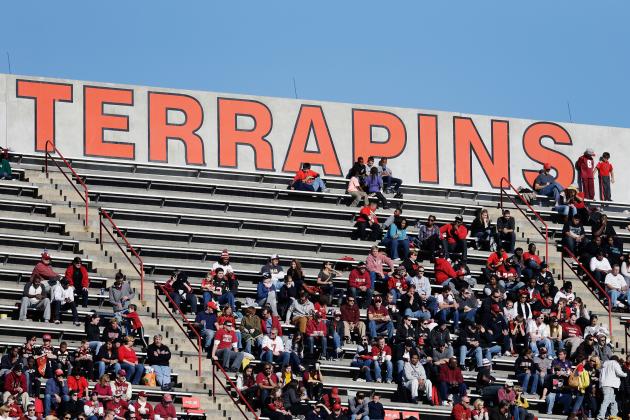 Rob Carr/Getty Images

Though many Terrapin fans celebrated the end of the Ralph Friedgen era at Maryland, it's been no picnic since the long-term coach packed his bags and left campus.
Indeed, after finishing up his career at Maryland with a 9-4 record in 2010, Friedgen was replaced by Randy Edsall who has managed just six wins in two seasons.
Though the 4-8 finish in 2012 was definitely an improvement on the awful 2-10 mark in 2011, the Terrapins dropped their last six straight games this past season leaving another bad taste in everybody's mouth.
Maryland fans have to be desperate for some sign that Edsall is indeed their guy, a choice which could be validated with at minimum six wins and a bowl bid in 2013.
What makes Terrapin enthusiasts that much more anxious for palpable success this coming season is the fact that it will be their last crack at the ACC before moving on to the Big Ten.
So, while Maryland hasn't won the ACC since 2001, you've got to figure that it will be easier to win a league crown at their current home than in 2014 when they'll be battling with Michigan and Nebraska instead of NC State and Wake Forest.
Kevork Djansezian/Getty Images

Texas' slip from the BCS radar reminds that in college football, as in life, all things are relative.
Indeed, while some programs would be delighted with back-to-back eight and nine win campaigns, for the Longhorns the sub double-digit win totals are, well, devastating.
To put the amped-up expectations into perspective, remember that before Texas dropped to 5-7 in 2010, it hadn't dipped under the 10-win mark since going 9-3 in 2000.
Texas fans must be desperate to receive concrete evidence that their beloved program isn't in the throes of a long-term, cyclical downturn and that somehow, someway the stockpiles of top-ranked talent in Austin can be morphed back in to a big winner.
The good news for Longhorn enthusiasts is that 2013 stacks up well, at least on paper, for Texas with a boatload of returning starters including the entire offensive line.
Either way, it's sink or swim for Mack Brown, and as many Texas fans who'd love to see him finally go, they'd likely much prefer a glorious 2013 campaign that included a Big 12 title and a genuine crack at the BCS title game.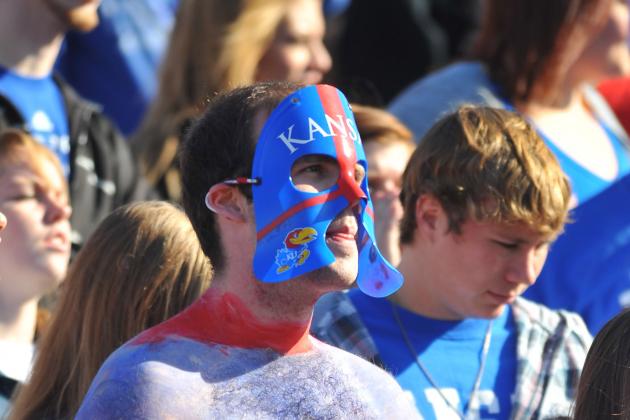 Denny Medley-USA TODAY Sports

Though the 1-11 debacle that was Charlie Weis' first season was at Kansas was hard enough for Jayhawk football fans to stomach, let's not forget that this is a fan base that has suffered for years, and years.
Though the 12-1 campaign in 2007 might have seemed like heaven on earth for beleaguered Jayhawk supporters, it also makes 3-9, 2-10 and 1-11 finishes since 2010 seem even worse than they definitely were.
Kansas fans must be desperate for some sign that Charlie Weis is the guy who may not win the Big 12, but who will return the Jayhawks to their first bowl bid since 2008 and, at the very least, to some form of respectability.
Again, utilizing the theory of relativity, Mack Brown needs to win a championship at Texas, while Weis needs to find six wins, or at least more than one.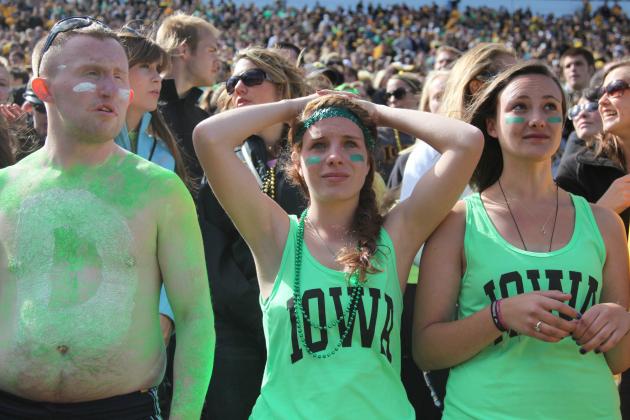 Matthew Holst/Getty Images

Hiding somewhere under layers of national storylines that include glitzier programs from bigger media markets, Iowa's football team has begun to show serious signs of a downward spiral.
Though Hawkeye fans can't claim to be near as desperate as others on our dubious list, watching what was an 11-2 team that won the Orange Bowl in 2009 slowly fizzle out to an 8-5 finish in 2010, a 7-6 record in 2011 and then a dismal 4-8 mark in 2012 simply isn't fun, or settling, to watch.
And let's remember that Iowa was 4-2 through six games last season before tanking totally with six consecutive losses to close out the year.
To add to the misery remember that the ugly string included losses to Northwestern (28-17), Indiana (24-21) and Purdue (27-24).
Iowa is a program where fans may not expect to win the conference on a regular basis, but they do expect to be competitive and at the very least make a solid bowl game and be highly competitive throughout the season.
Hawkeye fans must be anxious, but not full-on desperate, to ensure that 2013 shows tangible signs that their football team is not in the beginning stages of a full-on landslide leading to the land of never more.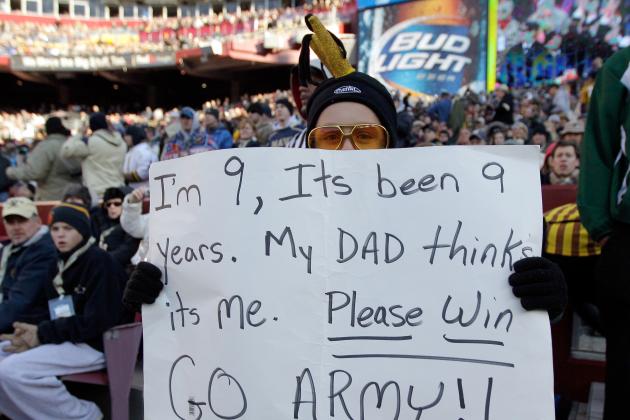 Rob Carr/Getty Images

Though most of us turn our attention to Army's football program only briefly late in each season when it squares off with Navy, Black Knight fans have suffered through 15 of the past 16 seasons.
And this miserable experience goes well beyond Army's 0-11 mark vs. Navy since 2002.
Yes, other than the 7-6 triumph that was the Black Knights 2010 campaign, Army hasn't posted a winning season since blitzing its way to a 10-2 finish under Bob Sutton in 1996.
Prior to that blockbuster year the Black Knights hadn't finished a season over the .500 mark since going 9-3 in 1998 under Jim Young.
So, while Army fans must be beyond desperate to sink Navy, they've got to be even more frantic to prove that their program, one of the traditional stalwarts of the game, is a viable FBS football entity.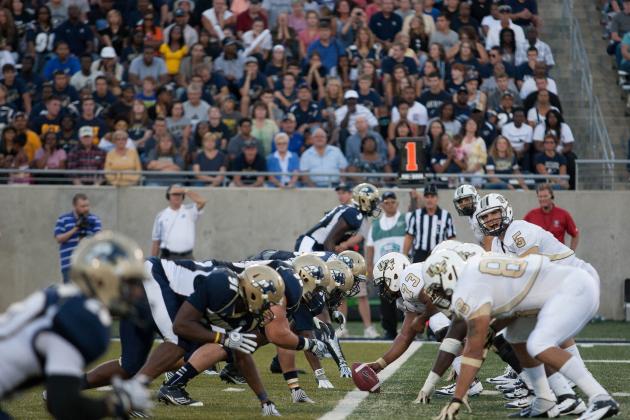 Rob Leifheit-USA TODAY Sports

Though it's easy to argue that Akron football fans aren't as rabid as those at Alabama or even Houston, the truth is every program has its own set of seriously vested zealots.
And this means that when these people's football team hasn't won more than a single game in a season in the last three tries, there is a definite air of desperation amongst the fan base.
The last time the Zips went over .500 was when they posted a 7-6 mark under J.D. Brookhart in 2005 and things become even uglier when you point out that Akron hasn't won more than five games in a season since that glorious year.
Akron is 3-33 since 2010; a run that includes two seasons under Rob Ianello and then a 2012 season engineered by Terry Bowden.
Though Zip fans may not be asking Santa Claus for a MAC East title in 2013, they've got to really, really, really have an itch for four-plus wins served with a side order of hope slathered with gravy.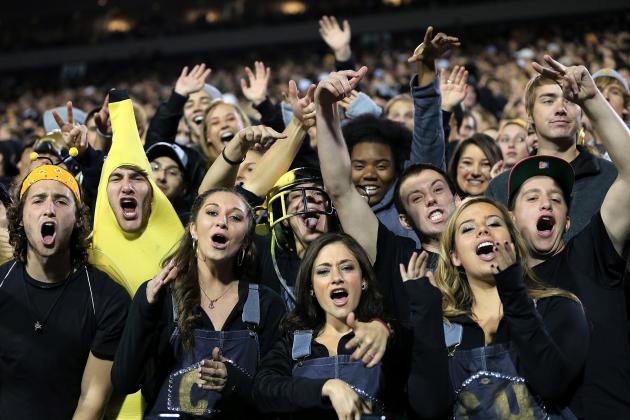 Doug Pensinger/Getty Images

It's fairly easy to defend an argument that Colorado football fans have suffered more so than any other BCS fan base in the last seven seasons.
Sure, other squads have suffered and dragged their devoted followers along with them, but Buffalo fans have almost been completely devoid of a long-term optimistic outlook since the team went 7-6 in 2005.
Since this time Colorado has welcomed four head coaches and posted a 25-61 record, an ugly mark that includes a 4-21 count since the Buffs joined the Pac-12 in 2011.
Yikes.
Colorado hasn't been to a bowl game since the 2007 Independence Bowl and it hasn't won a postseason contest since nipping UTEP 33-28 in the 2004 Houston Bowl.
To put a finer point on the suffering, the Buffaloes haven't finished a season ranked in the Top 25 since 2002, when they were ranked No. 20 in the AP and No. 21 in the Coaches.
And, just to put the whole entire dismal affair into a long-term perspective, remember that Colorado won a national championship as recently as 1990.
Though this isn't necessarily last year, it also isn't ancient history and it ultimately means that there is still a boatload of living breathing fans who expect way more than loss after ugly loss.
And these people are, well, desperate.
The 2013 season ushers in the Mike MacIntyre era at Colorado and Buff fans must be beyond hopeful that MacIntyre can manage a repeat performance of his stunning turn-about at San Jose State for their beleaguered program.
MacIntyre took a San Jose State team had hadn't reached double digit wins since 1987 to a 11-2 mark in 2012 that included a No. 21 ranking in the final BCS rankings.
This was the same Spartan program that only posted five winning seasons, total, from 1987 to 2011; meaning that you could make a solid argument that the Colorado project might be easier to tackle.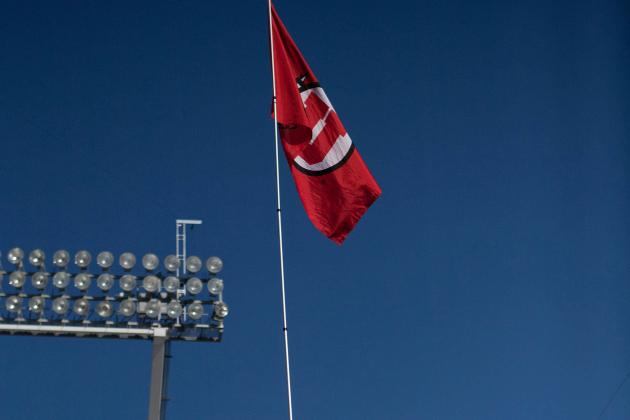 Russ Isabella-USA TODAY Sports

Though Utah fans have tasted big-time success as recently 2008-10 when they watched their team make a 33-6 run that included a perfect season (2008) and a win over Alabama in the 2008-09 BCS Sugar Bowl, the Utes have struggled mightily since joining the Pac-12 in 2011.
Sure, Utah managed an 8-5 record in 2011 but they were 0-4 in their first four league games, finally managing conference wins over struggling Oregon State, Arizona, UCLA, Washington State and Colorado squads.
In 2010 the Utes dropped even further off the BCS radar with a 5-7 overall finish that included only three Pac-12 wins over Cal, Washington State and Colorado.
A narrow loss to in-state little brother Utah State in Week 2 added to Utes' fans misery and a sinking feeling that perhaps the train isn't on the right track.
Utah devotees are desperate to prove to the football world that their program does indeed belong at the BCS level, a dream that can only become a reality through sustained excellence in league play.
Simply put, Utah, especially given its previous successes, must be a real-deal player in the Pac-12 South race before its fans can shift their gears from "moderate desperation" to "comfortable confidence."
Though this may sound like small potatoes to some, when you love, and I mean really love, the team with the red helmets and the "U" in the Redskins logo, this is a huge deal.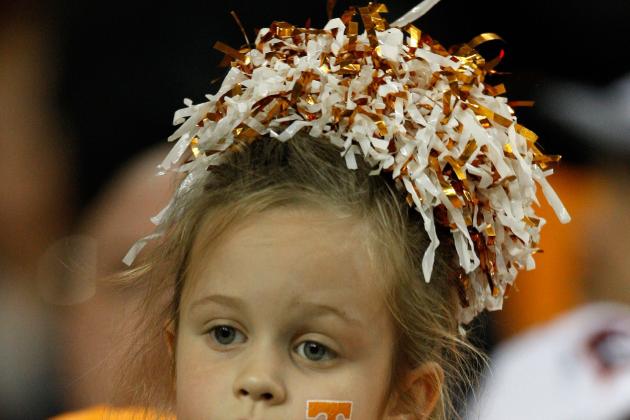 Mike Zarrilli/Getty Images

Since 2008 the football people of Tennessee have watched their program go from a 10-win team all the way to the depths of a consistent five- and six-victory squad.
To put this in proper perspective, it's important to apply the relativity theory we presented in the case of Texas.
Indeed, this is not a Volunteer football program which has been a long-time loser; this is a championship-caliber, traditionally dominant club which has the money, facilities and recruiting prowess to realistically expect more on a regular basis.
In my humble opinion, and even given the uphill battle nature of the SEC East, Tennessee is one of the biggest "diamonds in the rough" scenarios in college football today.
After the shift from Fulmer to Kiffin to Dooley and now to Butch Jones, Volunteer fans must be beyond desperate that somebody somewhere can rescue their football program from its current miserable state.
No, they aren't a 1-11 or 3-9 team, but, come on man, this is Tennessee.
Perhaps the biggest blow to the Volunteer nation, and the biggest sign that a real sense of desperation is warranted, is the fact that Jones, from Cincinnati, had to be seriously prodded to take the job in the first place.
Seriously?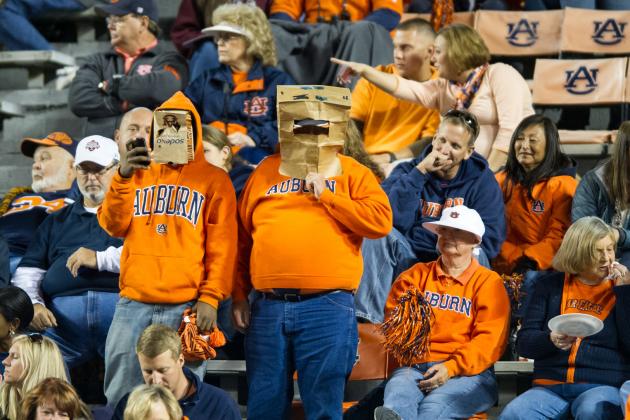 Michael Chang/Getty Images

Though you could easily question the decision to put a program that won a national championship as recently as 2010 on this list, Auburn is a special case that deserves special treatment.
Yes, this is a team that went 14-0 in 2010 and 8-5 as a very, very young group in 2011 which makes the 3-9 mark in 2012 seem at least digestible, right?
I mean, seriously, what do Auburn fans have to be desperate about?
Is it their great recruiting numbers, their stacks of cash or is it their three-year old crystal football?
Well, maybe, just maybe that the phenomenal, magical and fruitful 2010 season makes the three-win campaign, only two seasons later, hurt even worse.
Yes, you could logically assert that a 3-9 season hurts a lot more if you're an Auburn fan than if you're a guy who follows Washington State, where at least for now they kind of expect that kind of outcome.
And, let's not forget how ugly the 2012 season was.
Losses included blow-out defeats to Ole Miss (41-20), Texas A&M (63-21), Georgia (38-0) and rival Alabama (49-0) to go along with narrow heart-breakers at the hands of LSU (12-10) and Vandy (17-13).
What's even worse was a roll-call of wins that included "triumphs" over Louisiana-Monroe (31-28), New Mexico State and Alabama A&M (the Bulldogs, not the Crimson Tide).
Though Auburn fans have a new coach and what's likely a bright future somewhere on the horizon, in reality there may be no more desperate fan base in all of college football.