Ranking Memphis Grizzlies Bench Players After the Trade Deadline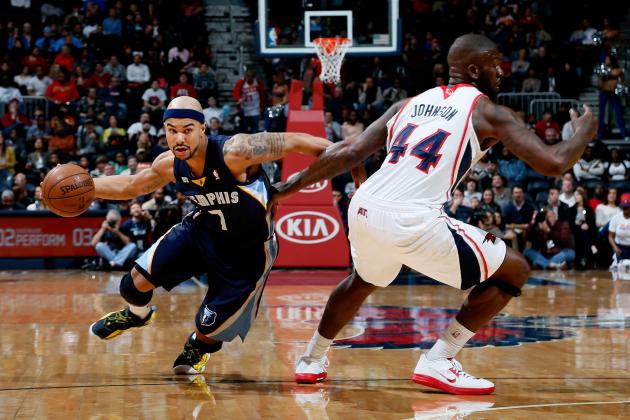 Kevin C. Cox/Getty Images

The Memphis Grizzlies' bench went through drastic changes in the four weeks leading up to the trade deadline. Three trades saw the Grizzlies ship out a combined four bench players and bring in four new ones. Now, a much different cast of players is rotating in to relieve the top-five grinders.
For the few who have stayed in Memphis the entire season, roles have changed a bit. Jerryd Bayless went from primarily being a facilitator to being a key scorer off the bench and defensive helper. With Wayne Ellington gone, Quincy Pondexter assumes greater responsibility as a three-point shooter.
Tony Wroten has taken what shots he could in the extra minutes he's received due to the turnover.
Also, the trades meant a small change in the makeup of the team. Giving up Marreese Speights and Hamed Haddadi and later acquiring Dexter Pittman sacrificed some size. Trading Ellington de-emphasized three-point shooting on a team that already didn't shoot many threes.
Having a different bench forces Lionel Hollins to reassess who his most treasured backups are. Follow along to see where all eight reserves rank.
Begin Slideshow

»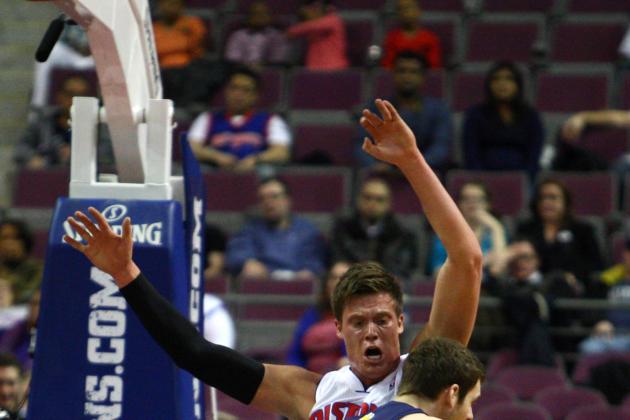 Raj Mehta-USA TODAY Sports

John Hollinger might like Jon Leuer, but that hasn't forced Lionel Hollins to play the former Wisconsin thumper. Leuer has played a grand total of 14 minutes in six games. In that time, he's amounted five points and three rebounds. Going 1-of-4 at the line hasn't helped his cause. He missed a pair against the Brooklyn Nets.
On Tuesday, he committed two fouls in just five minutes.
Constant mistakes don't earn a player extra minutes. If Leuer comes up with more clunkers, he'll make a deeper impression in the seat cushion than Hamed Haddadi did.
Progress comes slow for many newcomers, and Tony Wroten is no exception. Back and forth between the NBA squad and the D-League, Wroten continues to struggle with ball-handling and shooting accuracy. He turned it over 2.5 times per game for the Reno Bighorns of the NBDL. He coughs it up 3.2 times per 36 minutes for the Grizzlies.
Wroten is shooting 36.2 percent from the field. In only one of four five-attempt affairs has he hit at least 40 percent.
The 19-year-old will continue to see periodic playing time as he adjusts to the pro game. He'll likely receive only a couple more chances to run the floor for at least 15 minutes this season.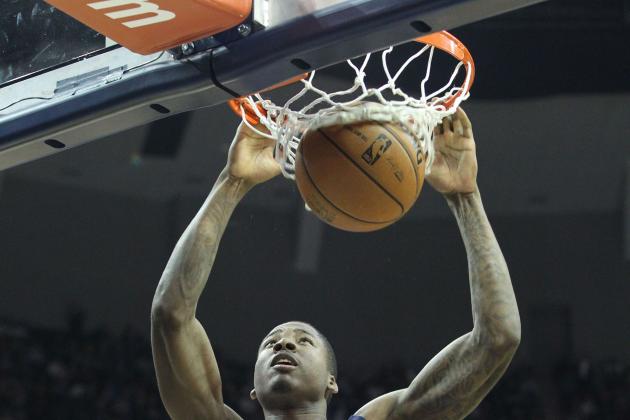 USA TODAY Sports

Ed Davis is an odd piece for the Grizzlies. He's a big man who isn't quite big enough to be useful for Lionel Hollins. Unlike Marreese Speights, Davis lacks the size and the spacing ability to complement Darrell Arthur. The former Toronto Raptor isn't special enough at this point to tug minutes away from Arthur.
To his credit, Davis does some things well. He shoots at an extraordinary clip with good range, hitting 62.1 percent from the field.
His rebounding is impish. He's pulled down four rebounds or more in three of 10 games and is averaging 6.6 per 36 minutes.
Meanwhile, his free-throw attempts are clunkers, as he's made just nine of 16 in the Grizzlies uniform.
Davis made the most of a 21-minute appearance against the Detroit Pistons on Tuesday, posting 14 points, four rebounds and four blocks.
While the 23-year-old is thought of as a possible successor to Zach Randolph as the starting power forward, he has a great distance to travel. Significant playing time will come with time.
Lionel Hollins complained to The Commercial Appeal about not having a center, and he got one.
Slow-footed centers who can stand under the rim, put up their hands and get rebounds are valuable guys. The Grizzlies replaced one—Hamed Haddadi—with another—Dexter Pittman.
Pittman was part of a tame rotation of centers for the Miami Heat. While he played only four games this season in Miami, he appeared in 35 in 2011-12, averaging 8.6 minutes per game. He averaged 12.7 points and 8.5 rebounds per 36 minutes.
Even though Pittman wasn't much of a starter, he'll be a serviceable backup. He'll score a little and rebound plenty.
Accustomed to leaning on Haddadi and Marreese Speights to supplant Marc Gasol a bit each game, Hollins isn't used to a full-bodied fairly-conditioned center. Pittman must see double-digit minutes all the time.
Otherwise, the fourth-year head coach's wishes will have been for naught.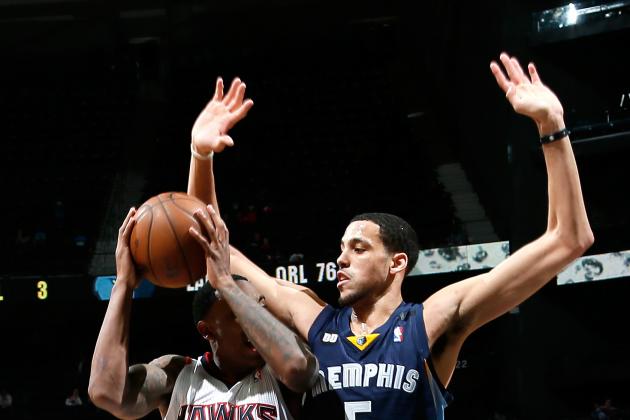 Kevin C. Cox/Getty Images

Austin Daye is a unique talent. At 6'11" and 200 pounds, he's a lean big man with deep range.
Daye is helpful shooting from outside, hitting 42.1 percent from downtown.
Also, he's done well defensively, allowing 101 points per 100 possessions.
He doesn't rebound much—just 5.3 per 36 minutes.
Still, his scoring is a blessing with Darrell Arthur going through an extended slump. Daye lent a big hand with 12 points against the Golden State Warriors and 16 against the Minnesota Timberwolves.
That he has received 12 minutes or more in five of nine games is a pleasant surprise, as is his performance to date.
The Grizzlies need Darrell Arthur to wake up. He hasn't scored in double figures since Jan. 23. Since then he's averaging 5.4 points per game on 38.8 percent shooting.
Arthur's rangy shooting is necessary for balanced bench scoring.
Anyway, his defense has been a great aide. The Kansas product is sometimes the Grizzlies' best defender on the perimeter off the bench.
The scoring troubles have caused the fourth-year pro to go from 20.9 minutes per game in January to 15.3 in February.
Still, with the turnover in the reserve unit, he remains the No. 1 Grizzlies backup big man. Through streaks and slumps, Lionel Hollins will continue to play Arthur more than any other big man wearing the three shades of blue.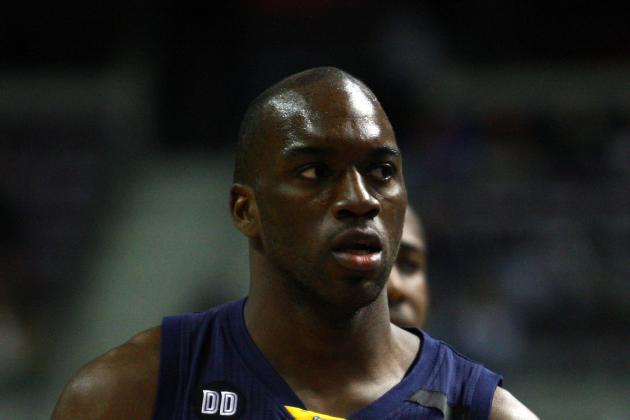 Raj Mehta-USA TODAY Sports

Quincy Pondexter is easing back from a sprained left MCL. He's seen just 76 minutes in five games since his Feb. 10 return. He performed nicely in his first significant performance since coming back, putting up 10 points, three rebounds and three steals against the Detroit Pistons. Since returning, he's made 10-of-19 field-goal attempts.
Pondexter still needs to regain his three-point shooting form. He's hit just two of seven treys in the last five games.
His previously strong long-range shooting should come back. Lionel Hollins will give him plenty of playing time in which to rediscover it. Hollins gives the players he trusts the most playing time. Since Pondexter averaged the most minutes per game before his injury, he'll be No. 2 in the bench rotation down the stretch.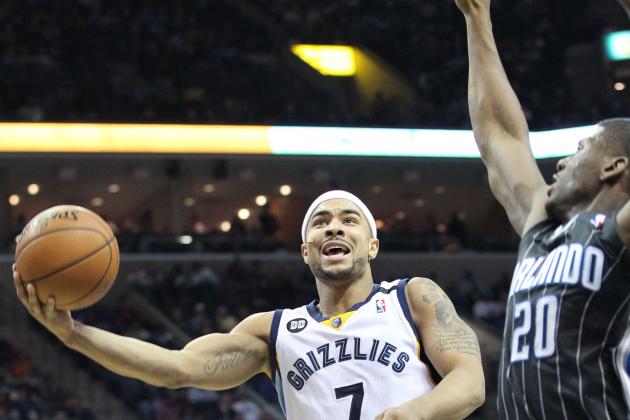 USA TODAY Sports

With Rudy Gay and Wayne Ellington traded and Quincy Pondexter injured, the Grizzlies turned to Jerryd Bayless to carry a greater role on both ends of the floor. Bayless responded positively, improving his defense and discovering his shooting touch.
Bayless has had a smooth stroke in the last few weeks. He has scored seven points or more in every game but two since Jan. 21, including a nine-game streak of double-digit scoring from Jan. 21 to Feb. 8.
In that time, his offensive rating has jumped from 95 points per 100 possessions to 102 per 100.
He's lowered his defensive rating a couple notches to 102 points allowed per 100 possessions.
Hollins has put enough trust in him to play him 30 minutes or more six times since Jan. 23. The former Raptor will have his coach's confidence for at least a while longer. As long as he shoots well, Bayless will earn a few more minutes per game than Quincy Pondexter.