Biggest Potential Second-Half Disaster for Each NBA Team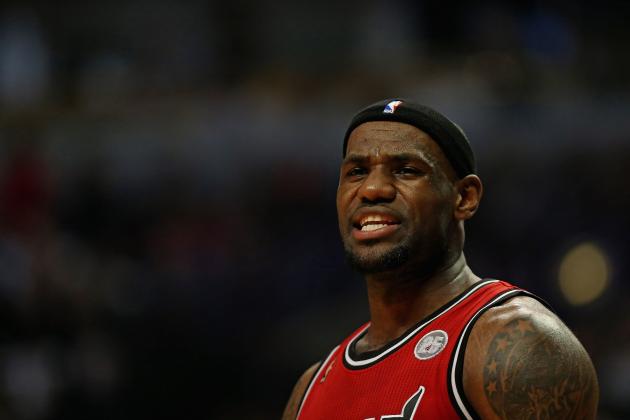 Jonathan Daniel/Getty Images

We might have survived the dreaded Mayan Apocalypse at the end of 2012, but what if some sort of disaster is in store for each of NBA team during the second half of the 2012-13 season?
Whether we're talking about injuries, shifts in mentalities or returns from injuries, what's the worst thing that could happen to the 30 teams in the Association?
The optimist in me hopes that none of the following hypotheticals will become realities, but the realist in me knows that there's always a chance (for most of them at least).
Begin Slideshow

»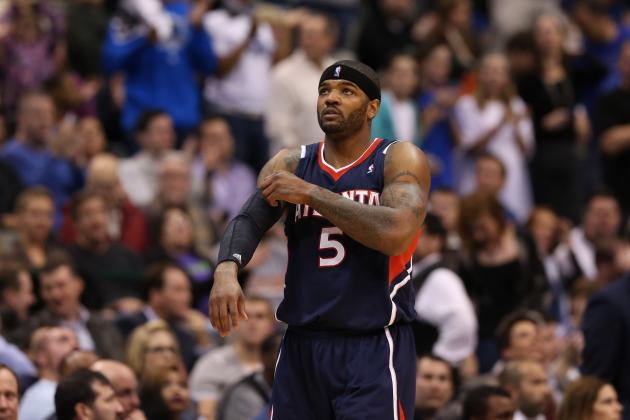 USA TODAY Sports

It must wear on the psyche at least a little bit when you're placed on the trade block: Rumors involving your name swirl for weeks and then nothing happens.
You know that the organization isn't exactly thrilled you're still a part of it, so what's your motivation?
That's the situation Josh Smith finds himself in after an empty trip to the trade deadline by the Atlanta Hawks. A free agent at the end of the year, Smith must find something to keep him motivated during the rest of the 2012-13 campaign.
If Smoove isn't happy, that's going to be a disaster for Atlanta. He'll play poorly throughout the rest of the season—lofting up far too many deep two-pointers—and won't return in the offseason.
Jennifer Stewart-USA TODAY Sports

With Rajon Rondo already out for the rest of the season, the Boston Celtics certainly can't afford for another superstar to go down.
Paul Pierce and Kevin Garnett had large responsibilities for the C's even while the talented distributor had both ACLs intact, but their roles with the squad have only increased now that one of those aforementioned ACLs is blown.
The two veterans have performed admirably thus far, but can you imagine the disaster that would occur if there were yet another big injury?
At some point, enough is enough.
Brace Hemmelgarn-USA TODAY Sports

Throughout the Nets' first season in Brooklyn, Brook Lopez has been absolutely fantastic. Now that he's at least competent on the boards and when attempting to play defense, his offense is incredibly valuable.
That value was diminished during the pre-Brooklyn era when he was more of a liability rebounding the ball and playing on the less glamorous end of the court. The Nets were essentially doing a cost-benefit analysis each time they thought about putting in the Stanford product.
An 82-game season is a long one, and Brooklyn can't afford for Lopez to revert to the habits he learned in New Jersey as he wears down little by little.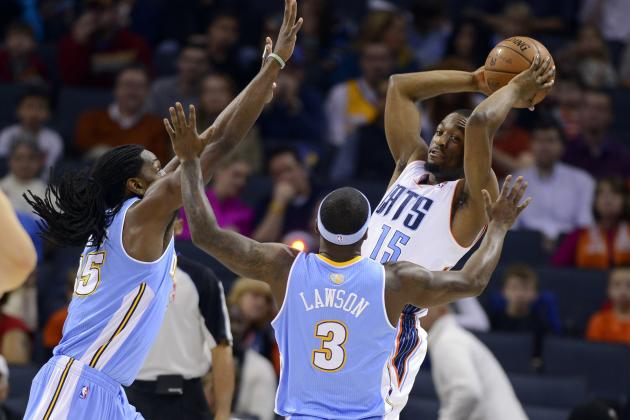 Curtis Wilson-USA TODAY Sports

Let's be real here.
What could be possibly be classified as a "second-half disaster" for the Charlotte Bobcats? Wasn't their first half bad enough?
A disaster would simply be maintaining the status quo, failing to make any step forward to respectability.
It may sound mean, but it's true.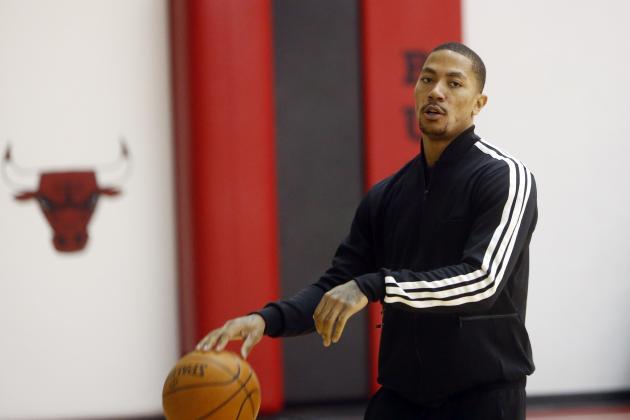 USA TODAY Sports

Every Chicago Bulls fan out there is desperately hoping for Derrick Rose to return and immediately regain his MVP form.
However, what if the talented point guard comes back a little too early and re-injures himself? That's a terrible thing to suggest, but ACLs are finicky little things.
The Bulls have kept up with the rest of the Eastern Conference elite up to this point, but they probably won't be able to survive the postseason gauntlet without their humble leader. Achieving that tricky balance between too late and too soon is essential.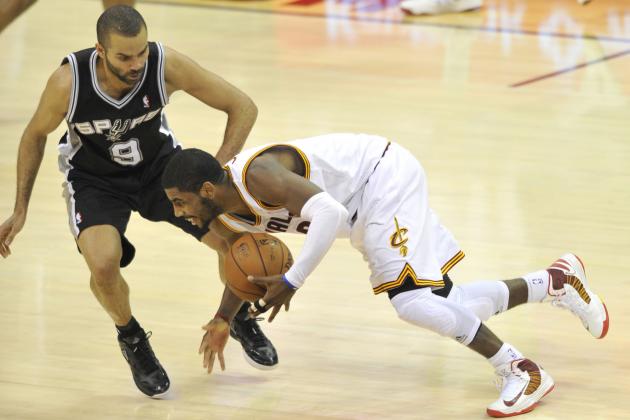 USA TODAY Sports

After losing a tight game to the Miami Heat, the Cleveland Cavaliers have dropped to 18-38, clearly out of the postseason picture despite the fact that 26 games have yet to be played.
All that's really left is earning a great draft pick while developing the younger players. And of those young players, Kyrie Irving is clearly the star shining the brightest. He's already emerged as one of the 15 best players in the league, and his ascent up the leaderboard isn't exactly slowing down.
It would be absolutely devastating if Irving went down with a major injury, thus hindering that ascent.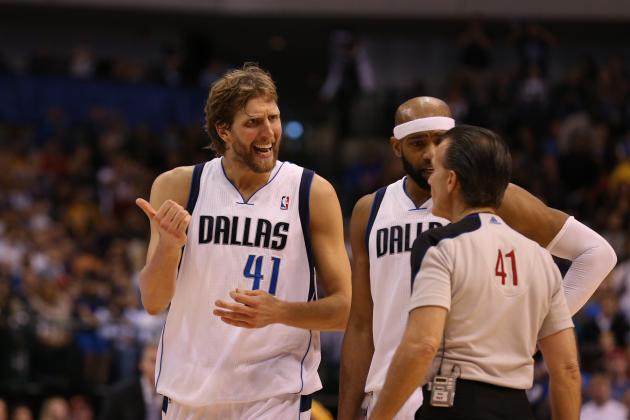 USA TODAY Sports

Dirk Nowitzki has been playing a bit better lately, but the German power forward is still averaging just 15.4 points, 5.9 rebounds, 2.6 assists, 0.6 blocks and 0.6 steals per game on 42.7 percent shooting per game.
This isn't the Dirk that we've gotten used to watching over the past decade. That seven-footer is an unstoppable scoring machine, especially when he turns to that one-legged fadeaway I refer to as "The Flamingo Shot."
Dirk is 34 years old. It's not exactly guaranteed that he returns to his pre-surgery form.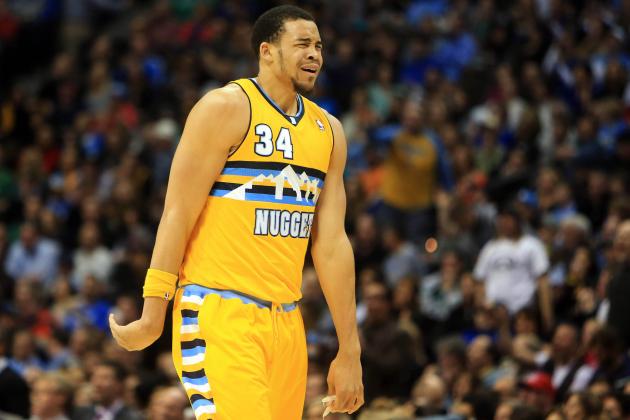 Chris Humphreys-USA TODAY Sports

It's no secret that the Denver Nuggets are a deep team. From top to bottom, point guard to center, this is a team filled with talented starters and reserves.
Depth is normally a good thing, but, as with most good things, excess can be a problem.
If you only look at the second unit, you're working with a five-man unit comprised of Andre Miller, Corey Brewer, Wilson Chandler, Anthony Randolph and JaVale McGee. Doesn't everyone think that squad could beat the Charlotte Bobcats and maybe a few other teams out there?
And we still have Timofey Mozgov, Jordan Hamilton and Evan Fournier to divvy out some playing time to.
I doubt it does become a problem, but there's an outside chance it could.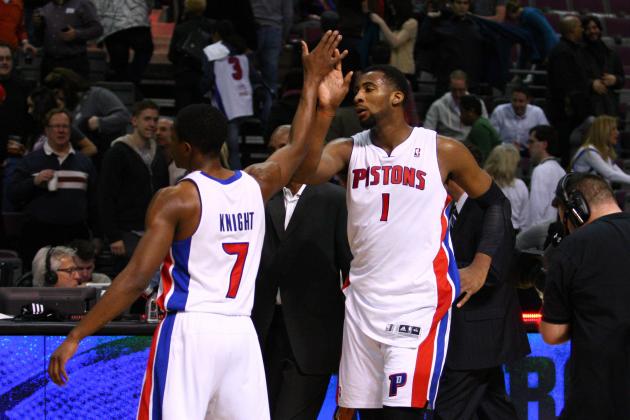 USA TODAY Sports

The Detroit Pistons might only be six games outside the playoff picture, but there's not much of a chance that this squad makes it to the postseason. The teams ahead are just that much better during the 2012-13 season.
One of the few good parts of this campaign for Detroit has been the transformation of Andre Drummond from sure-fire bust to sure-fire future star.
However, Drummond went down earlier this season with a stress fracture in his fifth lumbar vertebra. That's a major injury, and it could be problematic for the future if the former Husky decides to push up the return date too far.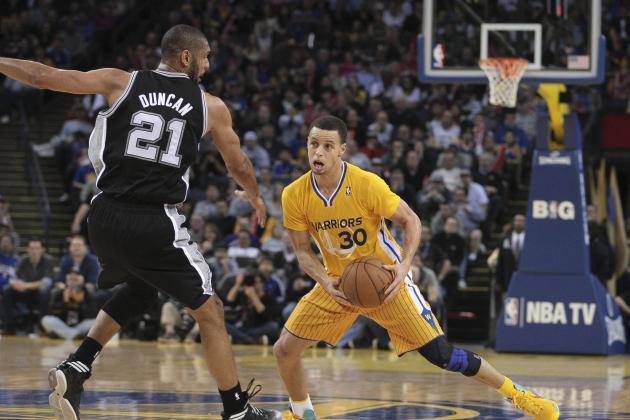 USA TODAY Sports

I started to go back and count the number of times that Stephen Curry had hurt an ankle during his basketball career, but I ran out of room on my hands and then the batteries in my calculator died.
So, I'm going to approximate and just say that it's happened a lot.
Curry is an incredible talent at point guard for the Golden State Warriors, but what if his ankles remember that they're actually made out of glass?
His offense makes this team go, even if he wasn't the Dubs' lone All-Star representative. It's not something that the fading Warriors can afford to lose, unless they keep wearing those short-sleeved jerseys.
USA TODAY Sports

If you haven't heard of Samson, go ahead and look him up.
Now you know why it would be such a problem if James Harden shaved off the follicular forest that resides on his cheeks and chin. His foul-drawing powers clearly stem from the beard.
Harden has been one of the best stories during the 2012-13 campaign, and the Houston Rockets are completely reliant on his offensive prowess.
If the beard comes off, the offense derails.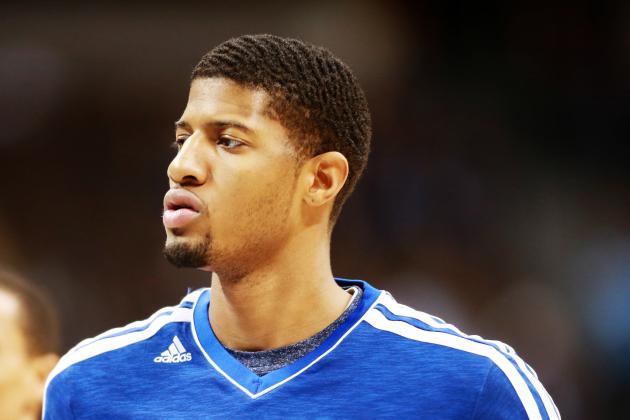 USA TODAY Sports

The Indiana Pacers have quickly become one of the most dangerous teams not just in the Eastern Conference, but in the entire NBA. They boast a ridiculously effective defense and an offense that is getting on the right track.
Since coming back from the All-Star break, the Pacers dropped 125 points against the New York Knicks and 114 against the Detroit Pistons. Those are the first- and third-highest totals of the season for Indiana, and the second-highest was a 115-point outing against the Sacramento Kings in a game that went to overtime.
Indiana played Detroit again in its next game, this time with Danny Granger making his season debut. Last season's leading scorer on the squad shot 1-of-10 from the field, and the Pacers only put 90 points on the board.
It's obviously going to take time for Granger to return to full strength and play his way back into game shape, but what if he just screws up the chemistry? Things have been clicking pretty well without him.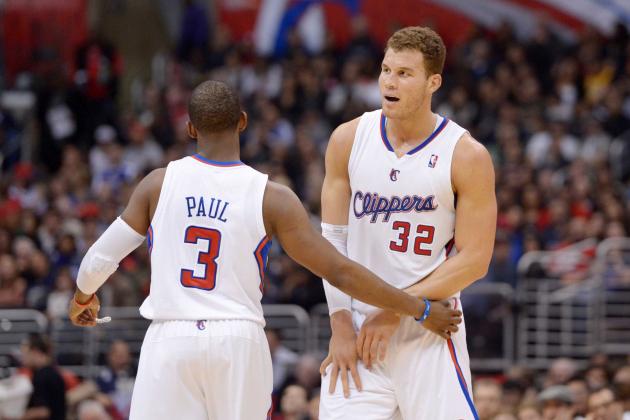 USA TODAY Sports

The Los Angeles Clippers have earned that "Lob City" moniker for good reason.
Chris Paul seems to love nothing more than throwing the ball up in the air and waiting for either Blake Griffin or DeAndre Jordan to catch it and mash it home through the rim for a successful alley-oop. If you watch a Clippers game, you'll certainly see it happen at least a few times.
Well, can you imagine if the alley-oop were suddenly outlawed?
The Clippers wouldn't have any idea how to generate offense.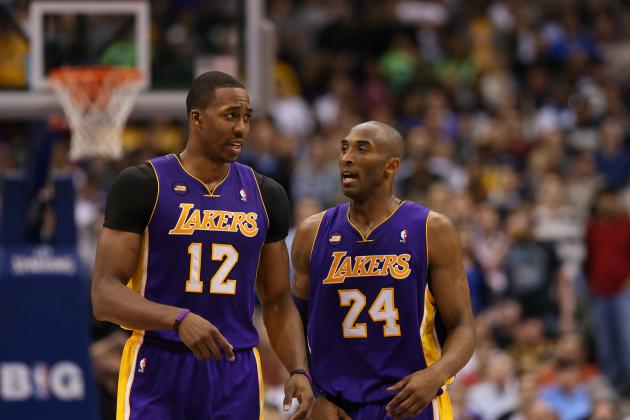 USA TODAY Sports

It's hard to imagine a second-half disaster for the Los Angeles Lakers that could be worse than the first half.
But, let's roll with Dwight Howard not being happy at all. He wasn't moved at the trade deadline, so he will most assuredly be playing out his first full season outside of Florida with the Lakers.
Howard is the piece that this team needs to be built around, and if he isn't happy, that's just not going to happen. The big man could bolt as soon as he's able to when free agency opens at the conclusion of the postseason.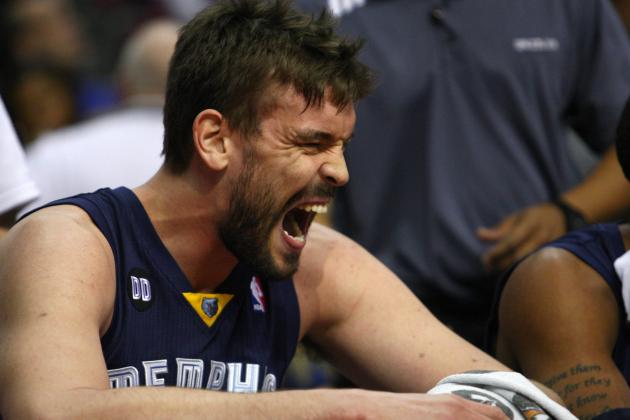 Raj Mehta-USA TODAY Sports

The Memphis Grizzlies traded away their leading scorer, Rudy Gay, to the Toronto Raptors, but they didn't get much scoring power back.
Instead, the organization hoped that Marc Gasol would be able to step up and take more of a central role in the offense. However, that's something that the big man has been rather hesitant to do.
Memphis' offense already ranks in the bottom half of the league, and it's going to have to be better if the Grizzlies hope to stay near the top of the Western Conference.
If the offense never gets going, it's going to be quite problematic.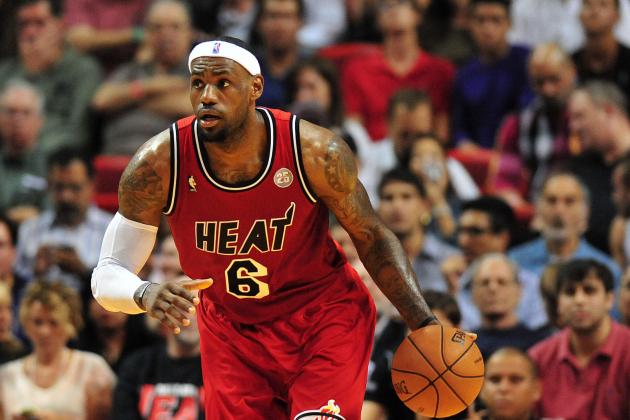 USA TODAY Sports

Whenever LeBron James turns over his ankle, everyone gasps. The reigning MVP is so good at basketball and so physically imposing that he can't possibly be subject to human injuries.
We just assume he's superhuman.
Well, what if LeBron misses any time? The Miami Heat will be much worse without him in the lineup, and the illusion will be forever lifted.
Plus, we'll miss out on some fantastic basketball.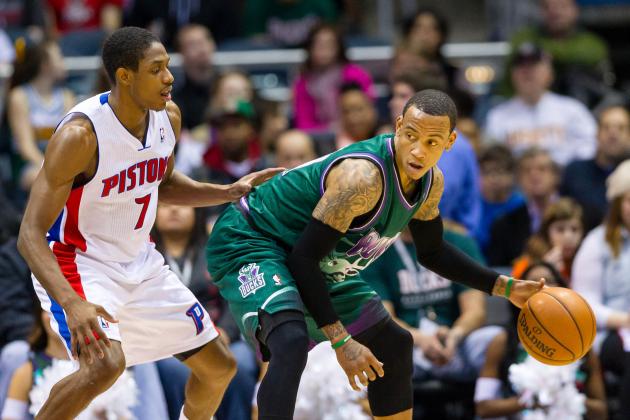 Jeff Hanisch-USA TODAY Sports

The Milwaukee Bucks currently hold down the No. 8 spot in the Eastern Conference, but they'll have to fend off charges from the Philadelphia 76ers, Toronto Raptors and possibly the Detroit Pistons if they hope to keep it.
A massive wrench could be thrown into those plans if Monta Ellis and Brandon Jennings stop being able to function together in the backcourt.
I'm a little worried about both of them: Ellis because he was in trade rumors and Jennings because he seems to want out of Milwaukee. When they decide to shoot at the expense of everything else, points won't exactly flow for the Bucks.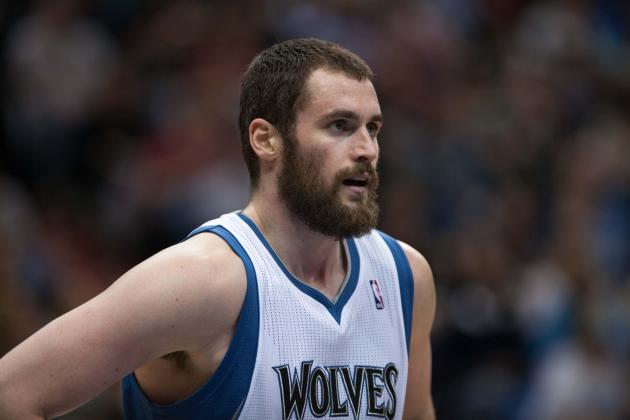 Brace Hemmelgarn-USA TODAY Sport

I refuse to pick a second-half disaster for the Minnesota Timberwolves because of how disastrous the first half was.
If a player could get injured in Minnesota, he probably succumbed to the injury at some point. Hell, Kevin Love went down twice, with the second time just a short while after he debuted for the Wolves.
Minnesota is already out of a playoff picture that it should have been squarely in the middle of.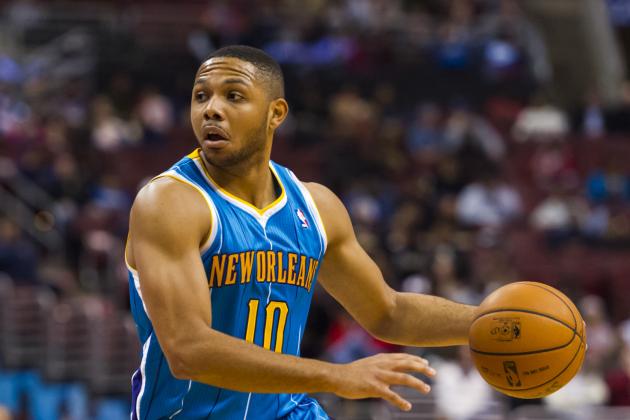 USA TODAY Sports

Eric Gordon wanted to join the Phoenix Suns during free agency but ended up stuck on the New Orleans Hornets instead. Needless to say, he wasn't all that happy about it.
Gordon missed a large chunk of the season with his troublesome knee injuries, but he's back and making an undeniably positive impact on the soon-to-be Pelicans.
However, what if he grows frustrated by the losing season he's a part of?
The Hornets have already shopped him once, and any decline in morale could result in an attempt by Gordon to force his way into the desert in the offseason.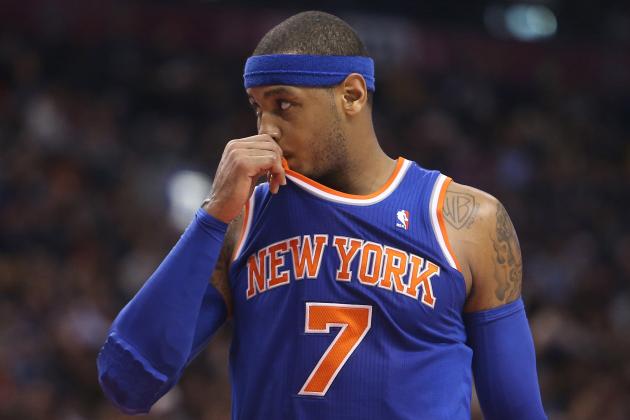 Tom Szczerbowski-USA TODAY Sports

The New York Knicks have a bona fide MVP candidate in Carmelo Anthony, even if his percentages have been declining as the season has progressed.
Melo has shown more focus than ever on the defensive end of the court, and his passing has taken a step forward as well. Of course, he's still scoring at a high level all the while.
This small forward/power forward embodies the true "most valuable" aspect of the MVP award, even if he should absolutely trail a number of other players on the ballot. New York simply couldn't function at the same elite level without him.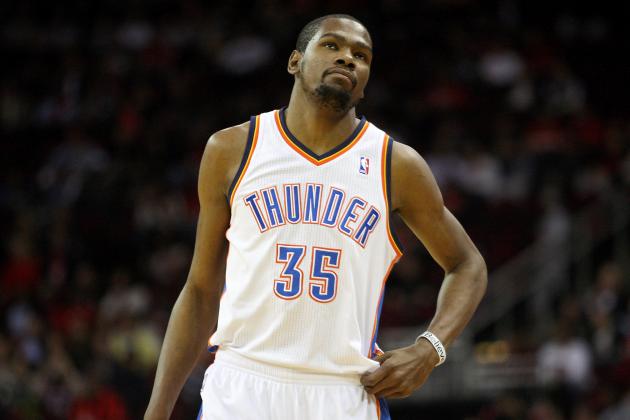 Troy Taormina-USA TODAY Sports

Take everything I just said about Carmelo Anthony and then magnify it. That's the only way you can understand just how much Kevin Durant means to the Oklahoma City Thunder.
It would be disastrous if Russell Westbrook or Serge Ibaka succumbed to an injury, but it would be catastrophic if Durant went down.
His scoring means so much to this squad, especially as he puts up his points in such efficient fashion. And it's not like his defense and passing have been things to sniff at during the 2012-13 campaign.
Mention an injury and Durant in the same breath, and hundreds of OKC fans will immediately recoil in fear.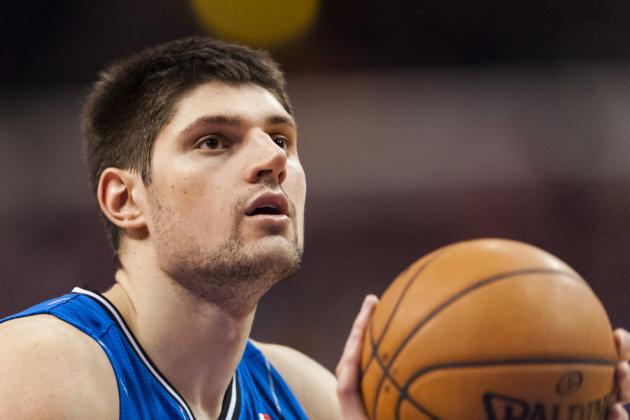 USA TODAY Sports

The Orlando Magic's best player during the pre-All-Star-break portion of the season was J.J. Redick, but he's no longer even on the roster after Rob Hennigan shipped him off to the Milwaukee Bucks.
A team devoid of established talent is now left with even less. This season is a lost cause, and the only good things that will come from it are the experience for the younger players and the inevitable top draft pick.
Orlando currently has the second-worst record in the NBA, so it would be a disaster if the Magic suddenly started winning and worsened their lottery odds.
USA TODAY Sports

You've seen this one before with Derrick Rose and Andre Drummond, but that doesn't make it any less true for Andrew Bynum.
As much as the Philadelphia 76ers are missing a post presence on both ends of the court, Bynum must wait for the proper moment to return. If he comes back too soon and re-injures his decrepit knees, that would be just about the worst thing that could happen.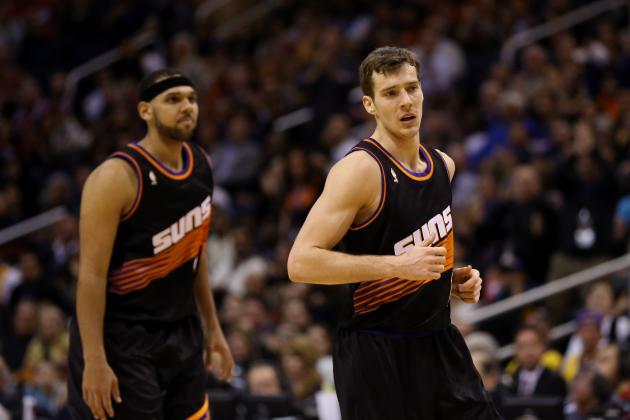 Mark J. Rebilas-USA TODAY Sports

When you have the third-worst record in the NBA and things aren't exactly looking up, that's when it's time to start thinking about tanking. And you can be sure that the Phoenix Suns are following a similar train of thought.
Phoenix needs to reload with a bit more talent around Marcin Gortat, Goran Dragic and the now-complete Morris twins. The draft is the best way to do that right now, and Phoenix can't afford to worsen its lottery odds.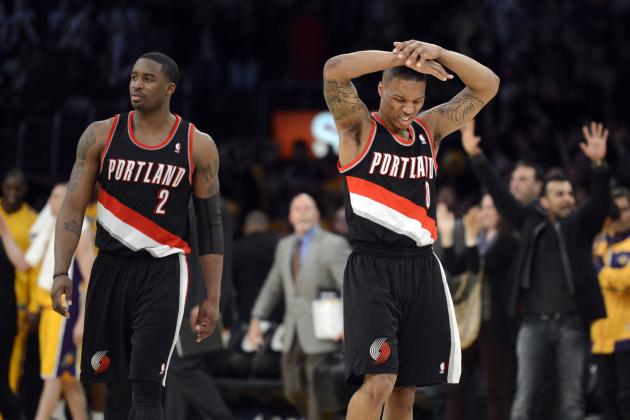 Richard Mackson-USA TODAY Sports

The Portland Trail Blazers are still in playoff contention, even if they have slipped behind the Los Angeles Lakers in the standings.
However, they're still one of the shallowest teams in the league. Damian Lillard, Wesley Matthews, Nicolas Batum, LaMarcus Aldridge and J.J. Hickson are all solid starters, but there isn't much talent to be found on the bench, even if Eric Maynor makes some noise off the bench.
Portland simply can't afford for any of its starters to be injured because there aren't capable replacements.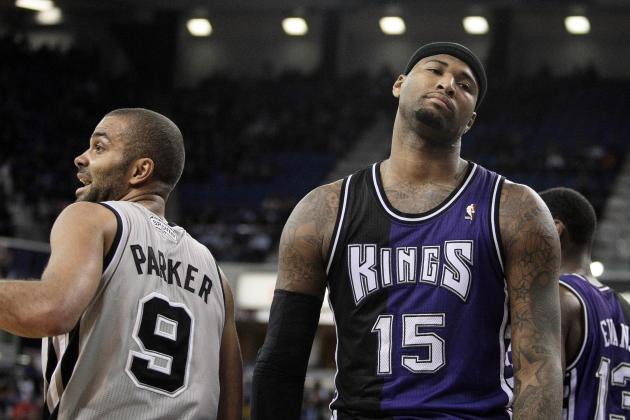 USA TODAY Sports

I can't be the only one who thinks of DeMarcus Cousins as a ticking time bomb just waiting to go off.
Cousins has had minor explosions before, many of which have resulted in suspensions, but don't you get the feeling that he's still waiting for the major one? You know, the one where his head pretty much explodes.
The Sacramento Kings provide one of the league's premier toxic environments, and they clearly don't have much direction. That's the perfect situation for Cousins' clock to finally count down to zero.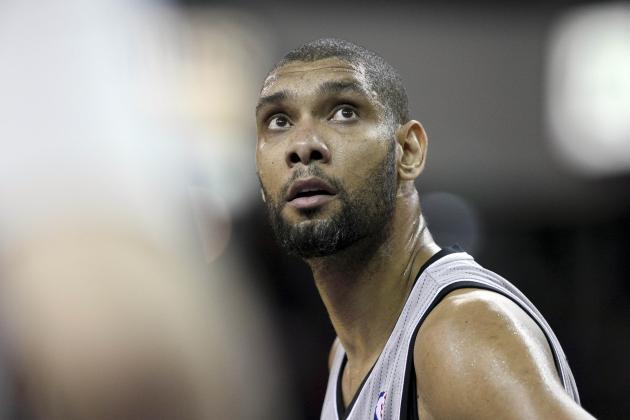 USA TODAY Sports

It's tough to think of a disaster scenario for the San Antonio Spurs.
If every single one of the starters got injured, Gregg Popovich would simply coach up the backups until the Spurs were title contenders. I'm convinced that he could get me to play at an All-Star level despite my 5'11" frame and absence of NBA talent.
The worst thing that could happen to the Spurs would be for the stars to wear down in the postseason.
Even though San Antonio isn't quite as old as we think, Tim Duncan, Tony Parker and Manu Ginobili are. A grueling stretch of games in the playoffs could result in a premature elimination.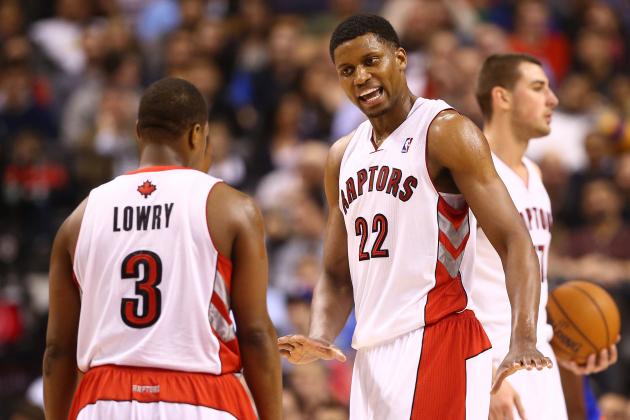 Tom Szczerbowski-USA TODAY Sports

The Toronto Raptors are in the middle of the standings, which is pretty much the worst situation to be in as an NBA team.
You either want to be in the playoffs or near the cellar, but anywhere in between is more problematic. Then you don't get a chance to compete for a championship, and your odds of landing a top draft pick are miniscule.
Toronto is four games out of the postseason in the Eastern Conference, and only four non-playoff teams have better win percentages. One of those things needs to change.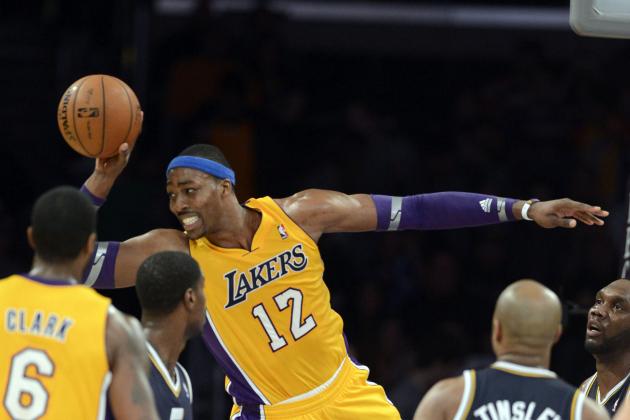 Richard Mackson-USA TODAY Sports

What you see is what you're going to get from the Utah Jazz. Even if one of the big-name players goes down, there are plenty of replacements just waiting to step up.
The worst thing for the Jazz would be the Los Angeles Lakers catching fire and passing Utah in the standings.
Utah currently holds down the No. 7 seed, but it'll be tough to keep ahead of both the Houston Rockets and Lakers when the regular season starts drawing to a close. If L.A. goes on an incredible streak and pushes into the playoff picture, that's terrible news for the Jazz.
Rob Carr/Getty Images

John Wall has been a massive difference-maker for the Washington Wizards, but he has to be frustrated with the direction of this team.
There's not too much talent in Washington, even with Wall and Bradley Beal forming a dynamic backcourt. After the management decided to trade Jordan Crawford to the Boston Celtics for just about nothing, it's still not trending the right way.
Wall is a passionate player, so what if he just gets too frustrated with Washington and decides that he doesn't want to be a part of the long-term plans?
That would be a devastating blow to the Wizards.