Robin Van Persie vs. Luis Suarez: Breaking Down the Stats Battle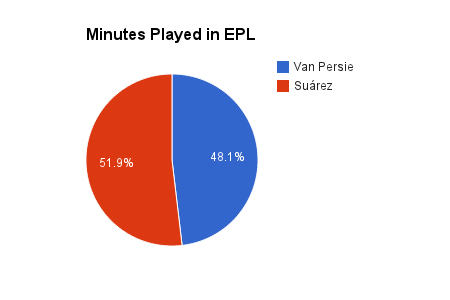 Van Persie: 2157 minutes, Suárez: 2325 minutes
Robin van Persie and Luis Suarez are the two best strikers in the Premier League. The numbers suggest as much, at least.
19 goals for the former and 18 goals for the latter. These figures account for 31 percent and 40 percent of their team's League goals this season, respectively.
But who is currently having the better season? Is it the smooth Van Persie, or the mercurial Suarez?
Per usual, the numbers provide an interesting perspective on the debate. This list looks at each player's Premier League season so far and compares their data through different advanced metrics.
All statistics are courtesy of the EPL Index, Whoscored and Opta.
Begin Slideshow

»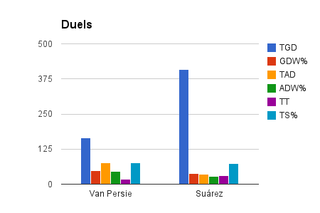 TGD: Total Ground Duels, GDW%: Ground Duel Winning Percentage, TAD: Total Aerial Duels, ADW%: Aerial Duel Winning Percentage, TT: Total Tackles, TS%: Tackle Success Rate
Van Persie holds a slight edge in duel efficiency. However, Suarez is the more frequent dueler, particularly in terms of ground duels.
This is clearly driven from Suarez's willingness and desire to beat defenders off the dribble. His lust to create his own space is unmatched in the Premier League.
Van Persie is better in the air than Suarez. He is engaging in aerial duels at a higher rate and winning them more often, too.
Suarez has won a few more tackles.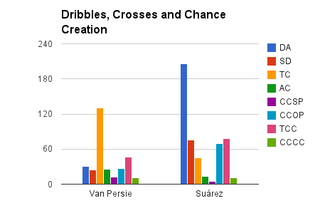 DA: Dribbles Attempted, SD: Successful Dribbles, TC: Total Crosses, AC: Accurate Crosses, CCSP: Chances Created Set Piece, CCOP: Chances Created Open Play, TCC: Total Chances Created, CCCC: Clear Cut Chances Created
We see an edge for Suarez in this category: Chances created. The Uruguayan is by far the more prolific playmaker, creating 32 more chances than the Dutchman. That's over a chance per game.
All but five of Suarez's chance creations have come from open play. All but 12 for Van Persie.
The Manchester United man is the more willing crosser, attempting more and completing more crosses than the Liverpool man.
Van Persie may not have Suarez's high number of dribbles but he is almost never tackled when he is going at a defender, completing 24 of his 31 attempted dribbles.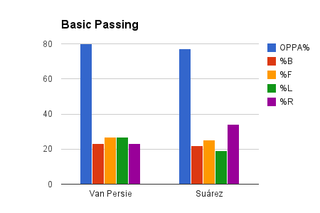 OPPA%: Open Play Passing Accuracy Percentage, %B: Percent Back Passes, %F: Percent Forward Passes, %L: Percent Left Passes %R: Percent Right Passes
In terms of open play, run-of-the-mill passing, Van Persie might be slightly better, but only by a negligible amount.
He completes just three percent more of his open-play passes. They both look forward on about every fourth pass.
Not too much of a difference here.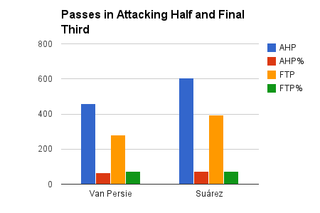 AHP: Attacking Half Passes, AHP% Attacking Half Passing Accuracy Percentage, FTP: Final Third Passes, FTP: Final Third Passing Accuracy Pecentage
How about passing in the opposition half and opposition final third?
Another advantage for Suarez, albeit by another slim margin.
Suarez is the more frequent passer in dangerous areas of the pitch, completing 113 more final third passes.
Van Persie is a tick more accurate with these types of passes; he completes them on 74 percent of occasions and Suarez does so on 73 percent of occasions.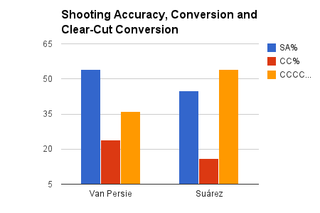 SA%: Shooting Accuracy Percentage, CC%: Chance Conversion Percentage, CCCC: Clear Cut Chance Conversion Percentage
On to what strikers earn their paychecks for: Shooting and finishing.
Van Persie holds an advantage in terms of accuracy and chance conversion.
The Red Devil finds the target on nine percent more of his attempts than does the Red. The first year United man boasts a better chance conversion rate, too; he hits the mark on a very impressive 24 percent.
Suarez's chance conversion rate is 16 percent.
He does finish more clear cut chances, converting over half (54 percent) of "must score" opportunities. Van Persie is a bit less effective here, only tallying on 36 percent of these chances.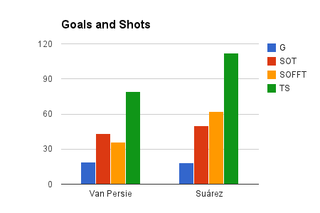 G: Goals, SOT: Shots on Target, SOFFT: Shots Off Target, TS: Total Shots
The last category, goals, presents more statistics that are similar.
Van Persie is a goal better than Suarez, 19 goals to 18 goals. He's been able to do so on 33 fewer shots, slightly more than a shot per game.
That's better efficiency from Van Persie, but not by so much.
Based on the discussed statistics, the nod goes to Suarez by a small amount. The metric that puts Suarez over the top is his chance creation. His vast superiority in that category was the only statistic that suggested any significant difference in the two players.
Bottom line is that both are divine strikers and a case could certainly be made for Van Persie, even using these numbers. They are that close and that good.