2013 Combine: 10 Receivers the Vikings Should Take Another Look at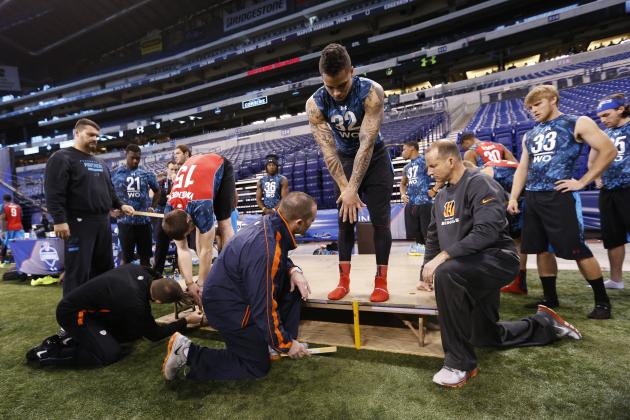 Joe Robbins/Getty Images

As receivers flew down the Lucas Oil Stadium turf, we can bet the Vikings were among the teams watching very, very closely.
Of course, things like the 40-yard dash get overblown every year during the combine, so all Sunday should do is make you go back and double-check what you saw on film and perhaps, dig deeper.
At 23, the Vikings will have plenty of choices for talented wide receivers if they choose, but as deep as this class is, they could easily wait a few rounds.
Here are some receiver prospects who either created a buzz among onlookers or who caught my eye in the positional drills this weekend.
**All observations are from watching combine feed unless otherwise specified**
Begin Slideshow

»
We start, of course, with Marquise Goodwin who lit up the 40-yard dash track with a 4.27. Goodwin absolutely helped himself with his time, as well as his positional drills which were relatively solid.
Many analysts have Goodwin as a third-rounder though, and while this will move the needle, ultimately he's a prospect that has a lot of potential which we have no way of knowing will be realized. Many analysts (and Longhorn fans) feel he was badly misused in Texas and, with better coaching, could be a huge factor in an offense.
There's no way to know that for sure. There's plenty of decent tape on him, but that uncertainty could very well have him lingering for either of the Vikings' first two picks.
Tavon Austin looked like he ran as fast as Goodwin, causing more than a few analysts to start drooling that he could be a top 10—perhaps even top five—pick.
You can imagine that stopped one the official time came out at 4.34. Now, this isn't a bad time at all, but it goes to prove one thing about the 40—people live and die by it far too much.
Now, I'm a big fan of the West Virginia product and believe he could be an excellent pick at 23 for the Vikings, if even a little too in the vein of Percy Harvin and Jarius Wright.
Austin showed off great hands in the gauntlet drill, crisp cuts in route-running drills and overall skill which reflected what I've seen on "film."
Is 23 too early? I don't think so and certainly not if Harvin isn't on the team anymore.
Of course, Cordarrelle Patterson looked good again and continues to appear like he will go too early for the Vikings to get. If he happens to slip, he would be a great vertical threat for the team.
Patterson ran well, performed excellently in the drills and did everything anyone could ask of him. His routes aren't always great (though I felt he did all right Sunday) and he can be a little too physical downfield, but he can go deep and the Vikings really need a deep threat.
It's a very deep year for receivers which could mean one of two things. On the one hand, it could mean that the Vikings will see Patterson slide to them as teams decide to look later for value.
On the other hand, it could mean the Vikings can just wait themselves.
If you've read my stuff in the last few months, you'll know I have a pretty big draft crush on Duke's Conner Vernon. While he didn't light up the timed drills, he showed good hands and ran some solid routes as well.
I really liked what I saw of him in Mobile last month and have been waiting for a chance to take a close look at his tape. Certainly what I saw in Indianapolis warrants it.
Vernon is a good mid-to-late round prospect, someone that the Vikings can get with minimal risk. I believe he'll be very good at the next level, but if he misses, it won't be a matter of losing out on a high pick.
Woods looked solid very solid on Sunday as well, running a good 4.51 40 and showing solid hands and route running in all the positional drills.
Southern Cal asked him to do a lot of bubble screens and, like Goodwin, he might have been limited by a pretty stagnant offense with little creativity. The announcers on the NFL broadcast pointed out that USC receivers seem to have a high bust rate and they're right.
Whether than really worries teams or not will impact where Woods goes.
Another guy I was impressed with in Mobile, Swope had to bow out after a day or so due to an Achilles injury. I have been looking forward to seeing more of him in Indianapolis and was not disappointed.
One of the knocks on Swope has been speed (or lack thereof), but his 4.34 will have folks going back to the tape and see what the difference is. As I said at the start, you shouldn't over-value a 40 time since these guys train for it for two months.
That said, it definitely makes you go back to look at the film and ask "What was different? What is the disconnect?"
Swope also showed some good explosion in both the vertical and broad jumps.
While he's not a burner—at least not on film—he handles the ball well and runs tough.
As a third- or fourth-round pick, he'd be a good acquisition for Minnesota.
DeAndre Hopkins had a solid 40 time and is another potential first-round choice for the Vikings.
We saw Hopkins do a good job catching the ball while running in stride, adjusting to the ball mid-throw and showing off some good cuts on running routes.
Hopkins doesn't have track speed and will have to rely on route running to gain separation on vertical plays, but looks like he would be a good complement to Harvin and Wright.
The last two years were very productive for Hopkins, and he could step right in as an impact receiver for Christian Ponder.
Robinson is here on the strength of the giant leap forward he made between the Senior Bowl and now.
Frankly, while he improved as the week went on in Mobile, I wasn't all that convinced. I'm not in love with him now (and the nerve damage to his arm still seems to bother him a little), but he really improved over the course of a month.
Robinson didn't blow me away with any one drill or aspect of his day—it was the totality of it which was worth noting.
I certainly wouldn't go early on him, but he might start moving up into the fifth round or so if he keeps improving.
We know he's an athletic freak. The question is, can he be a freak who can catch?
It's starting to look like the answer could be yes.
On the other hand, we've seen freaks try and transition before and fail.
Rogers timed and tested well on Sunday, and looked pretty good in the positional drills as well. The ability to adjust to the ball in the air, good hands and tight routes were on display and he caught the ball cleanly.
The biggest issues with Rogers have been off-the-field issues, with some pretty big lapses on the field for good measure.
He was bad enough to where he was kicked off Tennessee's football team. That's not a good look coming into the combine.
Rogers kept on the straight and narrow at Tech though, so he showed he can correct bad behavior. Still, it's a question mark.
Another question is how he would fit into the offense. Not a big vertical threat, Rodgers is able to work the middle and overpower defenders—a plus for the Vikings.
But the Vikings need that vertical threat and they need it bad.
If Rogers is there in the third, he could fit in well—especially if they addressed the vertical threat early.
It might seem nuts to go after two receivers in two days, but the cupboard is almost bare in Minnesota—the Vikings may not be able to avoid it.
Williams lost Robert Griffin III to the NFL but still managed to be pretty productive without him.
A tall vertical threat with decent speed, Williams doesn't do a ton of different routes, and would strictly be an outside guy for the Vikings to begin with.
Showing off good hands, solid cutting ability and agility as well as 4.52 speed, Williams performed well and that plus his tape should have him available to the Vikings in the second round.
While he might have a bit of a learning curve to add versatility to his game, Williams would give Ponder someone to throw to long and allow the Vikings to attack a different position with their first pick.
Did I miss someone who caught your eye on Sunday? Let me know in the comments.
**All observations are from watching combine feed unless otherwise specified**
Check out the B/R NFC North Facebook page. Like us and keep up with everything NFC North on Bleacher Report! Follow me on Twitter at @andrew_garda.