Illinois Basketball: 5-Step Plan to Peaking Before the NCAA Tournament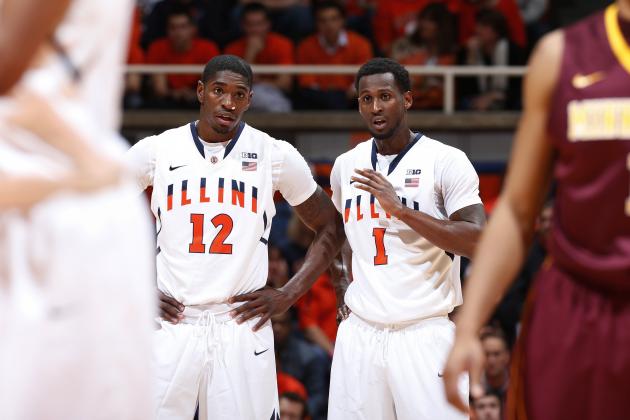 Joe Robbins/Getty Images

After a five-game winning streak that improved Illinois' Big Ten record to 7-7, the Fighting Illini dropped a road game at Michigan, where the Wolverines have yet to lose during the 2012-13 campaign. Still, the Illini are in good shape to reach the NCAA Tournament.
After no weekday game this upcoming week, Illinois hosts Nebraska Saturday, March 1 for Senior Day. Their league schedule ends with road appearances at Iowa and Ohio State, before taking part in the Big Ten Tournament, which will be played in Chicago after several years of being played in Indianapolis.
Not only does John Groce's Illini team want to get to the NCAA Tournament, they'd like to make some noise in March Madness. Following this five-step plan will help Illinois clinch that NCAA Tournament bid and have them peaking one month from now.
Begin Slideshow

»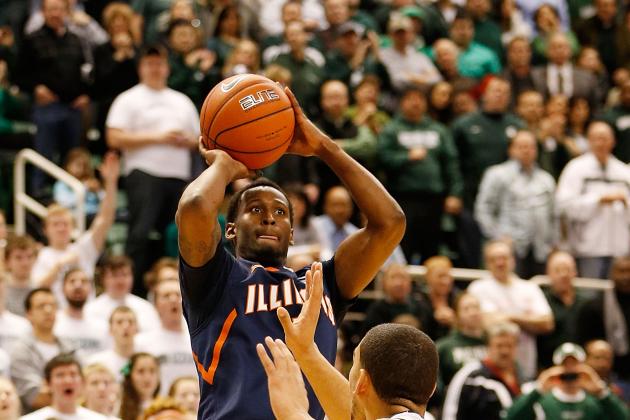 Gregory Shamus/Getty Images

On Sunday at Michigan, Illinois shot 7-for-22 from long range. Against Penn State they were 7-for-24. Prior to that, they shot 6-for-20 and 7-for-25 against Northwestern and Purdue, respectively. Though far from good outside shooting percentages, Illinois is still a guard-oriented team.
Brandon Paul has been playing smarter during their recent win streak and both DJ Richardson and Tyler Griffey have found their stroke from deep. Tracy Abrams and Joseph Bertrand are both at their best attacking the basket, while Sam McLaurin and Nnanna Egwu need to stick to inside looks.
Illinois was at their best early in the season when they were connecting at a high rate from long range. Though they haven't been hitting at a high rate lately, they've proved they can still win without the three-ball. Keep shooting the rock from behind the arc and the shots will fall eventually.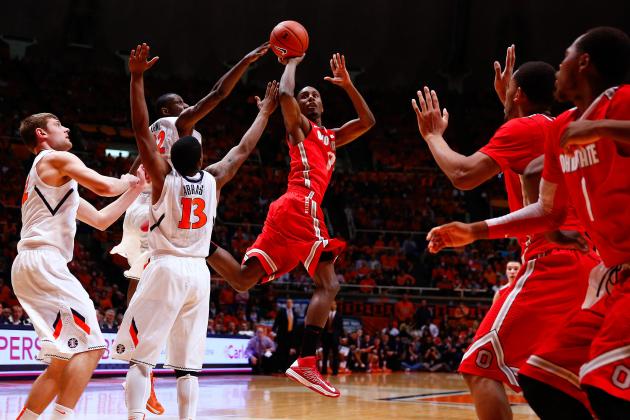 Michael Hickey/Getty Images

Though more often than not, a .500 conference record is needed to reach March Madness, Illinois could very well sneak in with an 8-10 league record. If that is the case though, at least one win in the Big Ten Tournament would be needed to breathe a little easier on Selection Sunday.
A home win over Nebraska is their next opportunity to get closer to that NCAA Tournament goal, in what is all but a must-win game. A road battle at Iowa could be a huge game as far as Big Ten Tournament seeding goes, as the two teams only play once this season with the unbalanced league schedule.
The regular season closes at Ohio State, as the Illini will attempt a season sweep over the Buckeyes. OSU notched a home win over Michigan State on Sunday, so winning in Columbus won't be easy.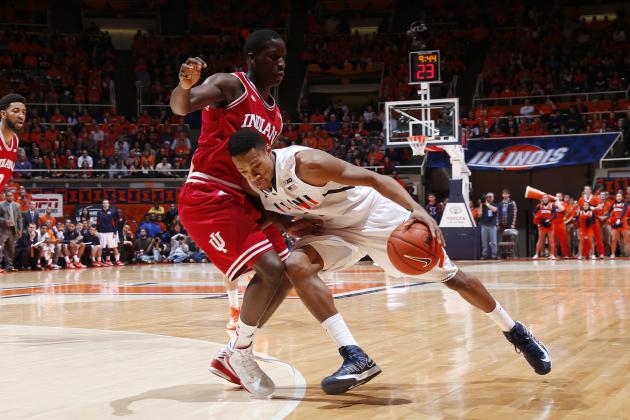 Joe Robbins/Getty Images

Though John Groce has played with the starting lineup recently, Illinois has more or less stuck with the same eight man rotation all year. Joseph Bertrand, Tracy Abrams and Brandon Paul have each rotated between starting guard positions, while Sam McLaurin has taken the starting power forward spot from Tyler Griffey.
At this point, a starting five of Abrams, DJ Richardson, Paul, McLaurin and Nnanna Egwu could be the Illini's best bet. Bertrand is the only guard that gets quality minutes off the bench and often finds himself on the floor at games end anyways.
Tyler Griffey's recent surge in confidence has given Illinois more of a frontcourt presence. Myke Henry continues to see minutes, though if Henry isn't connecting from deep I wouldn't be surprised to see his minutes start to dwindle.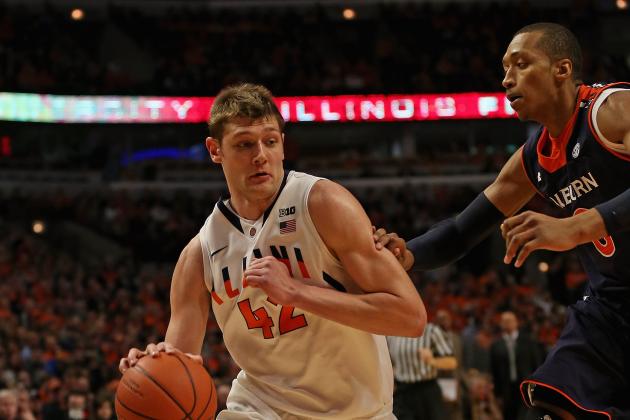 Jonathan Daniel/Getty Images

Illinois has won two Big Ten Tournament titles, in 2003 and 2005, with both tournament's being played in Chicago at the United Center, home of the Chicago Bulls. The Illini also reached the tournament finals in 1999 and 2000 in Chicago. Only once since 2005 has Illinois advanced to Sunday's title game, that being in 2008 against Wisconsin, though that was in Indianapolis.
After five years of Big Ten Tournament fun in Indianapolis, Chicago and Indy will now alternate as tournament site location for the upcoming four seasons. No team is happier about the move to Chicago as Illinois. The Illini play one "neutral-site" game in Chicago each season over Christmas break. After a three year losing streak at the UC, Illinois knocked off Auburn this December in Chicago.
Just a few years ago, the Big Ten head coaches took a vote on whether they preferred Chicago or Indianapolis, and only Bruce Weber voted Chicago, despite Northwestern's close proximity to the United Center.
The alumni base in Chicago is heavily in Illinois' favor. While Champaign is actually closer to Indianapolis than it is to Chicago, having the extra fans will make it seem like Illinois is playing closer to home. On top of that, there won't be as many annoying Indiana and Purdue fans present.
Joe Robbins/Getty Images

Coming into the 2012-13 season, expectations were low for this year's team and I'll be the first to admit that I adamantly believed this would be a rough year for first year head coach John Groce and his Illini crew.
There have been ups and downs, but this year's team didn't allow themselves to get too down and collapse as last year's team did under Bruce Weber. After three seasons, the current Illini senior class has only one NCAA Tournament in one appearance.
Paul, Richardson and Griffey could make a lasting impression on the Illini faithful with one more push this season, by getting Illinois to March Madness and continuing to add wins over quality opponents once they get there.
The orange and blue have proved they can play with the best of them, as evidenced by wins over Indiana, Gonzaga, Butler and Ohio State. If this year's team can continue that success once they reach the big stage has yet to be seen.