5 Offensive Lineman the Detroit Lions Could Target Post-Combine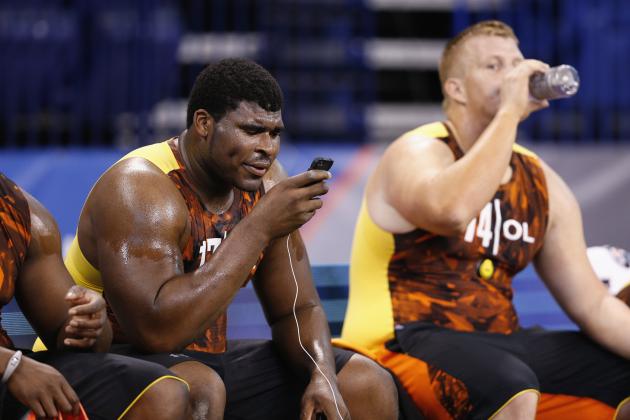 Joe Robbins/Getty Images

The Lions are looking at all positions in NFL Combine this year, as they are every year.
But there's little denying that the offensive line is one of their greatest concerns this offseason. Stephen Peterman has been cut, Gosder Cherilus is a free agent, and Jeff Backus and Dominic Raiola are very likely in their swan song seasons.
That means that by 2014, the Lions could need as many as four new starters, and at least half of them are probably not on the team yet (assuming Bill Nagy and Riley Reiff can assume starting roles at some point).
Translation: Offensive line is a need, both now and in the future. The Lions are not a team that likes to draft for need, instead preferring to take the long view of personnel management, but the offensive line is a unit that needs attention in any view.
Of course, we already know that Texas A&M OT Luke Joeckel, Central Michigan OT Eric Fisher and Alabama OG Chance Warmack are first-round talents. But those guys aren't the only ones in the draft, and it seems unlikely that the Lions will draft any of those players at fifth overall.
So with that in mind, who else impressed at the combine? Which of these workout warriors could actually translate their skills to Ford Field, without taking up the fifth overall pick? Here are five names for your consideration.
All combine results courtesy of NFL.com.
Begin Slideshow

»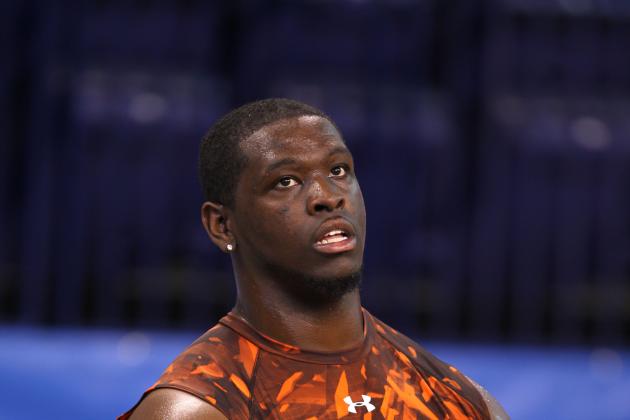 Brian Spurlock-USA TODAY Sports

Terron Armstead has a strange set of qualifications. He's a three-time all-SWAC offensive lineman, and also an eight-time SWAC track and field champion.
According to his NFL.com scouting profile, Armstead turned down several scholarship offers to Division I schools, because he wanted a coach that would allow him to participate in both football and track and field.
That probably explains why he ran his 40-yard dash in 4.71 seconds.
Now hold on a minute. Why does a 40 time matter for an offensive lineman? When will he ever have to run 40 yards in a straight line, aside from in practice?
Well, that's true. And in an era where 40 times are by far the most overblown scouting metric available, it seems silly to advocate drafting a lineman of all things on that alone.
But what Armstead showed wasn't just a great 40. He showed outstanding, and highly intriguing, athleticism in every area.
As a pure athlete, let's compare him to 2012 fourth overall pick Matt Kalil's performance in last year's combine.
| | | | |
| --- | --- | --- | --- |
| | Armstead | Kalil | Difference |
| 40-Yard | 4.71 | 4.99 | Armstead -0.28 |
| Bench | 31 | 30 | Armstead +1 |
| Vertical | 34.5" | 27" | Armstead +7.5" |
| Broad | 9' 4" | DNP | N/A |
| 3-cone | 7.62 | 7.33 | Kalil -0.29 |
| 20-yard | 4.72 | 4.65 | Kalil -0.07 |
Especially intriguing is that Armstead outperformed Kalil in the bench press, despite similar builds and arms of almost exactly the same length. For a player with as much speed as Armstead, it would be reasonable to assume raw strength was lacking. But it seems it isn't, at least in the upper body.
Armstead is likely to be a project pick, regardless of his impressive combine. This performance just put him on the map. Particularly concerning is that while his athleticism put him at or near the top of the "dashing" and "jumping" drills, he did not perform nearly as well in the three-cone or shuttle drill, which may raise questions about his footwork.
Still, if the Lions can take a flier on Armstead with a late Day Two or early Day Three pick, his athleticism could make him an intriguing prospect.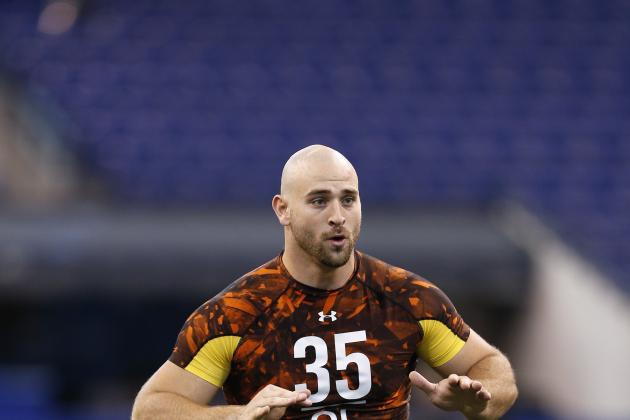 Joe Robbins/Getty Images

The son of Hall of Famer (and FOX Analyst) Howie Long is another athletic prospect from Oregon.
It's no surprise that two-sport stars and athletes new to football tend to be great combine performers, and it's important not to take workout performances too far outside the context of how well a player performs on the field.
Kyle Long was one of a handful of linemen who ran a sub-5.0 40, but at 6' 6" and 313 pounds, and he has impressive size as an offensive lineman, despite having been drafted by the Chicago White Sox as a star pitcher and first baseman.
Long needs some seasoning and perhaps fits best as third-round project with a first-round ceiling. He didn't show great footwork in the shuttle drills, which might relegate him to a career at guard rather than tackle, but the Lions won't mind that, and they'll love Long's attitude and athleticism.
It's difficult to gauge offensive linemen appropriately in the Combine, since they don't get much opportunity to engage in highly physical confrontations (which is, you know, their job). As a result, pure athletes tend to stand out in workouts, and Long fits this bill.
However, athleticism is important to an offensive lineman. First off, it's an indicator of work ethic (a highly-toned athlete is likely to be a harder worker than, say, Aaron Gibson). But while it may seem like a secondary attribute to size, athleticism is increasingly required for mirroring increasingly fast and strong defensive linemen.
It's not enough to just be a big body anymore, which is why big-bodied, all-around linemen like Kyle Long are getting more looks.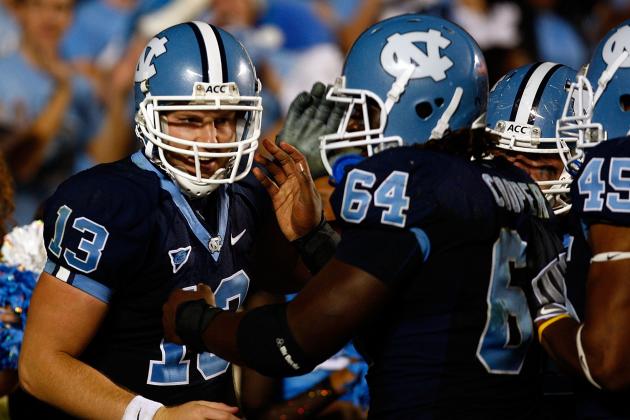 Scott Halleran/Getty Images

Jonathan Cooper could be off the draft board by the second round.
He could also be available at the top of the second round, and he could be a steal there. Cooper showed solid athleticism in most areas (for a guard), but really shined in the bench press.
Cooper posted 35 reps in the bench press, second among all offensive linemen. That's a big deal for a player who many expect can add bulk and strength at the NFL level.
Cooper was an 2012 AP All-American at North Carolina, and his athleticism gives him all-scheme versatility. But his strength and size were a concern coming into the combine, as he appeared a bit too lithe for the position.
He seems to have quelled those concerns with a great performance in the bench press, and he should be able to increase his strength even further at the next level. Cooper could be an instant starter with immense upside if the Lions can get him in the second round.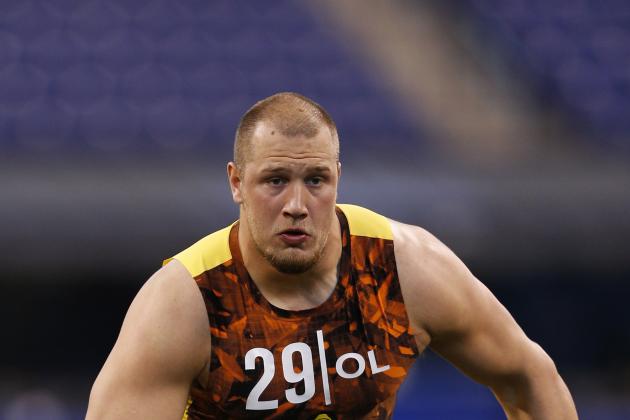 Joe Robbins/Getty Images

Lane Johnson is another workout warrior who impressed with his athleticism. His 40 time (4.72) was a mere hundreth of a second off of
Johnson is a guy who has changed his position from quarterback to tight end, to defensive end, to offensive tackle. That means he has the athleticism to at least try every one of those positions.
But what Johnson has (and Terron Armstead doesn't) is that he put up two solid seasons of football at Oklahoma, one on each end of the offensive line. On top of that, Johnson's most impressive numbers came in the 20-yard shuttle and three-cone drills—the ones centered on quick feet.
Johnson has all the tools to be a great offensive tackle, although he's raw and it's not sure which side he fits best on. His skills and build are reminiscent of Riley Reiff (including his short arms), and his draft status looks about the same.
If the Lions can take a shot at him in the second round, they could get him a year of badly-needed experience for him (behind Reiff and Jeff Backus) before throwing him into the starting lineup (presuming the retirement or demotion of Jeff Backus).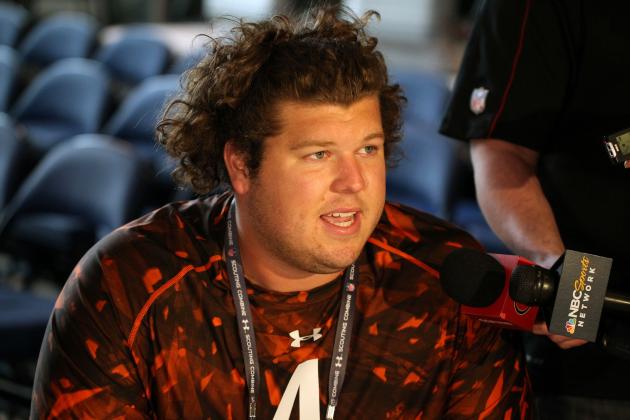 Brian Spurlock-USA TODAY Sports

Jeff Baca is strictly a late-round selection for any team looking his way.
He played both guard and tackle in college but projects to guard at the next level, and is limited in both size and strength. That's the bad news.
The good news is, he has attitude, tenacity, intelligence and phenomenal footwork for his position. He led all linemen in the three-cone drill, and tied Central Michigan OT Eric Fisher for the best time (4.44) in the 20-yard shuttle. Fast shuttle times mean quick footwork.
Ultimately, Baca looks a little like a Dominic Raiola type. He has all the fire and attitude you want, great footwork and technique, a mind for the game that lets him process whatever comes at him and a body (6' 3", 302 pounds) that will only take him so far.
Baca would be a project pick. The biggest concern about him is his strength, and his decision not to participate in the bench press will only intensify those concerns.
However, combine-leading times in two drills as well as a top-10 time in the 40 suggest that he does have some athleticism, and he shows some drive in the run game. If the Lions were interested in spending about a sixth-round pick on Baca, then giving him time to build up his NFL strength, he could turn out to be a solid player in the long term.
The question is whether they'd have enough time to groom him before they needed production out of him.