NHL Week 5: Who's Hot, Who's Not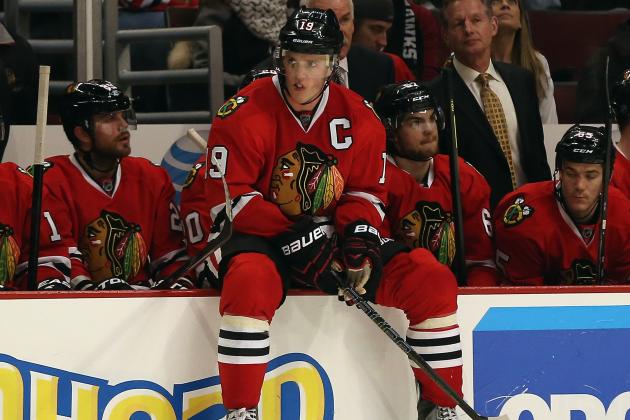 Jonathan Daniel/Getty Images
The Blackhawks still haven't lost a game in regulation this season.
Another week down and more trends are emerging as we approach the halfway point of the 2013 NHL season. This shortened season hasn't been short on drama as teams struggle to find their way through the daily grind.
One NHL record has already fallen. Could there be more coming? Let's take a look at who's hot and who's not from Week 5.
Begin Slideshow

»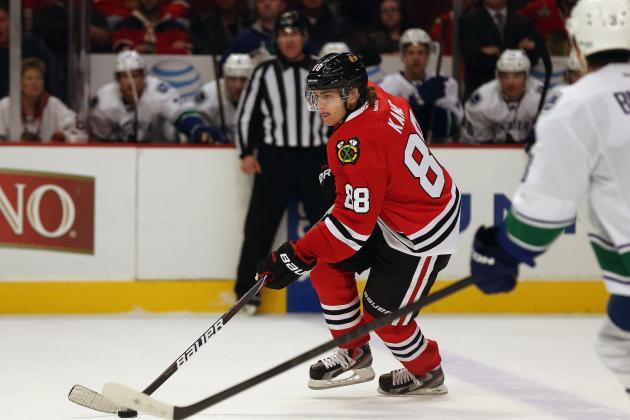 Jonathan Daniel/Getty Images
The Hawks haven't lost in 17 straight to start the season. Well played.
The Chicago Blackhawks now own the NHL record for consecutive games to start a season recording at least a point. They are 14-0-3 this season. Enough said.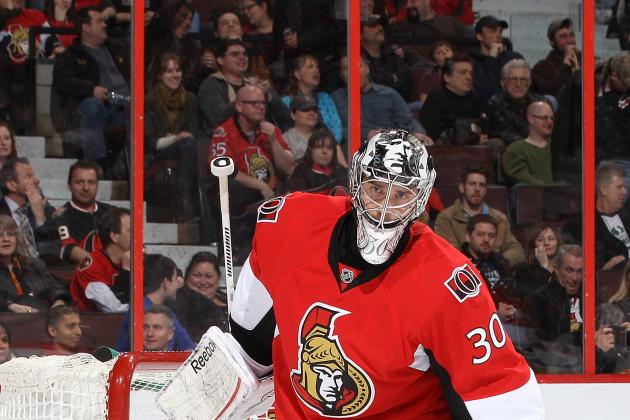 Jana Chytilova/Freestyle Photo/Getty Images
Ben Bishop has been a big part of the Senators' current hot streak.
The fact that the Ottawa Senators are still winning with practically half of an American Hockey League team active is astonishing. The injury bug is biting every team this season but the Sens seem to have it worse than most.
Notables out:
Vezina Trophy candidate, Craig Anderson
Defending Norris Trophy winner, Erik Karlsson
Milan Michalek
Jason Spezza
Guillaume Latendresse
Still, the Senators have managed to rattle off four-straight wins and are just two points back of the top spot in the Eastern Conference. If they can survive this horrific, injury-plagued stretch, they should be a force in the playoffs.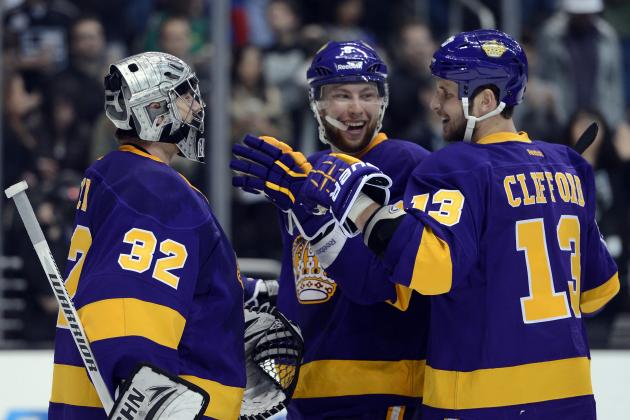 Harry How/Getty Images
The Kings are smiling again as they start climbing up the Western Conference ladder.
Things are starting to turn around in Los Angeles for the defending Stanley Cup Champions. The Kings nearly ended the Blackhawks' streak on February 17—a 3-2 loss—and have rattled off three-straight wins by at least two goals.
Los Angeles has won five of the last six with a balanced offensive attack and high-quality goaltending from Jonathan Quick and Jonathan Bernier.
Just four points out of the playoffs, the Kings look to be righting the ship. We will see how right they are when they host the Ducks on February 25.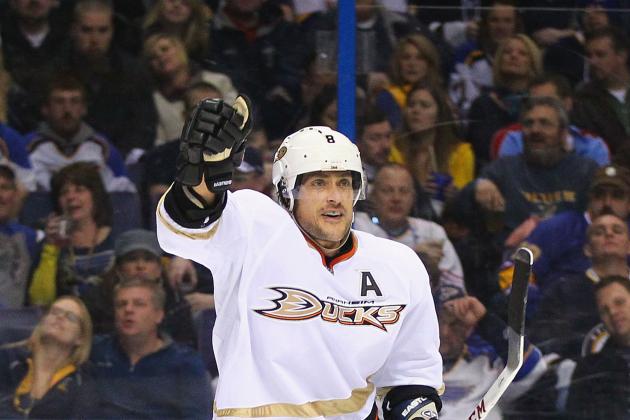 Dilip Vishwanat/Getty Images
The Anaheim Ducks just don't get old and nearly a week off should help recharge batteries. Right, Teemu?
An unusually slow week for any team in the NHL, Anaheim had just one game this week—a 3-2 win over Columbus—followed by five days off. We will see if the long rest affects this team.
The down week can't take away from the fact that the Ducks have won five straight and are 9-1 in February.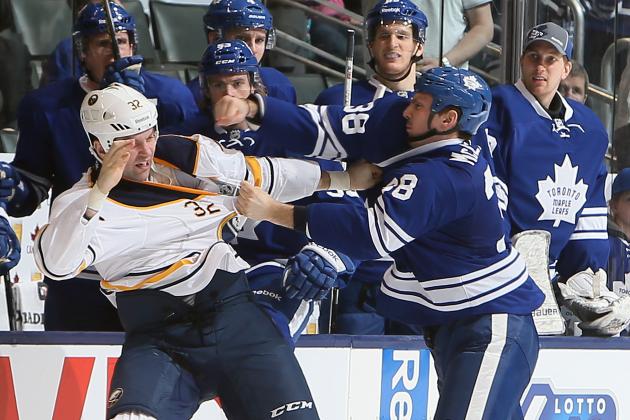 Abelimages/Getty Images
The Sabres just can't seem to do anything right this season.
The Buffalo Sabres made a big change by letting head coach Lindy Ruff go last week. They wanted to see a big change on the ice—it hasn't happened.
Buffalo has dropped four straight and six of the last seven. There was a glimmer of hope with a 4-2 win over Boston on February 15, but that hope has been crushed.
The Sabres have Sunday and Monday off before hosting the league's best offense in the Tampa Bay Lightning. That's not a good sign for a team that has given up 3.32 goals-against per game (28th in the league).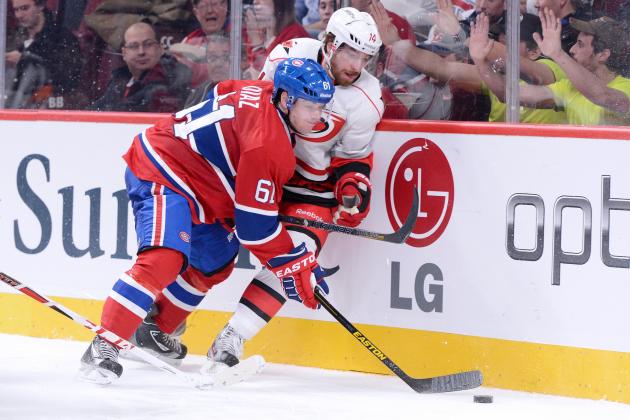 Richard Wolowicz/Getty Images
Another up-and-down stretch for a team in the Southeast Division. Who is surprised?
Does the Southeast Division have any idea what consistency means? Carolina can blame this rough stretch on some unfortunate injuries, but they are 0-4-0 against teams in the division.
Once atop the division standings, a 5-2 loss to Tampa Bay has changed that. Now, the Lightning lead the division, and Carolina sits out of the playoff picture.
Carolina gave up at least three goals in all three games last week and face dangerous offenses from the New York Islanders, Washington Capitals and Pittsburgh Penguins this week.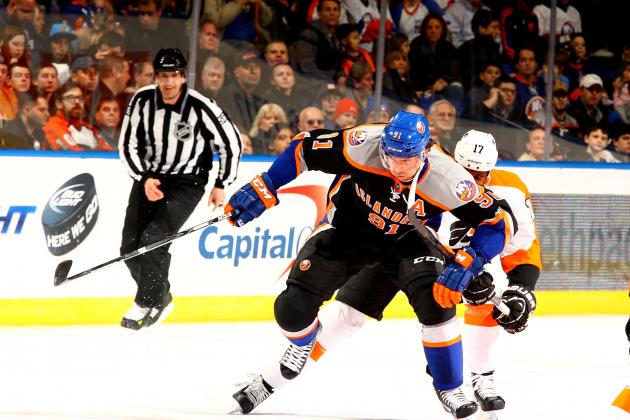 Al Bello/Getty Images
John Tavares has cooled off, but the Islanders are warming up.
The New York Islanders received a brutal wake-up call from the Philadelphia Flyers early last week. The Flyers brutally embarrassed the Isles in front of New York's home fans to the tune of 7-0.
A three-game road trip followed that up against a good Ottawa team (a 3-1 loss), but the Islanders knocked off Montreal and drubbed the Buffalo Sabres 4-0 to close out the trip.
With three home games this week, the Islanders have a great opportunity to get the fans' love back and get that nasty taste out of their mouth from early last week.
Things are trending up on the island.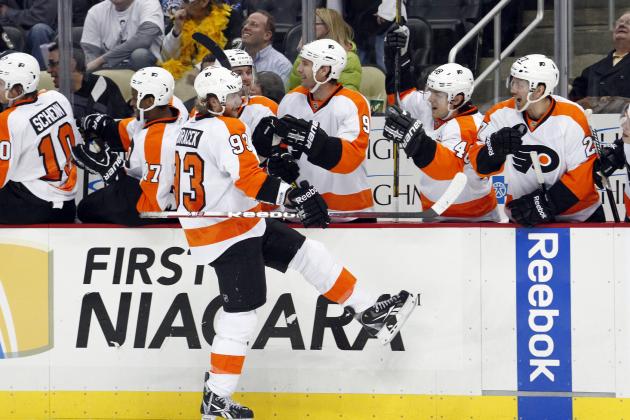 Justin K. Aller/Getty Images
Jakub Voracek had 11 points this week. Impressive numbers.
Jakub Voracek's week can be summed up in one simple phrase, "get on my level." For perspective, the league's best offense (Tampa Bay) averages 3.88 goals per game. This week, Voracek averaged nearly three points per game on his own.
He started the week with four assists against the Islanders, added a hat trick against Pittsburgh and picked up three more assists against Winnipeg. There was an off game against Florida this week where he only added one goal.
His 11-point week puts him in a class of his own.
Honorable Mention:
Claude Giroux (PHI)
Steven Stamkos (TBL)
Pavel Datsyuk (DET)
Wayne Simmonds (PHI)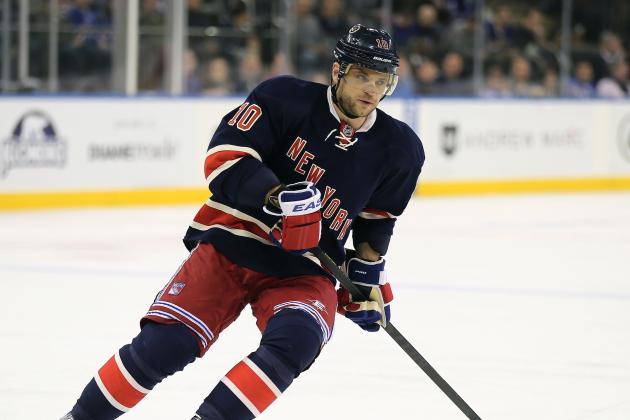 Elsa/Getty Images
Marian Gaborik is struggling so much he is starting to lose significant ice time.
Marian Gaborik (New York Rangers) is having a tough time getting going in 2013. Eight of his 11 points this season came in a three-game stretch in mid-January. In February, two of his three points came in a game against the Islanders.
It's not just Gaborik's fault—the entire Rangers offense is struggling—but that's when the stars need to step up. No points and a minus-2 rating this week have caused his playing time to dwindle. He was even benched the entire third period against Montreal.
Zach Parise (Minnesota Wild) started his time in Minnesota strong, but February has caused some serious slumping. Parise—like Gaborik—has just three points this month. He had an assist against Detroit early last week but has been held of the score sheet in the last two games with just six shots on goal. Nothing is coming easy for Parise.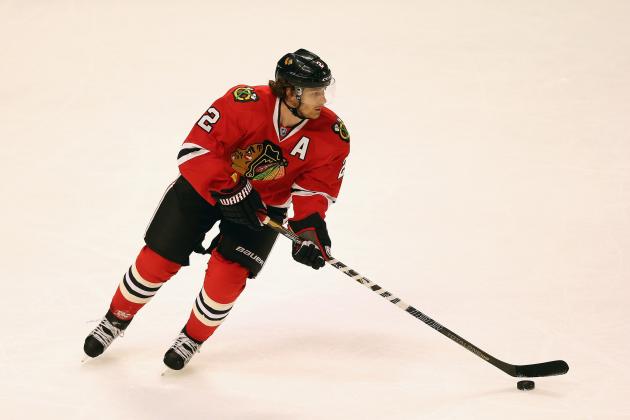 Jonathan Daniel/Getty Images
Duncan Keith has been a big part of the Hawks' hot start.
The hottest defenseman on the league's hottest team, Duncan Keith of the Chicago Blackhawks takes the hot defensemen spot for Week 5. Keith provides quality minutes for the Blackhawks and has been a crucial part of the hot start.
He has logged nearly 415 minutes of ice time already this season—averaging 24 minutes and 22 seconds per game. He is on the ice during even strength, penalty kills and power plays. He logs over 50 shifts per game and is one of the Hawks' highest scorers (11 points).
With points in four straight games, it's Keith who owns the title of hottest defenseman in the league.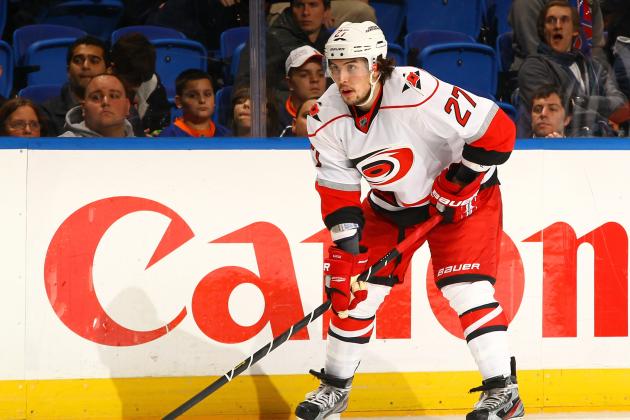 Al Bello/Getty Images
Justin Faulk has been thrust into a bigger role in Carolina due to injury.
Justin Faulk of the Carolina Hurricanes has fallen prey to a slumping team with a ton of injuries. Increased ice time against solid offenses has hurt Faulk's numbers but could pay dividends for his career.
This is just his second season in the NHL and being matched up against the best the league has to offer isn't a bad thing—even if the numbers don't agree. He is minus-3 this week without any points and has looked rushed against teams like Toronto and Montreal.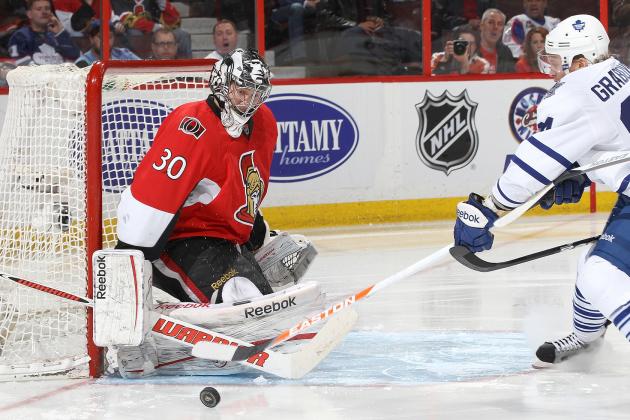 Jana Chytilova/Freestyle Photo/Getty Images
At 6'7", Bishop stands tall in net. He has kept the Senators hopes high as well.
Ben Bishop (Ottawa Senators) is basically the closer for the Senators. Craig Anderson is the starting pitcher that logs all the minutes, but when he sits down, it's Bishop to save the day.
Bishop has done just that. With three wins this week and a 2.02 goals-against average, he has calmed some of the panic that has surrounded the Ottawa clubhouse. The task hasn't been easy either.
He faced the New York Rangers, New Jersey Devils and Toronto Maple Leafs this week and beat them all. There's no such thing as too much goaltending.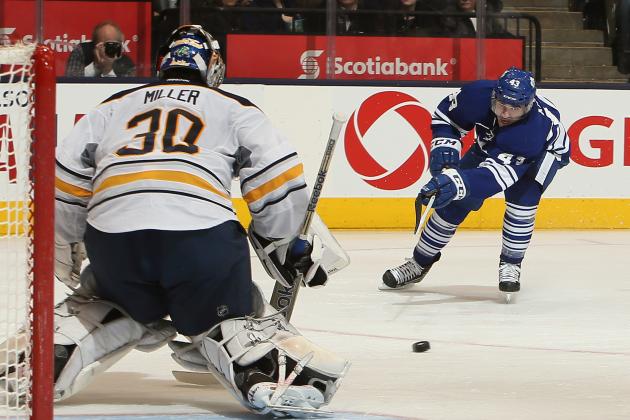 Abelimages/Getty Images
Too many good scoring opportunities have caused Ryan Miller to fall on tough times
Ryan Miller (Buffalo Sabres) is the cold goaltender this week, and it's not all his fault. The Buffalo defense allows way too many scoring opportunities for any goaltender to be successful. Miller is the clear No. 1 in Buffalo, but that blessing is a curse right now.
He has recorded a win in his last four starts, and last week he had a 3.32 goals-against average. The guy is just getting peppered with shots, many of which are high quality. This week alone, Miller has faced 131 shots. Only four goaltenders in the NHL faced over 100 shots last week.
Until things turn around in Buffalo, Miller could be falling on even tougher times.