Illinois vs. Michigan: Live Score, Updates and Analysis from B1G Clash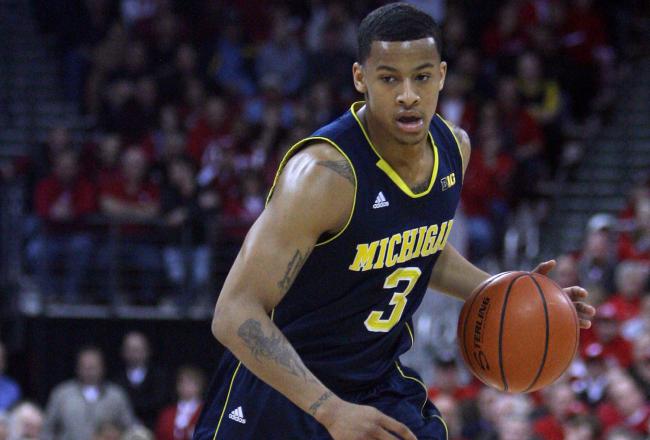 Trey Burke will need to be on his game to lead Michigan past Illinois.
USA TODAY Sports
With the Big Ten Conference title race tightening every day, the No. 7 Michigan Wolverines could not afford a let down against the Illinois Fighting Illini on Sunday. The Maize and Blue got off to a sluggish start, but pulled everything together defensively in the second half to hold off Illinois 71-58.
The Wolverines were dominated on the glass in the first half, which allowed the Fighting Illini's offense to thrive off of second-chance points. Illinois used its rebounding advantage to build a 31-28 halftime lead.
Sophomore point guard Trey Burke proved to be too much for the Fighting Illini to handle in the second half, though. Burke scored 26 points on eight-of-11 shooting and also dished out eight assists.
Junior shooting guard Tim Hardaway Jr. and freshman small forward Glenn Robinson III combined for 23 points and 10 rebounds to help lead Michigan past Illinois.
The difference in the game, however, was the Wolverines' defensive effort in the final 20 minutes. Redshirt junior forward Jordan Morgan hauled in six rebounds, three of which were at the offensive end, and played outstanding defense.
Michigan held senior shooting guard Brandon Paul scoreless in the second half after 10 points in the opening frame.
The victory helps the Wolverines improve to 23-4 overall and 10-4 in Big Ten play, while the Fighting Illini drop to 20-9 and 7-8 in league games.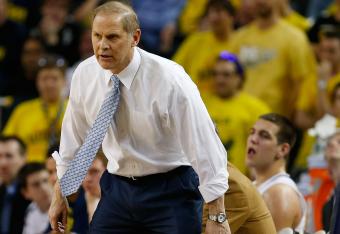 As for Michigan, after a worrisome first half on the defensive glass, the Wolverines got their act together and won a critical game to keep themselves in the Big Ten title chase.
Although Jordan Morgan did not have the most impressive stat line, the redshirt junior forward played outstanding defense in the lane and forced Illinois to rely completely on jump shooting in order to score.
Trey Burke took over when Michigan needed him to down the stretch of the second half. Burke's 26 points and eight assists only further validate his case for the Wooden Award.
Tim Hardaway Jr. is still in a bit of a shooting funk (four-of-11 today), but he did manage to score 13 points and pull down seven rebounds.
The Wolverines still have some issues with their interior defense that need to be addressed before facing the Michigan State Spartans for a second time, though. they did make progress today.
The Maize and Blue still look like a team worthy of Final Four chatter and when they are able to get out in transition like they did this afternoon, the Wolverines are a national title contender.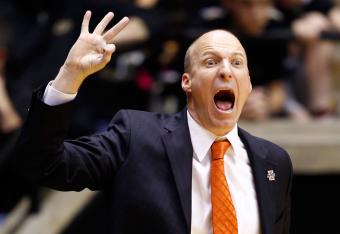 Illinois had everything going in the first half. The Fighting Illini were beating Michigan to every loose ball and were pulling down offensive rebounds.
Once Michigan neutralized Illinois' advantage on the glass, though, the game was over. Senior shooting guard Brandon Paul did not help the Fighting Illini much either with a scoreless second half.
This loss will not hurt Illinois much when it comes to its NCAA tournament seeding, but a victory would have given the Fighting Illini a major boost. All Illinois has to do down the stretch is take advantage of the weaker teams on its schedule and try to make a run in the Big Ten tournament to improve its seed for March Madness.
Michigan 71, Illinois 58 - Final Score
This one is over folks.
There is really nothing to dispute about Dan Revsine's statement:
This was a huge win for #Michigan - really needed it. #Illini will be fine - win 1 of Neb and Iowa to sleep easier - but they are solidly in

— Dave Revsine (@BTNDaveRevsine) February 24, 2013
Illinois G Joseph Bertrand fouls out with 4 pts | MICH 68 ILL 56 1:15 2nd Half

— Big Ten Network (@BTN_Illinois) February 24, 2013
Mich. 68, Illinois 54 - 1:27 2nd Half
Michigan is just bleeding the clock now. Burke draws a foul driving the lane and this one is pretty much in the books.
What a game for Burke today. Burke had 23 points on eight-of-11 shooting, eight assists and three rebounds.
Mich. 64, Illinois 49 - 3:26 2nd Half
Jordan Morgan has been the difference maker for Michigan in the second half. Morgan has taken care of the Wolverines' rebounding issue and just tipped out another offensive board to Trey Burke for an open jumper.
Michigan is running away with this one now.
When this statistic is heavily in Michigan's favor, the Wolverines are national title contenders because of their ability to get out in transition:
Points off turnovers -- UM 25, Ill 7

— Mark Snyder (@Mark__Snyder) February 24, 2013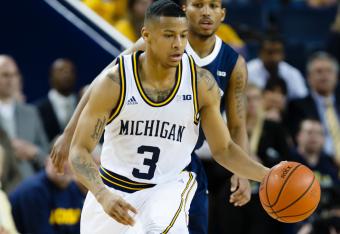 Mich. 59, Illinois 47 - 5:41 2nd Half
Perfectly timed pass from Burke to Hardaway on the fast break. Michigan might be the best team in the country when it is able to get out in transition like that.
Burke has taken over now. He wets a three-pointer to push the Wolverines' margin near double digits once again. Caris LeVert extends it even further with a trey on a handoff from Burke.
Griffey hits another three to keep Illinois within reach of Michigan, but Jeremy Werner points out what could be the Fighting Illini's downfall if it is not corrected in the closing minutes:
Brandon Paul 1 assist, 4 turnovers today. As a team, #illini have 4 assists, 11 turnovers.

— Jeremy Werner (@WernerESPNCU) February 24, 2013
Mich. 51, Illinois 44 - 8:27 2nd Half
Brandon Paul tries to throw a pass over a double team and it results in a turnover and lay up for Trey Burke and the Wolverines.
The Fighting Illini need Paul to start scoring to stay in this game.
Mich. 49, Ill. 44 - 10:06 2nd Half
Burke is penetrating Illinois' defense too easily and it is leading to dunks for Michigan's big men. The sophomore point guard already has six assists.
Tyler Griffey has given the Fighting Illini a spark off of the bench. Griffey scored five quick points to help Illinois cut into the Wolverines' lead.
Mich. 47, Illinois 39 - 12:07 2nd Half
Caris LeVert wets a three-ball to keep Illinois at arms length. Bertrand responded quickly with a drive through the lane.
Hardaway will head to the charity stripe after a speedy take to the rim along the baseline.
Another note about Burke's 1,000 career points:
Burke is the seventh sophomore to complete the feat and 47th in program history. #GoBlue

— Michigan Basketball (@umichbball) February 24, 2013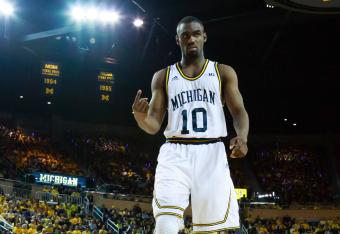 Mich. 43, Illinois 36 - 13:43 2nd Half
Awful shot by Hardaway there. A turn around, fadeaway jumper in the face of a defender is not exactly a high percentage shot, especially with Burke open at the top of the arc.
Trey Burke is one point away from becoming the seventh sophomore to reach 1,000 career points for the Michigan Wolverines:
Burke drives, going to shoot free throws for point 1,000

— Mark Snyder (@Mark__Snyder) February 24, 2013
Mich. 41, Illinois 34 - 15:01 2nd Half
That is probably the worst thing that could have happened out of the timeout for Illinois. Glenn Robinson III is able to come up with a steal and run the floor for an easy dunk. How do you turn the ball over out of a timeout?
Michigan has the Fighting Illini on the ropes and are not too far off from delivering a knock out blow.
Mich. 39, Ill. 34 - 15:49 2nd Half
Jordan Morgan already has two offensive rebound this half. Michigan is doing a much better job of rebounding in the second half.
Morgan delivers a great feed along the baseline to a wide-open Robinson for a slam dunk. The Wolverines finally look to be in rhythm offensively.
Tim Hardaway Jr. had to come to the Michigan bench to plug a bloody nose:
Tim Hardaway gets poked in the face going for a loose ball -- in comes LeVert.

— Rod Beard (@detnewsRodBeard) February 24, 2013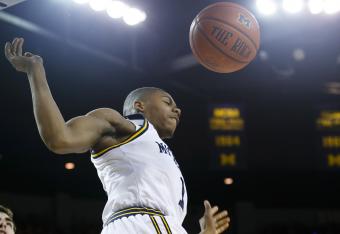 Mich. 34, Illinois 34 - 17:18 2nd Half
Hardaway feeds Burke in transition for a fast-break lay up to tie the game.
D.J. Richardson and Glenn Robinson III trade tough baskets in the lane to keep everything dead even at the Crisler Center.
Illinois 32, Mich. 30 - 19:05 2nd Half
Impressive start to the second half for Michigan. Trey Burke rifles a pass through the lane to McGary for an easy lay up.
McGary picks up his third foul on the ensuing possession, though. Jon Horford will likely play extended minutes with McGary in foul trouble. Jordan Morgan is in the game for now.
There is really nothing else Michigan needs to do aside from what Nick Baumgardner advises:
So, long and short, start blocking out -- and you probably win the game.

— Nick Baumgardner (@nickbaumgardner) February 24, 2013
Mark Snyder points out something other than Michigan's rebounding that may keep it from winning this afternoon:
Worst sign for UM? Not the rebounding (which is bad), but scoreless Stauskas

— Mark Snyder (@Mark__Snyder) February 24, 2013
HALF - Individual Leaders - Hardaway: 8 pts, 3 reb | Burke: 7 pts, 4 ast | Robinson, McGary: 4 pts each

— Michigan Basketball (@umichbball) February 24, 2013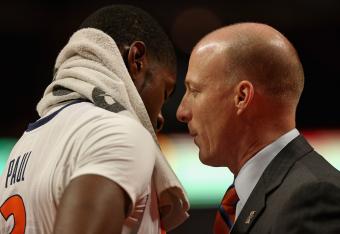 Illinois 31, Mich. 28 - Halftime
Brandon Paul banks in a step-back three-pointer to end the first half. The reason Illinois is leading going into the locker room is because of its edge on the glass.
The Fighting Illini have a 12-point advantage over the Wolverines in second-chance points. Illinois also has seven offensive rebounds to Michigan's two.
This article is
What is the duplicate article?
Why is this article offensive?
Where is this article plagiarized from?
Why is this article poorly edited?

Michigan Wolverines Basketball: Like this team?