UFC 157 Results: The Top 10 Welterweights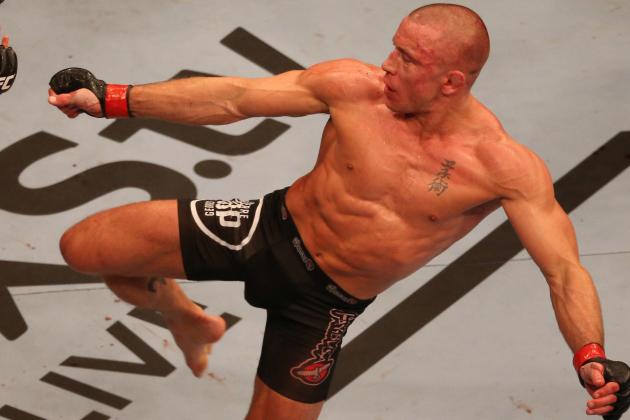 Tom Szczerbowski-USA TODAY Sports

With UFC 157 officially in the rear-view mirror, all eyes now look to UFC 158 and a welterweight title defense by kingpin Georges St-Pierre against longtime rival Nick Diaz.
There are a host of other 170-pound contenders taking to the cage that night in Montreal, and with a division-altering fight having gone down Saturday night in Anaheim, it's time to take a look at the way the welterweight class is shaping up.
Begin Slideshow

»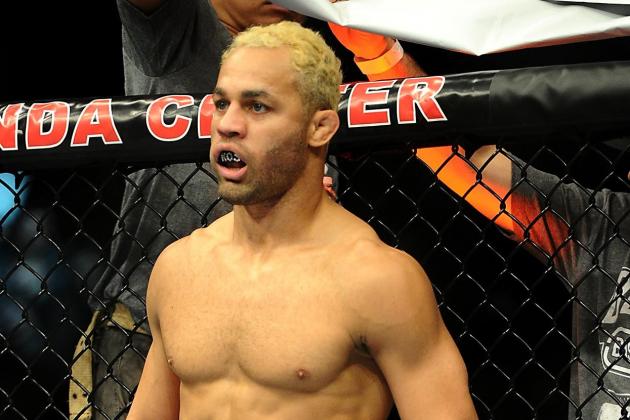 Jayne Kamin-Oncea-USA TODAY Sports

Josh Koscheck finds himself in a weird place these days—a guy who will still beat the majority of the world's welterweights, but who has lost to the champion a couple of times and isn't likely to get another crack anytime soon. Losing two straight doesn't help, though, especially when one of them happens in the explosive manner that his loss to Robbie Lawler did at UFC 157.
Koscheck has toyed with a jump to middleweight, but as long as the UFC keeps providing him opponents who can produce fireworks, there may be little reason for him to leave his current home.
Koscheck doesn't have many years left in the game, so hunting for bonuses and putting on good shows is likely as good as it's going to get.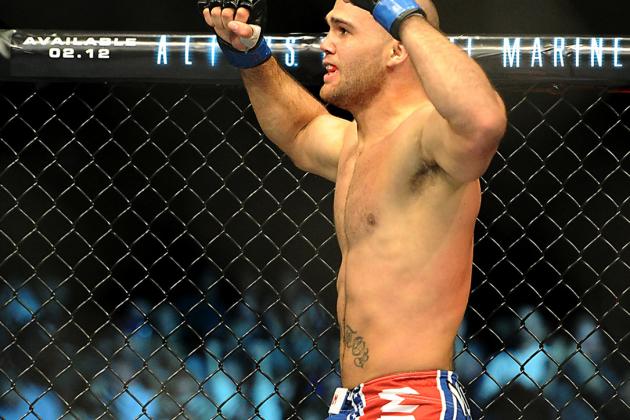 Jayne Kamin-Oncea-USA TODAY Sports

Robbie Lawler is as surprising an addition to these rankings as anyone could imagine. But coming off a win over perennial top-10 welterweight Koscheck and doing it in violent fashion will turn some heads.
Lawler has always been a better product at 170 than anywhere else, sitting at 9-2 overall and 5-2 in the UFC.
He has scary power that can end fights from any angle and a lifetime of training to prevent wrestlers from stalling him. He started slow against Koscheck, but showed how quickly he can get separation and end a fight with a man trying to smother him and tire him out.
It's hard to imagine Lawler getting much higher than this with guys like Tarec Saffiedine and Nate Marquardt coming behind him from Strikeforce. But he's still young with a lot of years in the fight game, so he could be ready to make a push.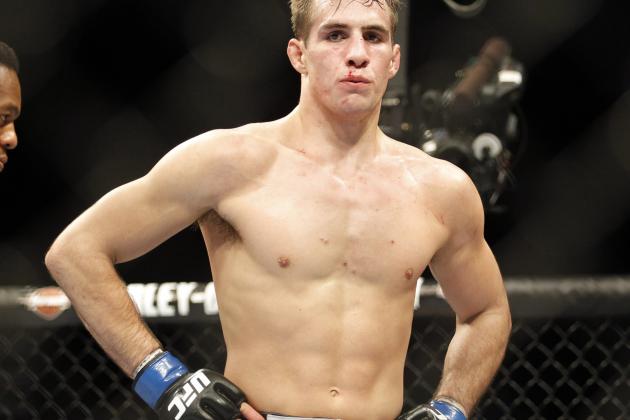 Joe Nicholson-USA TODAY Sports

Rory MacDonald continues to look good in the cage, but he also continues to have his considerable potential derailed by injury. Initially booked to face Carlos Condit at UFC 158, he had to bow out due to a neck problem that sprung up in training—the second time such a thing has happened in as many opponents.
With a ground attack that few are doubting and a standup arsenal that seems to be growing exponentially every time he fights, MacDonald is undeniably one of the best welterweights in the world. He's really only one solid run away from entrenching himself firmly behind St-Pierre in the weight class.
For now. though, he's injured, so he'll have to sit and watch others jockey for position in the welterweight shark tank.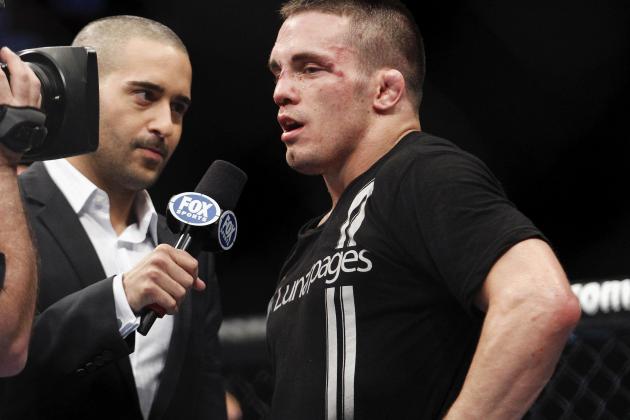 Matt Ryerson-USA TODAY Sports

Jake Ellenberger was cruising towards a title shot until he was derailed by Martin Kampmann last summer. However, the Nebraska native is sticking around in contention and will have a chance to prove his worth again against Nate Marquardt at UFC 158. A win there gives him two in a row, and it would likely get him a title eliminator next time out.
Ellenberger is a classic reverse wrestler, a guy who wants to keep you in front of him so he can tee off with powerful hooks until he puts you down. It's worked for him more often than not, and with a little more seasoning, it's likely to put him near the top of the heap again before long.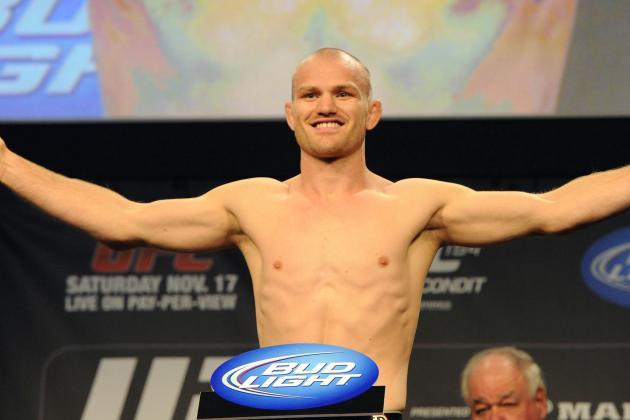 Eric Bolte-USA TODAY Sports

Martin Kampmann has been a fringe title contender for most of his time at 170, but he can never seem to get over the hump. He was likely a win away when he faced Johny Hendricks at UFC 154, but then he was nearly beheaded in under a minute.
He's a solid kickboxer with perhaps the most underappreciated ground game in the sport. He's also he's as tough and game as they come. It's not a Martin Kampmann fight until he's sporting a crimson mask, and he'd have it no other way.
Kampmann will still best a lot of guys in the division, and he's always exciting. He's likely not going anywhere for a while.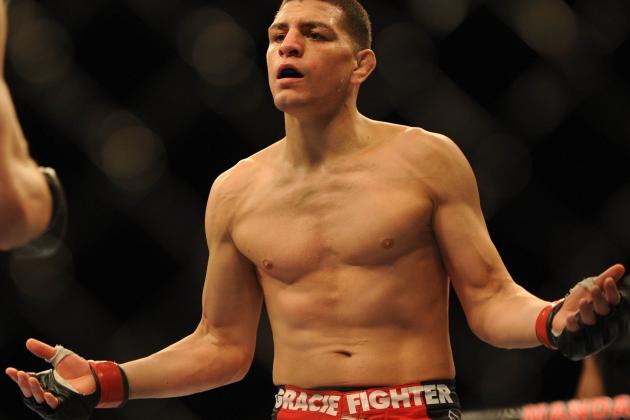 Kelvin Kuo-USA TODAY Sports

Nick Diaz saw his stock slip a little with a loss to Carlos Condit at UFC 143 and a year off to think about how wrong it is to hit the electric lettuce before a fight. That said, he came back to the UFC to an awaiting title fight and the according pay day, so it wasn't all bad.
Stockton's favourite son has long been a source of controversy and a polarizing figure among fans. But he's also perhaps the most entertaining fighter on the UFC roster. He fights fire with fire, and he does it at a tireless pace with no notable concern for his own well-being. He also tends to do it by talking a little trash along the way.
Make no mistake, he's coming to take St-Pierre's title next month—but that's easier said than done.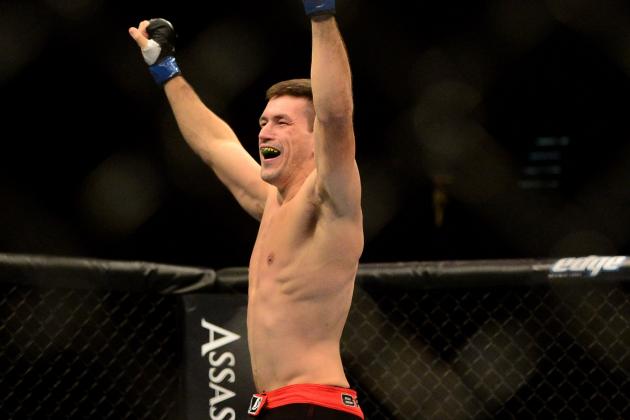 Mark J. Rebilas-USA TODAY Sports

Sometimes it's not that you win, it's how you win. Demian Maia the welterweight is the perfect embodiment of that idea.
After a largely successful career as a highly-ranked middleweight, Maia dropped down a class when he noticed he was beginning to lose to guys with a little more power. He also abandoned his Sugar Ray Demian approach, which saw him rely to a baffling degree on his boxing while his all-world jiu-jitsu talents remained on the shelf collecting dust.
Since Maia's drop, though, he's hardly thrown a punch on his feet and has utilised clinches, trips and a relentless grappling game to utterly demolish his foes. He broke Dong Hyun Kim's ribs with a trip takedown, squeezed Rick Story's jaw with such force that his brains tried to escape through his nose and out-Fitched Jon Fitch so badly that the UFC cut the wrestling ace from the roster completely.
He's 3-0 as a welterweight and was never once in a position where he was anything less than unstoppable. 170 has a new threat to the throne.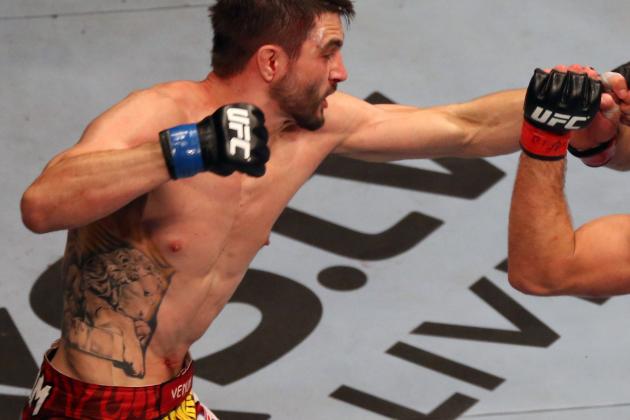 Tom Szczerbowski-USA TODAY Sports

At only 28 and just entering his athletic prime, Carlos Condit already has a UFC interim title on his mantle, an agonizing not-quite finish of the current champion and a blistering 92 percent finish rate in his career wins.
One of the few men who has found success at welterweight without two decades of wrestling experience behind him, Condit is the perfect foil for a lot of guys out there—a legitimate grappling talent off of his back with the type of crisp, flashy kickboxing that belongs in a Van Damme movie.
Look for Condit to challenge for a title again before long, perhaps even if he overcomes late replacement Johny Hendricks at UFC 158.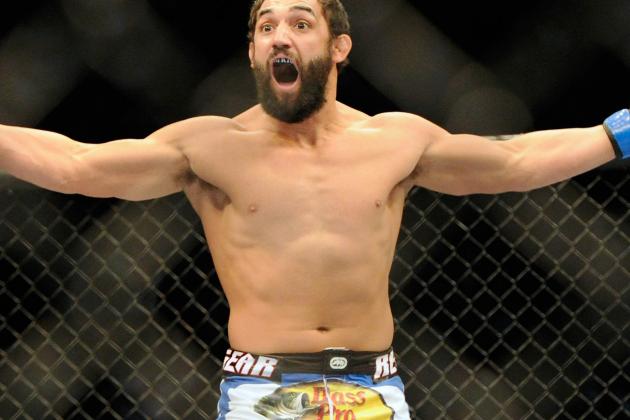 Eric Bolte-USA TODAY Sports

Johny Hendricks feels like he hasn't been getting enough respect, and he's probably right. Very few men at 170 lbs have the raw power of the former NCAA wrestling standout, and he's been putting it to good use on his rampage through the welterweight division.
Questions still exist though about his ability to fight through adversity, as well as his conditioning for a championship bout or even a particularly harsh three-rounder.
That said, when your left hand is landing with near-deadly force every time you throw it, other concerns seem largely erroneous.
He's the second-best man in the world at his weight.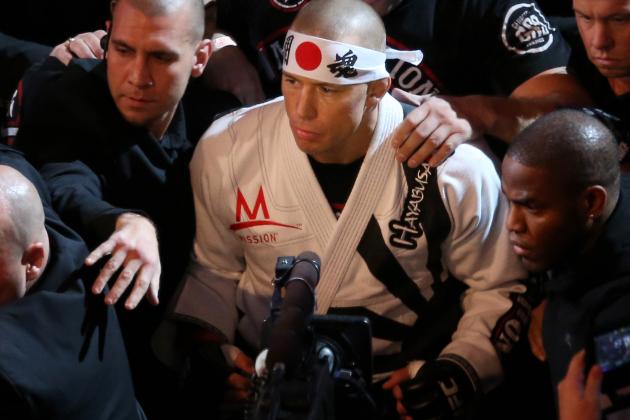 Tom Szczerbowski-USA TODAY Sports

In all seriousness, who else could possibly top the list?
Georges St-Pierre is the best welterweight of all time. He's still in his prime and is coming off of his most interesting fight in years against Condit at UFC 154. No one else is even close.
While talks of a superfight with Anderson Silva are still out there, GSP has a list of viable alternatives with whom to exchange pleasantries should he choose to.
He'll lock horns with Diaz next month, but the likes of Hendricks, Maia and Tarec Saffiedine all present interesting hurdles for one of the best athletes the sport has ever seen.