7 NHL Power Forward Free Agents to Keep an Eye on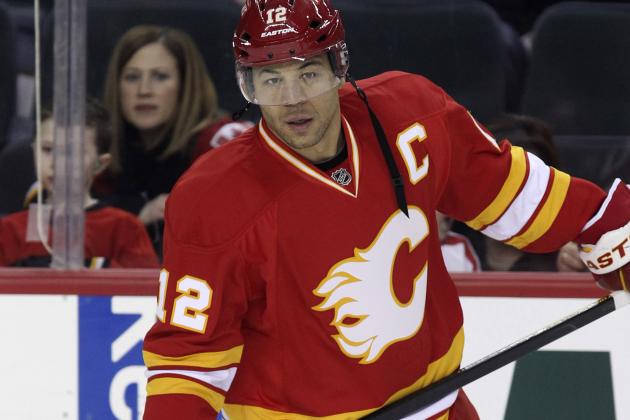 Mike Ridewood/Getty Images
Jarome Iginla may have questions to answer when he becomes a free agent at the end of this season.
Free agency is going to be different this time around.
The impact of the lockout will be felt this summer when free agents have to contend with the reduced salary cap.
Teams will be limited to a $64.3 million payroll in 2013-14 (source: SI.com), so general managers won't simply be able to throw out a huge offer and reel in their prized catch.
Instead, teams are going to have to examine desired targets with increased scrutiny, make decent but not overwhelming offers and make sales pitches to get players in the fold.
The class of power forwards that will be on the market is evolving as the 48-game season moves along.
Players who get off to halting starts may not have time to rescue their seasons.
General managers are going to have to determine how much players have left based on subjective findings as well as hard numbers like goals scored and penalty minutes.
Here's a look at seven power forwards who will be available this summer.
(All salary figures are from CapGeek.com)
Begin Slideshow

»
2013 cap hit: $7 million
You can make a substantial case that Jarome Iginla is comparable to Hall of Famer Cam Neely as one of the top power forwards in the game's history.
Iginla, 35, has 517 goals and 1,084 points in a career that started in the 1996-97 season. Iginla has a wicked shot, is clever around the net, can make precise passes and he has always been willing to drop the gloves.
Off the ice, he is a sensational hockey ambassador. He is giving to the media and friendly to the fans. He has been a great front man for the Calgary Flames and would probably be an asset in that role for any team he signs with during the summer.
However, Iginla has one goal in the first 16 games of the season. What does this mean? Are his skills diminishing? Can he no longer dominate in the dirty areas?
Iginla has 10 assists, so he is still involved, but he is supposed to light the lamp.
This could be a slump and nothing more. However, general managers would like to see some recovery before the end of the season.
Even if the Flames trade him before the end of the season, it seems likely he might want to re-sign with them so he can finish his career in Calgary.
2013 cap hit: $5.325 million

If Corey Perry had been a free agent last summer, he might have gotten a contract comparable to the ones that Zach Parise and Ryan Suter (13 years, $98 million) received last summer from the Minnesota Wild.
That kind of money is no longer going to be available this year.
Perry, 27, is moving into the prime years of his career. While he has scored three goals this year, he scored 50 goals in 2010-11 and 37 last year.
When Perry gets the puck around the net, he has the power to bull his way past defensemen and rocket a shot into the top corner and he also has the patience to make any goaltender look foolish.
He should be the top free-agent signee among power forwards this summer if the high-flying Ducks don't sign him before the end of the season.
2013 cap hit: $4.1 million
Brenden Morrow is not a superstar power forward.
However, Morrow, 34, is a dependable player who can go into the corners and emerge with the puck. He can play the role of tough guy, score gritty goals and do the little things that help his team win games.
He scored 33 goals as recently as the 2010-11 season, so he has shown he can still be effective.
Morrow is not glamorous and he will set a tone. If he needs to drop the gloves, he will. Morrow had 97 penalty minutes last year and he has had as many as 183 penalty minutes in his career.
2013 cap hit: $4 million
Nathan Horton of the Boston Bruins is one of the most interesting free-agent power forwards who will be on the market this summer.
Horton, 27, played a key role for the Bruins during the 2011 Stanley Cup championship run. He scored two overtime goals in the first-round series vs. the Montreal Canadiens, including the seventh-game dagger that buried the Canadiens.
Two series later, Horton scored the only goal in the seventh game against the Tampa Bay Lightning that propelled the Bruins to the Stanley Cup Final.
However, Horton was knocked out of the championship round when he suffered a brutal concussion after taking a huge hit and missed half of last season because of another concussion.
Horton was the third pick overall in the 2003 draft by the Florida Panthers. He is not a consistently elite NHL player, but he has had huge moments. He has a booming shot, the size to make a difference in front of the net and he's willing to get tough when that aspect of the game is required.
2013 cap hit: $3.625 million
Ryane Clowe may be a sizable gamble for any team that wants to take a chance on him as a free agent signee.
Clowe, 30, is a gritty forward who has been willing to go to the front of the net and absorb punishment in order to help his team win games.
Clowe scored 24 goals in 2010-11 and he scored 22 goals in 2008-09. However, he is not going to wow anyone with his moves around the net or dazzling skills.
Clowe will outwork opponents. That's not helping him this year. He has not put the puck in the net in his first 16 games.
His timing is simply awful. Not only is it hurting the offensively struggling Sharks, it is likely damaging his own free agent credibility this summer.
He is also facing a possible 10-game suspension for leaving the bench Feb. 22 to take on Chicago's Andrew Shaw (source: NBCSports.com). That kind of impulsive behavior is also damaging his potential free agency as well as his team.
2013 cap hit: $3.5 million
Michael Ryder signed a two-year contract with the Dallas Stars prior to the 2011-12 season.
Before, Ryder had been a somewhat enigmatic player who had displayed a huge shot and some creative playmaking ability, but lacked consistency.
Ryder, 32, scored a career-high 35 goals last year and became the dependable scorer the Montreal Canadiens and Boston Bruins hoped he would become.
Ryder scored eight goals and 17 points during the Bruins' 2011 Stanley Cup run and he also made a spectacular glove save against Montreal that played a key role in the Bruins winning the series.
Ryder's wicked wrist shot, his ability to tip pucks and his talent at finishing plays should make him an attractive free agent this summer.
2013 salary cap hit: $2.667 million
David Clarkson has become a star for the New Jersey Devils in the past two seasons.
He was a role player for the Devils at the start of the 2011-12 season, never having scored more than 17 goals in his first four-plus seasons.
However, Clarkson improved last year and scored 30 regular-season goals and 12 points in the postseason. All three of Clarkson's playoff goals were game winners for a team that went to the Stanley Cup Final.
Clarkson, 28, has continued to grow as a player this season. He has scored 10 goals in his first 18 games and will gladly eat an elbow to score a goal.
Clarkson had 138 penalty minutes last year and has had as many as 183 in the 2007-08 season. He's a tough guy who will pay the price to score important goals.