UFC 157 Results: Ranking the Top 10 Women in MMA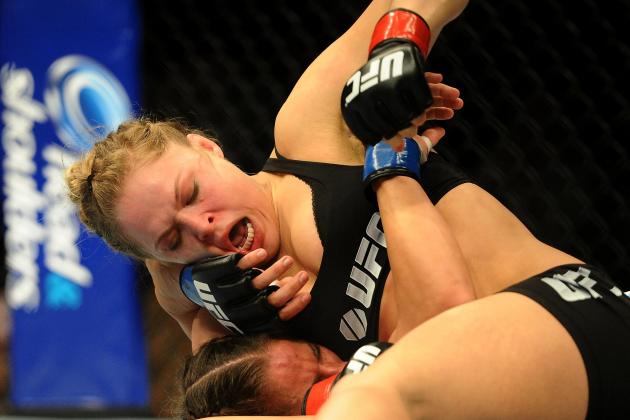 Jayne Kamin-Oncea-USA TODAY Sports

UFC 157 made history this weekend on a UFC card featuring the first ever women's fight. They even main evented the card for UFC gold.
Ronda Rousey defeated Liz Carmouche with her patented armbar to retain the championship, extending her phenomenal career thus far. It was the first time she was ever in trouble, though, and it was interesting to see how she would react.
Here are the top 10 women in MMA in the aftermath of this historic bout.
Note: Only fighters who have fought in the past year (365 days) were considered.
Begin Slideshow

»
sherdog.com
Organization: Invicta FC
Record: 10-2
Next Fight: vs. Cristiane "Cyborg" Santos at Invicta FC 5
Ediane Gomes has been on the rise in her last couple of fights, looking like a force to be reckoned with inside the cage.
Since losing to Ronda Rousey in 2011, Gomes has gone on a four-fight win streak. These wins include a devastating rear-naked choke of Katalina Malungahu and a hard-fought decision against Hiroko Yamanaka.
She gets a huge test in her next fight, as she will take on the human wrecking machine that is Cristiane Santos. A win over her fellow Brazilian would catapult her up the rankings.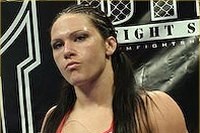 sherdog.com
Organization: UFC
Record: 7-0
Next Fight: vs. Miesha Tate at The Ultimate Fighter 17 Finale
Cat Zingano is an undefeated bantamweight who looks to be in for a long and prosperous career. "Alpha" has been on a path of destruction since making her pro debut, and she has made it to the big show as a result.
The undefeated grappler has only gone to a decision once and has faced some stiff competition. She owns victories over Barb Honchak, Carina Damm and Raquel Pennington, but her slam knockout over Takayo Hashi highlights her career so far.
She will give Miesha Tate all sorts of trouble when the two meet. They have similar styles that may clash well together.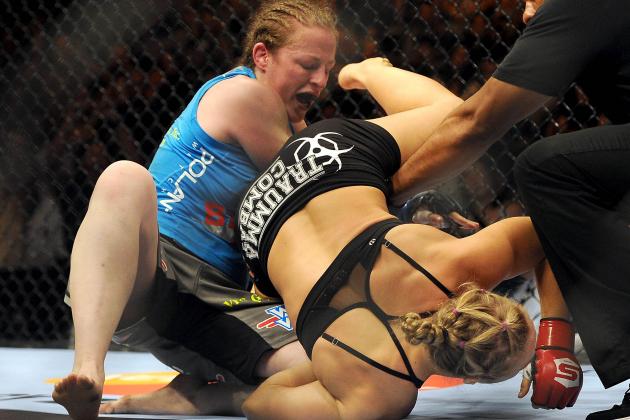 Jayne Kamin-Oncea-USA TODAY Sports

Organization: Invicta FC
Record: 15-2
Next Fight: vs. Leslie Smith at Invicta FC 5
Sarah Kaufman is coming off the most high-profile bout in her career against Ronda Rousey, which she lost quickly via armbar. That does not change the fact that she is a top fighter in the world.
Prior to the loss, Kaufman was on a three-fight tear. The vicious Canadian striker scored victories over the likes of Alexis Davis and Liz Carmouche, two women currently on the UFC roster.
She now sets her sights on the scrappy Leslie Smith. It will mark Kaufman's debut with Invicta FC and could lead to an eventual title shot.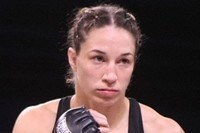 sherdog.com
Organization: UFC
Record: 6-0
Next Fight: N/A
Former Olympic wrestler Sara McMann has been thrust into the spotlight in just six fights of her pro career. The high-level grappler is thought by many to be the biggest threat to Ronda Rousey's crown due to her similar Olympic background.
Undefeated, McMann has already defeated noteworthy opponents Shayna Baszler, Hitomi Akano and Tonya Evinger. With that type of resume this early in her career, it is going to be interesting to see where she ends up in the coming years.
For now, she readies herself for her eventual UFC debut. She does not have an opponent yet, but I am sure we will find that out soon.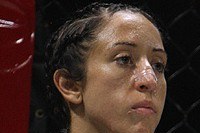 sherdog.com
Organization: Invicta FC
Record: 10-1
Next Fight: vs. Michelle Waterson at Invicta FC 5
The atomweight division is not often discussed in women's MMA, but it really should be. It is an exciting division with some intriguing talent.
Jessica Penne is currently atop that division, owning the Invicta 105-pound championship. She has settled into this weight class nicely and looks to defend her gold against the immensely popular Michelle Waterson.
It will be a tough test for Waterson, as Penne is a beast at 105. She is on a three-fight winning streak over the likes of Naho Sugiyama, Lisa Ellis and Amy Davis.
She headlines the upcoming Invicta card opposite Waterson.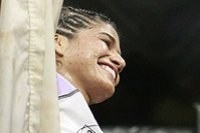 sherdog.com
Organization: Bellator
Record: 14-4
Next Fight: Unnamed opponent at Bellator 94
The fighter atop the strawweight rankings, Jessica Aguilar, has not competed since May 2012, but she is definitely one of the best women in the world.
Aguilar is a tough ground fighter who is getting better at striking. She is currently on a five-fight win streak, which includes decisions over Megumi Fujii, Lisa Ellis and Carla Esparza.
She calls Bellator home right now, but it would be even better if she made the jump to Invicta. A rematch with Esparza, the champion of Invicta's 115-pound division, would be a great fight.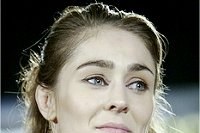 sherdog.com
Organization: N/A
Record: 21-5
Next Fight: N/A
A fighter who apparently has no permanent home, Marloes Coenen is still one of the top women in the world. She sits atop the featherweight rankings, and the former champion's only losses in the last couple of years were against top fighters Cristiane Santos and Miesha Tate.
The Dutch grappler has an impressive record with some notable names in her trophy case. In her last four wins, she submitted Sarah Kaufman, Liz Carmouche and Fiona Muxlow and won a decision against Romy Ruyssen.
She is another woman I would love to see fight full-time for Invicta. She could really pad their 145-pound division.
sherdog.com
Organization: Bellator
Record: 9-1
Next Fight: vs. Munah Holland at Bellator 95
Jessica Eye has become the star of the women's division in Bellator. Her attitude and work in the cage have earned her a loyal cult following among the Bellator faithful.
She has fought a whopping eight times since 2011, showing her willingness to scrap at any time. She won the most high-profile fight of her career in her last fight when she choked out Zoila Gurgel with a standing arm-triangle choke.
It was probably the highlight of her career so far and has earned her a fight with scary striker Munah Holland. A win over Holland would be an impressive feat.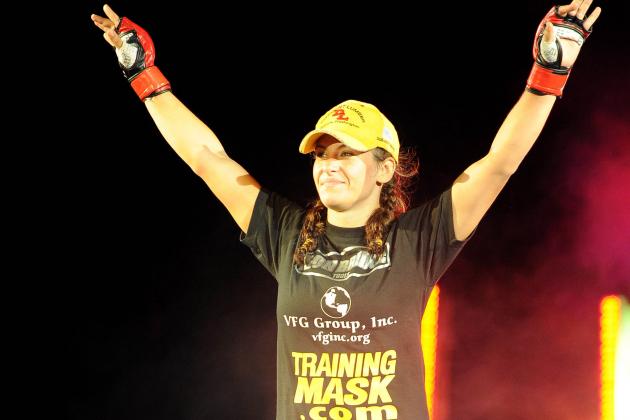 Jayne Kamin-Oncea-USA TODAY Sports

Organization: UFC
Record: 13-3
Next Fight: vs. Cat Zingano at The Ultimate Fighter 17 Finale
Not long ago, many thought Miesha Tate would be in the position that Ronda Rousey is in now. A loss to Rousey quickly took that thought away, but Tate is still one of the very best.
The former Strikeforce champion is a crafty grappler with good wrestling and submission skills. Her latest win, an armbar of Julie Kedzie, was an entertaining scrap that showcased Tate's elite grappling.
She now calls the UFC home and will make her debut against Cat Zingano in April. It will be a tough fight but a great test for the debuting "Cupcake."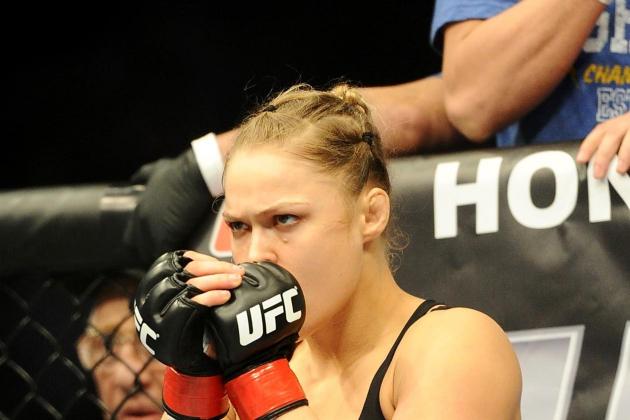 Jayne Kamin-Oncea-USA TODAY Sports

Organization: UFC
Record: 7-0
Next Fight: N/A
The face of women's MMA right now, Ronda Rousey is a certified superstar. On Saturday night, she earned her seventh win in seven pro fights when she tapped out Liz Carmouche.
She has won every fight with her patented armbar. She is beginning to make people think of her instead of Rickson Gracie when an armbar is mentioned.
Her hit list includes Carmouche, Miesha Tate, Ediane Gomes and Julia Budd, just to name a few. Not bad considering she only has a single-digit amount of fights under her belt.