Rousey vs Carmouche: Breaking Down the Pivotal Moments from UFC 157's Main Event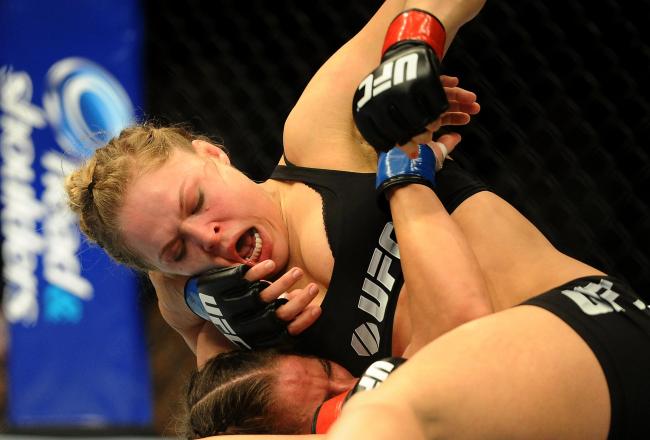 Jayne Kamin-Oncea-USA TODAY Sports
In her seventh fight, UFC women's bantamweight champion Rounda Rousey extended her career record of finishing every single one of her fights via armbar in the first round.
But the fight was also, unexpectedly, the toughest Rousey has had to face. Her opponent, Liz Carmouche, lasted 20 seconds longer than Miesha Tate—who was the only other woman to have taken the champion almost into the second round.
Within seconds of the fight getting underway, Rousey had Carmouche clinched up against the cage. This is where Rousey wanted the fight: at close quarters so she could use her Olympic judo background and plant that trademark armbar.
Thirty seconds into the fight, and Rousey had Carmouche flat on her back in a tight headlock. This is a dangerous position for any grappler on top, because it gives the person underneath space and leverage to take the back. And that's exactly what happened as Carmouche slipped to the champion's back and sunk in a choke.
Rousey took to her feet, but she looked wobbly and subdued by the monkey on her back. Carmouche dug her forearm into Rousey's jaw and cranked her face almost off her neck. This was the most dangerous position we've ever seen Rousey in and it almost seemed that Carmouche was ready to pull off the impossible.
But Rousey eventually shook Carmouche off her back, who found herself flat on the mat with a menacing Rousey leering over her.
With two minutes to go, Rousey made her move to pass her opponent's guard; throwing heel kicks and punches until she found herself inside control. This was the beginning of the end.
Ronda, in her favourite position again, had her opponent down in a headlock and was raining punches on her head. Carmouche again tried to slip to Rousey's back, and at one point went for a reverse triangle from the bottom, but Rousey's control was too strong this time.
With 50 seconds to go, it seemed like a race against the clock for Rousey to take her opponent's arm and seal the victory. Eventually Rousey was able to throw her leg over Carmouche's head and got the perfect armbar position.
With 20 seconds to go, Rousey began prying open Carmouche's arm which inevitably gave five seconds later and Rousey had defended her belt.
This article is
What is the duplicate article?
Why is this article offensive?
Where is this article plagiarized from?
Why is this article poorly edited?