I've been in Indianapolis since Wednesday, covering my fifth consecutive NFL Scouting Combine for SiriusXM NFL Radio.
In the four days that I've been in town, I've eaten delicious meals, shared more than a few laughs and almost got run over by cameramen on their way to the Manti Te'o press conference.
But most importantly, I've spoken with many of the top prospects and seen them interviewed, gleaning information from some of the brightest minds in football on what they look for in a player at the scouting combine.
There are countless examples of combine workout warriors who turned into massive busts after being drafted too highly. Players like Mike Mamula (Philadelphia, 1995), Jonathan Sullivan (New Orleans, 2003) and Matt Jones (Jacksonville, 2005) are prime examples of this phenomenon.
As a result, the same question is asked every year: How can teams separate these workout warriors from legitimate NFL prospects?
The Interview Process
During my time with NFL Radio, I've sat and listened to just about every top prospect speak to our hosts at the combine.
Our hosts are looking for the same things: Does the player shy away from the tough question? Does the player truly love football? Do the player's answers appear forced and scripted?
You better believe that each and every NFL team duplicates that process exponentially during their private meetings with the player.
Getting inside the mind of a player is nearly as important as seeing him perform drills in his underwear. Teams can test a player's aptitude by making him draw up plays on a whiteboard or quiz him on complex formations and plays that he'd have to learn if drafted.
A prospect could be the greatest athlete in the world, but teams won't care if it doesn't come across that he truly loves the game of football. General managers and coaches want to stock their 53-man rosters with players who eat, breathe and sleep football. There's no 40-yard dash time that can make up for an athlete who doesn't truly love the game.
The interview process is a highly underrated tool that teams can use to separate workout warriors from legitimate NFL prospects.
Don't Get Wowed by Physique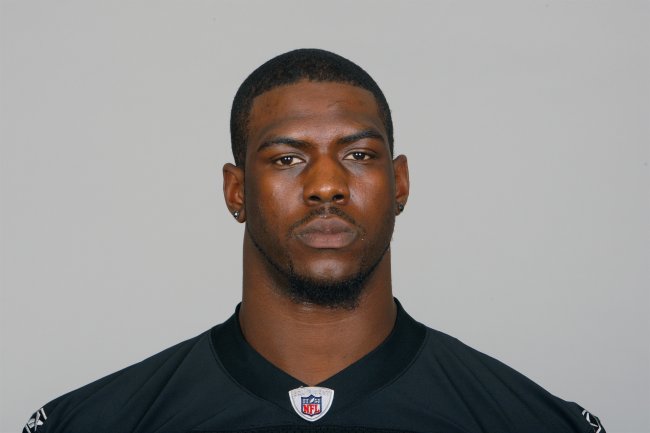 Handout/Getty Images
I'll never forget when former Raiders and current Panthers offensive lineman Bruce Campbell came to our set in 2010.
Campbell was supremely ripped, with muscles on top of muscles. It was really sort of preposterous that someone could be that jacked, and it made an impression on everyone who saw him.
Now, I'm not saying the following can be attributed to Campbell, but it's nonetheless applicable. It also has been a staple in the NFL community for years: Looks like Tarzan, plays like Jane.
Simply put, it's not enough for a player to have a great body. It's easy for talent evaluators to see a young man's physique and extrapolate great things on the field as a result, but so much more goes into the process than biceps and abs.
Does the player love football? Does he understand the basic concepts of his position? Can he understand complex offensive or defensive schemes?
The answers to those questions are far more important than the player having an Adonis-like body.
I'm not saying it hurts to be muscular and in shape, but it's not the sole ingredient that should go into the selection of a player. In the case of Campbell, he was traded to Carolina for backup running back Mike Goodson last offseason.
Don't Put Too Much Stock in 40-Yard Dash Time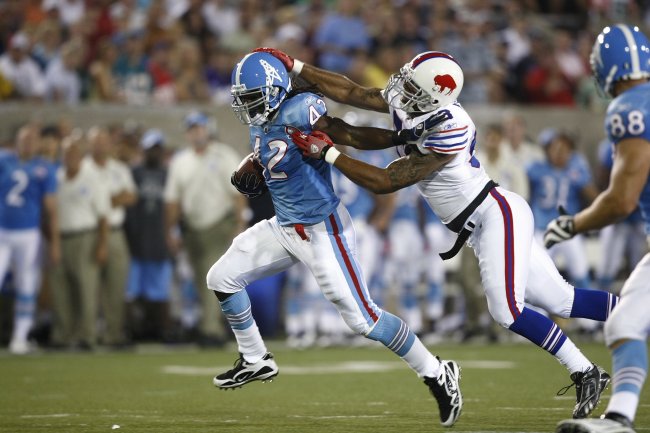 Joe Robbins/Getty Images
The 40-yard dash is arguably the most exciting part of the combine. Speed is a highly coveted attribute that general managers and coaches seek when looking to add prospects to their roster.
However, history has proven that an exemplary 40-yard dash time isn't enough to make a prospect into a legitimate NFL player.
Running back Chris Henry, selected 50th overall by the Tennessee Titans in the 2007 draft, wasn't exactly a bell cow at the University of Arizona. He only carried the ball over 100 times in a season once. However, he had a ridiculous week at the combine, topped off by a 4.40-second 40-yard dash, and the Titans fell in love with his speed.
Henry is just one example of a player who skyrocketed up the draft board based on his 40 time. Other players who have clearly benefited from this particular exercise include Darrius Heyward-Bey and Matt Jones.
While the Titans struck gold a year later with their selection of running back Chris Johnson (who ran a 4.24), Henry is proof that you can't select a player based on straight-line speed alone.
Jerry Rice is a perfect example of that. Rice, arguably the greatest player in NFL history and certainly its best receiver (sorry, Randy Moss), ran a disappointing 4.7 in 1985. But when he was on the field, Rice would routinely outrun defensive backs who were "faster" than he was. His game speed was incredible, and it nullified any concerns about his lackluster 40 time.
I'm not saying that the 40-yard dash isn't important and there isn't anything to be gleaned by a player's straight-line speed. But it certainly shouldn't be the sole factor in a team's decision to draft a player.
Trust Your Film Study

Rob Carr/Getty Images
Ultimately, the most important facet in separating workout warriors from legitimate NFL prospects is what they've done on the field during their college careers.
For many teams, the combine just serves as a confirmation of the information they've assimilated during months of scouting during the college football season.
What players have done on the field should outweigh anything they might do at the combine. The perfect example of this is the Raiders selecting Darrius Heyward-Bey ahead of Michael Crabtree in 2009.
While Crabtree had a far better collegiate career, as he dominated for Texas Tech, Heyward-Bey was a workout warrior. He ran a blazing 40 time that the late, great Al Davis fell in love with, as he was often apt to do.
Heyward-Bey has shown some flashes during his career, but he has ultimately been a disappointment given his Top 10 selection. Crabtree, meanwhile, has begun to flourish with the 49ers under Jim Harbaugh and Greg Roman.
There should be nothing that a player can do at the combine that is more important than his collegiate tape. That's the single most important aspect an NFL team should use in separating workout warriors from legitimate NFL prospects.
Nick Kostos is the executive producer of the "SiriusXM Blitz," hosted by Rich Gannon and Adam Schein, on SiriusXM NFL Radio. You can follow Nick on Twitter.