UFC 157: 12 Memorable Moments from Rousey vs. Carmouche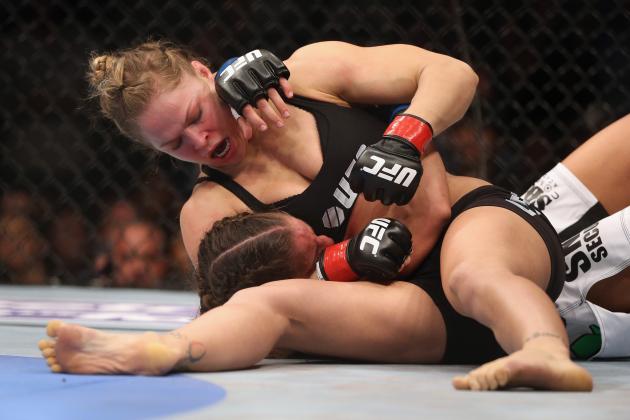 Jeff Gross/Getty Images
Ronda Rousey proved herself a true UFC champion with a thrilling victory in her first title defense.
Ronda Rousey has brought women's MMA to the UFC, and it's not going anywhere any time soon.
Although UFC 157 featured a lot of amazing moments in 11 fights leading up to the main event, Rousey and Liz Carmouche stole the show with a nail-biting battle.
Since that wasn't even the night's best fight, you know it was a good card.
From early afternoon into the late night, the crowd at Anaheim's Honda Center was treated to back-and-forth battles, technical showcases and a huge upset from an unlikely source.
Moreover, we even had a "Fight of the Year" contender show up from out of nowhere.
To find out what went down at this historic event, read along and reminisce with us as we recap a dozen of the most memorable moments from UFC 157.
Begin Slideshow

»
What more is there to say?
Liz Carmouche made a hell of an effort in her first UFC bout, taking Rousey to the limit and nearly becoming her only opponent to escape the first round.
But Rousey is truly a force of nature, and she wouldn't be denied.
After surviving a horrible neck crank attempt on the feet, Rousey surged back to take control of the match, finally grabbing Carmouche, dragging her to the mat, sinking in an armbar and slowly working toward a clear finish.
No matter who you are, Rousey will take your arm.
That's all there is to it, and female fighters everywhere still have no solution to "Rowdy" and her fierce, trademark submission technique.
Photo Credit: Esther Lin via MMA Fighting
If you blinked, you missed it.
During the most tense moment of the UFC 157 main event, Rousey found herself fighting both a rear-naked choke and a nip-slip, as Liz Carmouche gamely took her back and attempted to shock the world.
Due to Rousey's comparatively risque choice of fighting attire, most of her entire left breast was accidentally exposed to the Honda Center crowd before she finally managed to shake off the challenger.
Fortunately, her top stayed intact. Carmouche inadvertently aided the situation by pushing Rousey's breast back into place with an upkick.
There wasn't much to score in the three-round co-main event, as Lyoto Machida and Dan "Hendo" Henderson carefully looked for holes in the other's defenses.
Relative lack of action aside, there were a few notable spots in the match that could've swung the fight.
Machida knocked down Henderson with counter shots a couple of times, mixing in flashy kicks here and there as he sought a knockout blow against the best chin in mixed martial arts today.
But Henderson had the most ground control in the fight, smothering Machida late into the third round off of a trip.
In the end, Machida's old tactics won out, giving him a split-decision victory.
Thankfully for "The Dragon" and his camp, the torrent of boos from the Honda Center didn't change Dana White's mind about making Machida the No. 1 contender against Jon Jones.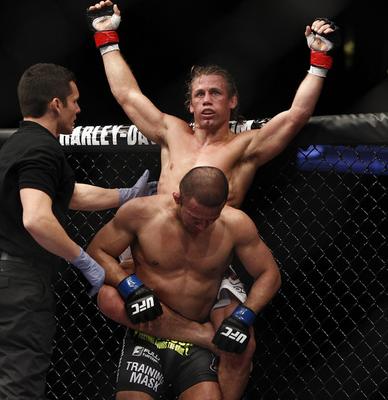 Photo Credit: Esther Lin via MMA Fighting
If you're not wearing a title belt, Urijah Faber is going to beat you.
Ivan Menjivar learned that the hard way.
Although "The Pride of El Salvador" had a bright spot in the match by flipping Faber to the mat with a beautiful throw, "The California Kid" showed exactly why he's a perennial title contender.
After beating up Menjivar with elbows from guard, Faber grabbed his foe once they were on their feet, climbing onto his back and locking in a tight rear-naked choke.
Stuck against the fence and with no room to breathe, Menjivar had little choice but to tap.
It was masterful work from Faber. Even without a title shot in sight, that kind of win definitely keeps him close to the top of the division.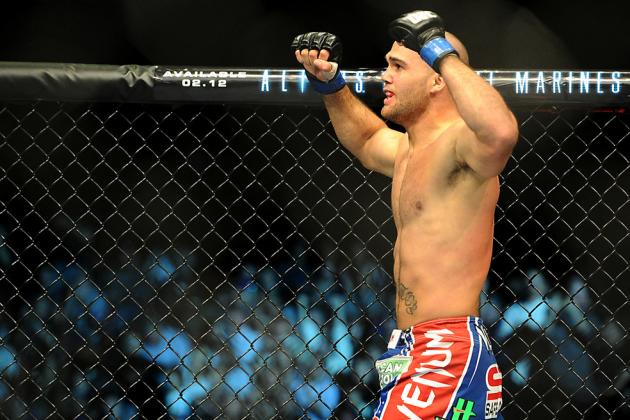 Jayne Kamin-Oncea-USA TODAY Sports

Call it an early stoppage, call it unfair, call it whatever you want.
At the end of the day, Robbie Lawler shocked the entire UFC by putting the breaks on an elite gatekeeper, dropping Josh Koscheck with hard punches just under four minutes into the first round.
For a while, it looked like Koscheck would be able to "blue-chip" his way to a wrestling-based decision win, clearly not wanting to play with Lawler's punching power.
But one bad sprawl turned into a fight finisher, as Koscheck found himself pressed against the fence, eating major strikes to the face without properly (or intelligently) defending himself.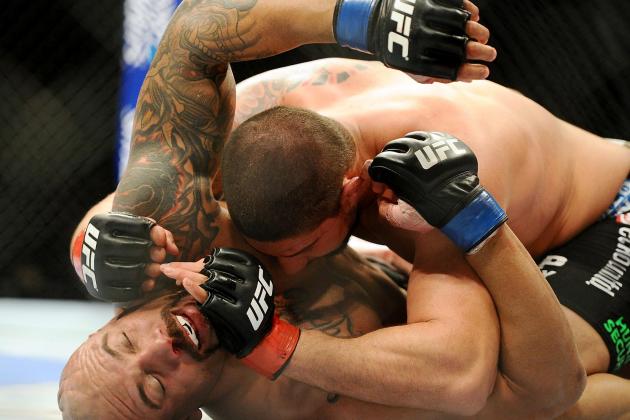 Jayne Kamin-Oncea-USA TODAY Sports

Sigh.
Heavyweight grinder Brendan Schaub is one of the most frustrating wrestlers to watch.
Then again, this was a good moment for Lavar Johnson, even in defeat.
Honestly, how many fighters are able to actually punch their way out of a submission attempt—from their back, no less?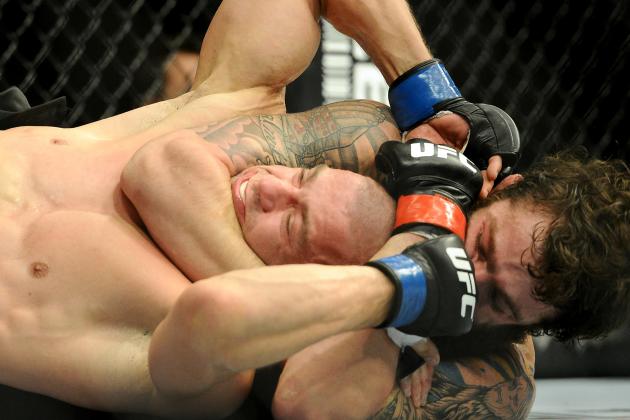 Jayne Kamin-Oncea-USA TODAY Sports

After meeting some resistance in the first round of his battle in a test against the strong Anton Kuivanen, TUF 15 winner Michael Chiesa eventually got what he was looking for.
Grappling against the fence into Round 2, Chiesa showed off his grappling acumen by snaking himself onto Kuivanen's back.
With that positioning set up, Chiesa took Kuivanen down to the mat and used his long limbs to patiently wrap up a rear-naked choke victory.
Not only does that win mark Chiesa's second victory the UFC, but it also bumps his professional MMA record up to a stellar 9-0 undefeated stretch.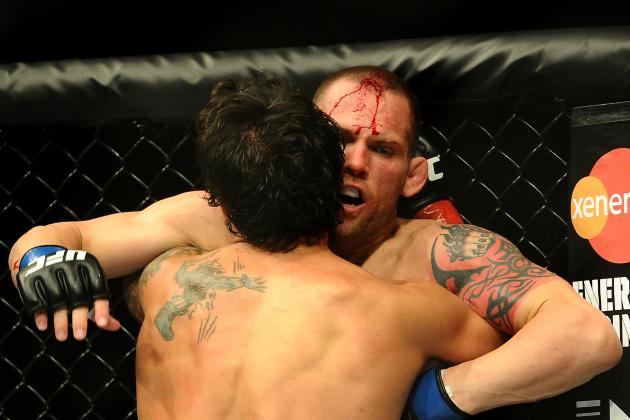 Jayne Kamin-Oncea-USA TODAY Sports

We learned three things in this preliminary bout, which should be an easy candidate for "Fight of the Year" on anyone's list.
1. Matt Grice and Dennis Bermudez deserve their UFC slots.
2. MMA judging, as usual, is terrible.
3. Herb Dean is the greatest referee in the sport.
Although it seemed like Grice would pull away from Bermudez late in the fight, the TUF 14 alumnus fired back with an amazing rally, battering Grice against the fence late in Round 3. He threw a storm of punches, kicks, knees and literally anything else he could to get the TKO stoppage.
It was almost scary.
Somehow, Grice gritted through it all and stayed conscious long enough to make it to a decision, with Herb Dean nearly stopping the match twice in the same minute.
Even though the end result was marred by the judges failing to award a single 10-8 on their scorecards, neither man looked like a loser as Bermudez barely walked away with the split-decision victory.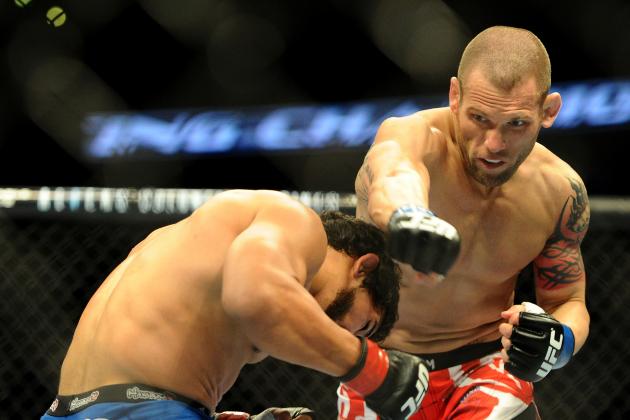 Jayne Kamin-Oncea-USA TODAY Spor

Matt Grice was literally inches away from ending this fight in the first round.
In retrospect, it's a good thing that he didn't, because the aftermath gave MMA fans one of the best fights so far this year.
Midway into the first round, Grice hit Dennis Bermudez with a hard counter hook, dropping him as Herb Dean rushed in for a closer look.
Bermudez got his wits about him quickly enough, injecting some life into the crowd and pushing back to make the fight a barn burner.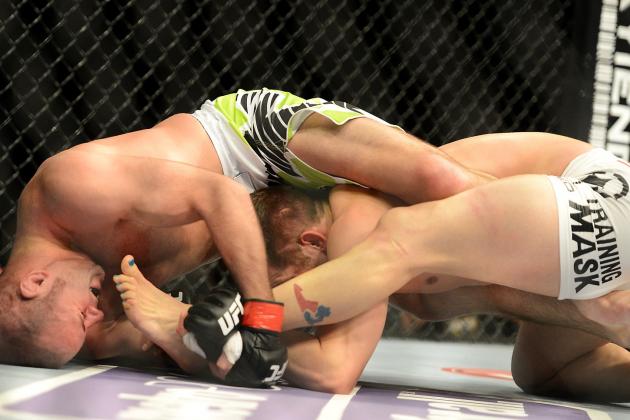 Jayne Kamin-Oncea-USA TODAY Sports

Although Kenny Robertson likely won't be included in any "Top 10 Dangerous-Sounding Names" list, he still put away Brock Jardine despite getting caught in an early guillotine attempt.
It seemed like Jardine had the submission locked in, but Robertson was calm in the eye of the storm.
Shortly afterward, Jardine found himself on his back, with Robertson dominating him on the mat.
But the end came out of nowhere, with Robertson showing off a whole new leg submission, prying Jardine's hamstring out until he got the tap. As Robertson noted to Joe Rogan, it was "something he invented in college" that would "tear your hamstring apart."
Grisly stuff.
If there's not already a name for that move, maybe he should call it a hamstring slicer.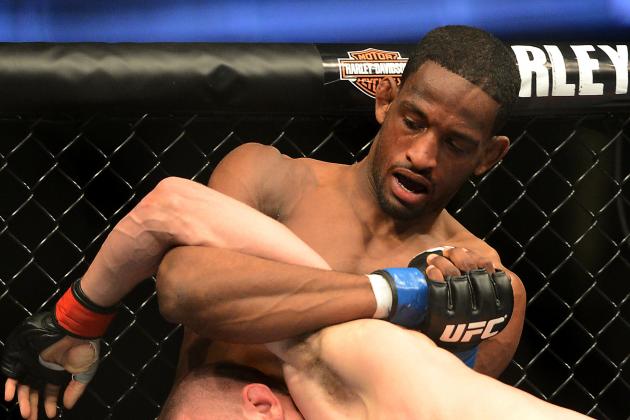 Jayne Kamin-Oncea-USA TODAY Sports

Making the most of his size, Neil Magny was able to completely frustrate Jon Manley and his relentless wrestling attack.
Using his long limbs and superior clinch control, Magny looked to cruise to a relatively easy decision win—until a desperate Manley managed to grab an armbar while trapped against the fence.
To Magny's credit, he certainly didn't panic, patiently prying Manley's grip apart until the hold was broken.
Although the Anaheim Honda Center crowd clearly didn't like the overly technical grappling match, it was still an impressive showing from Magny, as the TUF 16 alumnus notched his first UFC win.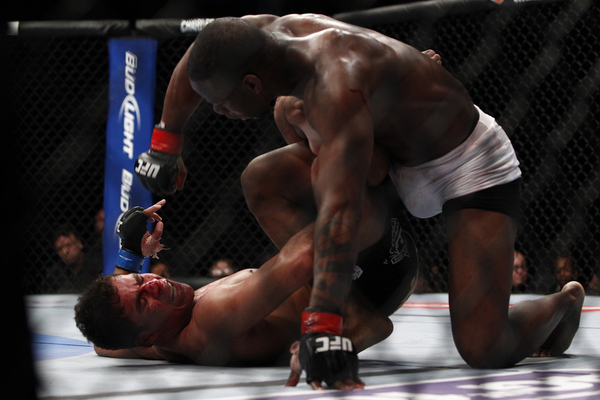 Photo Credit: Esther Lin via MMA Fighting
Starting off the UFC 157 card in Anaheim's Honda Center, an increasingly tired Yuri Villefort found himself outclassed on the feet against Strikeforce veteran Nah-Shon Burrell. Despite a superior kicking arsenal, Burrell was simply the quicker boxer, landing huge uppercuts and counters.
With defeat almost assured if the match went to a decision, Villefort pressed for submissions in Round 3, finally securing a solid inverted heel hook attempt that almost looked like it could turn the bout around.
Unfortunately for him, that's where things went south.
Sensing a moment to seal the fight, Burrell bombed the Blackzilians prospect with more than a dozen heavy punches, throwing caution to the wind and pummeling his helpless opponent. It didn't end the fight, but it was a brilliantly brutal display that sealed the win for Burrell.