LeBron James Gets Another Triple-Double, Heat Showing No Weaknesses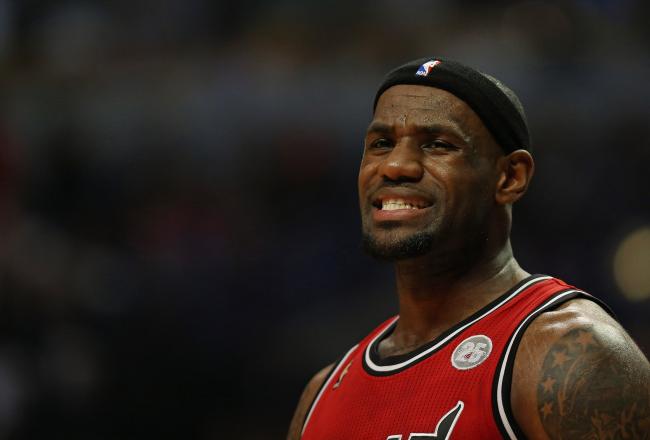 Jonathan Daniel/Getty Images
With the 10th win in a row for the Miami Heat, LeBron James threw down his third triple-double of the year in the 114-90 win over the Philadelphia 76ers. The Heat are starting to look like a flawless basketball team.
LeBron continues on his impressive streak of games. While he wasn't able to pad his scoring numbers with free-throw attempts, he did go 7-of-12 from the floor and scored 16 points.
Strangely enough, LeBron shot well above 50 percent from the floor and missed just five shots, yet his field-goal percentage for the month of February actually went down.
He's shooting an astonishing 65 percent in the month, and if he's able to do anything close to that in the playoffs, then the rest of the teams can go ahead and pack an overnight bag, because they're not sticking around long.
In reality, LeBron has had just two noticeably bad moments in his past 400 minutes of basketball. He bricked a dunk against the Chicago Bulls, and the block heard 'round the world by Spencer Hawes.
SPENCER HAWES SWATS LEBRON JAMES REST OF NBA SEASON CANCELED

—

SBNation

NBA (@SBNationNBA) February 24, 2013
What's most impressive is that it's actually the entire team stepping up over this stretch. It hasn't just been the Heat standing by as they watch LeBron do work in the post and hit three-pointers whenever he kicks it out. They've actually fixed their biggest problem during this stretch of games.
In the 10 straight wins that they've reeled off, teams are shooting just 33.5 percent against them. That's the biggest knock that we had against them early on in the season.
They went from being in the bottom third of the league in terms of perimeter defense to ratcheting up their presence along the three-point line and grinding teams down to a middle-of-the-road 35.7 percent from beyond the arc.
The concern was that there was a legitimate hole in their defensive rotations this season, and not just that they were coasting through the early parts of the season. This 10-game stretch seems to have quelled that notion.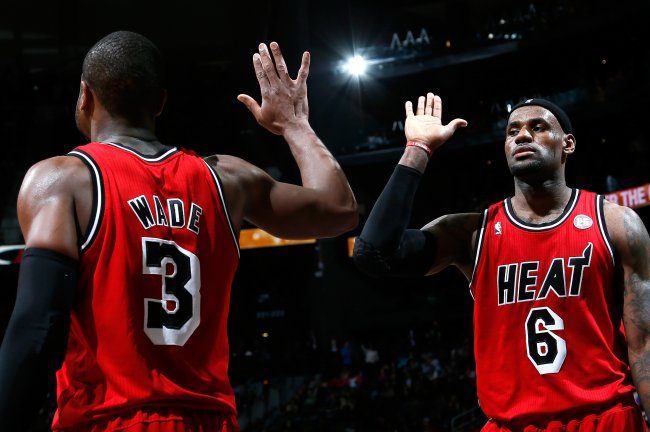 Kevin C. Cox/Getty Images
Of the teams they beat, the Toronto Raptors, Los Angeles Clippers, Houston Rockets, Oklahoma City Thunder and Atlanta Hawks were all top-13 three-point shooting teams.
Miami's game against the Thunder in particular was one in which we really saw what they're capable of around the perimeter.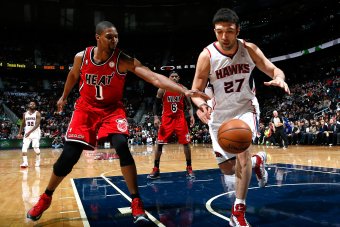 Kevin C. Cox/Getty Images
Oklahoma City is the best three-point shooting team in the NBA. They make nearly eight a game and shoot fewer than 20, leading the league with a 39.2 percentage from the three-point line.
The Heat held them to a measly three of 13 from deep. If that's not a statement, then I've got to take a lesson on recognizing these signs.
Now it is still a very light rebounding team, which may be in part because the players just make so many shots, but that's still something that could be a problem moving forward.
The more Miami plays Chris Bosh at the center spot, the harder it is for them to get rebounds. However, the Heat do make up for that with some stellar defense both in the paint and around the perimeter (at least recently).
When there's so much efficiency on their offensive end, it definitely bolsters the defense in that it forces their opponents to try to keep up with them, which is just impossible at times.
This article is
What is the duplicate article?
Why is this article offensive?
Where is this article plagiarized from?
Why is this article poorly edited?

Miami Heat: Like this team?