NHL Rumors: Breaking Down Latest League Developments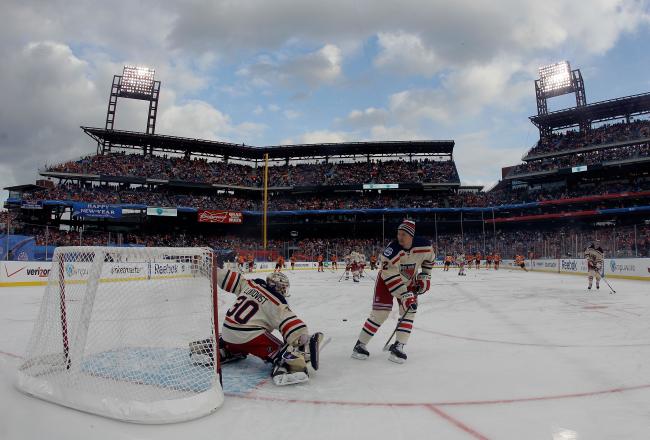 Rob Carr/Getty Images
The April 3 NHL trade deadline is pretty far off, but several key players are continuing to make headlines with the rumor mill swirling. But those who drive the NHL brand on the ice are not the only ones generating buzz.
One of the possibilities creating a huge stir is the prospect of multiple outdoor games being played next season. There will be no Winter Classic in 2013, so that is an especially encouraging move in that context.
Here is a breakdown of the league's latest developments, which are pretty exciting and in stark, positive contrast to what was happening during the lockout.
Protective Socks to Become Mandatory?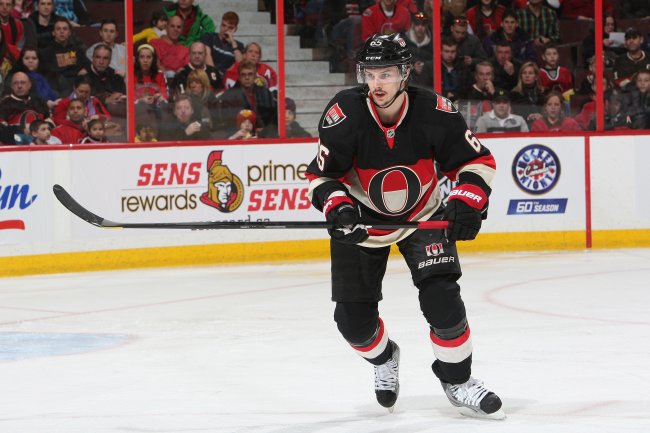 Francois Laplante/FreestylePhoto/Getty Images
The league is reportedly considering making Kevlar socks non-optional in an effort to enhance player safety.
ESPN's Pierre LeBrun recently broke down the chatter:
Sources have told ESPN.com that when the NHL's 30 GMs convene March 20 in Toronto there will certainly be a discussion of whether it should be mandatory for players to wear cut-resistant socks.
This development comes in light of the recent season-ending Achilles injury to Ottawa Senators Norris Trophy-winning defenseman Erik Karlsson.
As the report notes, the league would have to get approval for this through the NHL Players' Association. LeBrun also brings up the issue in the context of players wearing visors.
The league attempted to make this mandatory as well, but the NHLPA shut it down in the collective bargaining agreement meetings.
But for such a great young player like Karlsson to go down, it definitely will warrant consideration. However, TSN hockey insider Darren Dreger highlighted the concerns that some players have over the prospective transition.
Cut-resistant game socks have been developed, but issues still exist for players in material combinations, moisture concerns, etc.

— Darren Dreger (@DarrenDreger) February 21, 2013
It remains to be seen if Karlsson's unfortunate circumstances will trigger this adjustment the league is allegedly pushing.
Detroit Red Wings Likely Moving Back to the Eastern Conference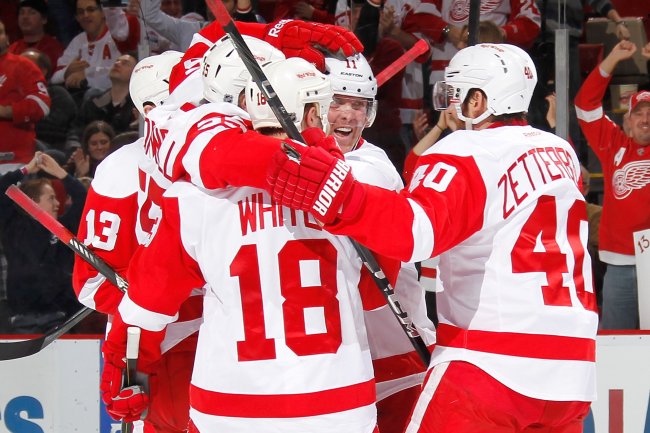 Gregory Shamus/Getty Images
HockeyBuzz.com's Eklund took to Twitter on Saturday evening to announce a logical, seemingly imminent move that would return the Detroit Red Wings in the Eastern Conference.
Fully expecting to hear the Red Wings returning to the eastern conference.Put it at around 80% according to those familiar with situation

— Hockey Buzz Eklund (@Eklund) February 24, 2013
Eklund provided more details in a report on the website:
I have talked to a number of people over the last week, and most signs point to the Red Wings getting moved back to the Eastern Conference next year. I would put it around 80%, but that's just an educated guess.
Given their geographic location in relation to their other conference foes, longer road trips are something that the franchise has had to deal with for years. It also hurts fanfare for road games due to the difference in time zones.
Despite of the added obstacle of traveling, the Red Wings continue to be among hockey's most consistently successful teams. They have made the playoffs in every completed season since missing out in the 1989-90 campaign.
There was talk of a move back to the East last season, but it never materialized.
One silver lining of the shortened season for Detroit is that the team may have less time to wait for less arduous road-trip schedules.
More Outdoor Games Rumored for 2014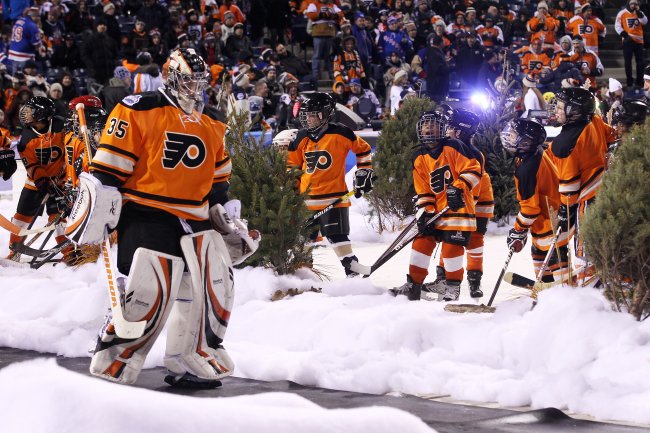 Bruce Bennett/Getty Images
David Pagnotta and Dennis Bernstein of The Fourth Period magazine are reporting that more outdoor hockey is on the way in 2014:
According to multiple well-placed sources, the NHL is planning on having not one, but several additional outdoor games in 2014, a series of outdoor games, if you will, which will begin with the Winter Classic at Michigan Stadium in Ann Arbor.
Pagnotta also provided a more succinct summary in a subsequent tweet:
The TOR/DET Winter Classic is still on... but NHL will likely add 1-2 (or more) outdoor games after WC next season. NYC & LA been discussed

— David Pagnotta (@TheFourthPeriod) February 23, 2013
Venues that have been discussed are Yankee Stadium and Dodger Stadium to heighten the prestige and profile of participating in these games. The idea of turning this into a series is a great idea for the NHL.
Given the previous success of the Winter Classic and the fact that fans will be starving for it after its cancellation this season, there isn't much wrong the league can do by hosting more outdoor contests.
In fact, four of the five previous Winter Classic games have made it into the top five of the NHL's most widely viewed regular season games since 1975 (h/t TV by the Numbers).
This will be among the most buzzworthy stories in generating revenue for the sport. It is a great change of pace in terms of atmosphere and how high the unusual environment puts the league on the sports world's marquee stage.
This article is
What is the duplicate article?
Why is this article offensive?
Where is this article plagiarized from?
Why is this article poorly edited?