Georgetown Hoyas Top Syracuse Orange on the Road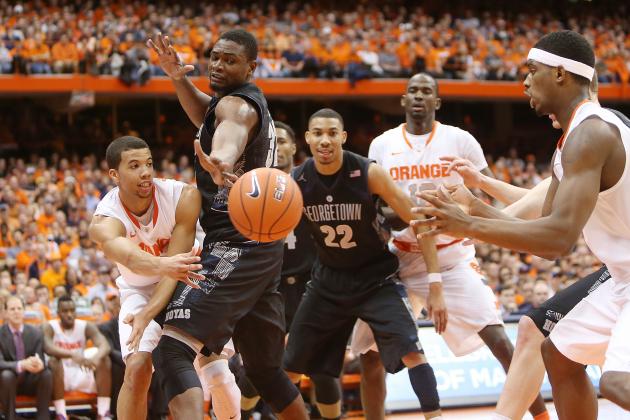 Nate Shron/Getty Images

The Georgetown Hoyas, in front of an NCAA record 35,012 fans, defeated the Syracuse Orange, 57-46, in their last visit to the Carrier Dome before the Orange head to the Atlantic Coast Conference next season.
In addition to ending the nation's longest home winning streak at 38 games, the Hoyas also rained on Carmelo Anthony's parade. The former Orange great and Most Outstanding Player of the 2003 NCAA Final Four, was courtside to have his jersey retired 10 years after leading Syracuse to its only national championship.
With the win, Georgetown (21-4, 11-3 Big East) seized first place in the league by a game over Syracuse, Marquette and Louisville (10-4). The Orange play at Marquette on Monday evening in their only regular season meeting and then host Louisville in the Dome next Saturday. As they enter the last leg of their final Big East slate, their spot in the standings is anything but secure.
Of a more immediate concern for Coach Jim Boeheim is how poorly his team played in so many facets of a game that, given their remaining schedule, was as close to a must-win as a first place team could have.
Let's take a look at the reasons Syracuse lost.
Begin Slideshow

»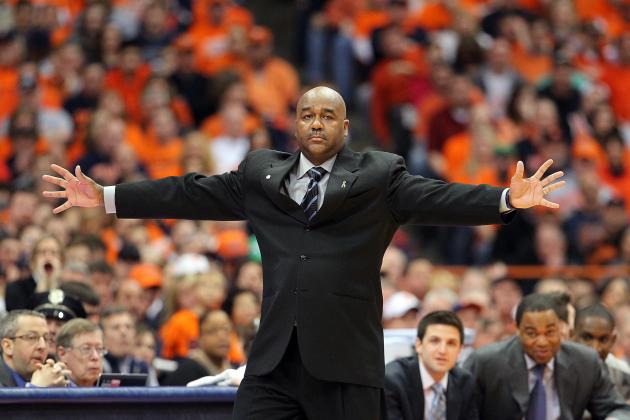 Nate Shron/Getty Images

Syracuse opened an early 12-4 lead on the back of two three-pointers by Brandon Triche and James Southerland. The crowd was bedlam, the Hoyas were reeling, and the Orange were ready to kick their arrivals all the way back to D.C.
Turns out John Thompson III had Syracuse right where he wanted them.
JTIII switched his defense to, of all things, a 2-3 zone. Syracuse's bread-and-butter defense.
If any team should know how to carve up a 2-3 zone, it should be Syracuse.
Instead, they morphed into so many of their opponents who have succumbed to that same zone over the years. They started chucking threes (4-of-20 for the game) and had 16 turnovers. At one point in the first half, Syracuse went over eight minutes without making a basket.
For a team whose calling card is its zone defense, they seemed clueless as to how to neutralize it.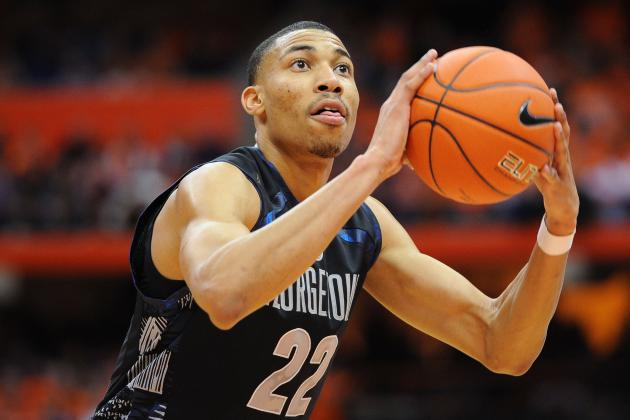 Rich Barnes-USA TODAY Sports

If Georgetown was going to pull the upset, Otto Porter Jr. would need to do a lot of the heavy lifting.
And lift he did.
The sophomore was a one-man wrecking crew. Porter Jr. scored 33 points on 12-of-19 shooting. He knocked down five of his 10 three-point attempts and was a perfect 4-of-4 from the charity stripe.
If that wasn't enough, he snatched eight rebounds (four on the offensive glass), had five steals, and even dished out two assists while playing the entire 40 minutes.
The entire Syracuse team scored only 13 more points for the game than Porter Jr. About the only thing he didn't do was to drive the team bus to and from the airport.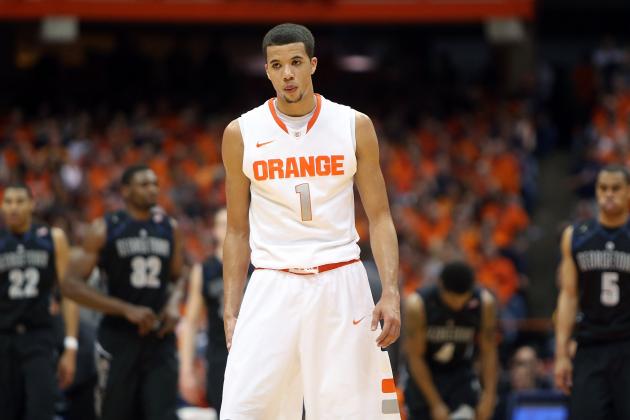 Nate Shron/Getty Images

While Otto Porter Jr. may have been the best player in the game, Michael Carter-Williams is the most dynamic.
For the Orange to emerge victorious, Carter-Williams needed to play like Superman. Instead, MCW was more like Clark Kent than the Man of Steel.
The sophomore scored a mere seven points on the day and took only six shots the entire game. Though he did have five of the Orange's eight total assists, but that was three below his average.
Georgetown's ability to negate Syracuse's fast break opportunities prevented Carter-Williams from getting out in transition and getting his teammates easy buckets.
The Hoyas also did a sensational job of sealing off driving lanes in the zone thus denying MCW opportunities to take the ball to the basket.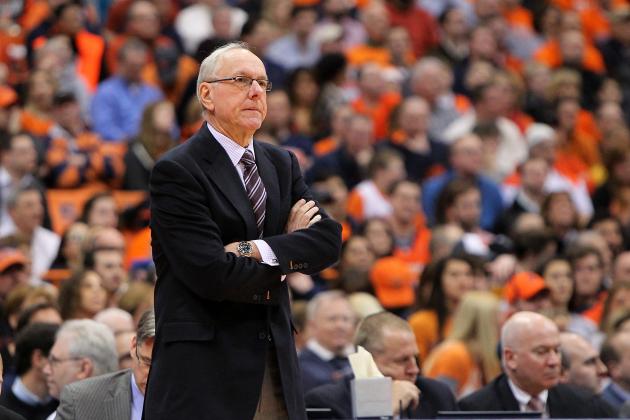 Nate Shron/Getty Images

The Orange better shake this one off quickly because it is a short turn around to a Monday night road game against Marquette. The Golden Eagles fell on the road to Villanova to remain tied with Syracuse and Louisville for second place in the Big East.
Since these two teams meet only once in the regular season, the winner of this game will have the tiebreaker in terms of Big East Tournament seeding. And with a home game against Notre Dame and road games at Rutgers and St. John's remaining, Marquette seems to have the much more manageable schedule than Syracuse who still has a home against Louisville and a return game at Georgetown.
Other than their trip next Saturday to the Dome, Louisville's remaining contests are a road game at DePaul and home games against Cincinnati and Notre Dame. The Cardinals also appear to have an easier remaining schedule than Syracuse.