Hartnell Down and 5 Other Great NHL Charity Ideas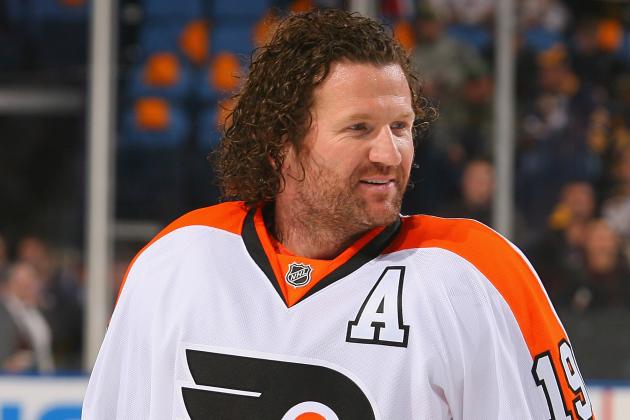 Rick Stewart/Getty Images

It may be tough to look at anyone involved in the NHL mere months after a lockout over (a lot) of money and think of the word charity. Despite the business end of the game going south once every six or seven years, the hearts of many of the game's players do anything but.
I think just about every player that garners top-six minutes as a forward, top-four minutes as a defender or starts at least three games in goal as a netminder has a charity golf tourney over the summer. I also think that these guys use golf for the same reasons us "normal" folks do, except they get to drink and yell "fore!" for a cause.
Admirable.
While I appreciate all those outings, it seems like some guys take things a bit further. Scott Hartnell with the #hartnelldown idea is a classic example of a guy taking on a unique way to help those who are less fortunate.
While the lockout was awful to endure, there was a silver lining in that so many players were able to donate more time than they would have otherwise been unable to. According to the NHLPA's website, the locked-out players earned more than $1.8 million dollars for various charities through multiple events and appearances.
Hey, that's only a few hundred thousand dollars away from being the average yearly salary for one player in the NHL! But I digress.
Several other guys around the league have found unique ways to raise money for causes they believe in. Here's a look at a few of the best ideas from around the NHL.
Researching this was honestly a little odd because I feel like a lot of the fundraising events garner attention locally but maybe not so much nationally. So I leave the door wide open to you, darling audience—tell me about the charitable actions that I didn't read about. Tell me some stories.
Begin Slideshow

»
"That's frickin' nuts!"
You said it, kid.
According to the NHLPA's site, over 1,000 kids from more than 50 youth hockey organizations had the chance to skate with NHL players over the course of the lockout. Pretty staggering impact there.
I still remember the day I got to pass a puck around with Willie O'Ree as a kid, and I'm sure all those children will vividly remember their day with an NHL player as well. Perhaps the only thing cooler than the idea itself was the fact that it was a player-driven initiative.
#foundaplacetoskate became a bit of a rallying point on Twitter during the lockout, with players posting photos of their skate-arounds and connecting with the kids they skated with via social media after the fact.
Say what you want about Don Fehr and the NHLPA, but those guys sure know how to produce a video (sorry, the broadcasting major in me slips out from time to time).
Here's another great charity effort from the locked out NHL players. Team Subban and Team Stamkos took to the ice to raise money for the RBC Play Hockey Charity Challenge, a charity that supports grassroots hockey campaigns across Canada.
All told, the 3,000 in attendance helped the players earn over $100,000 for the cause. Not to mention how excellent it was to see hockey in December, some two months after the beginning of the lockout.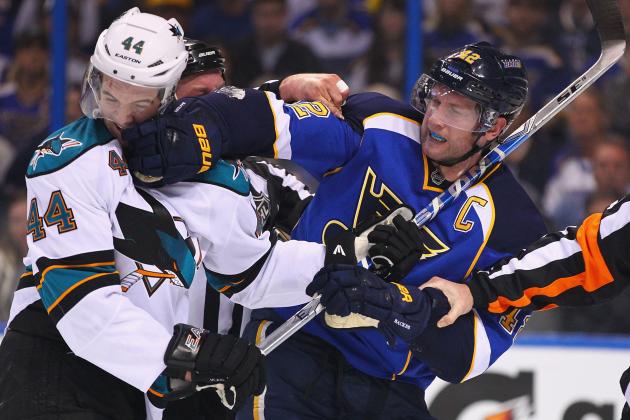 Dilip Vishwanat/Getty Images

St. Louis Blues forward David Backes isn't exactly known for being soft and cuddly on the ice. If anything, he's known for being an SOB that really doesn't back down from anyone and that will take the body at nearly every chance.
Off the ice, however, Backes is all about the soft and cuddly dogs and kittens.
(Wow, I never thought I'd write that sentence. Or be able to link it to something.)
Backes and his wife, Kelly, operate a program called "David's Dogs and Kelly's Cats" (two points for alliteration). They feature three dogs and three cats a month from the Five Acres Animal shelter, the only non-lethal shelter in St. Charles County.
The Backeses also help promote the shelter via radio advertising and good ol' fashioned billboards.
This video is one of the simultaneously hilarious and terrifying things I've ever seen on YouTube.
The idea is a simple one. Fill an arena full of people and have them bring a ton of teddy bears. Tell them to wait until the first goal is scored by the home team, and then tell them that they are allowed to hurl the bears they brought down onto the ice.
The super-stoked arena workers then gather all the bears and donate them to local charities. (I bet the workers look forward to this game about as much as bartenders at Applebee's look forward to dollar margarita night.)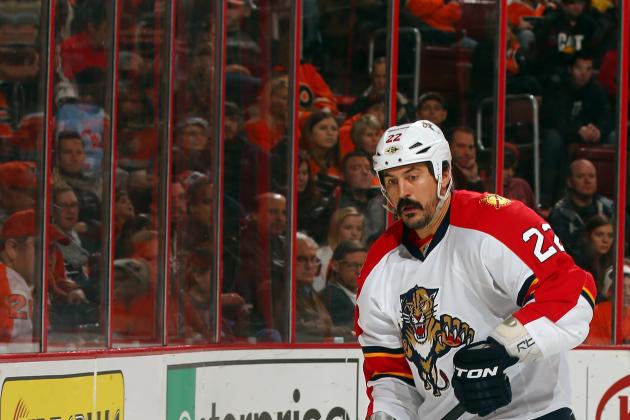 Elsa/Getty Images
Because someone else came to mind?
For the most part, the over-bearding of our culture has been annoying at best. Tack a nice cause onto it, though, and suddenly it isn't so bad.
NHL players around the league took part in Movember, growing some of the most wicked mustaches ever. Except for Sidney Crosby's 'stache. Not even the drive to help cure cancer can help that facial hair.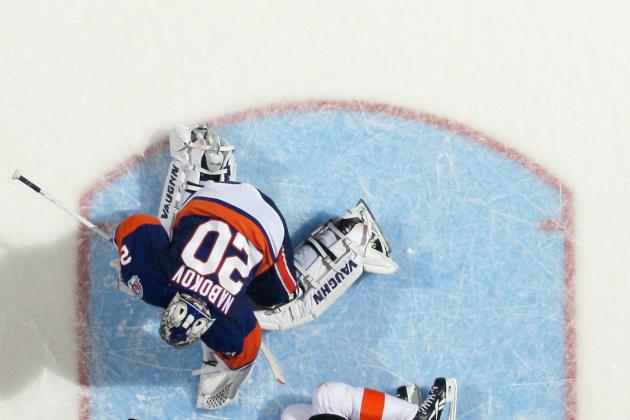 Bruce Bennett/Getty Images

Some players may take themselves too seriously, but Scott Hartnell of the Philadelphia Flyers isn't one of them.
Upon joining Twitter, he became aware of a trend on the social networking site. A rough 'n tumble group of Flyers fans had taken to tagging posts every time he fell down with the tag #hartnelldown—mostly mocking him and his not-so-graceful skating style.
Instead of getting irritated, Hartnell hijacked the trend and made it his own. He started plastering the phrase on all kinds of apparel and donating the proceeds from the sales to various charities. The shoe is now on the table...which has turned.
Follow me on Twitter, and I'll water your plants for a week.