Rousey vs. Carmouche: Round-by-Round Recap and Analysis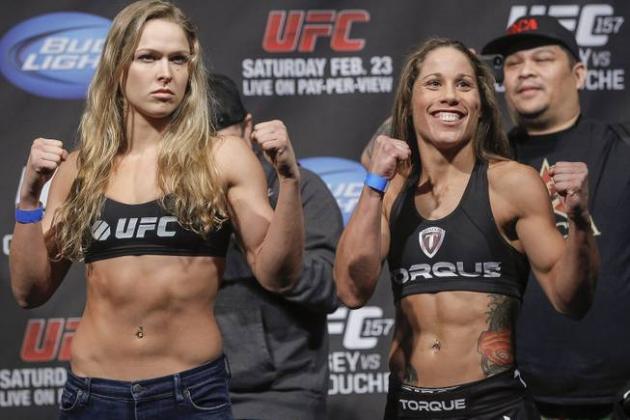 Photo credit: AP/Las Vegas Sun
Ronda Rousey and Liz Carmouche squared off in the main event of UFC 157 in Anaheim, Calif.
Rousey will defend her UFC 135-pound crown against Carmouche, the first openly gay fighter to compete in major league MMA. Rousey is the heavy favorite to defeat Carmouche.
As the main event unfolds in Anaheim, keep it here for real-time analysis and coverage of every movement in the cage.
Begin Slideshow

»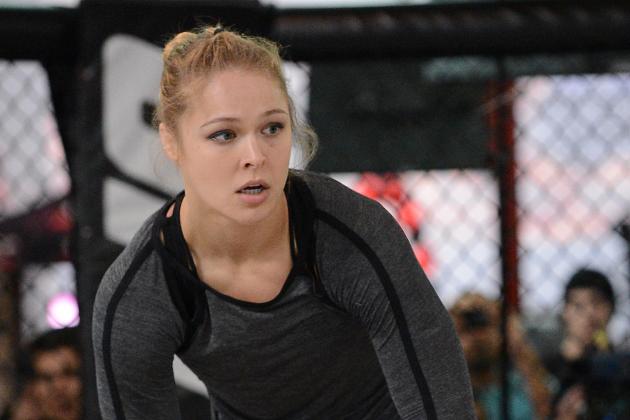 Jayne Kamin-Oncea-USA TODAY Sports

Both ladies came out looking focused, and congratulations to them both for being the first women to set foot inside the UFC Octagon.
"Big" John McCarthy is the referee for this contest. The fight begins and the two women head to the center. Rousey taes the center and grabs the clinch. Rousey goes for the throw but Carmouche resists. They fall to the ground and Carmouche gets her back. She's backpacking Rousey as Rousey stands. Ronda trying to peel off Liz's arms but it's a face crank and Rousey's face is purple! Rousey shook her off but that was serious.
Now Carmouche on the ground with Rousey standing over her. Rousey jumps down into side control. Rousey tenderizing Carmouche with punches. This goes on for quite a while.
One minute left and Carmouche going for a triangle. Rousey flips though and is now setting up for an armbar. Thirty seconds left. No one has gone as long with Rousey before in pro MMA. Rousey prying the arms apart but Liz hanging on.
She's got it. There it goes. Ronda by first-round armbar.
Official decision: Ronda Rousey def. Liz Carmouche by submission (armbar), 4:49, Rd. 1