NFL Speculation: Recapping the Latest Talk from the Combine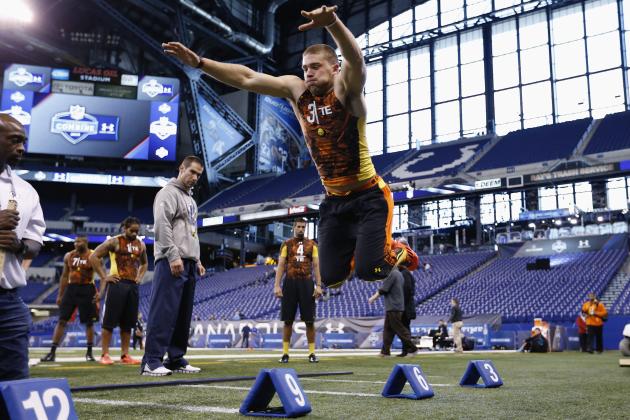 Joe Robbins/Getty Images

The 2013 NFL Scouting Combine is attempting to bring a little science into the guessing game that will be the 2013 NFL draft. But forget that. It's boring.
I'd rather dig into the buzz on the street (or in the bleachers, as it were). I want to find out who is making the big impressions and who is talking themselves out of the first round.
And so as not to ignore the old faithful hound for the new puppy, I'll also sniff around the league to see what's going on. Could a possible trade giving a captainless squad a franchise quarterback be on the horizon?
There's only one way to find out.
All combine results were provided by NFL.com.
Begin Slideshow

»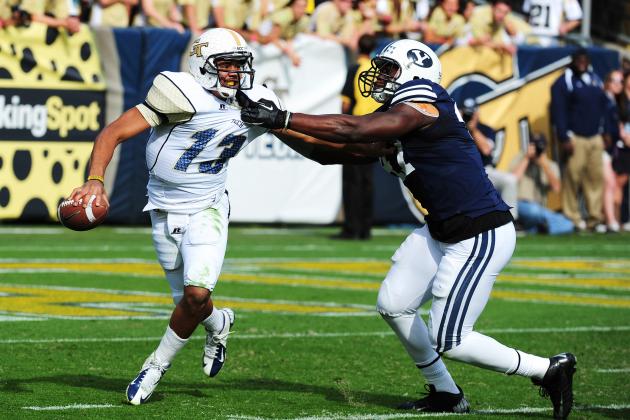 Scott Cunningham/Getty Images

The Detroit Lions hold the No. 5 pick, and their need for a defensive end is obvious. Cliff Avril isn't likely to be back, and Kyle Vanden Bosch has already fallen victim to the salary cap.
But Ezekiel Ansah that high in the draft? Sure, he can be a top-10 guy, but this is a different story.
Well, believe it. As Mlive.com's Anwar S. Richardson pointed out, Ansah has general manager Martin Mayhew smitten despite his limited football experience.
And never mind that in his only season at defensive end, Ansah only managed to accumulate 4.5 sacks. He's a physical monster who demonstrated maturity by deftly handling the media. The Lions would do well to add a player who brings its on and off the field.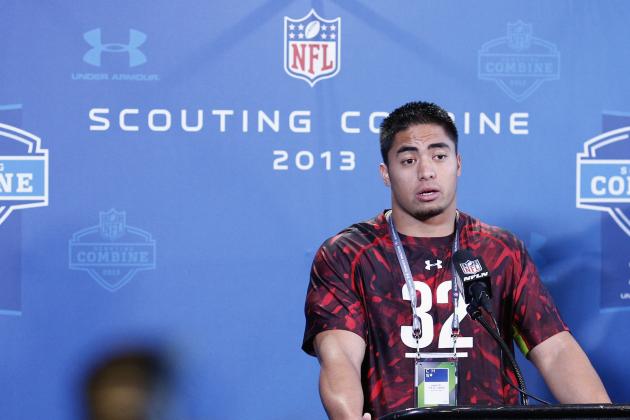 Joe Robbins/Getty Images

Remember that thing nobody has been able to keep quiet about for the past two months? You know, the one about a fake girlfriend, cancer and some phenomenon called "catfishing"?
It's all gone.
Manti Te'o did exactly what he needed to do. He got in front of the media and countless NFL teams and bared his soul.
And it worked. CBSSports.com's Mike Freeman found that most executives weren't just willing to look past the issue, but that his "draft status would be unaffected by the incident."
Unfortunately for the Notre Dame linebacker, the real questions are just beginning: What happened against Alabama?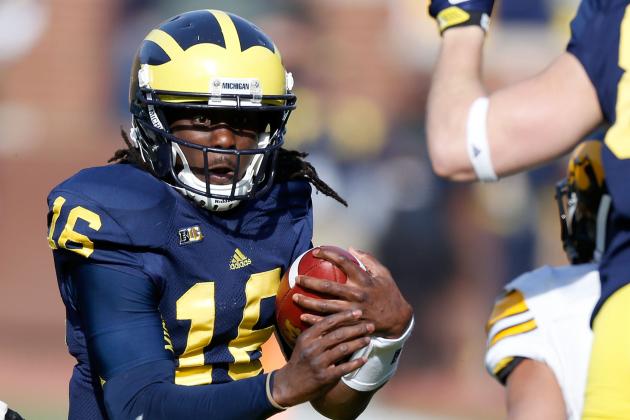 Gregory Shamus/Getty Images

Denard Robinson is an incredible athlete. His record-setting career at Michigan included almost 4,500 yards on the ground and 42 rushing touchdowns.
However, Robinson is also a player who doesn't have a position.
The former quarterback won't be convincing anyone to remove the "former" from that title, but his ability as a wide receiver is unknown. He struggled to hold on to the ball at the Senior Bowl, so a great performance in receiving drills at the combine would go a long way.
But that won't happen. Robinson won't be able to participate in too many drills due to his continued nerve problems (per the Detroit Free Press' Dave Birkett). He also added that surgery hasn't been ruled out.
The conundrum continues.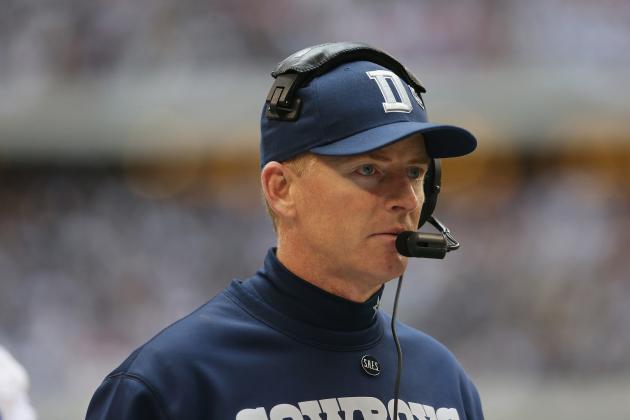 Ronald Martinez/Getty Images

It doesn't matter that the NFL combine is about the players who haven't yet entered the league; Jerry Jones will still find a way to steal some of the limelight.
Aside from his ridiculous (and awesome) new bus, Jones has certainly made a splash.
Jones reversed his own previous statements on Jason Garrett's play-calling responsibilities (per Todd Archer of ESPNDallas.com). After seemingly stripping them away, Jones publicly stated that Garrett can essentially do whatever he wants.
So long as he wins, that is. If he doesn't, Garrett knows the consequences.
Jamie Squire/Getty Images

Don't worry, Kansas City Chiefs fans. No one is insinuating that the Chiefs are looking to give up their top pick in order to procure the services of a castoff quarterback.
Actually, no one is insinuating that the Chiefs will give up much more than a late-rounder for Alex Smith. But they are insinuating that there is interest from Andy Reid and his new regime (per Gregg Rosenthal of NFL.com).
The former first pick appears to be a great fit for Reid's West Coast scheme. Remember, he was the top-rated passer in the league until he was demoted. It's not his fault that the San Francisco 49ers had the forethought to grab the prototype of future franchise quarterbacks.
The short-passing attack would emphasize his strengths, as he isn't a big-time downfield passer. I like this trade for all parties so long as he agrees to a pay cut.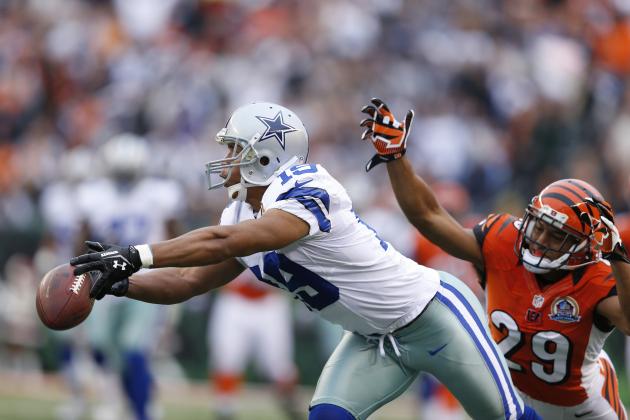 Joe Robbins/Getty Images

Speculation ran wild that the Dallas Cowboys were going to free up some cap space by releasing former fantasy stud Miles Austin. Such a move would free up $3.6 million worth of cap space this year alone.
But the Cowboys will have to turn elsewhere for such relief.
Ian Rapoport (via NFL.com's Dan Hanzus) is reporting that Dallas will bring back the well-paid Austin. Jerry Jones appears to believe that the team's receiving depth will help Tony Romo overcome a porous offensive line.
Although I'm not sure what he can do for the running game. Or the pass rush. Two areas that are of much bigger concern right now.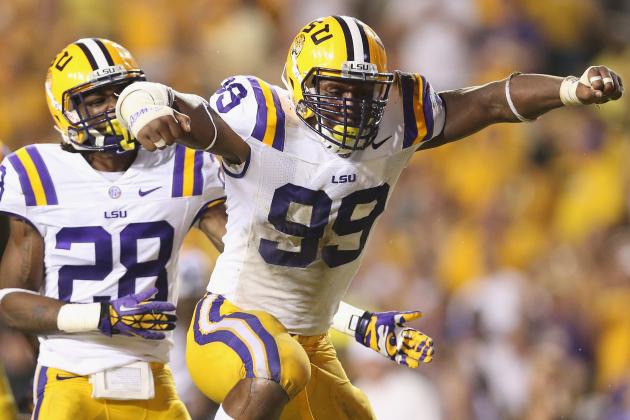 Ronald Martinez/Getty Images

Enough with those presently employed in the league, let's turn back to the exciting stuff: draft prospects.
It looks like Sam Montgomery will owe Barkevious Mingo $5,000.
Mingo and Montgomery have been betting on their past performances (first sack of the season, most sacks, etc.) and placed their last wager of their college careers on who would get drafted first.
After Montgomery's admission that he slouched through weeks off during the season, this line should come off the board in Vegas (Darin Gantt of ProFootballTalk.com). Mingo was probably going to be selected before Montgomery anyway due to his superior athleticism and exciting upside, but this clinches the deal.
As for Montgomery's defense that he has grown up, time will tell.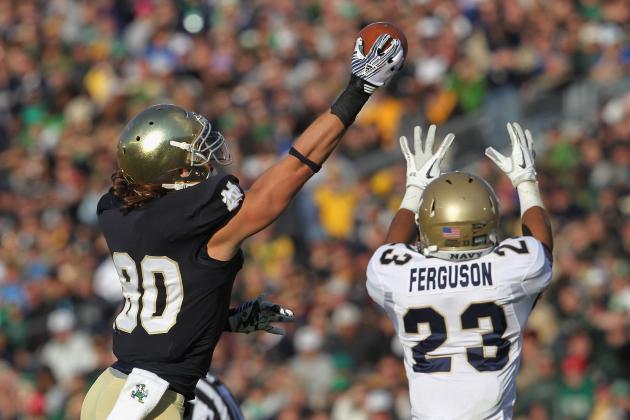 Jonathan Daniel/Getty Images

To be fair, Tyler Eifert had a great chance to be a first-round pick anyway. But he did absolutely nothing to hurt those odds at the combine.
Dan Hanzus of NFL.com quoted Mike Mayock as saying that "the day has belonged to Tyler Eifert."
It's hard to disagree. Eifert ran the fourth-best 40 among tight ends at 4.68. That time checks in at .08 better than his biggest challenge as the top tight end in the draft, Zach Ertz.
There weren't any surprises as he stood at 6'5.5" and weighed 250 pounds. He also flashed the athleticism that has scouts drooling with a 35.5" vertical.
R. Yeatts/Getty Images

To the draft pundits who have been calling Lane Johnson a first-round pick for the past couple months, kudos.
Don't get me wrong. I wasn't down on him and always had him in the discussion for the back of opening night.
But after his performance at the combine, there isn't any doubt about Johnson anymore.
The tape backed up his potential. His 4.72 40-time and 34-inch vertical backed up his claim that he was the "most athletic tackle in this draft" (via NFL.com). He's going to be a good left tackle for the next seven to 13 years.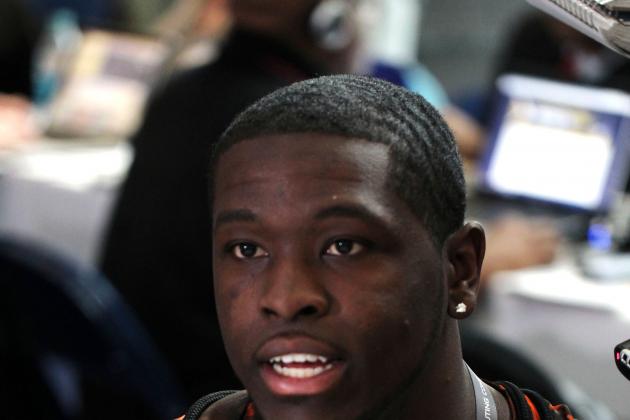 Brian Spurlock-USA TODAY Sports

Everyone expected Lane Johnson to go bonkers, but few, if any, knew about the kid from Arkansas-Pine Bluff.
Terron Armstead ran an official 40 time of 4.71 seconds. For a man of considerable size (6'5", 306 lbs), that's trucking.
He isn't going to break into any first-round (or even some seven-rounder) mock drafts, but why not end this all on a positive note? Armstead was invited to the combine for a reason, because he has a legitimate shot at getting drafted. Running ridiculous 40-yard dashes only boosts those odds.