Why John Tortorella Is the NHL's Best Motivator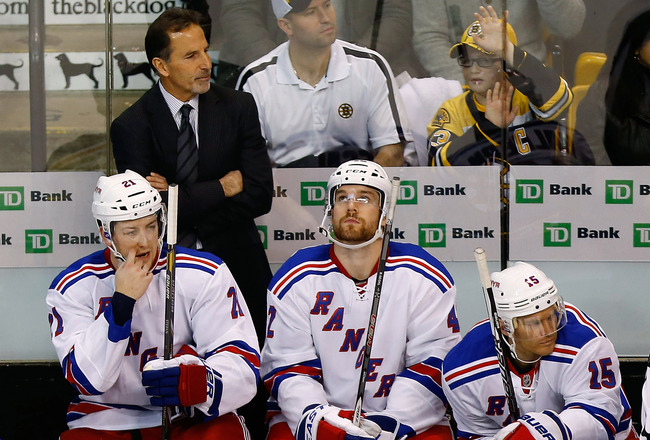 Jared Wickerham/Getty Images
John Tortorella is one of the best coaches in the NHL. The New York Rangers head coach has a Stanley Cup victory under his belt and a career record of 383-309-38-63, with seven playoff appearances and three division titles.
A lot of his success has come from his ability to motivate players. In fact, it's not a stretch to say that Tortorella is the NHL's best motivator.
What makes him the best motivator in the league? Why do players always do their best for him?
Read on to find out.
Unafraid to Criticize Players
Bruce Bennett/Getty Images
Sometimes, even the best players need a kick in the pants. If they're not playing well, then they need to be publicly called out.
Tortorella is not afraid to do that. Take this example, where Tortorella is talking about Marian Gaborik's performance in last year's Eastern Conference Finals:
"Gabby ... still has to learn, I believe, along with a number of our guys ... that when you get to the conference finals — and Gabby wasn't bad in the first two rounds — as it ratchets up and there are four teams left, you have to get it to another level, and I don't think he was able to."
Marian Gaborik is one of the best players on the Rangers, yet Tortorella went out of his way to make it known that he was not pleased with Gaborik's performance.
That's not an easy thing to do. Tortorella, sometimes to his detriment, is outspoken, but his call for Gaborik to improve has had its benefits.
So far through 17 games, Gaborik has seven goals and four assists. Three of those goals have been game-winners.
His methods may draw some ire, but his penchant for criticizing players does help his team perform better.
Benching Players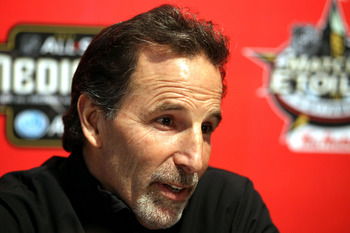 Christian Petersen/Getty Images
John Tortorella is known for benching players.
So far this season, he's benched star forward Brad Richards twice in the third period.
Now, it's hard to bench one of your best players, especially when you need his offense.
But Tortorella was sending a message to Richards and the team—if you don't play well, you won't play.
That includes benching Brian Boyle for a few games, after he played in every game last season. When he returned, he arguably played his best game of the season.
Instead of letting his players coast, knowing there won't be consequences for their actions, Tortorella holds his players accountable.
By doing so, he makes sure everyone is always playing at their best.
Protecting Players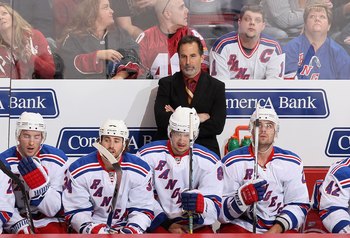 Christian Petersen/Getty Images
For all his bluster, it's clear that John Tortorella cares for his players.
After a vicious hit that left stud defenseman Ryan McDonagh injured, John Tortorella asked how high Max Pacioretty, who laid the hit, jumped (via the New York Post):
"Can I ask the first question?" is how Tortorella opened his postgame press conference. "How high did Pacioretty jump on his hit? Over/under?"

A reporter says six inches.

"You're wrong," the coach said.
When Ryan McDonagh reads that quote, he'll know that his coach has his back.
By not being afraid to speak his mind, Tortorella can get into trouble. But his players know that he's there for them.
That can be the ultimate motivator. No player wants to disappoint Tortorella. It will only end badly.
Keep Reading

New York Rangers: Like this team?