UFC 157 Results: Matches to Make for the Entire Fight Card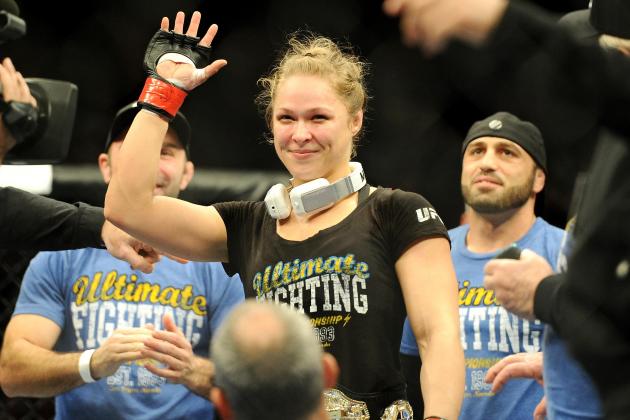 Jayne Kamin-Oncea-USA TODAY Sports

Ronda Rousey made history at UFC 157, becoming the first woman to win inside the Octagon and defending her women's bantamweight title in the process.
While the finish—a first-round armbar—was predictable, Rousey did face some unexpected adversity en route to her victory. After tossing Liz Carmouche to the canvas, Rousey was reversed and had her back taken. Nonetheless, Rousey was able to fight off a neck crank attempt to retake the top position.
Once Rousey settled in on top, it was only a matter of time until her signature submission attempt came. In the final minute of the bout, Rousey was finally able to force a tap from Carmouche, who earned a ton of respect for her performance.
Now, Rousey will await her next challenger. Let's take a look at who that may be, along with the opponent that could be next for each UFC 157 competitor.
Begin Slideshow

»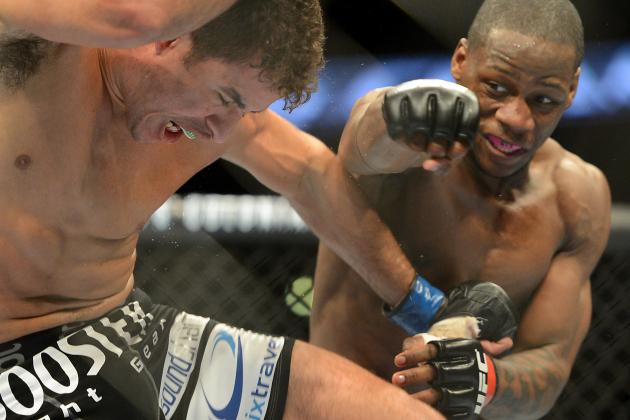 Jayne Kamin-Oncea-USA TODAY Sports

Nah-Shon Burrell ensured himself an extended UFC career with his decision win over Yuri Villefort on Saturday, but he now has a long way to climb in the welterweight division.
While Burrell's striking makes him an interesting opponent for a lot of 170-pound fighters, he'll need to work his way up from the bottom.
A bout with the winner of an upcoming fight between Marcelo Guimaraes and Hyun Gyu Lim would make sense and should keep Burrell active.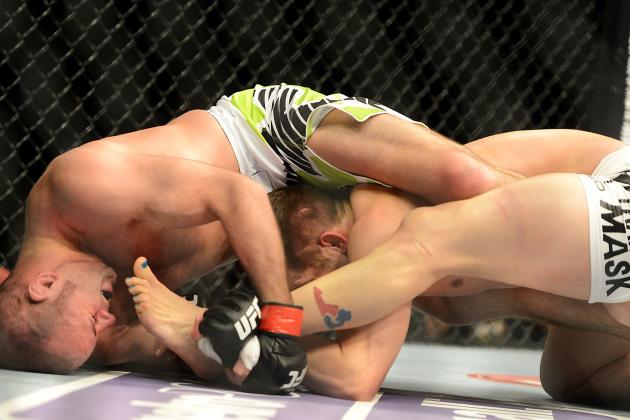 Jayne Kamin-Oncea-USA TODAY Sports

Kenny Robertson and Neil Magny picked up their first UFC wins at UFC 157, defeating respective opponents Brock Jardine and Jon Manley in impressive fashion.
While their opponents will now likely have to find work outside of the UFC, Robertson and Magny should have earned themselves at least a few more appearances inside the Octagon.
Both welterweights appeared to exit their bouts without injury, so a matchup between Robertson and Magny would allow the fighters to get back inside the cage as soon as possible.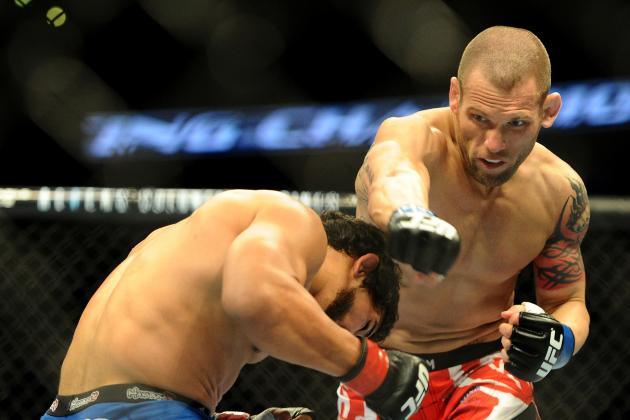 Jayne Kamin-Oncea-USA TODAY Spor

Matt Grice came up short against Dennis Bermudez on the scorecards at UFC 157, but there were no losers in that 145-pound battle.
Against fighters who are able to force him to stand, Grice showed he can be highly entertaining.
While Nam Phan may not have wrestling on the same level as Bermudez, he should be able to stay on his feet long enough to force Grice into some exchanges.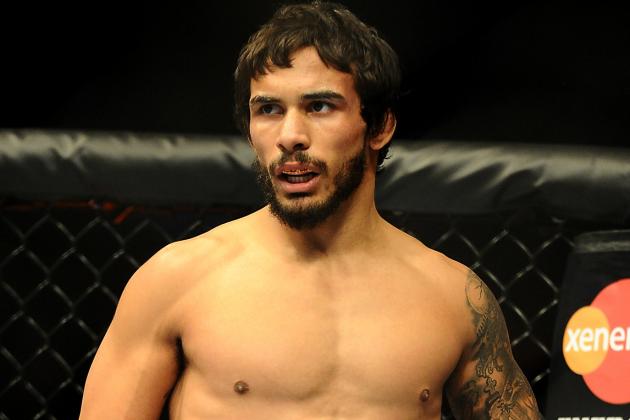 Jayne Kamin-Oncea-USA TODAY Spor

Following a rough start to his fight with Matt Grice, Dennis Bermudez battled back for a close decision victory.
That makes three wins in a row for Bermudez, a former Ultimate Fighter runner-up with a bright future in the featherweight division.
Next, a bout with another TUF runner-up, Godofredo Pepey, would be intriguing.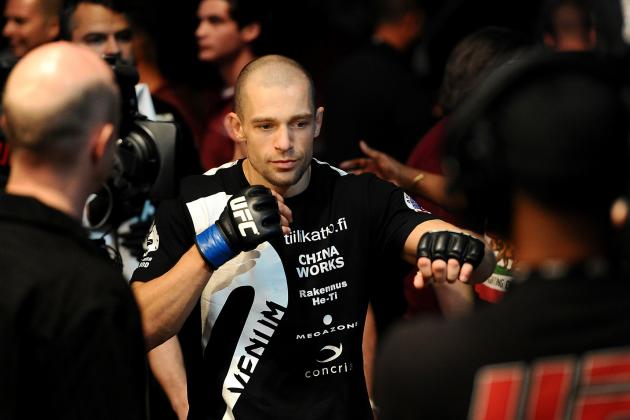 Jayne Kamin-Oncea-USA TODAY Sports

Even with the UFC looking to trim its roster, Anton Kuivanen and Caros Fodor should be allowed to return to the Octagon following their respective losses to Michael Chiesa and Sam Stout at UFC 157.
Kuivanen had been coming off of a win in his previous bout, while Fodor took a tough veteran in Stout to a narrow decision.
If Kuivanen and Fodor are brought back, though, they will likely be fighting for their UFC job. Therefore, a loser-leaves-town bout between the lightweights seems likely.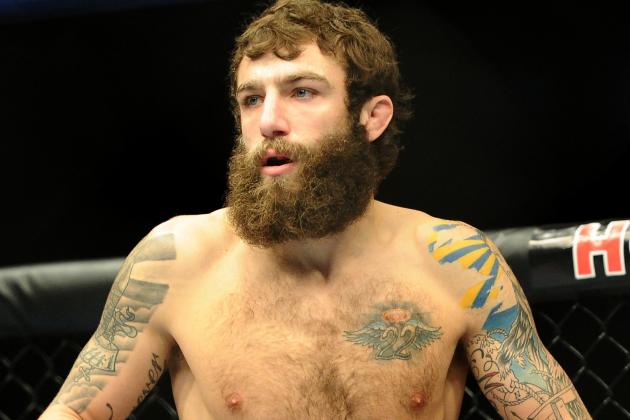 Jayne Kamin-Oncea-USA TODAY Sports

Michael Chiesa survived his first non-TUF test inside the Octagon and can now set his sights on becoming a contender in the lightweight division.
Meawhile, Sam Stout avoided losing back-to-back fights with a decision win over Strikeforce import Caros Fodor.
Moving forward, Stout would provide a good veteran test for the rising Chiesa.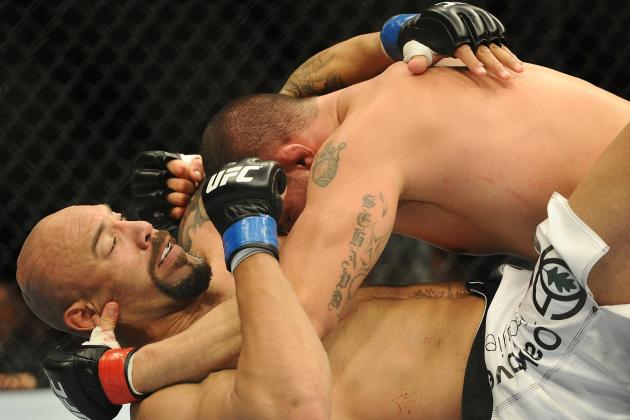 Jayne Kamin-Oncea-USA TODAY Sports

With back-to-back losses, Lavar Johnson is now in danger of being released from the UFC roster. Considering he holds knockout wins over a couple of fighters still with the world's top MMA promotion, though, Johnson should stick around for at least one more.
Since Dave Herman has lost three straight, a loser-leaves-town bout between himself and Johnson seems like the most likely scenario assuming both heavyweights survive the upcoming round of cuts.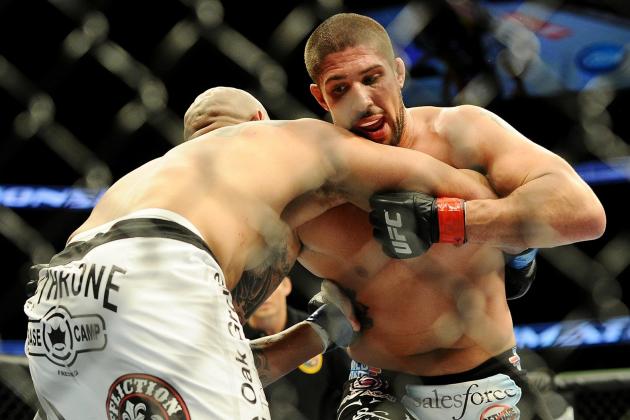 Jayne Kamin-Oncea-USA TODAY Sports

Although Brendan Schaub broke his losing streak against Lavar Johnson, he didn't put together the type of performance that would earn him a big step up in competition.
Schaub was able to take Johnson to the ground, but he's had trouble in the past with heavy hitters who have been able to force him to stand.
A matchup with Todd Duffee would provide Schaub with a tougher test.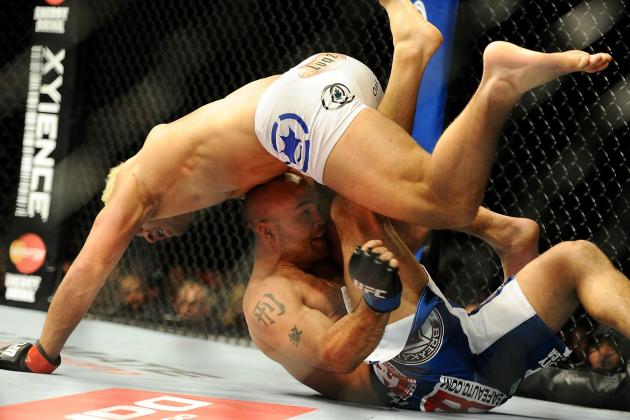 Jayne Kamin-Oncea-USA TODAY Sports

After causing UFC president Dana White headaches for refusing to fight each other, it would almost be fitting for former American Kickboxing Academy teammates Josh Koscheck and Jon Fitch to be released from the world's top MMA promotion within the same week.
However, it's so hard to see that happening, even after Koscheck's stunning knockout loss to Robbie Lawler at UFC 157.
If Koscheck does retain his spot on the UFC roster, he'll probably still be booked for a fight with a big name considering how much he gets paid. A matchup with another longtime veteran like Nate Marquardt would be interesting should the former Strikeforce champion lose to Jake Ellenberger in his UFC return.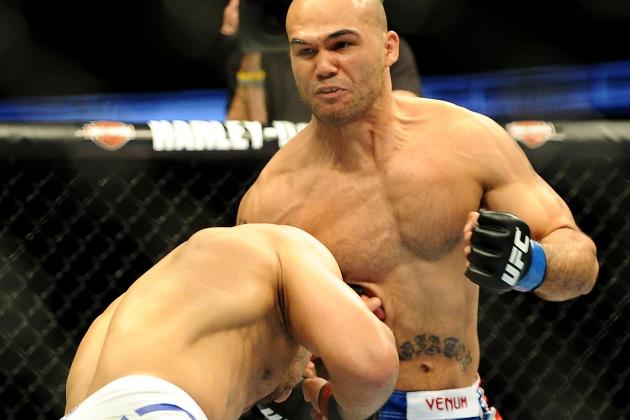 Jayne Kamin-Oncea-USA TODAY Sports

Robbie Lawler made a big statement with his finish of longtime welterweight contender Josh Koscheck in his return to the Octagon on Saturday.
Still, Lawler will probably need one more huge win before he finds himself competing with another elite 170-pound contender.
If Lawler can do the same thing to another decorated amateur wrestler like Tyron Woodley that he did to Koscheck, it'll be time to start taking the "Ruthless" one seriously.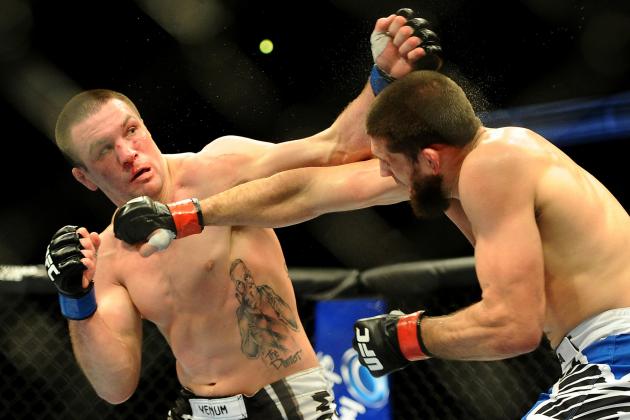 Jayne Kamin-Oncea-USA TODAY Sports

Despite the loss in his UFC debut, Strikeforce veteran Yuri Villefort deserves one more appearance inside the Octagon. Not only did Villefort have some strong moments in his UFC 157 bout, but opponent Nah-Shon Burrell also came in significantly overweight for the matchup.
Likewise, Josh Neer might evade release through his entertaining style, despite losing three straight fights.
If these welterweights do get another UFC fight, they should meet in a loser-leaves-town contest.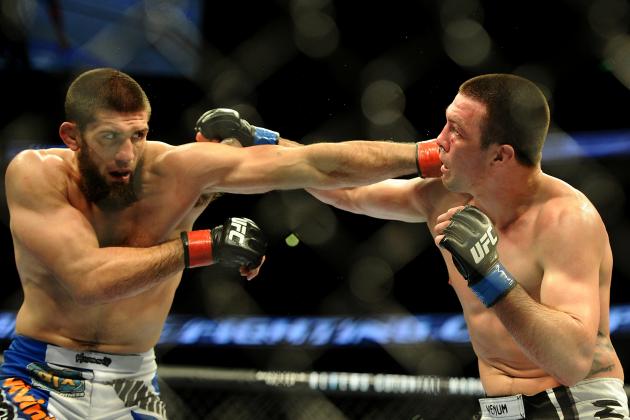 Jayne Kamin-Oncea-USA TODAY Sports

Court McGee looked excellent in his welterweight debut and could be tough matchup for a lot of guys at 170 pounds.
That being said, the TUF winner still has some work to do before he'll be ready for big-name opponents in his new division.
Following his lackluster win over Che Mills, Matthew Riddle probably won't be awarded with a step up in competition, so he should instead serve as the next test for McGee.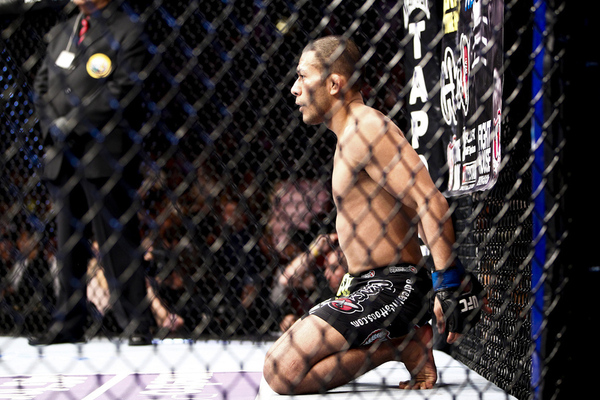 Esther Lin/MMAFighting.com
Ivan Menjivar never really earned his UFC 157 fight with Urijah Faber by beating any top bantamweights, and it showed in a first-round submission defeat.
Now, the veteran must take a step down in competition, though he should still find himself competing against a well-known opponent considering the bump in media attention he received from a fight with Faber.
With Takeya Mizugaki and Bryan Caraway set to fight next weekend, Menjivar could meet the loser.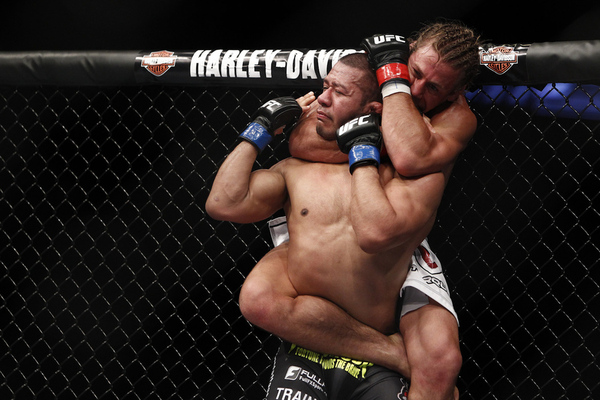 Esther Lin/MMAFighting.com
The bantamweight division is not deep with challengers right now, so Urijah Faber is right back in the mix with his submission win over Ivan Menjivar at UFC 157.
Likewise, Michael McDonald will not fade far out of the picture even after his submission loss to interim bantamweight champion Renan Barao.
A fight between Faber and McDonald could determine the next top contender to meet the winner of a potential title-merging fight between Barao and Dominick Cruz.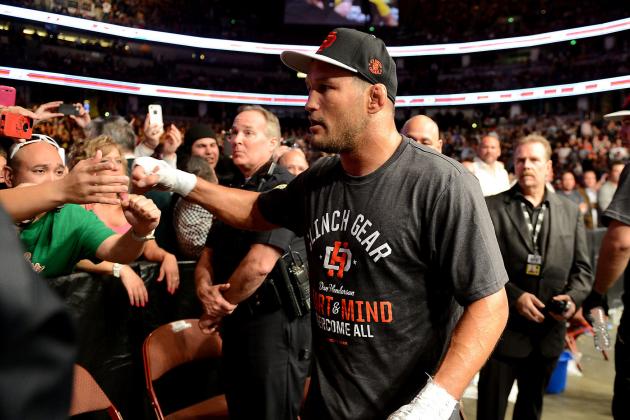 Jayne Kamin-Oncea-USA TODAY Sports

A close decision loss to Lyoto Machida on Saturday sets Dan Henderson back from earning a light heavyweight title shot, but he's still a big win or two away from getting one last crack at that title.
At his age, it's unlikely Henderson would be interested in dropping to middleweight, so a rematch of his epic fight with Mauricio Rua should give Henderson an opportunity to bounce back with authority.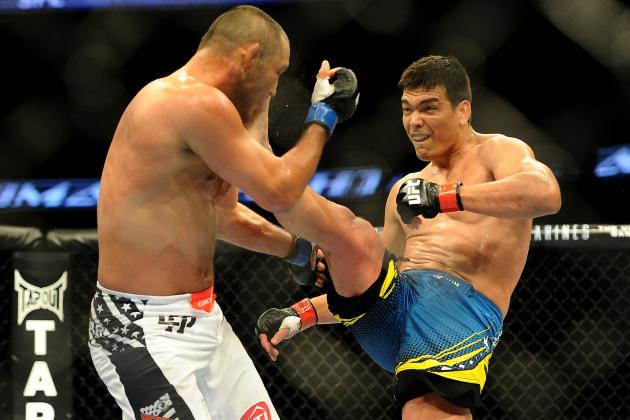 Jayne Kamin-Oncea-USA TODAY Sports

Lyoto Machida squeaked by Dan Henderson at UFC 157 to become the top contender in the light heavyweight division.
Though he wasn't overly impressive on Saturday, Machida has proven he's the second-best light heavyweight out there right now and is the most deserving of a shot at the 205-pound belt, which could mean a rematch with Jon Jones.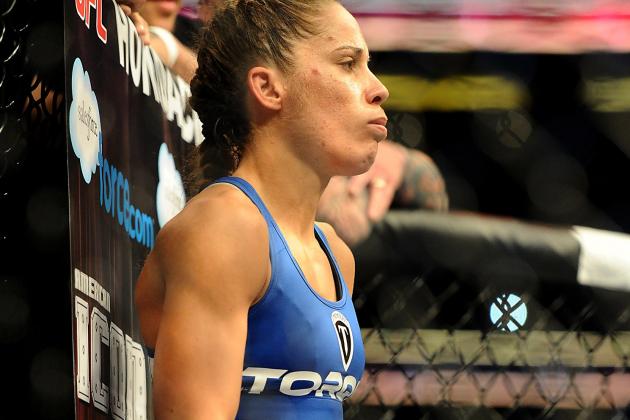 Jayne Kamin-Oncea-USA TODAY Sports

Liz Carmouche suffered the same fate that all Ronda Rousey's opponents have before her, but she put up as good a fight as anyone could have in the UFC 157 main event.
After threatening Rousey with a neck crank, though, Carmouche was caught in an arm bar and forced to tap.
Currently, there is only one female fight scheduled, though there will certainly be more. But Carmouche will likely face the loser of the upcoming bout between Miesha Tate and Cat Zingano.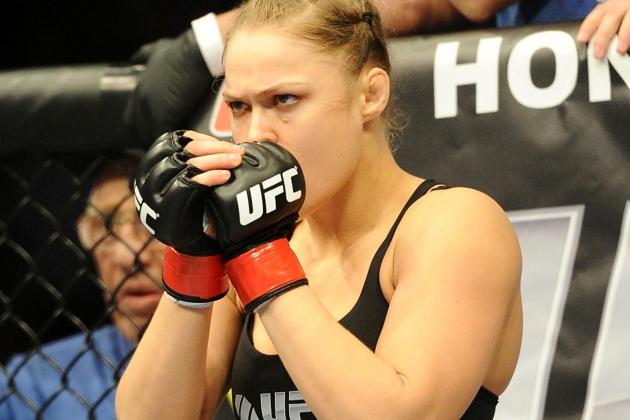 Jayne Kamin-Oncea-USA TODAY Sports

Ronda Rousey became the first woman to win inside the Octagon on Saturday, defending her bantamweight title with a first-round armbar.
Since Cristiane "Cyborg" Santos won't be fighting her anytime soon, a rematch with Miesha Tate would be big for Rousey.
However, Tate will first have to beat Cat Zingano in her upcoming UFC debut.