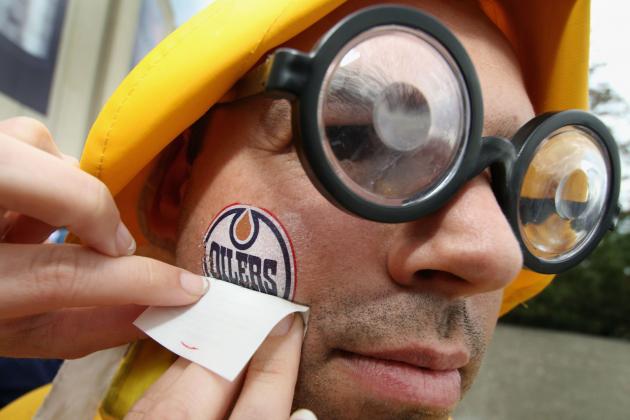 Tim Smith/Getty Images

Hockey fans are some of the most diehard out there.
They'll do anything for their team—including getting tattoos representing those they cheer for.
Some of these tattoos, though, are a bit crazy. Some of them make absolutely no sense.
We'll break down 20 of the craziest NHL fan tattoos out there and try to make sense of why anyone would get them.
Begin Slideshow

»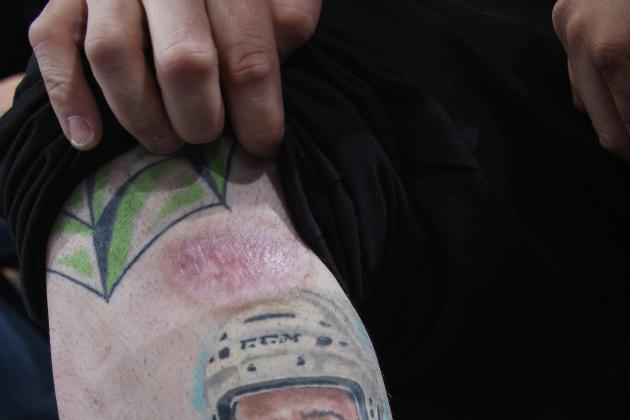 Bruce Bennett/Getty Images

This is a tattoo of Maxime Talbot shushing fans after taking down then-Philadelphia Flyers player Daniel Carcillo in a fight when Talbot was on the Penguins.
Here's what it looked like in real-time:
What makes this really awkward is that Talbot is now on the Flyers. Which kind of defeats the purpose of the tattoo. Whoever got this has to be regretting this big time.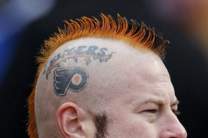 hockeygods.com
I hope that this one is removable. This is a tattoo of the Philadelphia Flyers logo. On someone's head. He has limited himself to a lifetime of forced baldness. You don't get a tattoo on your head and then grow hair over it.
What happens to this guy when he's 90? I have a feeling the tattoo won't seem like such a good idea then.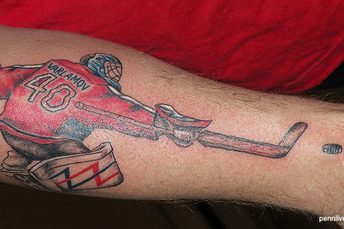 pennlive.com
There was a time that many thought that Semyon Varlamov would be the goalie for the Washington Capitals for the long term.
Those people were wrong. Varlamov is now on the Colorado Avalanche.
So to whoever got this tattoo: Why don't you wait a few years before immortalizing someone in ink? You never know when they're going to get traded.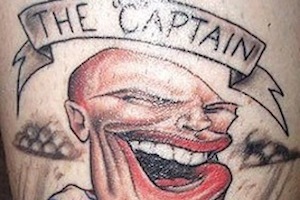 guyspeed.com
Yikes. Yes, Mark Messier is one of the best Rangers of all time, and if you're going to get a tattoo of someone from the team's history, he's not a bad bet.
But to make it look like that? Sheesh. At least make him look like he's in the heat of battle, not like he's laughing.
Realize this, misguided fan: Mark Messier will forever be laughing on your sleeve. I'm not sure I'd be okay with that.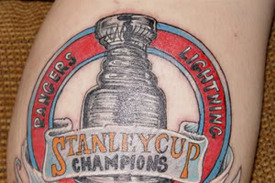 hfboards.hockeysfuture.com
Is this someone who moved to Florida in his later life and became a Lightning fan?
I can't imagine getting a tattoo commemorating two different teams winning a Cup. That's like getting a tattoo of oil and water. It doesn't go together.
Advice to this fan: You can't have two favorite teams. Pick one. Then remove the other from the tattoo.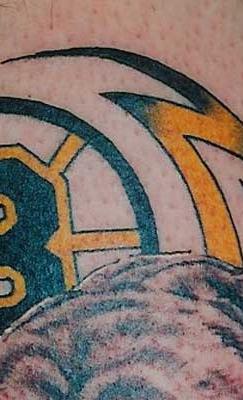 lowdownblog.com
I can't tell if I love this or hate this. The Bear is pretty awesome, I won't lie.
But the off-center "B" seems out of place. This fan would be better off incorporating the "B" into the bear somehow.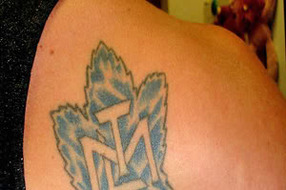 hfboards.hockeysfuture.com
While this is not as crazy as some of the others, I can't get behind this one.
The maple leaf is fine, but the weird overlaying "TML" does not work. It doesn't stand out as truly hockey. Just looks like an oddly shaped maple leaf with some weird lettering.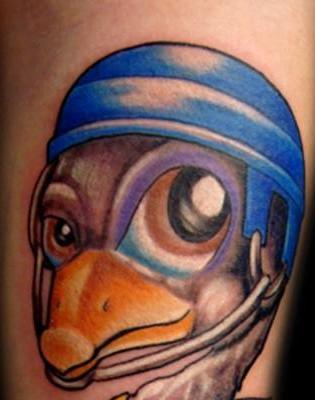 banginpanger.com
I have no words. It's a goose. In a Buffalo Sabres uniform. Do buffaloes eat geese? Are geese common in Buffalo?
Does the owner like geese? Does he have one as a pet? I've got nothing.
Whatever it is, this poor fellow is stuck with a goose on his arm for the rest of eternity.
Just remember, kids: Think before you ink.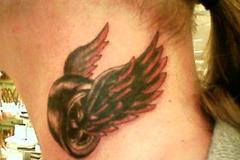 banginpanger.com
I've never understood the appeal of neck tattoos. Doesn't it hurt? More so than other tattoos? And you can't cover it up very well either.
Well, this person seemingly loves having two red wings attached to a tire on her neck for all time. More power to her.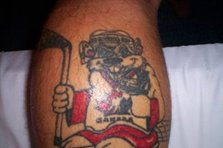 banginpanger.com
This has something to do with Canada.
What that is, I have absolutely no idea.
Getting a tattoo of Team Canada is not a terrible idea. Getting a tattoo of some creature wearing a Team Canada sweater is a terrible idea.
Any Canadians want to help us out and explain this?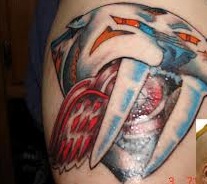 sports.yahoo.com
This is a tattoo of a Nashville Predator eating a Red Wing.
Okay, cool. But I hope this fan realizes that there's still a Red Wings logo on his body. Yes, it's being eaten, but it's still there.
That's like those shirts that celebrate the event, with both teams on it. No, no. Pick a team. Stick with it. Makes life easier.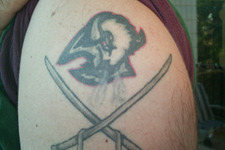 lowdownblog.com
So, this is the old Sabres logo. Looks great.
But it's the old Sabres logo. And I have no idea if it's going to come back. So this fellow has either a vintage tattoo or just an old one.
Yes, there's the new logo kind of on there with the swords, but it's just a confused jersey on someone's arm.
That's the danger of getting something that's tough to remove—there's a chance it'll be outdated.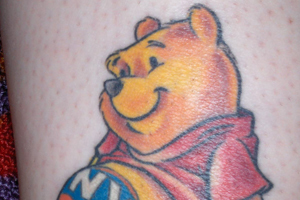 lowdownblog.com
Who doesn't love Winnie the Pooh? Everyone does.
But it kind of ruins him when you have an Islanders logo on his chest. There's no need to confuse the two. Much easier to get two separate tattoos.
lowdownblog.com
I don't know what the relation between pirates and the Carolina Hurricanes are.
Apparently, there is one. Anyone care to explain?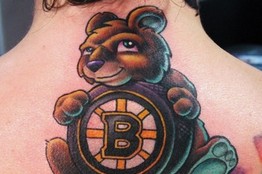 banginpanger.com
Oh, no. This is wrong on so many levels.
First, you have a sadistic, evil-looking teddy bear. No! Not cool, fan! Teddy bears are not supposed to be evil. I don't want to have to think of horror movies when I see this tattoo.
Second, where is the bear looking? Not directly at you, which would be kind of cool. No, the bear is, I presume, looking at something in the sky. But what? The intrigue!
This is just weird. Not a fan.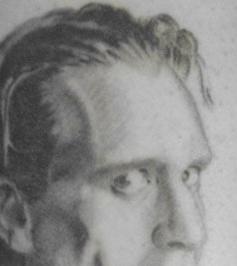 thehockeynews.com
It's Jeremy Roenick! On an arm! Why?
Seriously, why? Anyone? This is the weirdest tattoo I've seen. Roenick played on a bunch of teams, so it's not clear where this fan's allegiance lies. Maybe the fan really loves Roenick?
Maybe. But when has anyone ever said that?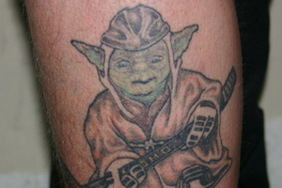 thehockeynews.com
I'm on the fence about this one.
It's combining two of the greatest things known to man—Star Wars and hockey.
But should these be combined? Aren't they good enough on their own?
I don't know. My gut says they shouldn't be combined. But my eyes say yes.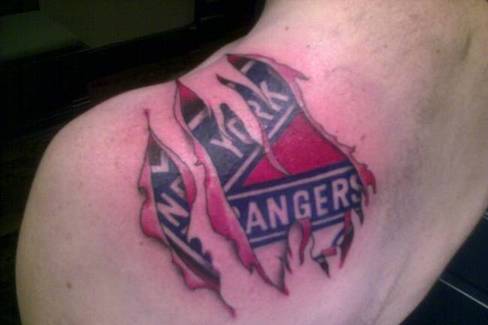 thehockeynews.com
Why is the Rangers logo broken? Is this a fan of the team? Or someone who hates them?
I'd lean towards the latter. In fact, I'd hope it's the latter—if this is a real Rangers fan, then there is no reason to have the logo broken into pieces.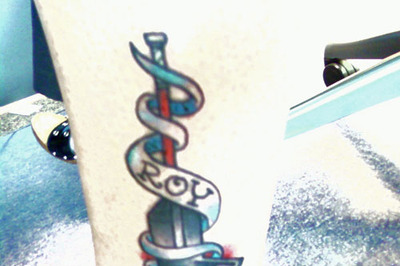 thehockeynews.com
This one is a cool tribute to Patrick Roy.
I just don't get what's wrapped around the goalie stick.
Is that an octopus? A rope? A string?
I'm lost on this one.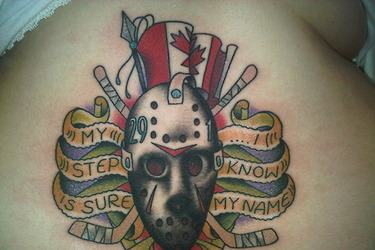 banginpanger.com
I have zero idea what is going on here.
There's an old-time goalie mask. A Canadian flag. And some weird writing.
Maybe it means something to the owner. If so, great. But to the rest of the viewing public, it just looks plain weird.