After looking rather shaky for 87 minutes, Real Madrid found the winner in their 2-1 win over Deportivo La Coruna.
Jose Mourinho went with a rather risky strategy for this one, choosing to rest Sami Khedira, Fabio Coentrao, Cristiano Ronaldo and Mesut Ozil. You could understand where he was coming from. After winning the Segunda Division last year, Deportivo came in last in the Spanish League table.
For quite a while, it looked like the knives out for Mourinho would continue to sharpen.
A Riki goal in the 35th minute put Deportivo up, 1-0. It was a rather cool finish from the assist by Pizzi, but one that Diego Lopez should have done better to stop. The striker fired it into the near post from the left side of the box. No keeper should be beaten on his near post like that.
Deportivo nearly made it 2-0 later on in the first half. Pizzi tried to curl one into the far post from the left side of the box. Marcelo headed the shot off the line. Had the Brazilian not been there, Madrid would have been looking at an even bigger hole going into the half.
Many teams have found success by simply letting Madrid run right at them, and that appeared to be the strategy deployed by Fernando Vazquez. Deportivo ceded possession to Los Blancos while bunkering down and protecting their 1-0 lead.
The second half was quite a different story.
Mourinho, seeing how much was on the line, didn't waste much time in drastically changing his side. He made the seldom-seen triple substitution, sending on Ronaldo, Khedira and Ozil for the trio of Michael Essien, Luka Modric and Marcelo.
Almost immediately you could see a major change for Madrid. They looked much stronger in the attack and were also able to get on the counter much easier. Funny how throwing on the second-best player in the world can improve your attack.
You felt it was only a matter of time before Deportivo would eventually break down defensively, and that time came in the 73rd minute when Kaka hit the equalizer. It was a well-deserved goal for Madrid as they were no longer the wasteful side they had been in the first half.
Madrid still found themselves looking at possibly managing only a point against the worst team in La Liga, however, Gonzalo Higuain managed to grab all the points with his 88th-minute winner. Daniel Aranzubia had been dragged out of position, leaving the goal gaping open. Ronaldo delivered a short pass across to Higuain, who had an open net to net the winner.
That wasn't the last event to happen in the match, though, as Angel di Maria was sent off in the 90th minute. It was a rather bizarre situation as di Maria had just picked up a yellow but continued arguing with the match official, who grew tired of the bickering and simply gave di Maria a second yellow. It's the third league match in a row that Madrid have had a player sent off.
Spanish football expert Sid Lowe summed up the sending off very well on Twitter:
Di María... So many potential comments, so little time

— Sid Lowe (@sidlowe) February 23, 2013
Although Ronaldo was very strong, Kaka had himself quite a match. Along with the goal, he was a creator all match. Richard Williams of The Guardian praised his performance on Twitter:
1 lovely goal, 1 beautiful scoring pass: supreme elegance tonight from reborn Kaka.

— Richard Williams (@rwilliams1947) February 23, 2013
While the three points were pretty, it's a win nonetheless for Mourinho and Madrid. The title race might be over, but a loss to Deportivo would have been a major embarrassment for Madrid.
Here a look at some player grades from Saturday's match.
Grades
Riki, Deportivo La Coruna: A+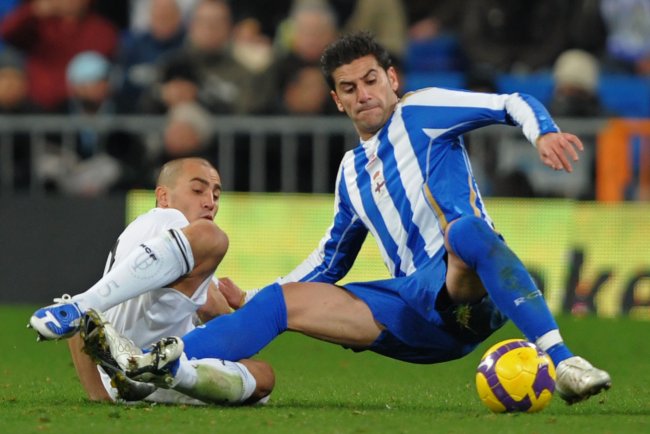 Denis Doyle/Getty Images
Coming into the match, you expected that if Deportivo would get a goal, it would come off the foot of Riki. He did not disappoint. The Spanish striker was a constant nuisance to the Madrid back four.
His performance went far deeper than just the goal. It's not as if he found a lucky goal but was ineffective for the rest of the match. For the entirety of his time on the pitch, Riki remained a threat.
He was subbed off in the 75th minute. When he went off, all Deportivo could have hoped for was to salvage a draw. Had Riki stayed on, he may have been able to find a winner.
Kaka, Real Madrid: A-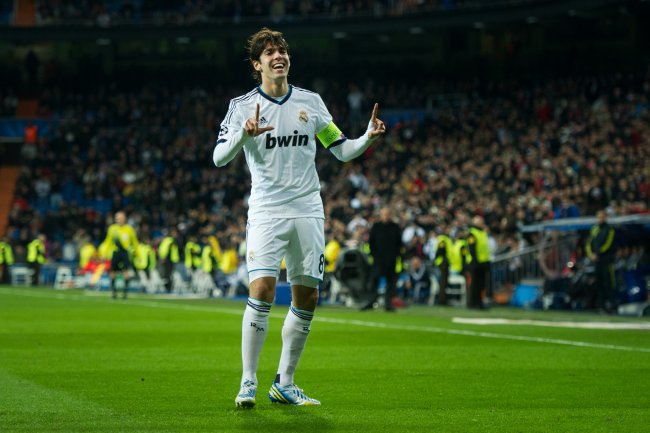 Jasper Juinen/Getty Images
Kaka had a very good performance, outside of just the goal. His passing was strong for most of the game. As the biggest creator on the pitch for most of the match, much of the Madrid attack went through him.
When Ozil, Ronaldo and Khedira were on the bench, it was Kaka who spurred Los Blancos forward. Breaking down a defense that sits so deep can be hard to do. The Brazilian did a great job of maintaining possession yet offering a threat going forward.
His time at Madrid has been a bit up and down, but today, he put in a fantastic 90 minutes. Mourinho would be foolish to put him back on the bench.
Ronaldo: B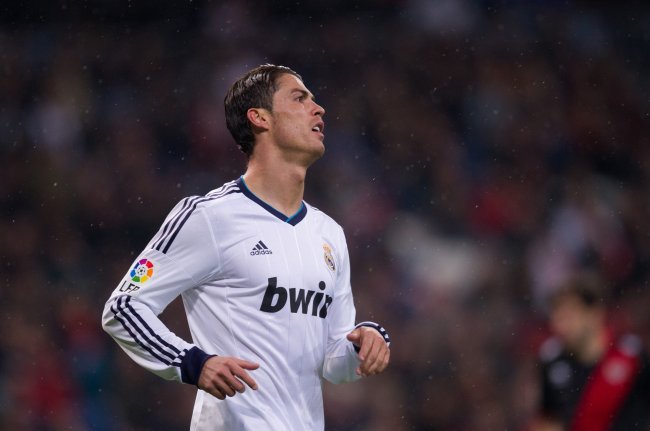 Denis Doyle/Getty Images
Ronaldo only gets a B because he played only 33 minutes of the match. Those 33 minutes turned Madrid around, though.
As soon as he came on, the pace of Madrid went up about five levels. As a counter-attacking team, speed is critical when making the most of every time the defense is out of position. That didn't happen too often as Deportivo hardly ever went on the attack.
With Ronaldo on the pitch, though, that didn't matter. His creativity and pace on the wing were enough to bring a different dimension to the Madrid attack today. It was his pass that set up the winner for Higuain.