UFC 157 Results: Questions Heading into UFC on Fuel 8 Silva vs. Stann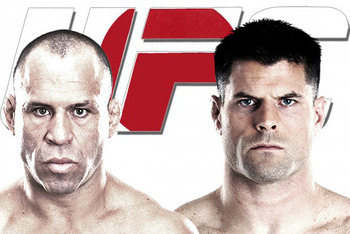 UFC 157 is in the books and below are the full results:
Ronda Rousey defeats Liz Carmouche via submission (armbar) at 4:39 of Round 1
Lyoto Machida defeats Dan Henderson via split decision (28-29, 29-28, 29-28)
Urijah Faber defeats Ivan Menjivar via submission (rear-naked choke) at 4:34 of Round 1
Court McGee defeats Josh Neer via unanimous decision (30-27 x 3)
Robbie Lawler defeats Josh Koscheck via TKO (strikes) at 3:57 of Round 1
Brendan Schaub defeats Lavar Johnson via unanimous decision (30-27 x 3)
Mike Chiesa defeats Anton Kuivanen via submission (rear-naked choke) at 2:29 of Round 2
Dennis Bermudez defeats Matt Grice via split decision (28-29, 29-28, 29-28)
Sam Stout defeats Caros Fodor via split decision (28-29, 29-28, 29-28)
Kenny Robertson defeats Brock via submission (leglock) at 2:57 of Round 1
Neil Magny defeats Jon Manley via unanimous decision (30-27, 30-27, 29-28)
Nah-Shon Burrell defeats Yuri Villefort via unanimous decision (30-27, 29-28, 29-28)
You would think, after the historic event, the UFC would want to take some time off and let things settle for a bit, but if you have followed the sport over the last two years or so, you know that time off is a rarity for the promotion. So there will be no rest.
The UFC will pack things up in Anaheim and jet off to Japan for UFC on Fuel 8, a fight card that will see Wanderlei Silva face Brian Stann in the main event.
That card will take place on March 2. What follows are some questions we have heading into the event.
What Does the Future Hold for Alex Caceres?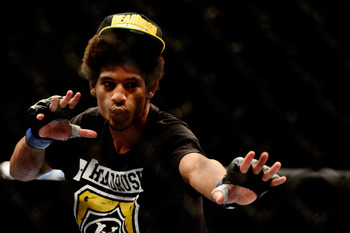 Kyle Terada-USA TODAY Sports
Following his run on The Ultimate Fighter, Alex Caceres opened his official UFC career with two straight submission defeats, falling to Mackens Semerzier in the first round and Jimy Hettes in the second stanza.

With those defeats hanging over his head, Caceres dropped down to bantamweight for his next bout and came out the winner, earning a unanimous decision over Cole Escovedo.
He would end up on the losing end of his second bantamweight contest after being penalized for kicks to the groin of Edwin Figueroa but would rebound from that defeat, winning his next two bouts including a "Submission of the Night" performance over Damacio Page.

Caceres will meet UFC newcomer Kang Kyung-Ho at UFC on Fuel 8.

It will be interesting to see what Caceres can do here. His placement on the early portion of the preliminary card is hard to read. It could be that the UFC is looking to give the 24-year-old time to develop, or it could be read that the promotion may not have much faith in him. I believe it is the former, and the UFC wants to give him some time to find himself inside the Octagon.

We'll see what Caceres can do with the opportunity.
Who Takes the Next Step, Siyar Bahadurzada or Dong Hyun Kim?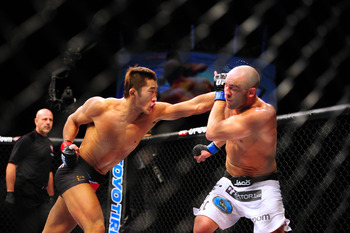 Mark J. Rebilas-USA TODAY Sports
Siyar Bahadurzada made quite the impression in his UFC debut, knocking out Paulo Thiago in 42 seconds on the UFC on Fuel 2 card. The "Knockout of the Night" performance was doubly impressive considering Thiago had never been KO'd in his professional career.

Bahadurzada will face Dong Hyun Kim in Japan. Kim's last fight was a unanimous-decision win over Thiago at UFC on Fuel 6. Kim controlled Thiago through most of the fight with a smothering wrestling attack.

Kim has been making some noise in the welterweight division, with his only losses coming to Carlos Condit and Demian Maia.

This is a good test for each fighter, but one has to wonder if Bahadurzada is getting tested a little too early in his UFC career. Yes, he has 25 professional fights under his belt outside the UFC, but as many have pointed out in the past, things change once you hit the big stage.

I would expect the winner of this one to face a Top-10 opponent in his next bout.

What Version of Hector Lombard Will We See?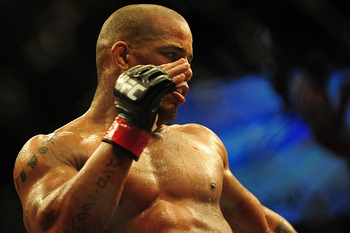 Anne-Marie Sorvin-USA TODAY Sports
Hector Lombard entered the UFC with much fanfare, carrying a 25-fight unbeaten streak with him into his promotional debut fight against Tim Boetsch.

Fans who hadn't witnessed a Lombard performance prior to the Boetsch bout may have wondered exactly what all the buzz was about after Lombard delivered a terribly unimpressive and uninspired performance, losing to Boetsch via split decision.

In his next fight, we saw the Lombard everyone expected to see in the UFC, as he knocked out Rousimar Palhares in the first round.

The UFC clearly believes in the selling power of Lombard, as evidenced by the full line of UFC clothing he sports when he walks out to his fights. For his third go in the Octagon, the promotion has matched him up against Yushin Okami, a fighter who will raise Lombard's stock if he is able to earn the victory.

The question here is which Lombard will show up in Japan? If it's the Lombard who showed up against Boetsch, look for Okami to have his hand raised with ease. If it's the Lombard who KO'd Palhares, he could very well earn the win and get his name in the mix for a shot at UFC gold.
Will the Drop Back to Lightweight Serve Diego Sanchez Well?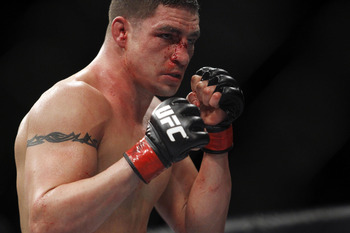 Matt Ryerson-USA TODAY Sports
The last time Diego Sanchez fought at the lightweight limit of 155 pounds was back in December 2009. That fight, the main event of UFC 107, ended with Sanchez losing via TKO to BJ Penn, courtesy of a gnarly cut on Sanchez's forehead.

After that loss, Sanchez moved up to the welterweight division where he went 2-2, beating Paulo Thiago and Martin Kampmann, while losing to John Hathaway and most recently to Jake Ellenberger. In the course of those four fights at 170, Sanchez racked up three consecutive "Fight of the Night" bonuses.

If you saw any of Sanchez's bouts at welterweight, you know they did not lack excitement, but you also know that Sanchez was carrying a little extra weight around the middle, so a drop to lightweight was probably not all that difficult for the UFC veteran.

The question facing the 31-year-old Sanchez is will the move pay off with more than some savings on his grocery bill?

Sanchez will face another veteran at UFC on Fuel 8, Takanori Gomi. Gomi is on a two-fight winning streak, with his last win also being a "Fight of the Night" performance.

Sanchez is most likely dropping weight at this point in his career to make one last charge at UFC gold; he'll take the first step toward that goal in Japan.

Who Passes Their Next Test, Mark Hunt or Stefan Struve?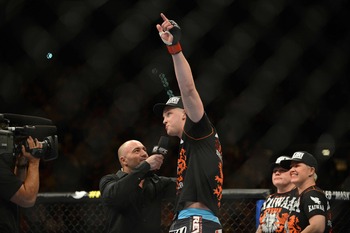 Ron Chenoy-USA TODAY Sports
UFC fans love them some Mark Hunt, and honestly, why wouldn't they?

First, you have the story of how he came to join the UFC.
Hunt joined the promotion when the UFC purchased Pride, the organization that Hunt was contracted with. The UFC, not knowing what to do with Hunt, offered to buy him out of that deal, but instead of walking away with some quick cash, Hunt opted to fight out his Pride contract with the UFC.

His first fight didn't go so well; he was submitted in 63 seconds by Sean McCorkle. His next bout went a lot better, as he earned "Knockout of the Night" honors when he stopped Chris Tuchscherer in the second round at UFC 127.

He added two more wins to his record after that, most recently stopping Cheick Kongo via first-round TKO.

Fans also love the fact that Hunt is not afraid to stand and bang, earning a reputation as an iron-chinned fighter who can give as much as he gets.

Hunt will face Stefan Struve on the UFC on Fuel 8 card.

Struve, a 25-year-old who is in the Top 10 of the UFC rankings is on a four-fight winning streak, slowly climbing his way up through the UFC's heavyweight ranks.

The problem for Struve is that he is a notoriously slow starter, taking a decent amount of damage before he seems to realize he is in a fist fight inside a cage. The question going into this fight is will Struve be able to withstand the punishment that Hunt is going to look to inflict on him when they meet in Japan?

This is a big test for Struve, and if he takes his sweet time in getting into the groove, he may very well find himself staring into a flashlight and trying to answer the question, "Do you know where you are?"
Will This Be Wanderlei Silva's Farewell Fight?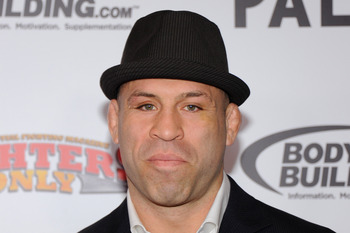 Ethan Miller/Getty Images
Let's not kid ourselves here: Wanderlei Silva, no matter how entertaining, no matter how much he "brings it" inside the Octagon, should not be competing in this fight or in any fight for that matter.

He's gone 3-7 in his last 10 fights and has been the victim of some brutal knockouts during that stretch. I know, I know, he beat Cung Le at UFC 139 and put on a solid performance against Rich Franklin at UFC 147, but let's not forget his 27-second knockout loss to Chris Leben before those two fights.

Sure, everyone loves to see Silva go in there and swing like a wildman while he leaves his chin wide open, but that's not good for his health, no matter how much of a "warrior" it makes him.

UFC president Dana White has to be aware of that fact. White is, after all, the man who pushed Chuck Liddell into retirement at a similar point in his career.

With this fight being in Japan, where Silva once ruled the Pride ring, it kind of smells like a last hurrah for the "Axe Murderer."
No matter the outcome of the fight, let's hope it is just that—a farewell fight.
What's in It for Brian Stann?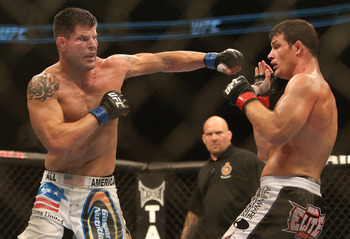 Tom Szczerbowski-USA TODAY Sports
The main event at UFC on Fuel 8 is not only a fight that Brian Stann should win, it's a fight that he has to win.

Stann has had some success against middle-of-the-pack middleweights in the UFC, beating Chris Leben, Jorge Santiago and Alessio Sakara, but he has struggled against top-level 185-pounders, dropping fights to Chael Sonnen and Michael Bisping.
At this point in his career, his opponent in Japan, Wanderlei Silva, is firmly in that middle-of-the-pack grouping.

Stann is in the proverbial no-win situation here. Win and he was supposed to—lose and he's relegated to gatekeeper status.
True, this fight is being contested at 205 pounds, but I still feel Stann is in a strange position here, because let's face it, Silva should really be fighting at 185.
I, for one, do not envy the position the UFC has put Stann in heading into this bout.

Who Has to Worry About Their Status with the UFC?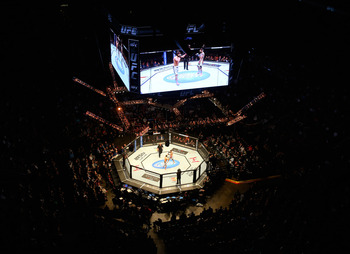 Tom Szczerbowski-USA TODAY Sports
This is the question that a number of UFC contracted fighters have to be asking themselves at this time.

The proverbial hot seat will be even hotter in the coming months as UFC president Dana White has said they are looking to reduce the UFC roster by a pretty significant number of fighters.

That brings up the question of who is safe and who isn't heading into the Fuel card.

From a big-name perspective, I wouldn't hesitate to say the UFC will look at forcing Wanderlei Silva into retirement, win or lose. The "Axe Murderer" may not want to go, but it is in the best interest of his long-term health.

Takanori Gomi may be another fighter who could fall by the wayside with a loss. If Jon Fitch's $66,000 salary is too expensive for the UFC's tastes, than Gomi's $50,000 may be approaching those limits as well.

To be honest, almost every fighter is going to be looking over his or her shoulder until the UFC says it is done reducing the roster. It's hard to tell what effect this has on fighter style and performance, but you can bet that there will be some type of change in style if every fighter thinks he or she has one foot out the door.
Keep Reading