Rousey vs Carmouche: Final Odds and Predictions for UFC 157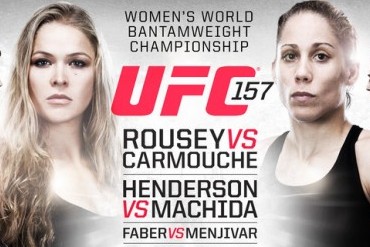 insidefights.com
So this is it fight fans: The first ever UFC women's championship bout is upon us.
We're just hours away from witnessing history in the making, as gender no longer plays a role in the fastest growing sport on the planet.
On top of that, UFC 157 is going to feature some pretty awesome matchups; including Dan Henderson vs. Lyoto Machida and Urijah Faber vs. Ivan Menjivar.
So for the sake of recognizing the magnitude of tonight's event, here are the final odds and predictions for UFC 157.
Enjoy.
*All odds are derived from 5thround.com
Begin Slideshow

»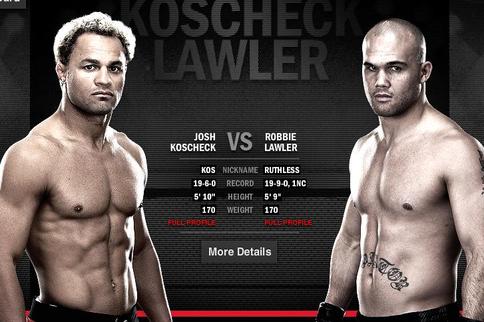 prommanow.com
Final Odds: Koshceck (-450) Lawler (+325)
This is a very interesting matchup.
Robbie Lawler is making his return to the Octagon after a seven-year absence, while Josh Koscheck is trying to recapture the divisional momentum needed for a title run.
For this fight, Koscheck should be willing to stand and bang with Lawler until the former Strikeforce standout starts to land big shots. At that point, "Kos" will go back to his strong suit and wrestle Lawler to the ground to implement some serious ground and pound.
Lawler's welterweight debut and promotional comeback isn't going to end well.
Final Prediction: Koscheck via TKO in Round 2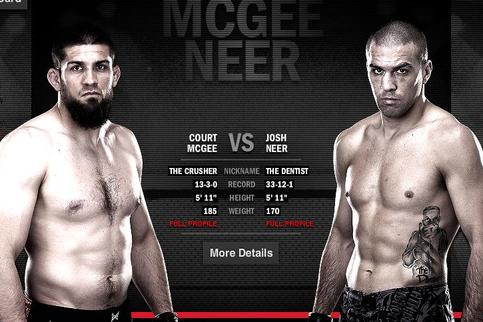 prommanow.com
Final odds: McGee (-300) Neer (+220)
It's odd that Joe Silva and Dana White would entertain the notion of pegging two fighters riding two-fight losing streaks against one another on UFC 157's main card.
But hey, to each their own.
Regardless of the mind-boggling display of matchmaking, McGee's arrival to the welterweight division should be a fairly easy transition. He's a physical guy that likes to initiate contact and finds success doing it.
Fortunately for fans, so is Josh Neer.
Look for these two guys to go out there and get after it, with McGee coming out on top on the heels of good clinching and better conditioning.
Final Prediction: McGee via TKO in Round 1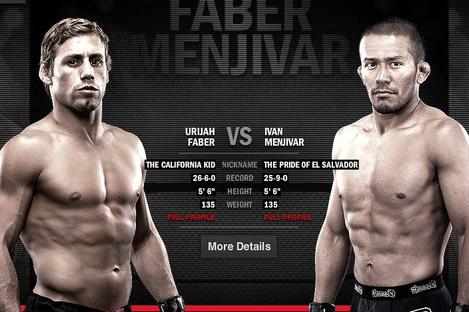 prommanow.com
Finals odds: Faber (-400) Menjivar (+300)
Urijah Faber and Ivan Menjivar fought once before.
Sure it was in an ice rink in Quebec, Canada back in 2006, but a fight is a fight.
Menjivar lost that bout due to an illegal kick to a downed Faber, so he'll most certainly be looking to prove a point.
For Faber, a guy who was recently discussed as a possible candidate to be cut from the UFC, picking his shots and utilizing his strong ground game is going to do him wonders.
As long as "The California Kid" doesn't get caught sleeping, he shouldn't have too much trouble getting past the veteran Menjivar.
Final Prediction: Faber via unanimous decision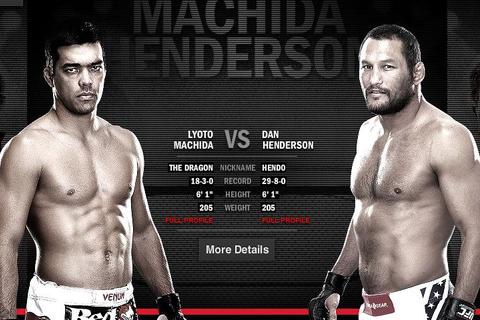 prommanow.com
Finals odds: Machida (-260) Henderson (+200)
Rarely is Dan Henderson an underdog heading into a fight.
It just goes to show you how respected Lyoto Machida is around the sport and how many people think his technical striking will be too much for the grizzled vet.
In any case, Henderson has the one-punch knockout capability to win a lot of people who decide to bet on the 42-year-old legend money.
For that reason and that reason only, I'm predicting "Hendo" connects with one of his infamous "H-Bombs" and puts Machida to sleep late in the fight.
The Brazilian is the type of fighter to sit back in the pocket and wait for his opponent to strike first, but seeing as Henderson can't get knocked out and never seems to pull back, Machida's patient style may end up hurting him.
Final Prediction: Henderson via KO in Round 3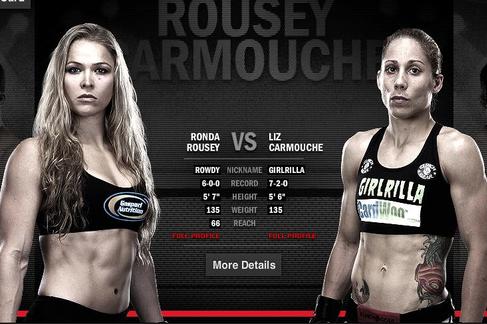 prommanow.com
Finals odds: Rousey (-1400) Carmouche (+700)
These odds are something you'd see for an Anderson Silva light heavyweight showdown, but unfortunately the greatest fighter of all time will not be gracing us with an Octagon appearance tonight.
Instead, Ronda Rousey and Liz Carmouche will become the first females ever to compete in the UFC and for the women's bantamweight championship no less.
Many people are counting out Carmouche before the clock even starts, evident by the odds shown above, but based on her career as a formidable fighter ready to brawl at the drop of a dime, Rousey could be in trouble.
With all of that said, I'd be a true prophet if I predicted Carmouche to win and she did.
I'm just not that holy.
Final Prediction: Rousey via armbar in Round 2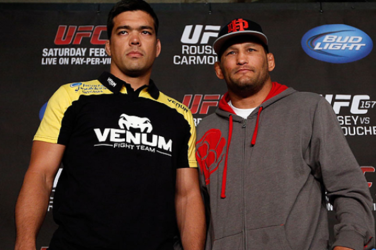 mmamania.com
It may not carry the most promising main card ever, but UFC 157 offers some pretty intriguing fights.
The UFC did it's very best to surround Rousey vs. Carmouche with the biggest names they could get, which is why Dan Henderson, Lyoto Machida, Urijah Faber and Josh Koscheck will be fighting their butts off.
Could the UFC have produced more relevant divisional matchups than a bantamweight rematch and a welterweight showdown between two aging veterans?
Most certainly, but they need to sell to new fans trying to break into the sport.
That's why this card looks the way it does.
Not a bad night at all, but it's a pay-per-view event that could end up being a massive disappointment if the main event doesn't produce.
Good luck, ladies.
For more UFC/UFC 157 news and coverage, tune into B/R all night long and Follow @DHiergesell