UFC 157: Live Reaction for Every Fight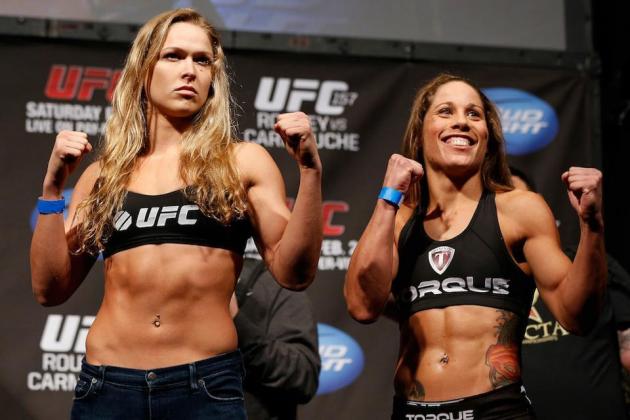 Photo c/o Facebook.com/UFC.
The historic, and downright stacked, UFC 158 card is upon us.
The UFC's prodigal son, Robbie Lawler, makes his return and faces top-ten mainstay Josh Koscheck. A critical bantamweight tilt between Ivan Menjivar and Urijah Faber. A light heavyweight top contender bout between Dan Henderson and Lyoto Machida.
Oh, and the first ever women's fight in the UFC. A downright huge night of fights.
Main Card:
Ronda Rousey vs. Liz Carmouche
Lyoto Machida vs. Dan Henderson
Urijah Faber vs. Ivan Menjivar
Court McGee vs. Josh Neer
Josh Koscheck vs. Robbie Lawler
Preliminary Card:
Brendan Schaub vs. Lavar Johnson
Michael Chiesa vs. Anton Kuivanen
Dennis Bermudez vs. Matt Grice
Sam Stout vs. Caros Fodor
Kenny Robertson vs. Brock Jardine
Jon Manley vs. Neil Magny
Nah-Shon Burrell vs. Yuri Villefort
Begin Slideshow

»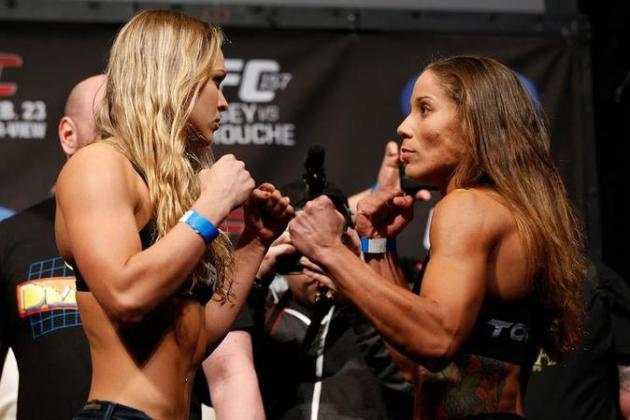 Photo c/o Facebook.com/UFC.
Round 1
The bell rings on the first ever UFC fight between two women. Ronda Rousey wrestles Liz Carmouche to the ground early, but Carmouche gets high on her back quickly. Carmouche goes for a deep, scary neck crank but Rousey miraculously shakes her off.
Rousey takes top position and holds a headlock, using that to land left hands. Softened up, Rousey feints a pass to set up for her fabled armbar. Carmouche holds on and holds on and holds on. With just seconds left in the round, Rousey straightens her arm and forces the tap.
Great showings by both fighters.
Official Decision:
Ronda Rousey defeats Liz Carmouche at 4:49 of Round 1 via Submission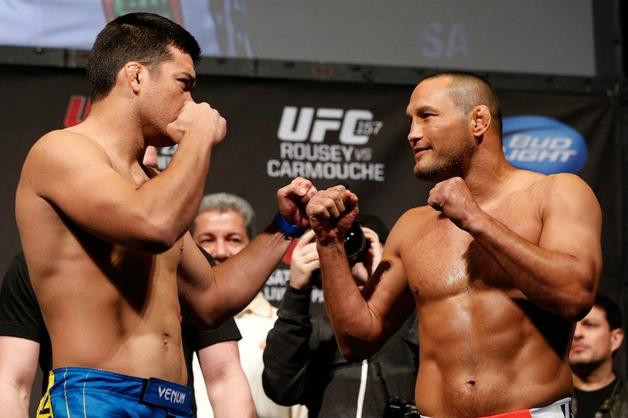 Photo c/o Facebook.com/UFC.
Round 1
Both Lyoto Machida and Dan Henderson come out tentative. Machida threatens repeatedly with lightning-quick kicks while Henderson throws...not-so-lightning-quick leg kicks.
That said, both fighters are very reluctant to initiate. When Hendo tries to leap in, Machida manages to catch him with jabs. With a minute left, Henderson lands a decent punch, but Machida works through it. They exchange clinches but both fighters do very until Machida lands a round-stealing trip.
10-9 Machida
Round 2
Machida once again uses range effectively. Hendo keeps trying to land a big right hand, but is just short each time.
Again, the two fighters stay tentative, but Machida manages to get the better of each engagement. Henderson repeatedly throws just...awful leg kicks. Machida just keeps on landing pitapat strikes while staying just a hair outside Henderson's range. Hendo lands a hand but, again, Machida seems completely fine. The round ends with Henderson looking downright angry.
10-9 Machida
Round 3
Machida lands a big kick to the body followed by a hand to the face. The two fighters come forward at the same time, and Hendo ends up on top.
Machida keeps Henderson from posturing. Henderson stays on top and lands light ground and pound over a few minutes' time before Machida escapes following a kimura attempt. They again feel each other out to close the round, with Machida landing a couple kicks.
10-9 Henderson
Bleacher/Report Score:
29-28 Machida
Official Decision
Lyoto Machida defeats Dan Henderson via Split Decision (29-28, 28-29, 29-28)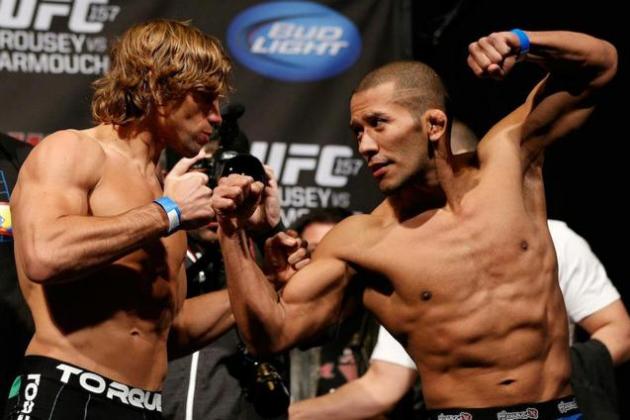 Photo c/o Facebook.com/UFC.
Round 1
Urijah Faber goes for the clinch and Menjivar lands a big throw. Faber, though, keeps rolling and winds up on top in side control. Menjivar works Faber back to his guard and hints at a triangle or armbar, but Faber starts posturing and landing savage ground and pound.
Faber keeps slamming on big elbows, though Menjivar forces Faber to his feet and throws numerous upkicks. Faber leaps back into guard and keeps throwing elbows. Menjivar stands up and Faber latches onto his back and goes from a sort of back crucifix position and rotates 90 degrees.
Triangle locked around body, Faber slaps on a tight rear-naked choke that forces Menjivar to tap.
Official Decision:
Urijah Faber defeats Ivan Menjivar at 4:34 of Round 1 via Submission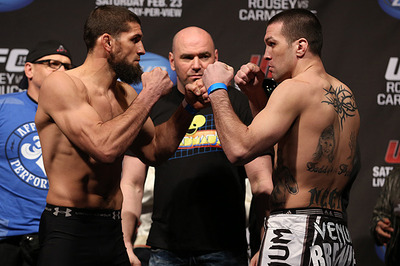 Photo c/o Sherdog.com.
Round 1
In a fight between two dudes riding losing streaks, this is almost guaranteed to be a fight for a job.
Court McGee and Josh Neer exchange hands and kicks. Two minutes deep, McGee staggers Neer a bit, and stuffs Neer's advances with jabs and bunches of punches. Again and again, McGee lands flurries of punches on Neer with very little repercussions.
With a minute left, McGee lands a strong body kick that buckles Neer. Ultimately, though, he cannot finish the fight, and the bell saves Neer.
10-9 McGee
Round 2
McGee downright spams kicks to start the round. Neer throws a kick of his own, but it's caught and he's thrown back. McGee clinches him and lands bunches of punches.
McGee continues landing hands but Lawler begins landing after a while, and finds a home for his jabs before landing a big uppercut. McGee half-heartedly shoots for a takedown, but Neer replies with a load of uppercuts. He continues landing jabs and presses McGee back.
Near continues to looks more and more confident as the round progresses. The horn sounds. Tie game.
10-9 Neer
Round 3
McGee's corner actually told him he won round 2. Absurd.
McGee gets the clinch and uses the position to land short, low-yield right hands. Neer sneaks out but Court looks like he's back in round 1 form, landing flurries until he scores a takedown. Neer gets back to his feet but Neer again gets wrestled back to the ground and McGee starts grounding and pounding.
McGee holds on to the top position for dear life, and gets back control after Neer attempts to escape. He threatens with a choke, but abandons it to get back into top position. The horn sounds with Court McGee landing some big punches.
10-9 McGee
Bleacher/Report Score:
29-28 McGee
Official Decision
Court McGee defeats Josh Neer via Unanimous Decision (30-27, 30-27, 30-27)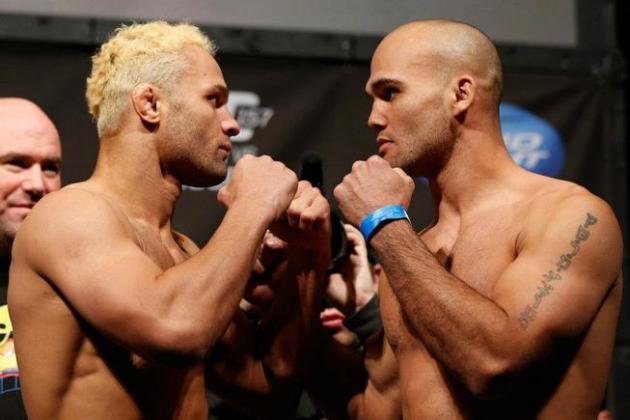 Photo c/o Facebook.com/UFC.
Round 1
For some reason, this very-relevant-to-the-top-of-the-division bout between Josh Koscheck and Robbie Lawler is at the bottom of the main card instead of Court McGee vs. Josh Neer. Oh well.
Twenty seconds into the round, Koscheck ran Lawler to the ground (huge surprise, am I right?). Lawler got back to his feet relatively quickly, but Koscheck maintains a front headlock and brings it back to the ground. He keeps Lawler there for a long while until maintaining the center of the cage in the clinch.
Koscheck goes for another takedown and Lawler sprawls. Lawler lands a big left. Koscheck rolls to his side and Lawler goes for a finish and gets it.
While some will surely question this win, it's not especially controversial.
Robbie Lawler defeats Josh Koscheck at 3:57 of Round 1 via TKO.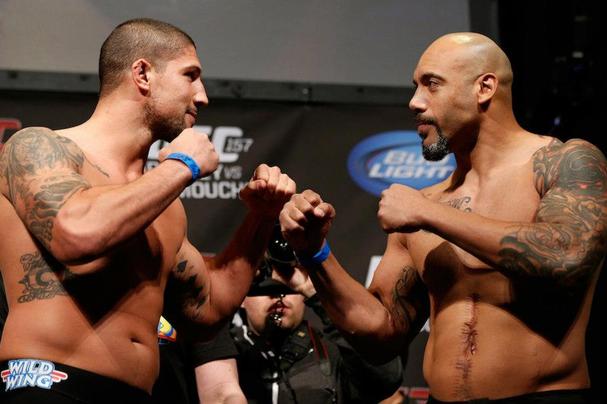 Photo c/o Facebook.com/UFC.
Round 1
The two fighters clinch and Brendan Schaub scores a takedown. As Lavar Johnson tries to escape, Schaub sinks in an anaconda choke. Johnson lands hands all over Schaub, but he keeps the choke tight until letting go and taking side control.
Johnson escapes and ends up taking Schaub down. Schaub fakes a heel hook attempt and ends up getting into top position. He stays there for a while until Johnson escapes, but quickly gets taken down again. The horn sounds with Schaub in top position.
10-9 Schaub
Round 2
The two fighters clinch, and Johnson ends up landing some hands and knees. Schaub again drives through a takedown and into half-guard. Schaub works towards mount for minutes on end. The referee stands them up and Schaub lands a big overhand right that Johnson just walks through.
Schaub lands a good knee and shoots for another takedown. This time, Schaub looks to land punches, and uses that to advance to half-guard. Johnson continues landing hands from the bottom, and actually owns quite the advantage in the striking department, even though he has been on his back for the majority of the fight. Again, the horn sounds with Schaub perched atop Johnson.
10-9 Schaub
Round 3
Both fighters throw big hands and both miss. Schaub tries to clinch, but Johnson lands a big hand. Again, Schaub scores a takedown and Johnson lands numerous punches from the bottom. Again, the referee stands them up.
Schaub once again ends up on top, and has half-guard. Schaub, finally, advances into mount but only for a brief length of time as Lavar kicks him back into half-guard. Schaub pretends to threaten with a head and arm choke, but does not even apply pressure. Johnson works him back into his guard.
Johnson lands more hands and gets Schaub off. They once again end up on the ground and, as they roll around, Schaub winds up back in half-guard. Johnson continues flailing until the third round ends with Schaub in top position. This is the first fight of Johnson's career to go to the judges.
10-9 Schaub
Bleacher/Report Score:
30-27 Schaub
Official Decision:
Brendan Schaub defeats Lavar Johnson via Unanimous Decision (30-27, 30-27, 30-27)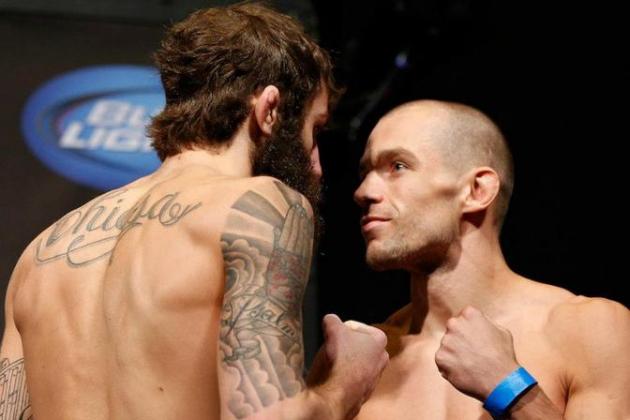 Photo c/o Facebook.com/UFC.
Round 1
Mike Goldberg mistakenly (and repeatedly) calls Anton Kuivanen a "Fin" when, in fact, he is Estonian. Both fighters exchange tentative standup. After three minutes, they clinch and Michael Chiesa maintains an underhook.
They break and, with a minute left, Kuivanen lands a serious hand that Chiesa shrugs off. Kuivanen goes for a flying knee, but Chiesa catches it and scores a brief takedown. they stay clinched and Chiesa goes for another takedown that Kuivanen defends. The horn sounds after a relatively uneventful round.
10-9 Kuivanen
Round 2
Chiesa goes for an early takedown but Kuivanen defends well, and ends up with his back to the cage. They stay clinch and Chiesa gets the back and secures a triangle. He gets deep into a rear-naked choke but lets go, and switches hands. Kuivanen hand fights it away, but on the third attempt, Chiesa gets the finish. Excellent comeback victory by Chiesa.
Official Decision:
Michael Chiesa defeats Anton Kuivenan at 2:29 of Round 2 via Submission.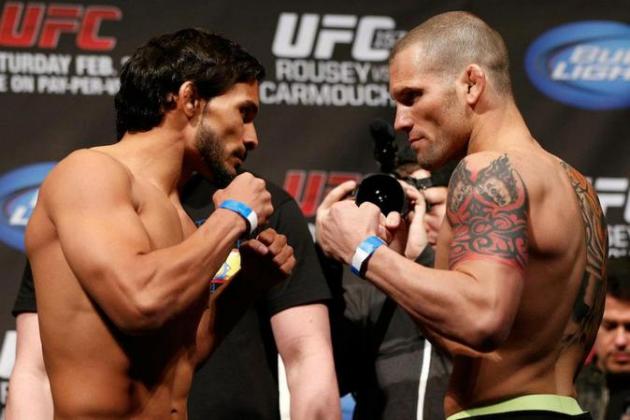 Photo c/o Facebook.com/UFC.
Round 1
Matt Grice goes for an early takedown attempt, but TUF Finalist Dennis Bermudez stays tight and lands in mount position. He lands some serious hands, though Grice escapes. Bermudez maintains a front headlock, but Grice lands knees to the thigh against the cage and softens his grip.
They separate and Grice stars finding some right hands. Bermudez eats a big elbow and punch from Grice and starts out landing. Bermudez counters with a huge hook followed by three big jabs. Bermudez separates from the clinch and Grice lands a huge left hand shortly afterward.
Bermudez is clearly rocked and Grice catches a kick and follows it with a huge punch. Bermudez goes for a desperation clinch, and regains his senses. Both fighters start landing but in the final seconds, Grice lands a flurry to seal up the round.
10-9 Grice
Round 2
Bermudez comes out with some big leg kicks, but Grice ends up landing a left to dissuade that from happening. He finds it again, and Bermudez once again goes for a desperation clinch.
Every time Bermudez tries to clinch he ends up eating left hands. Grice gets back control halfway into the round, but Bermudez turns out of it. Against the cage, Bermudez lands a superman punch with a minute left and clinches, and actually lands strikes. Bermudez shakes off a takedown attempt, but lands a questionable knee. Bermudez finishes the round trying to get a head and arm choke, but it was likely just for points, as Grice was likely defending it ably.
10-9 Grice
Round 3
Knowing he's behind, Bermudez comes out wild, and rocks Grice hard. He lands feverish ground and pound, and tangles up one of Grices arms and lands lefts all over. Grice stands up but is kept against the cage.
Bermudez rocks grice again and lands a huge uppercut that has Grice wiggling. He clinches and lands two knees that have Grice stanky-legged. Grice clinches, and recovers remarkably quickly.
Bermudez lands another big uppercut that has him off-balance, but again recovers within a couple seconds. But Bermudez, once again, lands huge rights against the cage, and is only kept standing by the Octagon. Bermudez is clearly tired after four minutes of punching Grice in the face, and may not have quite enough to put Grice away.With thirty seconds left, Grice starts landing, but Bermudez battles back and the horn sounds with either fighter swinging wild.
10-8 Bermudez
Bleacher/Report Score:
28-28 Draw
Official Decision:
Dennis Bermudez defeats Matt Grice via Split Decision (29-28, 28-29, 29-28)
Surprised that Bermudez would get the nod in this one. I felt like Grice clearly had the first two, but Bermudez's second round, obviously, deserved a 10-8 in my opinion. Regardless, downright amazing fight.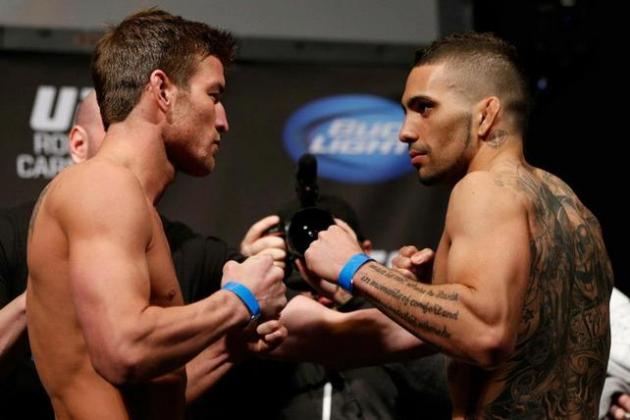 Photo c/o Facebook.com/UFC.
Round 1
The two fighter clinch immediately, and take turns on the cage. They break and Sam "Hands of Stone" Stout lands a couple good combinations. Strikeforce vet Caros Fodor has none of that, though, and presses Stout back and lands a double. Stout works to his feet and lands strikes from the clinch.
After both fighters land some sort punches, Stout trips Fodor and lands in half-guard. He advances to mount, Fodor shakes him off, but Stout goes right back to mount. Stout then goes for an armbar, but can't separate Fodor's hands. The bell sounds, but this is a remarkably easy round to score.
10-9 Stout
Round 2
Again, they quickly clinch but Fodor lands a big hand as they separate. They return to striking and Stout seems to be landing more consistently, but halfway through the round looks a little bit tired.
Neither fighter threatens to finish, but Stout lands more hands, and seems to get the better out of each exchange. They clinch in the final seconds of the round, and stout lands some good knees, but Fodor lands an inconsequential takedown right as the horn sounds.
10-9 Stout
Round 3
Fodor finally begins finding success, and maintains the center of the cage in the clinch for minutes at a time. The two fighters break, and Fodor begins landing right hands consistently. Too little too late, however, as he cannot secure the finish before the horn sounds.
10-9 Fodor
Bleacher/Report Score:
29-28 Stout
Official Decision:
Stout defeats Fodor via Split Decision (29-28, 28-29, 29-28)
No idea how a judge could have seen it in favor of Fodor, honestly. They must have scored round 2 in favor of him, given the clear-cut success in round 1.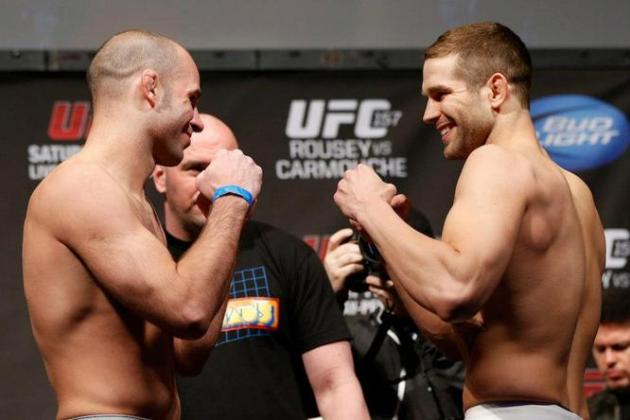 Photo c/o Facebook.com/UFC.
Round 1
Robertson attempts an early takedown, but Jardine sinks in a guillotine with the quickness. Robertson pops his head out, giving him half-guard position. Then he advances into side control, and then ends up taking Jardine's back.
Robertson lands some hands from his back, and goes for a rear-naked choke. Jardine keeps him from securing it, but Robertson maintains his back and lands punches from behind. Robertson then gets hold of Jardine's left ankle and, while maintaining his control of his right leg. He pulls, and creates a kind of kneebar that forces Jardine to tap.
Excellent win for Kenny Robertson. Absurdly crafty submission.
Official Decision:
Kenny Robertson defeats Brock Jardine at 2:57 of Round 1 via Submission.
Update:
Upon further review, the submission was because of a damaged hamstring, not because of pressure on the knee. Still likely to become Submission of the Night.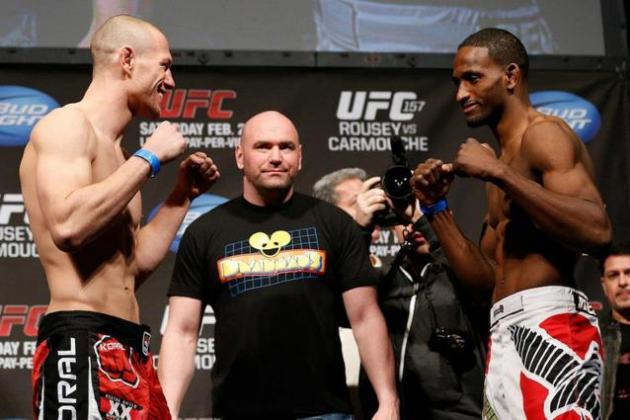 Photo c/o Facebook.com/UFC.
Round 1
One of these two fighters are almost certainly going to be ejected from the UFC after this fight.
John Manley clinches and lifts Neil Magny, but is unable to keep him down. Manley maintains the clinch and forces Magny to the cage again. Manley again picks Magny up for a takedown attempt, but once again, cannot complete it, and forces the fight back to the cage.
After three full minutes pressed to the cage, Magny turns the table and gets Manley to the cage. He lands a hand on the way out, and the two fighters begin striking, only for Magny to once again press the fight to the cage.
Not a strong round for either fighter, but Manley had the superior position for the majority of the round.
10-9 Manley
Round 2
Initially, the fight seems it will be a bit more active, but Manley once again presses Magny to the cage. This time, however, he lands the takedown and gets to side control quickly. Magny reverses, and flips Manley to his back, and stands up off it.
Again, Manley presses Magny to the cage. Magny lands a couple knees and flips Manley to the cage and lands an elbow, followed by some hands and then finishes it with a takedown. Magny ends up in side control, but Manley escapes and again, clinches.
Manley attempts a takedown, but Magny sprawls and lands strikes. Magny finishes the round landing knees and hands, making this a much easier round to score.
10-9 Magny
Round 3
Manley again comes out the more aggressive fighter, but Magny ends up landing the cleaner strikes. Magny lands a takedown, and postures for strikes. Manley, however, wraps his legs around one of Magny's arms, but only threatens for a few seconds as Magny ties up Manley's legs.
Magny breaks free and begins landing serious ground and pound, but Manley slips free and presses Magny to the cage. Magny breaks free and the two throw hands until, with a few seconds left, Magny lands a takedown to finish the round.
10-9 Magny
Bleacher/Report Score:
29-28 Magny
Official Decision:
Magny defeats Manley via Unanimous Decision (30-27, 30-27, 29-28)
Photo c/o Facebook.com/UFC
Round 1
Just a minute into the fight, Yuri Villefort locked in a body triangle and sank in a deep rear-naked choke. Burrell turned into him, however, and ended up escaping and proceeded to demonstrate his striking superiority. Villefort got rocked and Burrell tried to capitalize, but ended up deep into another submission attempt.
He would again break free, but walked away arrogantly and ate a big hand. Both fighters ate a couple hits, but Villefort seemed a bit wobbly after. After an exciting start, the two were content to coast to the horn.
10-9 Villefort
Round 2
Villefort showed none of his submission savvy that round, as both fighters seemed content to keep it standing. While Villefort landed some hits, and showed a good chin, Burrell landed far more significant strikes, and bloodied Villefort badly.
10-9 Burrell
Round 3
Villefort immediately lands a big takedown, and again threatens with a choke. Once again, however, Burrell would shake him off and get back to his feet.
Villefort once again took him to the ground and went for a heel hook. This time, though, rather than slipping out, Burrell maintained balance, stayed on top and landed hands on top of hands and battered Villefort badly. Bloodied, Villefort would let go but nearly ended up getting choked out with a guillotine.
As the final ten seconds were clapped, Villefort poured on strikes with modest success. However, it definitely didn't seem like enough to steal the round.
10-9 Burrell
Bleacher/Report score:
29-28 Burrell
Official Decision:
Burrell defeats Villefort via Unanimous Decision (30-27, 29-28, 29-28)