Rousey vs. Carmouche: Live Blog for UFC 157's Main Event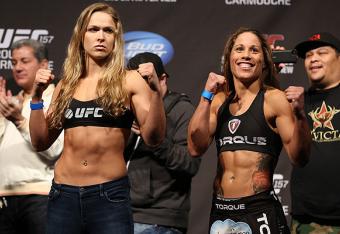 Photo by sherdog.com (Dave Mandel)

When Ronda Rousey and Liz Carmouche enter the Octagon tonight (Saturday, Feb. 23) it will be a historic occasion.
Not only will it mark the first time women compete in the UFC, but also the first time a WMMA match highlights a UFC card and the first time a UFC women's title is defended.
That's a lot of firsts, which means the UFC 157 main event could very well signify a pivotal moment in mixed martial arts history.
An event of this magnitude is not something any fan of the sport should miss, which is why Bleacher Report will have you covered. Check in right here before, during and after tonight's main event for all things Rousey vs. Carmouche.
Looks like Ronda just picked up a jiu-jitsu student.
Congrats to @rondarousey ! I need to learn those armbars!! Great technick !

— Demian Maia (@demianmaia) February 24, 2013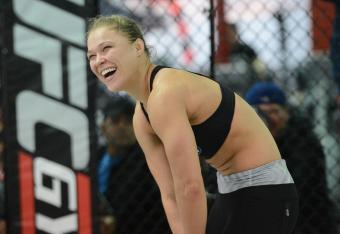 Well folks, that's a wrap. Rousey wins as predicted and continues to sit upon the throne of WMMA.
She was tested tonight more than ever before, and I think that will really only add to her growing legend. She received an incredible ovation entering the Octagon, but an even larger one leaving it.
On the whole, this historical fight was also an entertaining one. And at least for a moment there, the outcome was actually in doubt.
It will be interesting to see where the UFC women's division goes from here.
There has been a lot of talk tonight about how Rousey is paving the way for women looking to break into sports, particularly of the rougher variety.
At least one fellow athlete is proud of her work.
And that is what im talking about!!! Huge step for WOMANkind! ;) #fb #hero!!!!

— Hope Solo (@hopesolo) February 24, 2013
After the fight Rousey expressed concern that she nearly popped out of her top throwing Carmouche off her back.
To me, it looked like she was closer to exposure when locking in the arm-bar. It's a good thing we have hard-working Bleacher Report writers keeping a close eye on things to make sure it stayed kosher.
'And yup. Good, long look at Ronda Rousey's (almost) nip-slip. Good going, #UFC.

— McKinley Noble (@KenTheGreat1) February 24, 2013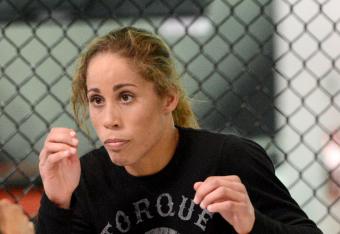 Rogan approaches Carmouche for some post-fight words.
The defeated fighter explains that she thought she had the match when she was on Rousey's back. She's disappointed, but gratefully for the opportunity.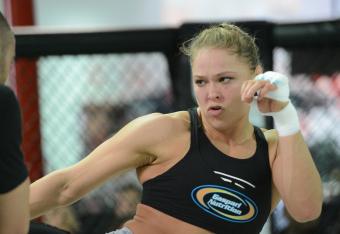 Ronda Rousey vs. Liz Carmouche
Result: Ronda Rousey def. Liz Carmouche via submission (Round 1, 4:49)
It was probably her toughest fight to date, but another match, another first-round arm-bar submission victory.
In the post-fight interview, Rousey explains that she was concerned her bra would come off when Carmouche was on her back. And here I was thinking she might be worried about being choked out.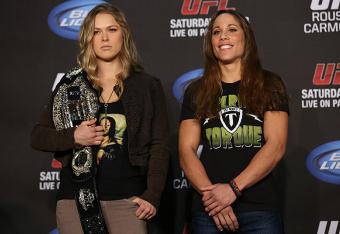 Ronda Rousey vs. Liz Carmouche
Bruce Buffer announces the combatants. Carmouche receives a lazy applause, Rousey another immense one. The fighters move to the center of the Octagon for the staredown, touch glove, and ready themselves.
Here we go!
Round 1 - Carmouche comes out aggressively. Rousey ties her up against the fence and looks for a trip. She eat an uppercut, but drags Carmouche to the floor. Looking for an arm-bar now. Carmouche slips out and takes Rousey's back.
Rousey is standing now with Carmouche on her back, looking for the choke. It's deep. Rousey shakes her off, but is looking red in the face.
Rousey now standing over Carmouche, picking her punches. She lands a big right. Carmouche pulls Rousey down, but Rousey advances to side-control. Rousey landing some short-shots, but not doing much damage. She's opening up a bit now, with Carmouche pinned and defenseless.
Carmouche looking to take Rousey's back, but she can't do it. Rousey now hunting for an arm. She's got it, just needs to separate Carmouche's grip. Carmouche hanging on for dear life. But she can't do it!
That's it! Another first-round arm-bar victory for Ronda Rousey.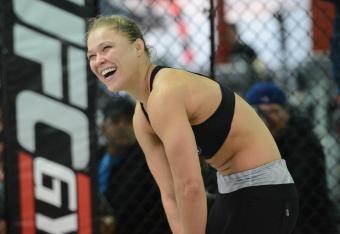 The lights go out and the arena prepares to welcome the face of WMMA into the Octagon.
Rousey comes out to Joan Jett's Bad Reputation, and looks about as focused as one can be.
Joe Rogan comments on the magnitude of the event. Pointing out how Rousey is paving the way for young girls to enter combat sports.
Rousey enters the cage to huge applause and we are just moments away from action.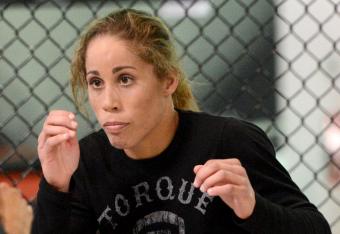 OK, here we go! The co-main event is in the books and we are moving on the the historic main event.
Carmouche is making her way to the Octagon, becoming the first female fighter to enter the fabled UFC cage.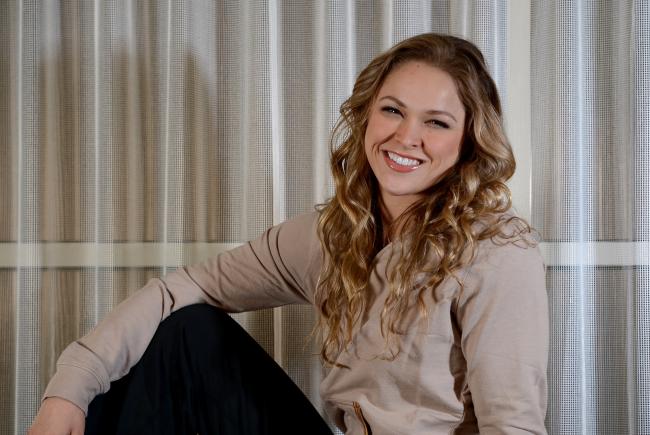 Just one bout to come before UFC 157's historic main event between Ronda Rousey and Liz Carmouche.
Are we having fun yet!? - 10 points for everyone who gets the Party Down reference.
Remember folks, this blog will provide play-by-play for the main event only. If you're looking for live results for tonight's other matches, follow the link:
She doesn't fight, but she's no stranger to stepping into the Octagon. Brittney Palmer is psyched for tonight's historic WMMA match.
Ppv starts now! @ufc #ufc157 making history baby! @ariannyceleste lets gooo!
PPV portion of the card is underway. First up, Lawler vs. Koscheck.
I take solace in knowing that everyone else was just as dead-wrong as me.
Does anyone else get the distinct feeling that Brendan Schaub vs. Lavar Johnson isn't going the distance?
Taking a break from anticipating tonight's main event, Bermudez vs. Grice was one Hell of a fight!
She won't be one of the first two women to compete in the UFC, but WMMA star (and recent UFC acquisition) Alexis Davis is at least in the building.
And according the her Twitter activity, she is having a good time.
Pumped to be at #ufc157 twitter.com/AlexisDavisMMA…

— Alexis Davis (@AlexisDavisMMA) February 24, 2013
who we like tonight? #ufc157

— Chris Weidman (@ChrisWeidmanUFC) February 24, 2013
Middleweight contender Chris Weidman wants to know which way you're leaning for tonight's main event.
FX prelims about to get underway. That means just eight more fights before history is made.
Joe and Mike are just chatting it up, looking ahead to the main event. Joe posited that Rousey is the best Judo player in MMA today.
Agree? Disagree?
Wow. Burrell vs. Villefort....That's all I got. An amazing fight!
This article is
What is the duplicate article?
Why is this article offensive?
Where is this article plagiarized from?
Why is this article poorly edited?