Ranking the NCAA's Top 10 Football & Basketball Coach Combos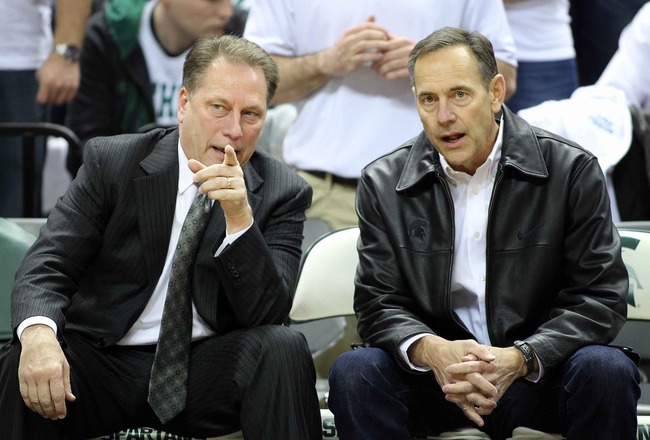 Mike Carter-USA TODAY Sports
With March Madness and spring football just around the corner, now is a great time to appreciate the best of both the hardwood and the gridiron.
Many schools emphasize either football or basketball, but no one said that you can't have great programs in both.
These 10 schools have shown that it is possible to have top-notch coaches roaming the sidelines in both basketball and football.
No. 10: Steve Spurrier and Frank Martin, South Carolina Gamecocks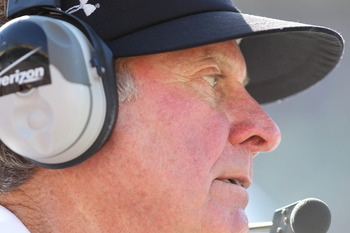 Kim Klement-USA TODAY Sports
Both Steve Spurrier and Frank Martin knew they had their work cut out for them when they came to South Carolina. Both of them had great things going at big-name schools before joining the Gamecocks.
The "Old Ball Coach" Spurrier won a national title at Florida before taking quite a project in Columbia. But he's done remarkably well as he has finished in the AP Top 10 the last two years.
Meanwhile, Frank Martin is just starting his own rebuilding job after a successful job at Kansas State. He went 117-54 while coaching the Wildcats and has an Elite Eight appearance.
He's currently sitting at 13-14 in his first season at South Carolina, but give him time. The Gamecocks won't be built up in a single season.
No. 9: Al Golden and Jim Larranaga, Miami (FL) Hurricanes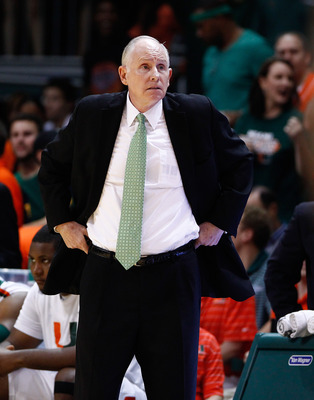 USA TODAY Sports
Things are heating up in Miami, and I'm not just talking about LeBron James
Jim Larranaga has the Hurricanes on fire in the ACC, winning 13 conference games before finally falling to Wake Forest. Miami is a probable No. 1 seed in this year's NCAA tournament with 22 wins, including big wins over the likes of Michigan State and Duke.
Meanwhile, Al Golden and the Miami football team may finally be unleashed after the NCAA botched the Nevin Shapiro investigation and the Hurricanes announced a voluntary two-year postseason hiatus.
Watch out for these up-and-coming coaches in the ACC.
No. 8: Bill Snyder and Bruce Weber, Kansas State Wildcats
Mark J. Rebilas-USA TODAY Sports
How many 73-yard-old coaches do you know who can take their team to a BCS Bowl Game?
Bill Snyder actually retired after the 2005 season, but Kansas State rehired him in 2009. It shows how much the Wildcats respect Snyder. Plus, the coach has the stadium named after him.
Bruce Weber is off to a hot start at Kansas State with 23 wins and a projected No. 4 seed, according to ESPN.com. We've seen Weber do great things before, like when he took Illinois all the way to the championship game in the 2004-05 season. Can he replicate that this year?
No. 7: Bob Stoops and Lon Kruger, Oklahoma Sooners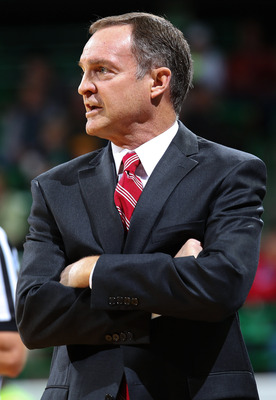 Kevin Jairaj-USA TODAY Sports
Bob Stoops hasn't quite been able to recapture the magic he had his second year at Oklahoma when he won a national championship, but his Sooners have finished in the Top 15 in the AP or Coaches Poll 12 out of the 14 years he's been at Norman.
Meanwhile, Lon Kruger is a relative newcomer after a successful stint at UNLV. There's still some work to do in the ultra-competitive Big 12, but Oklahoma looks to be a safe bet in the NCAA tournament as ESPN.com's Joe Lunardi has it projected as a No. 9 seed.
No. 6: Nick Saban and Anthony Grant, Alabama Crimson Tide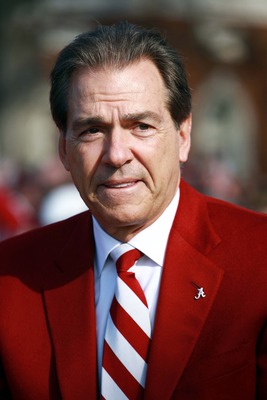 Marvin Gentry-USA TODAY Sports
What more do you need to say about a coach who has won three of the last four national championships? Nick Saban is the best coach in college football, bar none.
But if you do need more, he's 68-13 over six seasons at Tuscaloosa and has finished in the Top 10 in at least one major poll each of the last five seasons.
Oh, and they play basketball in Alabama, too.
Anthony Grant looks like he'll pick up his third straight 20-win season with his team currently sitting on the bubble for the NCAA tournament. Yes, Grant isn't coaching at Saban's level, but he is pulling his weight at a school that practically worships football.
No. 5: Brady Hoke and John Beilein, Michigan Wolverines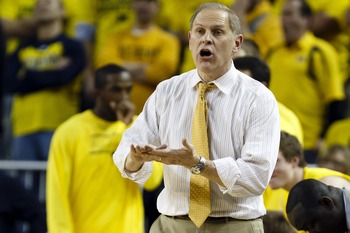 Rick Osentoski-USA TODAY Sports
After a while out of the spotlight, these two Michigan coaches have the Wolverines going in the right direction.
John Beilein has Michigan sitting at No. 4 in both the AP and Coaches Polls with a No. 1 seed a distinct possibility.
Meanwhile, Brady Hoke already has a Sugar Bowl win in his short two-year career at Michigan, and he's recruiting with the best of them, finishing No. 5 in Rivals.com's 2013 recruiting class rankings.
No. 4: Mark Dantonio and Tom Izzo, Michigan State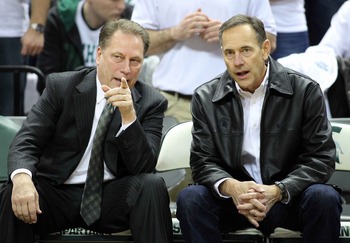 Mike Carter-USA TODAY Sports
There's no one more reliable than Michigan State's Tom Izzo. He's taken his Spartans to the NCAA tournament every year since the 1997-98 season, and he's made it to at least the Sweet Sixteen 10 of those 15 trips, including a national championship in '99-'00.
Mark Dantonio has good things going on at Michigan State as he put together back-to-back 11 win seasons in 2010 and 2011. However, this duo would be a bit higher had Dantonio won more than seven games last season.
No. 3: Charlie Strong and Rick Pitino, Louisville Cardinals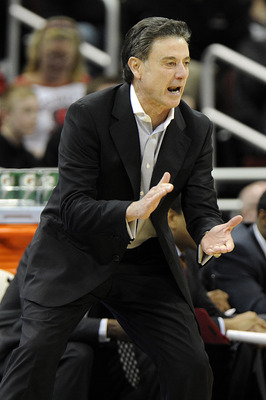 Jamie Rhodes-USA TODAY Sports
Not many schools can say that they won a BCS Bowl Game and made it to the Final Four within the same year.
Louisville can.
Rick Pitino has taken the Cardinals to the Elite Eight or Final Four a total of four times over his 11 full seasons, and he's poised to make another deep run in the tournament this season.
And do you remember when Charlie Strong was complaining about not getting enough attention for his football squad while the basketball team was making a run to the Final Four? You know you have to perform if you say something like that.
Beating Florida in the Sugar Bowl applies. Strong has developed one of the hottest quarterbacks in Teddy Bridgewater as things are looking up for the Cardinals in football as well.
No. 2: Urban Meyer and Thad Matta, Ohio State Buckeyes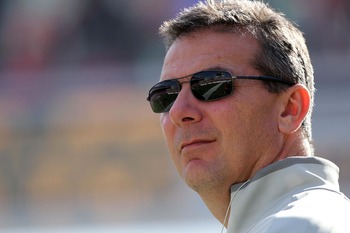 Kim Klement-USA TODAY Sports
Here are two coaches you expect to see in the postseason year after year.
Thad Matta has Ohio State consistently making deep runs in the NCAA tournament. In his eight seasons previous to this year's, he's taken the Buckeyes to at least the Sweet Sixteen four times. He's yet to have captured that elusive national title, but he was the runner-up in '06-'07 to Florida.
Speaking of Florida, Urban Meyer won two national titles while coaching the Gators. He could well have competed for one in 2012 as his Buckeyes went 12-0, but the consequences of "Tattoogate" kept Ohio State out of the postseason this year.
Watch out for this coaching duo. They're tough nuts to crack.
No. 1: Will Muschamp and Billy Donovan, Florida Gators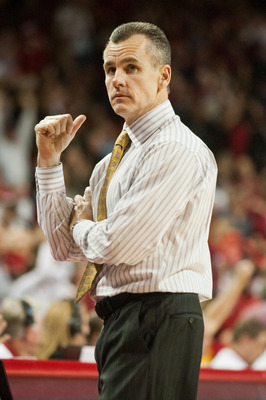 USA TODAY Sports
There's no better tag team of football and basketball coaches than Florida's Will Muschamp and Billy Donovan.
Donovan already has a long and storied career for the Gators. He won back-to-back national championships in '05-'06 and '06-'07 and he's gotten Florida to the Elite Eight the last two seasons. Currently, his team looks to make another deep tournament run as it leads the SEC.
Muschamp is a newcomer to Gainesville, but he's already taken Florida to the Sugar Bowl. Yes, the Gators didn't look impressive against Louisville, but just to be in a BCS Bowl Game is fantastic.
With these two coaches, Florida is set up for dominance in football and basketball for years to come.
Keep Reading