5 Programs Most Likely to Be the Next College Football Dynasty (after Bama)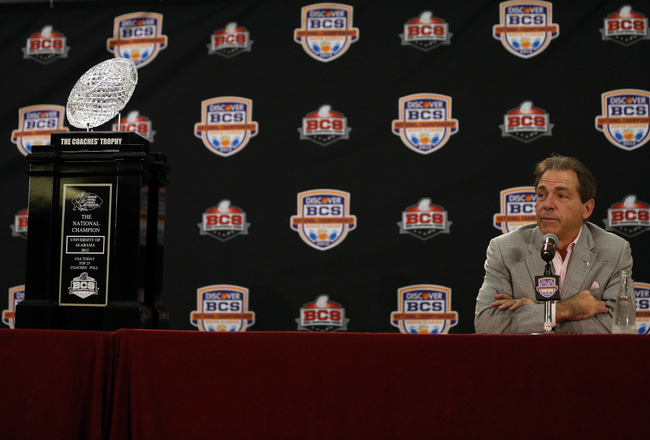 Streeter Lecka/Getty Images
After winning three of the last four national championships, there's no doubt that Nick Saban has built a football dynasty that will be remembered for years to come, and it doesn't look like Alabama is going to slow down any time soon.
But as history teaches us, all dynasties must come to an end. Eventually, someone will overtake the Crimson Tide and will claim the crown as emperor of college football for themselves.
These teams need to exhibit the same characteristics of Bama's dominant run: elite coaching, championship-level recruiting and almost unlimited backing.
So, what programs potentially have what it takes to rule college football after Alabama is done?
Oklahoma Sooners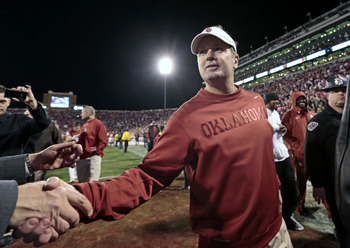 Brett Deering/Getty Images
It's almost impossible to deny that Bob Stoops has at least built a dynasty within the Big 12. Oklahoma has captured at least a share of the conference title eight of his 14 years in Norman.
But even though Stoops has won a national championship, he hasn't come close to building a dynasty on the order of Alabama. The Sooners have been close many times, but just haven't been able to pull it off. Hence the "Ch-Oklahoma" nickname they've been given over the years.
However, implied in that nickname is the massive potential Oklahoma has. If they can put it all together, the Sooners could put together a dynasty like they did in the old days.
Texas A&M Aggies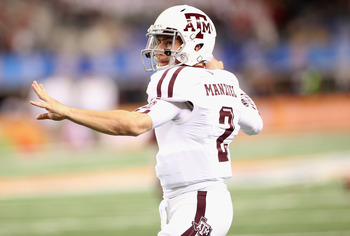 Ronald Martinez/Getty Images
Texas A&M may be the new kid on the block within the SEC, but don't be too surprised if the Aggies take it by storm.
After all, didn't we expect the Aggies to get creamed in their new home? Instead, they proved that they can go toe-to-toe with even the biggest powers in the nation. Excitement is up in College Station to levels it hasn't been in years. Besides, this team combines one of the most fertile recruiting grounds in the nation now with the most powerful conference in college football today.
Oh, and they have Johnny Football for at least two more seasons. Coincidence? I think not.
Notre Dame Fighting Irish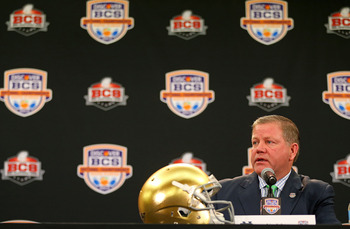 Mike Ehrmann/Getty Images
Brian Kelly has already proved himself to be the best Notre Dame head coach since Lou Holtz by doing what all of the other coaches in between couldn't: play in a national championship game.
That said, the Fighting Irish learned just how far they still need to go after getting thumped by Alabama. But if any program has the resources to build a dynasty, it's Notre Dame.
The Irish have the backing of millions of Catholics around the country and the world.
All they needed was the right head coach, and it looks like they've finally found him in Kelly. As for recruiting, their national championship appearance has boosted Notre Dame to the No. 3 spot this year according to Rivals.com.
Get used to those golden domes, folks. They're not going anywhere any time soon.
Ohio State Buckeyes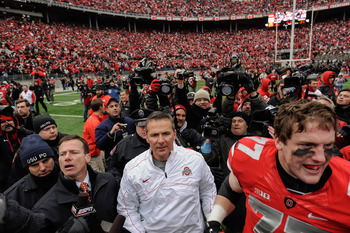 Jamie Sabau/Getty Images
It didn't take any time at all for Urban Meyer to take this scandal-battered program to a perfect season. We already know that Meyer can win national championships. With the Big Ten as down as it is right now, the Buckeyes appear to be the clear kings of their conference.
There's no question in my mind right now that Ohio State can make it to the BCS National Championship Game this season. Plus, Meyer is cleaning up on the recruiting trail by finishing No. 4 in 2012 and No. 2 in 2013 according to Rivals.com.
Urban Meyer has the potential of building a dynasty capable of making Buckeye fans forget that "the Sweater Vest" even roamed the sideline.
Florida Gators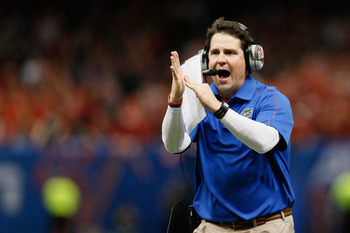 Kevin C. Cox/Getty Images
It's true that Florida needs some serious help on offense and was a big flop against Louisville in the Sugar Bowl, but this program has all the signs of a dynasty in the making.
Will Muschamp has proved his salt as a top-tier coach and a fantastic recruiter. To take the Gators to an 11-2 record and a Sugar Bowl appearance in only his second season as head coach is definitely something to be proud of, not to mention the strength of his defense that finished No. 5 in scoring defense last season.
As far as recruiting goes, the Gators have finished in the Top 5 according to Rivals.com and second in the SEC behind Alabama for the past two years—No. 3 in 2012 and No. 4 in 2013.
Also, we know that this program is capable of producing championships. Don't be surprised if power one day shifts from Tuscaloosa to Gainesville and keeps the crystal football within the SEC.
Keep Reading