Miami Heat vs. Philadelphia 76ers: Live Score, Results and Game Highlights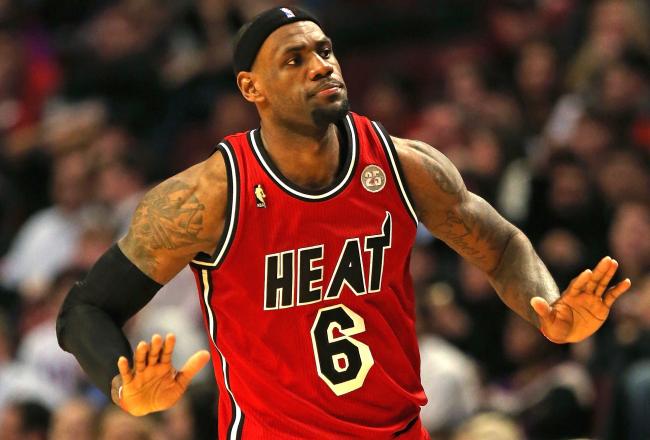 The Miami Heat won their 10th straight game on Saturday night, handling the Philadelphia 76ers by a score of 114-90.
LeBron James and Dwyane Wade keyed the Miami effort, as the two combined for 49 points on 21-of-30 shooting.
James would end up finishing with a triple-double on the night, totaling 16 points, 11 assists and 10 rebounds in 32 minutes of work.
Wade, on the other hand, led the Heat with a flashy scoring performance, totaling 33 points on 14-of-18 shooting.
While the Sixers' effort was respectable in the first half, the team fell apart when Miami turned up the defensive intensity in the game's closing stages.
Jrue Holiday and Nick Young provided sparks for Philly, as the two combined to shoot 16-of-27 from the field, scoring 21 and 19 points respectively.
Evan Turner (16 points) and Dorell Wright (17 points) also made key contributions for Doug Collins' squad.
The Heat's win propels them to a record of 39-14, while the Sixers fall nine games below .500 with the loss and currently sit at 22-31.
Keep it locked here on Bleacher Report for postgame coverage of the Heat's big win over the Sixers.
MIA 114, PHI 90 - Final
Heat 114, 76ers 90 final. Heat win their 10th in a row, 5th straight on road. Wade had 33 pts on 14-of-18 shooting. LeBron triple double.

— Brian Windhorst (@WindhorstESPN) February 24, 2013
Just your average night for the Miami Heat. Another thrashing of an inferior Eastern Conference opponent.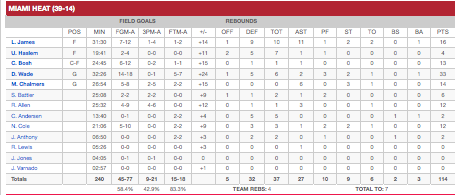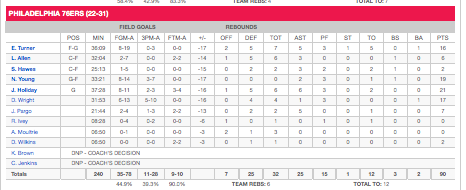 Final Box Scores, Courtesy of NBA.com.
MIA 114, PHI 90 - Final
The Miami Heat trounce the Philadelphia 76ers by 24 points, their 12th consecutive victory over the Sixers in the regular season.
Three Keys to Miami's Victory
Free-Throw Disparity: The Heat got to the line 18 times on the night and hit on 15 of their attempts, while the Sixers were content settling for jumpers. Settling for jumpers meant few drives to the rack, resulting in very few free-throws. On the night, the Sixers took just 10 free-throws and made nine.
LeBron's Triple-Double: LeBron James was at it again on Saturday night. He didn't do it with much pizazz, but James was able to muster a line of 16 points, 11 assists and 10 rebounds in 32 minutes of work. LeBron's passing was on another level on Saturday night, as he picked apart the Philadelphia defense with ease as he took advantage of double-teams throughout the first half.
Dwyane Wade's Efficiency: LeBron may have had the most notable line of the night, but Dwyane Wade's performance should not go unheralded. Wade led the Heat with 33 points on 14-of-18 shooting in a game in which he couldn't have been much more efficient. Wade also chipped in six rebounds and two steals.
MIA 112, PHI 88 - 1:11 remaining in 4th quarter: Jeremy Pargo with some surprising hops there, but he can't hammer it home. However, he did get to the foul line, a sight largely unseen this season for the Sixers.
MIA 108, PHI 85 - 2:57 remaining in 4th quarter: Here's something to think about: Doug Collins has always been known as a coach who's great at coming in and making young teams competitive, but his teams often see significant drop-offs in years two and three.
In the Sixers' case, year two was quite prosperous, as the team took the Boston Celtics the distance in the Eastern Conference semifinals a year ago.
However, with the team's future looking uncertain and Collins' system looking a bit stale, could the Sixers move in another direction?
This storyline will certainly be something to keep an eye on over the next few months.
MIA 106, PHI 80 - 4:05 remaining in 4th quarter: Here's a terrifying statistic for Sixer fans.
If the Sixers lose in New York tomorrow, they'll be 10 games under .500, tying their worst record since the Eddie Jordan Era.

— Michael Levin (@Michael_Levin) February 24, 2013
As many will remember, the Eddie Jordan era (however short it was) was not kind to the franchise.
MIA 104, PHI 80 - 4:50 remaining in 4th quarter: By my count, that's the third time the Sixers have left Ray Allen WIDE open in the corner for a three. If you're going to leave someone open, don't make it Jesus Shuttlesworth.
The Heat are 9-of-20 from downtown tonight.
MIA 101, PHI 80 - 5:26 remaining in 4th quarter: Remember when everyone thought Dwyane Wade was fading after his early-season slump?
Wade is on fire tonight, posting 33 points on 14-of-18 shooting. And you know what? That line is going to get overshadowed by LeBron's triple-double.
MIA 99, PHI 78 - 6:50 remaining in 4th quarter: We have a Joel Anthony sighting, so, yeah, this one's over.
MIA 95, PHI 78 - 8:20 remaining in 4th quarter: Assuming (and it's a pretty safe assumption) the Sixers fall to the Heat tonight, they will be nine games below .500 with just under 30 games to play.
They're slowly slipping out of contention for the eighth seed in the Eastern Conference, and at a very bad time.
Both Milwaukee and Toronto have made improvements personnel wise and have looked sharp lately. It's starting to look like the Sixers are bound for the lottery.
MIA 95, PHI 78 - 8:20 remaining in 4th quarter: Nick Young puts a little swag shake on Norris Cole and dips in for two.
Philly fans have taken to Swaggy, and why not? The guy loves to entertain and he's always got a smile on his face.
MIA 91, PHI 74 - 9:43 remaining in 4th quarter: Dorell Wright is another one of those guys with Philly who's on a one-year deal, whom the team will need to make a decision on in the near-future.
Wright is a lethal three-point shooter (he has 12 points tonight on four threes), but Doug Collins has used him sparingly this season.
Given how seldom he's been used this season, it's hard to envision Wright wanting to return.
MIA 89, PHI 71 - 10:45 remaining in 4th quarter: LeBron James now has his third triple-double of the season. And still has a quarter left to pad his stats.
OK, there it is. After failing to secure two rebounds -- and my premature declaration -- LeBron gets his triple-double w 11:08 left.

— Ethan J. Skolnick (@EthanJSkolnick) February 24, 2013
James has 16 points, 11 assists and 10 rebounds. That, my, friends, is doing it all.
MIA 87, PHI - 71 End of 3rd quarter
LeBron James is simply overwhelming the Sixers, as he's one rebound shy of a triple-double. LBJ has 14 points, 11 assists and nine rebounds at the end of three.
Dwyane Wade continues to look sharp, as he leads the Heat with 23 points on 10-of-12 shooting. Chris Bosh has chipped in with a quiet, yet efficient 13 points.
Jrue Holiday leads a Sixer attack that was stifled by some strong Miami defense in the third quarter, as he's got 16 points on 7-of-10 shooting.
Nick Young has 17 points, but has looked sluggish on defense trying to guard James.
Evan Turner has 17 points, and is shooting 50 percent, but has reached that mark on 16 shots.
MIA 85, PHI 63 - 1:35 remaining in 3rd quarter: The Wells Fargo Center is starting to sound a bit more like the American Airlines Center, as LeBron throws down a monster slam off of the feed from Norris Cole.
MVP. Or something.
MIA 81, PHI 61 - 2:30 remaining in 3rd quarter: Unless my math is wrong, the Sixers just pump-faked FOUR times on one possession, ultimately leading to a LeBron steal and dish to Ray Allen, resulting in a wide-open corner three.
LeBron James: 10 pts, 11 ast, 9 reb. in 28 minutes. His assist game has looked dynamite tonight.

— Christopher A. Vito (@ChrisVito) February 24, 2013
The Heat have 24 assists on 33 made field-goals tonight.
MIA 78, PHI 59 - 3:41 remaining in 3rd quarter: Ho-hum, LeBron makes a nifty adjustment mid-air and finds Chris Bosh under the basket for a slam.
Just one rebound standing in between LBJ and that triple-double.
MIA 76, PHI 58 - 4:30 remaining in 3rd quarter: Well, this one got out of hand fast.
LBJ has 10 points, 9 rebs, 9 assists. Heat up 18 (76-58) with 4:30 to go in 3rd.

— Tom Moore (@tmoorepburbs) February 24, 2013
The shots stopped falling for the Sixers, and the Heat started capitalizing. Also, the Sixers' transition defense has been quite porous tonight.
MIA 70, PHI 55 - 5:50 remaining in 3rd quarter: According to the Miami Heat's broadcast, tonight is LeBron James' 472nd straight game scoring in double-figures.
Forget threatening to post a triple-double, it's going to happen. 'Bron has 10 points, eight assists and eight rebounds.
MIA 67, PHI 55 - 7:00 remaining in 3rd quarter: He's not looking to score much, but if you can't appreciate the kind of game LeBron James is having, then something's wrong with you.
James is putting on a clinic, showing that he can run the offense just as well as any point guard in the league, despite standing 6'8''.
'Bron is threatening to post a triple-double with 8 points, 8 assists and 6 rebounds thus far.
MIA 61, PHI 55 - 8:20 remaining in 3rd quarter: Although the Sixers continue to find ways to get buckets, the Heat's defense is absolutely swarming right now.
After taking it a little easy in the first half, you can tell the Heat don't want to let the Sixers make this one close here in the third.
MIA 56, PHI 51 - 10:55 remaining in 3rd quarter: It's been talked about endlessly by now, but watching the Sixers stay competitive with the Heat like this it makes you wonder just how good this team could have been if they had Andrew Bynum healthy.
Bynum would have provided relief as far as interior scoring goes and he would have helped space the floor well for a team with several good perimeter shooters.
MIA 56, PHI 47 - Halftime
The Sixers -- 30th in the NBA in FTM, 29th in FTA -- are 0-for-0 from the foul line through two quarters. There are no words.

— Christopher A. Vito (@ChrisVito) February 24, 2013
And...this is why the Sixers trail.



Complete first-half statistics for both the Sixers and Heat
MIA 56, PHI 47 - Halftime
LeBron with a gorgeous no-look feed to Ray Allen who buries the three from the corner to close the half.
Nick Young (14 points) and Jrue Holiday (13 points) lead the way for the Sixers, who shot 53.8 percent in the first-half and trail by nine. Zero free-throw attempts absolutely has something to do with that.
As for the Heat, Dwyane Wade had a ridiculously efficient first-half, scoring 17 points on 8-of-10 shooting. LeBron James has just five points, but also has five rebounds and six assists. He is on track to post one of the quietest triple-doubles you've ever seen.
This article is
What is the duplicate article?
Why is this article offensive?
Where is this article plagiarized from?
Why is this article poorly edited?