Reviewing the Titans' 7 Biggest Scouting Combine Takeaways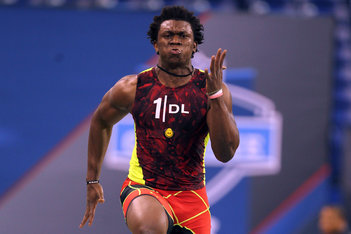 Nearly every year, the NFL Scouting Combine changes everything we thought we knew about this year's prospects. This year was no different.
Some unknowns appeared and blew up the workouts, drawing attention from scouts for the first time. Some players showed up much shorter or heavier than they were thought to be before. And as always, players' stocks are completely changed—some for better, some for worse.
The one constant about the Combine is that it always gives everyone a new perspective on the players they've been watching for as long as a year, and that changes how they evaluate things.
Here are seven things that the Titans can take away from this year's Combine.
Note: Unless stated otherwise, the times given for speed drills are the unofficial times presented in real time on NFL Network's coverage of the Combine, and not the official times kept by the Combine for their records.
Begin Slideshow

»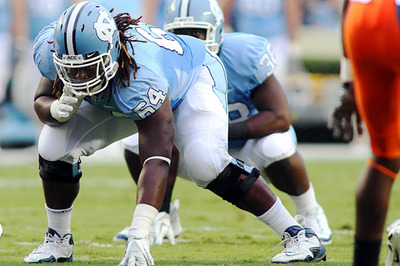 For pretty much the entire year, Alabama's Chance Warmack has been called the best guard prospect in this year's class, and has even been called the best overall prospect in the draft.
The Combine, however, says something different.
Warmack ran a slow 5.50 second 40 yard dash, and 1.83 second 10 yard split. Only nine offensive linemen had slower 10 yard splits, and only four had slower 40 times.
The consensus No. 2 guy in the class, Jonathan Cooper, ran a much faster 5.07 second 40 and the 10 yard split in 1.73 seconds. He also tied for the second highest bench press total with 35 reps, a drill that Warmack declined to participate in.
Cooper was already considered to be very close to Warmack as a prospect, and since Warmack had already shown some flaws on the field, Cooper's outstanding Combine should push him ahead of Warmack on the Titans' big board.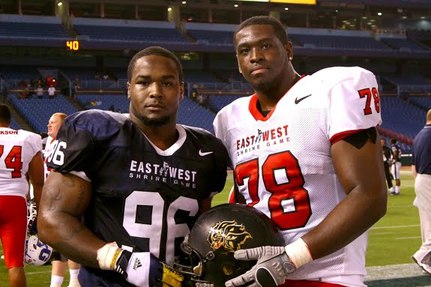 Despite the Titans admitting that they will at least consider taking a guard at No. 10 overall, I still think the better move is to wait until the later rounds to pick one up.
Luckily for the Titans, this year's crop of linemen looks very talented.
In the 2012 Combine, only three offensive linemen recorded 40 yard dash times of under five seconds. This year, there were six with unofficial times of less than that, and one other with an unofficial time of five seconds flat.
The star of the 40 yard dash was Arkansas Pine Bluff's tackle Terron Armstead, who had a blazing 4.65 second 40, which was the day's best for offensive line players.
For a left guard, speed is important, since they will often need to pull around and block in the open field or make it to the second level quickly. This year's group certainly has speed, and the Titans will be able to find starter caliber guards well beyond the first round.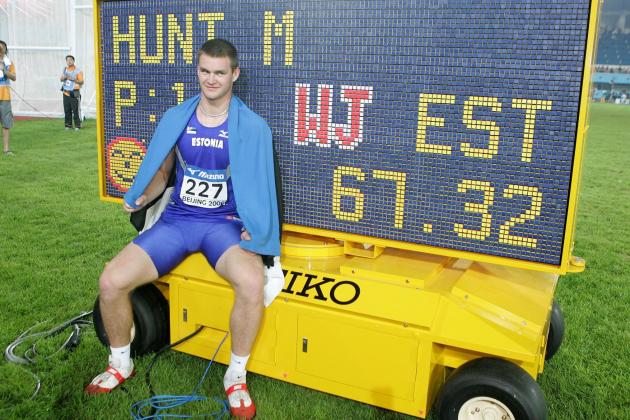 Andy Lyons/Getty Images

Up until recently, the two prospects at the top of the class at DE were Florida State's Bjoern Werner and Texas A&M's Damontre Moore, but both hurt their stocks over the course of the combine.
Werner ran a slow 4.79 second 40 yard dash and obtained a mediocre 25 reps on the bench, while Damontre Moore turned in one of the worst bench presses of the day with a mere 12 reps.
For reference, the only players to get fewer reps than Moore in the entire Combine were some defensive backs, an injured Brian Winters and an injured D.C. Jefferson.
The stars at the defensive end position were BYU's Ezekiel Ansah and SMU's Margus Hunt. Both showed tremendous athleticism, but both are very raw and Hunt is already 26 years old.
Oregon's Dion Jordan and LSU's Barkevious Mingo showed fantastic speed, but both players weigh under 250 lbs, and their strength is questionable at best.
While there is clearly a ton of talent at DE, there is no clear cut player worthy of a top pick come April.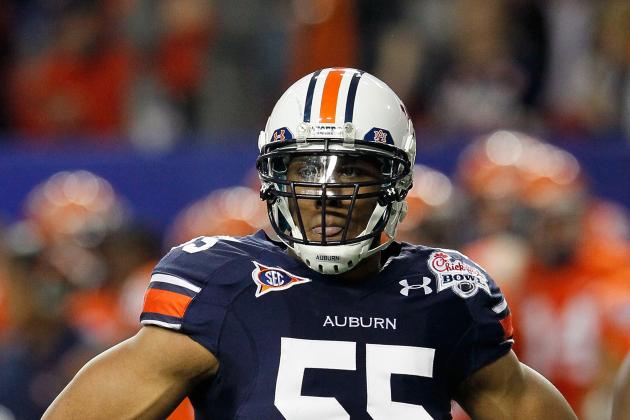 Kevin C. Cox/Getty Images

Corey Lemonier had an up and down season, and was thought to be limited to a role as a rush linebacker in a 3-4 defense.
However, he showed up to the Combine weighing 255 lbs, about 15 lbs heavier than he was thought to weigh, and about the right size for a 4-3 defensive end.
When drills came around, he continued to impress. On the bench, he showed he has the strength needed to play a 4-3 defensive end role by repping 225 lbs 27 times in spite of his long arms.
He also ran a 4.53 second 40 yard dash, unofficially, which was one of the best times of any defensive lineman at the Combine.
Lemonier was coached by current Titans DL coach Tracy Rocker, so you can bet Rocker wouldn't mind reuniting with Lemonier.
With a lack of blue chip defensive ends in this year's class, the second day guys like Lemonier are going to be critical to the Titans' scouting.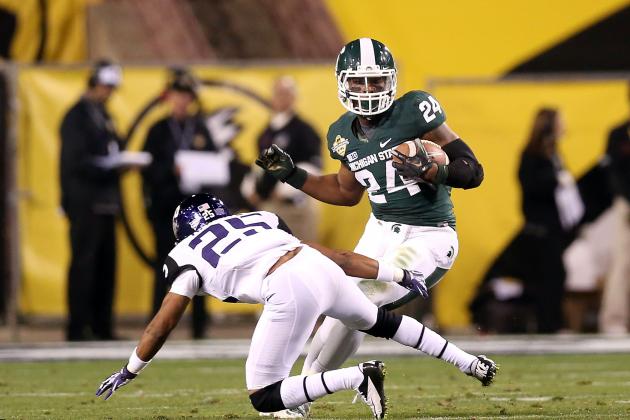 Christian Petersen/Getty Images

The Titans may be looking for a second running back to complement speedster Chris Johnson, and there's no better place to look than the draft.
Le'Veon Bell is a big back out of Michigan State that I've had my eye on for this role for quite a while. He's huge (6'1" and 230 lbs), a powerful runner, and much faster than many anticipated.
Bell managed to run 40 yards in only 4.52 seconds, which is quite a feat when you see how big he is. For comparison, Giovani Bernard, one of the top running back prospects who was praised for his speed only ran 0.02 seconds faster.
Bell also racked up 24 reps on the bench, which placed him in the top 10 among running backs in that drill.
Bell has the perfect combination of size and strength that make a good power back, with rare speed for a player as big as he is.
If he were splitting carries with Johnson for the Titans, they'd certainly have a great rushing attack.
Otto Greule Jr/Getty Images

DeMarcus Milliner will likely keep his status as the top corner available.
As such, he is unlikely to be around when the Titans pick, so their focus has fallen to the second corner. For now, that appears to be Desmond Trufant.
Trufant's stock has been rising steadily since the Senior Bowl, where he played like a legitimate shutdown corner. He looks quick and fluid on the field, and he reacts very quickly.
Furthermore, he measured in at 6' tall and weighed 190 lbs, which is right at the prototypical size for a corner. Most importantly, he showed off some impressive strength, managing 16 reps on the bench.
Unless Johnathan Banks does significantly better in the speed drills, Trufant, with his combination of size, speed, and strength, may have usurped his spot as the No. 2 corner in the draft.
It certainly doesn't hurt that his older brother, Marcus Trufant, was an All-Pro corner for the Seahawks and is still in the league today, 10 years after he was first drafted.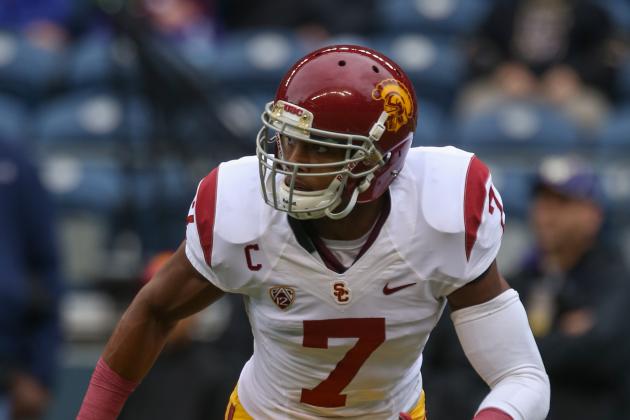 Otto Greule Jr/Getty Images

Even with the signing of George Wilson, the Titans will be looking to spend an early pick on a safety, but because of Wilson, it's a less critical need than it was before the offseason.
Several safeties, like Matt Elam, Kenny Vaccaro, Jonathan Cyprien, and J.J. Wilcox have all distinguished themselves as top safeties, but the Combine has already shown that there are several other talented safeties that can be obtained later in the draft.
USC's T.J. McDonald started the season as a first round prospect, but after an underwhelming season, his stock has plummeted. However, he may have recovered some ground in the Combine with some great measurements.
McDonald showed up standing 6'3" tall and weighing 219 lbs, which is a great size for a safety. He also had long arms measuring 33 1/8" and still managed an impressive 19 reps on the bench.
Georgia's Shawn Williams also had a strong showing with 25 reps on the bench. Only two other defensive backs had more.
Williams didn't look great at the Senior Bowl, so showing off his strength will help his stock with teams looking for a powerful safety who can play in the box effectively.
Other safeties with an impressive Day one at the combine were Bacarri Rambo of Georgia and Eric Reid of LSU, who both had great measurements and a solid bench press as well.