UFC 157: Power Ranking the Main Card Fights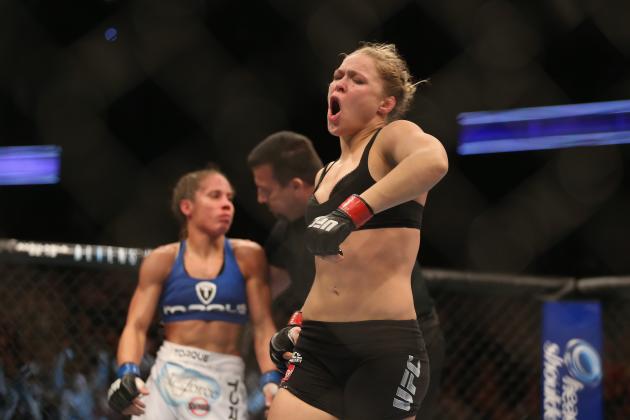 Jeff Gross/Getty Images

Saturday, February 23 will go down in MMA history as the night where women first stepped foot inside the Octagon. Spearheaded by the iconic Ronda Rousey, the buildup for UFC 157 was a spectacle in itself.
Rousey and opponent Liz Carmouche thrilled fans in their championship main event. There was dramatic action, a submission attempt that nearly shocked the world and a highlight-reel finish to send folks home happy.
But how did it stack up against the rest of the card?
Other fights from the evening include:
Dan Henerson vs. Lyoto Machida
Urijah Faber vs. Ivan Menjivar
Court McGee vs. Josh Neer
Robbie Lawler vs. Josh Koscheck
Let's take a look at a power ranking of every main card fight from UFC 157.
Begin Slideshow

»
Jayne Kamin-Oncea-USA TODAY Sports

In hindsight, this fight probably should have been boring. We're talking about an elusive counter-striker against a post-40 wrestler with a questionable gas tank. One guy is waiting on the other to act so he can respond while the other can't muster up the energy to attack.
This fight went 15 full minutes and left the crowd full of boos.
During the post-fight press conference, Dana White confirmed that, despite the performance, Machida will be next in line for a title shot at light heavyweight.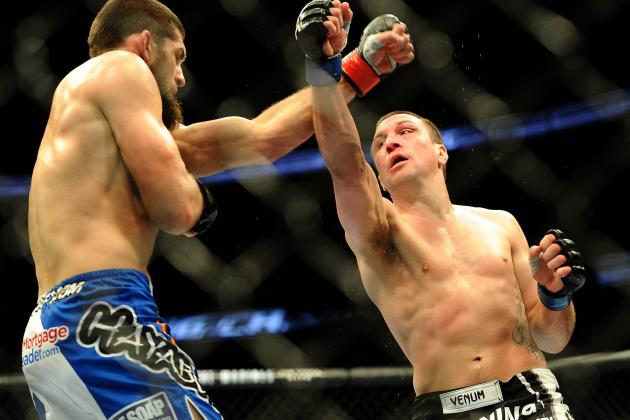 Jayne Kamin-Oncea-USA TODAY Sports

In a fight between two men in desperate need of a win, Court McGee and Josh Neer showed great heart and skill throughout their three-round affair.
McGee nearly scored a stoppage in the first round after scoring a liver kick and body punch that had Neer on the verge of defeat.
Somehow Neer survived the attack and was able to threaten his opponent throughout the second round.
However, McGee undoubtedly controlled the action and was awarded a 30-27 decision from each of the three judges.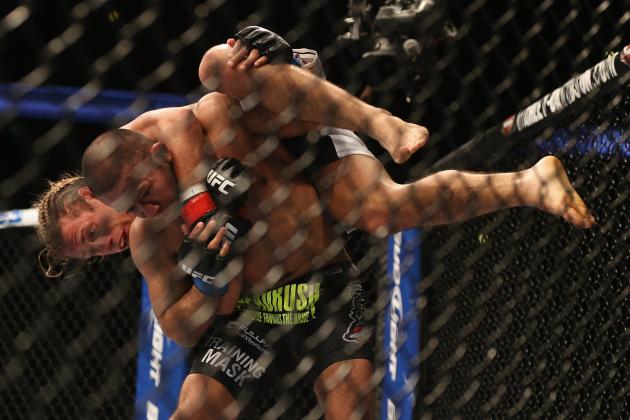 Jeff Gross/Getty Images

"The California Kid" was back and looking spectacular on Saturday night in his rematch with Ivan Menjivar. Although the fight (like its competitors) was short, the action was fierce from start to finish.
Faber utilized an excellent transition to get Menjivar's back and from there, locked in a standing rear-naked choke with a full body triangle.
This victory is important for the career of Faber and was a solid contender for Submission of the Night.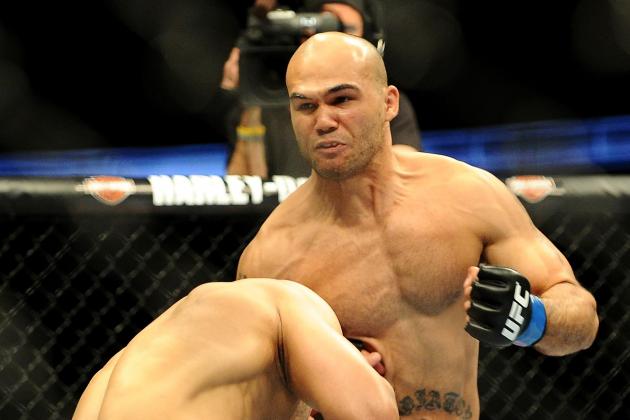 Jayne Kamin-Oncea-USA TODAY Sports

Heading into this contest, Robbie Lawler was a 5-to-1 underdog in the eyes of oddsmakers. After his Knockout of the Night winning performance, Lawler has likely upset many of the bookies by upsetting Josh Koscheck.
Koscheck had control early, but Lawler was able to overcome positional deficiencies and bounce Koscheck's ever-balding head off of the canvas just in time for Herb Dean to call the stoppage.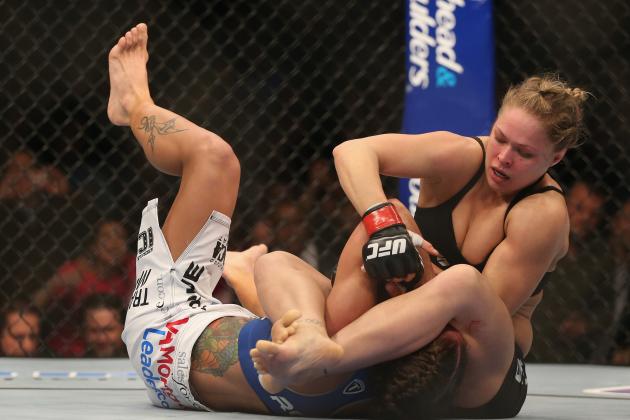 Jeff Gross/Getty Images

It's not often that a tremendously hyped fight lives up to the expectations that people create in their heads. In the case of Ronda Rousey vs. Liz Carmouche, these girls surpassed anything that fans could have hoped for.
Rousey came into the fight as an 11-to-1 favorite and was nearly submitted with a neck crank/rear-naked choke from Carmouche early in the first round. It was the dramatic moment that every fan hopes for, however, the finish was not meant to be.
Instead, Rousey would slip out of danger and gain top position on her opponent before hunting for her infamous armbar.
With only seconds left on the clock, Carmouche was still fending off the submission and it looked as if she would survive the frame and break Ronda's incredible streak of first-round armbars.
However, Ronda doesn't know how to fail. With 11 seconds left on the clock, Rousey snatched up the arm and concluded this bout with the highlight finish that we all wanted.
Great fight, ladies!