Mark Jackson's Smartest Moves of the Season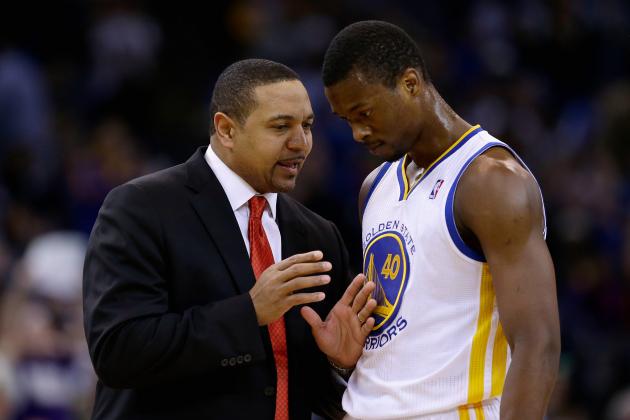 Ezra Shaw/Getty Images

The Golden State Warriors were expected to have a .500 season in 2012-13.
While an incredibly tough schedule throughout January and February has knocked the Warriors down closer to that .500 mark than they'd like, they're still quite a bit above it.
With a softer, home-heavy schedule to close the season, Golden State looks more like a .600 team than a .500 one.
Of course, that difference is smaller than it may look. Going 46-36 instead of 41-41 greatly increases a team's playoff odds, especially in the Western Conference. However, that's only a five game difference out of 82.
Warriors Head Coach Mark Jackson is the single person most responsible for that slight-yet-massive difference.
Here are the best examples of why.
Begin Slideshow

»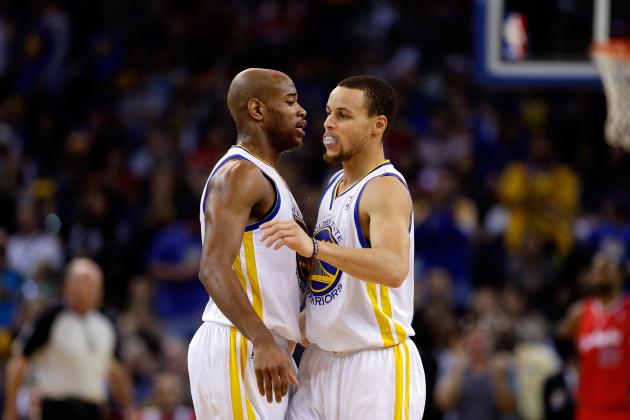 Ezra Shaw/Getty Images

When the Warriors swapped Dorell Wright for Jarrett Jack as part of a three-team trade on July 10, 2012, their goal was to add a capable backup point guard.
The coaching staff, front office and ownership knew that they needed to have a winning season in 2012-13, and that one Stephen Curry ankle injury could destroy that possibility.
Curry has remained healthy for all but four games this season, and Jack has missed three. The Warriors are 2-5 with one of the two out of the lineup, while going 31-21 with both healthy.
It seems now that an injury to either may derail the team's playoff chances. Of course, without Mark Jackson featuring the Jack-Curry backcourt so prominently this season, there would be no postseason aspirations to ruin.
With Jack at the point, the Warriors don't lose any ball handling, dribble penetration, mid-range shooting or facilitating. They do however decrease their turnover rate and defensive capabilities.
Similarly, Curry does not cost the Warriors any rebounding over Klay Thompson at shooting guard, while adding better mid and long-range shooting, better cutting and better passing. He's a slightly weaker perimeter defender, but the offensive impact more than makes up for it.
The double combo-guard backcourt also gives Golden State flexibility. If defenses apply too much pressure to Jack, he can simply give the ball up to Curry, lose the defense and get open off the ball. Also, big men can look to find either Jack or Curry with their initial outlet pass, making this lineup lethal in transition.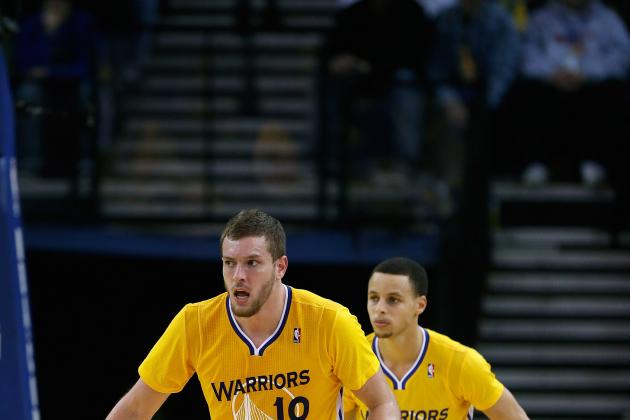 Ezra Shaw/Getty Images

Mark Jackson stands up for his guys. He's called Stephen Curry an "elite defender," and has stood up for other notoriously bad defenders such as Monta Ellis and David Lee.
Jackson is a defensive guy in multiple senses of the word. While he defends his players to the media—boosting their confidence in the process—he also defends them from themselves.
In other words, he knows their limits.
With the absence of any above-average perimeter or interior defenders in the starting lineup (with Brandon Rush and Andrew Bogut out for most of the season), Jackson has implemented a defense that relies on keeping the ball as far away from the bucket as possible.
The best example of this strategy is the Warriors pick-and-roll defense. Rather than switching (which would lead to opposing guards driving right past the likes of David Lee and Carl Landry), Golden State's bigs are simply dropping down a few feet, stopping dribble penetration and forcing the ball-handler to either shoot, give the rock up or hesitate, allowing their previously-screened defender to catch up.
This almost always results in a deep jump shot by the guard or a pass back over to the big once the screened player catches up. In this case, the big either takes a mid-range shot or drives to the basket.
Elite shooting point guards, elite shooting big men or the rare elite driving big man will feast on this defense (if a team guarded the Warriors this way, David Lee and Stephen Curry would obliterate them). Still, it's a surefire way to consistently beat most teams in the league, while also making it possible to steal wins from top-tier teams when their guys have off-shooting nights.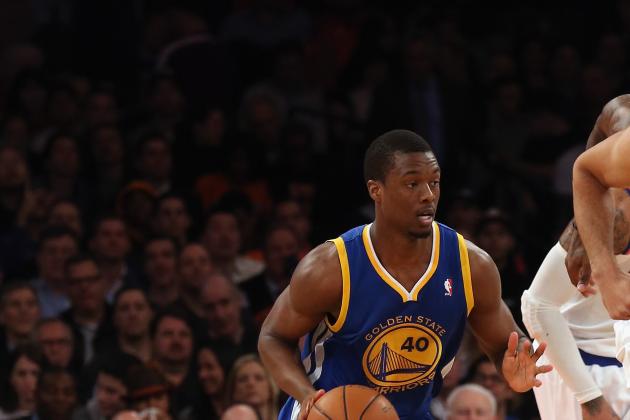 Bruce Bennett/Getty Images

There's a common school of thought in sports that the best way to break a losing stretch is to 'shake things up.'
Changing the starting lineup, severely altering minute distribution or changing the system certainly can lead to a resurrection in some cases. However, this young, new-to-the-party Warriors team has shown resiliency all season long, and Jackson has made this possible by keeping everything the same.
This continuity during tough times has boosted confidence, increased lineup familiarity and created a strong sense of 'team': no one plays to impress Jackson, they play to win.
Mark Jackson could have easily went to a starting lineup featuring Jarrett Jack, Stephen Curry and Klay Thompson at PG, SG and SF a long time ago.
Rather, he has stuck with the rookie Harrison Barnes at the 3 and kept Jarrett Jack coming in off the bench. As the season has progressed, Barnes has displayed great and greater confidence, while Jack has gotten more and more comfortable in his sixth-man role.
Jackson still rides the hot hand within games—wins, after all, are hard to come by—but he never loses sight of the long-term picture in a desperation attempt to 'shake things up.'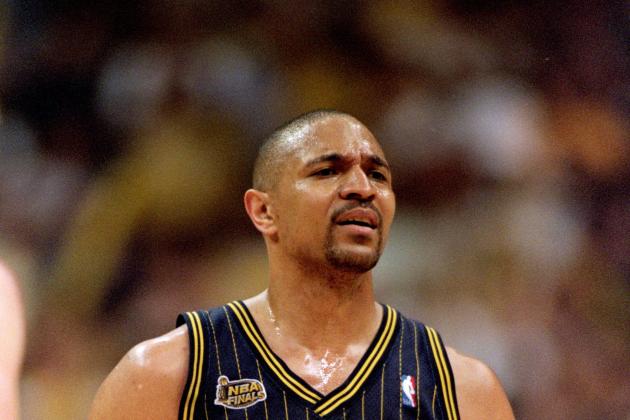 Jed Jacobsohn/Getty Images

There are three main jobs for an NBA head coach: First, they must push, motivate and inspire their players to play their best. Second, they must create the best possible gameplan and game strategy. Thirdly, they must manage the game as it happens, battling the opposing coach.
If Jarrett Jack is the Warriors sixth man and the Oracle Arena crowd is the 12th (mixed sports metaphors, I know), Mark Jackson is the 13th man. If there was an award for that, Jackson would win it.
It seems obvious: Coaches should always have the best five players on the court given the current situation of the game. Yet, it seems as if most NBA coaches see this as either a negligible waste of time that will interrupt players' rhythms more often than it will give the team a key stop or a key bucket.
Jackson has been proving most NBA coaches wrong all season.
Whether it's Andris Biedrins for defense or Carl Landry for offense, Jackson has been the MVP of countless games for Golden State this season by inserting the right players at the right moments.
There are countless examples of this from every quarter of every game this season, but the best may have come on Feb. 24 in Minnesota.
With 1:09 remaining in the game and the Warriors up 98-97, Jackson removed his two best players—David Lee and Stephen Curry—along with a guy having a great game—Carl Landry—and inserted Andris Biedrins, Draymond Green and Kent Bazemore.
Yeah, Kent Bazemore. In a must-win one-point game.
Biedrins and Bazemore played a vital role in forcing Andrei Kirilenko to miss a three-pointer, and Jackson immediately called a timeout. Back into the game went Landry, Lee and Curry, and Harrison Barnes got to the free throw line.
In again came Green and Bazemore. Barnes made the first free-throw, but missed the second. 99-97 Warriors.
Only Draymond Green got the offensive rebound. He got the ball to Bazemore, who was fouled intentionally.
Yeah, Kent Bazemore on the line to seal a game.
The rookie made one and missed the second, but the one was all Golden State would need to win the game 100-99.
The Warriors are 14-6 in games decided by five points or less this season. That isn't veteran experience, that isn't clutch shooting, that isn't luck. That's Mark Jackson making subtle switches throughout the game, getting the Warriors that one "negligible" extra stop or one extra bucket that shows up as a 'W' instead of an "L' later on.