Rousey vs. Carmouche : A Fan's Guide to UFC 157's Main Event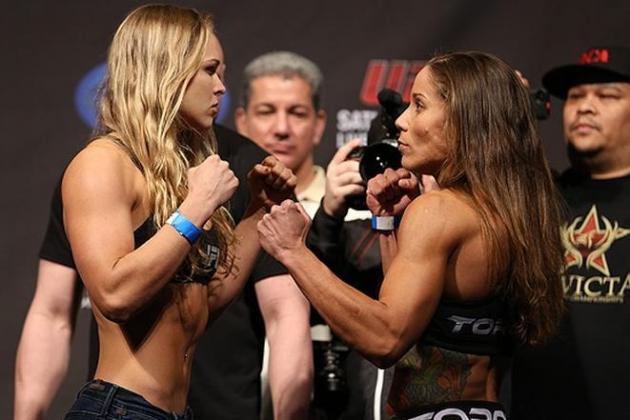 mixedmartialarts.com
Sports are not made by their athletes; they're not polarized by their players or manifested by their performances.
Instead, fans are the ones who evolve a sport. Without a distinct and promising fan base, like the UFC possesses, a sport is going to suffer the ultimate consequence.
Luckily for fight fans, the MMA fan base in America is thriving. It's becoming so big and relevant that not liking it or not watching it would land you in the minority.
So for the benefit of fight fans across the nation, here's a quick guide to UFC 157 and what you need to look for later tonight.
Begin Slideshow

»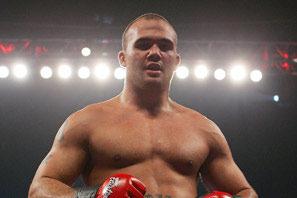 cagepotato.com
If you weren't a fan of Strikeforce, odds are you've never heard of Robbie Lawler. Maybe something slipped through the grape vine, but for the most part you were unaware.
Well, Lawler actually fought in the UFC before. It happened over seven years ago, but his initial stint in the UFC was nothing to write home about.
The grizzled veteran managed to go just 4-3, getting knocked out by Nick Diaz in the process.
So before you ask, "Who's this guy fighting Josh Koscheck?" remember that Lawler has paid his dues and deserves a second chance in the big show. Not to mention he carries significant wins over Chris Lytle, Frank Trigg and Melvin Manhoef throughout his career.
He'll also be making his welterweight debut.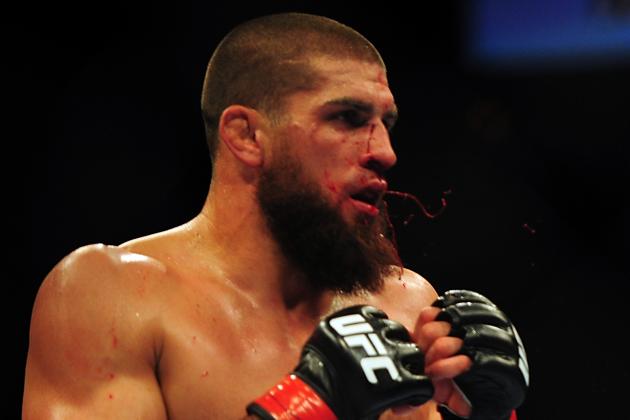 Anne-Marie Sorvin-USA TODAY Sports

After losing two-straight fights at middleweight, The Ultimate Fighter Season 11 winner Court McGee will be trying his luck at welterweight.
The 28 year old has decided to cut weight, drop down and test his skills in a more top-heavy division.
McGee will be taking on Josh Neer, a veteran who is also riding a two-fight losing streak and serves as more of a stepping stone than a formidable obstacle.
Who knows how this fight made it on the main card, but it did, so pay close attention to McGee's adaption to a new environment.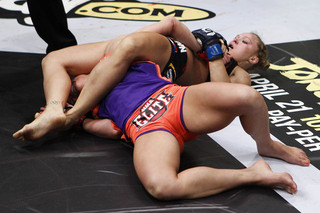 graciemag.com
Due to the exposure of the "Armbar Queen," more popularly known as "Rowdy" Ronda Rousey, armbars are all the craze these days.
The first ever UFC women's champ has won every one of her fights by armbar. It's unprecedented in today's sport to go undefeated in six professional fights, let alone finish them by the same technique in the first round every time.
So before you blink or decide to take a bathroom break on the heels of a few beers (only if you're of age), don't. Rousey can snap limbs at will and may do so quicker than Bruce Buffer can say, "It's time!"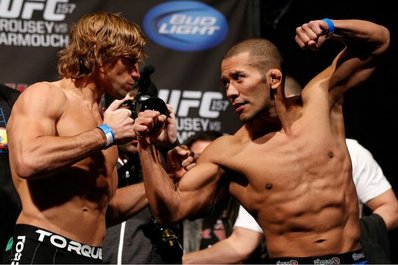 mmasucka.com
Veteran bantamweights and tenured top contenders Urijah Faber and Ivan Menjivar actually fought once before.
It happened back in 2006 at an ice rink in Laval, Quebec. Menjivar was on his way to a victory before illegally kicking Faber on the ground which left "The California Kid" with a big gash over his right eye.
As it is in most cases, nobody wants to see a fight end by disqualification, including the guys involved.
That means that this rematch between Faber and Menjivar doesn't just carry weight as far as their future involvement with the UFC is concerned, but it's something they've been looking to settle for over seven years.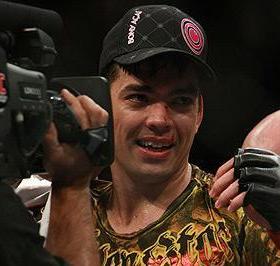 allwrestlingsuperstars.com
UFC 157 holds so many title implications, it's ridiculous.
The first one is obviously the main event championship fight between Ronda Rousey and Liz Carmouche. The outcome is going to determine the future of the UFC women's bantamweight division and what the UFC is left with to promote heading into the future.
The next implication is that of the light heavyweight kind.
For the first time in a long time, fans are getting a matchup in the division that will crown a distinct No. 1 contender to challenge Jon Jones for the belt. Either Dan Henderson will finally get a crack at it or Lyoto Machida will get the chance to regain what was once his.
Last but not least is Urijah Faber.
Faber is apparently fighting for his right to stay on the UFC roster, but a big time finish over Ivan Menjivar would have to launch him right back into title contention—funny how that works.
Not for nothing, but he lasted all five rounds against the evolving Renan Barao. That's more than most fighters can say.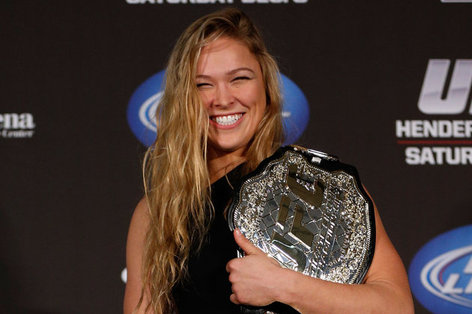 mmadiehards.com
Two lovely and courageous ladies are stepping into the Octagon later tonight to do work and prove they deserve a spot in the UFC.
When someone does something that is against the grain and creates a popular scene entertaining to all, that's called trend setting.
That's exactly what Ronda Rousey and Liz Carmouche are doing at UFC 157. Sure they're fighting for a shiny gold belt to put around their thin waists, but it's way more than that.
It's more complicated and holds truer meaning than most people think.
Tonight will mark the night that women will make the transfer into the most public avenue for the best sport in the world and fans have a front row seat.
For more UFC/UFC 157 news and coverage, Follow @DHiergesell.