Penn State Football: Grading Every Departed Starter's Likely Replacement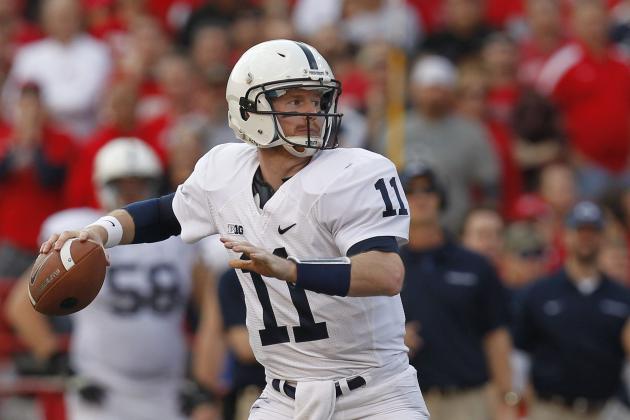 Bruce Thorson-USA TODAY Sports

The Penn State Nittany Lions will look to carry the success of last season over into 2013. In order to do that, there are several players who will need to step into starting roles for the upcoming season. Penn State needs to replace eight starters from the team that finished 8-4 a year ago.
Starting quarterback Matt McGloin leaves the biggest hole to fill on the offensive side of the ball. Behind McGloin in 2012, Penn State ranked second in the Big Ten in passing offense. Fortunately for Penn State, all starting running backs and wide receivers will be returning.
Defense is where Penn State will take the biggest hit due to graduation, losing three All-Big Ten starters. The graduations of defensive end Jordan Hill and linebackers Gerald Hodges and Michael Mauti leaves a void that needs to be filled.
Though some spots will be easier to replace than others, there will certainly be a transition period. Some positions have guys stepping in who have a lot of experience, while others will have inexperienced players taking over.
The following slides analyze every replacement starter for the 2013 season.
Begin Slideshow

»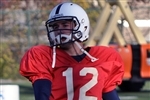 Photo courtesy of 247sports.com
2012 Starter: Matt McGloin
2013 Replacement: Steven Bench
The biggest hole to fill for the Nittany Lions in 2013 will definitely be at the quarterback position. 2012 starter Matt McGloin finished the season as the Big Ten's top passer with 3,271 yards and 24 touchdowns.
Penn State has three quarterbacks to choose from heading into spring practice. Top recruit Christian Hackenberg will likely redshirt, leaving newcomer Tyler Ferguson and 2012 backup Steven Bench to compete for the job.
Bench already has a year under his belt in Bill O'Brien's system and should be looked at as the favorite to start the year. Though he attempted just eight passes last season, he has less of a learning curve and should already have rapport with the receivers.
He came to Penn State as a 3-star recruit in the class of 2012. His ESPN Recruiting Nation scouting report stated, "he shows the arm to make most of the necessary throws at the college level and will flash some impressive intermediate range zip."
Both Bench and Ferguson are big question marks for the Nittany Lions, and it's difficult to project how either of them will perform if given the opportunity to start. Therefore, an average grade is appropriate at this time.
It's too early to know for sure, but look for Bench to start the year. However, if he falters, the coaching staff won't hesitate to insert Ferguson.
Grade: C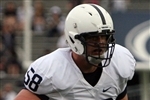 Photo courtesy of 247sports.com
2012 Starter: Mike Farrell
2013 Replacement: Adam Gress
Mike Farrell started every game for the Nittany Lions in 2012 and leaves some big shoes to fill. He will be replaced in 2013 by Adam Gress. The senior lineman saw time in 11 games last season, including making three starts at left tackle in place of Donovan Smith.
At 6'6", 311 pounds, he is a big body who will fit in well on the Penn State line.
Protection in the passing game is always important and a key job of the offensive tackles. That protection will be even more important in 2013 with an inexperienced signal-caller taking the snaps for the Nittany Lions.
Gress should win the starting job out of spring and provide a solid replacement for the graduated Farrell. However, if he struggles early on, look for top lineman recruit Brendan Mahon to possibly get an opportunity.
Grade: B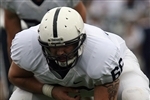 Photo courtesy of 247sports.com
2012 Starter: Matt Stankiewitch
2013 Replacement: Angelo Mangiro
The Penn State offensive line will lose its anchor in 2013. All-Big Ten center Matt Stankiewitch, who started every game since 2011, will no longer be there to lead the line.
His replacement should be Angelo Mangiro. The redshirt sophomore saw action in every game last season and moves from guard to center for the upcoming season. While Penn State will have a few options for the position, Mangiro should have the advantage.
He still has three years of eligibility and will provide stability in the center for the next few years.
Mangiro was highly-touted coming out of high school in 2011. ESPN ranked the 4-star recruit number 54 in the top 150 of all recruits in the nation.
Replacing Stankiewitch won't be easy, but Mangiro has the tools to turn into something special.
Grade B+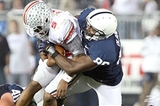 Phota courtesy of 247sports.com
2012 Starter: Sean Stanley
2013 Replacement: C.J. Olaniyan
Losses due to graduation will be felt on the defensive line in 2013. Sean Stanley made 10 starts at defensive end last season, totaling 35 tackles and four sacks.
This will be another position battle to watch during practice, but C.J. Olaniyan should be considered the favorite to take over the starting job. He's a decent size at 6'3" 248 pounds, and he was a 4-star recruit who ranked 148 in the ESPN top 150 in 2010.
Olaniyan played in 10 games last season and started the contest against Temple. He finished the year with 15 tackles, including one sack.
Though he may not yet be to the level that Stanley was, he will provide experience and a solid presence on the edge.
Garrett Sickels, a 4-star recruit for 2013, will see time as Olaniyan's backup and could eventually pass him on the depth chart as time goes on.
Grade: B
Matthew Holst/Getty Images

2012 Starter: Jordan Hill
2013 Replacement: Anthony Zettel
No hole on the defensive line is bigger than the one left by All-Big Ten defensive end Jordan Hill. He finished the year with 64 tackles and ranked second on the team with four-and-a-half sacks.
Not only does his graduation leave a huge void, but the Nittany Lions are not very deep at tackle to begin with.
Redshirt sophomore Anthony Zettel had an impressive first year in 2012, making 15 tackles and finishing third on the team with four sacks. He played in every game last season.
Zettel showed that he is too talented to be on the bench. He has the size to play on the interior and should continue to be successful. Though he is listed as an end, he does have experience playing at tackle and will be moved there to replace Hill.
Grade: B+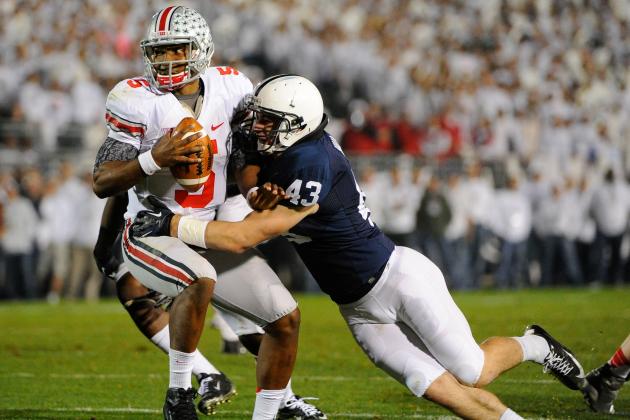 Rich Barnes-USA TODAY Sports

2012 Starter: Michael Mauti
2013 Replacement: Mike Hull
It's not easy replacing someone like Michael Mauti. His heart and leadership were unmatched. Luckily for the Nittany Lions, they have a pretty good replacement in Mike Hull. He has played in every game since 2011 and started the final game of 2012 in place of an injured Mauti.
Hull led all Penn State reserves last season, making 58 tackles, including four sacks. He also showed off his ability with a 74-yard fumble return for a touchdown against Navy.
He will be a leader on defense and will provide both experience and stability at the outside linebacker position.
Hull has all the makings to be the next great Penn State linebacker and is poised for a big year in 2013.
Grade: A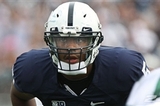 Photo courtesy of 247sports.com
2012 Starter: Gerald Hodges
2013 Replacement: Nyeem Wartman
As if losing one top linebacker isn't enough, Penn State also loses its leading tackler from 2012 in outside linebacker Gerald Hodges. He made an impressive 109 tackles last season.
While using Mike Hull to fill the spot left by Michael Mauti is obvious, finding someone to fill the second outside spot left vacant by Hodges may not be as easy. Nyeem Wartman, Ben Kline and true freshman Zayd Issah all have a chance to nab the starting spot.
To start the year, Wartman should be the guy who lines up in the outside backer spot for the Nittany Lions. He is fast and athletic and saw time as a true freshman in the first game of the season last year. In that game against Ohio, he showed his athleticism by blocking a punt.
Unfortunately, a knee injury in Week 2 brought his season to an abrupt end.
While he didn't get to show much last season, Wartman's ESPN scouting report calls him, "an impressive looking linebacker prospect with a striking blend of size and straight-line speed."
He has the potential to be a solid replacement. However, at this point there isn't a large enough sample size to project him higher.
Grade: C+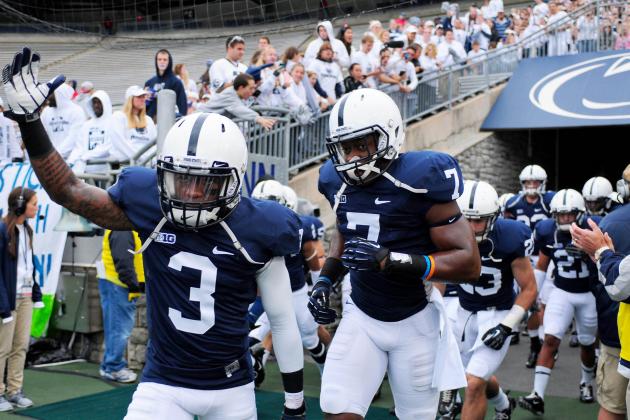 Evan Habeeb-USA TODAY Sports

2012 Starter: Stephon Morris
2013 Replacement: Da'Quan Davis
True freshman Da'Quan Davis provided needed depth in the secondary last season. He played in 11 games and will be asked to replaced the departed Stephon Morris in the 2013 starting lineup.
Morris was fifth on the team with 60 total tackles in 2012.
Though Davis saw plenty of time on the field, he wasn't able to contribute much in terms of statistics, making just five total tackles. He did deflect six passes and recover one fumble.
However, the coaching staff is hoping to see more from him this season as he will be given the opportunity to show his ability. According to his 2012 Recruiting Nation scouting report, "he has very good instincts, fundamentals and overall coverage skills."
Davis should continue to develop and provide a solid option at cornerback for the Nittany Lions for the next few years.
Grade: B