Cody Rhodes, Daniel Bryan and the WWE's Problem with Too Much Roster Talent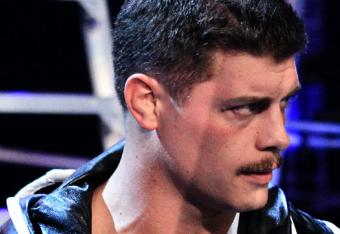 wwe.com

Oh how times have changed in the WWE.
This time last year, Cody Rhodes was working toward a 250-plus day reign as the Intercontinental champion. He eventually dropped the title to Big Show at WrestleMania 28. The second-generation superstar hasn't done much since and moved to the tag team division with Damien Sandow before re-focusing on singles competition.
Daniel Bryan was the World Heavyweight champion this time last year. While embroiled in a great rivalry with Sheamus and a "love connection" with AJ Lee (he's the man who led her down the path of shame), he has had some success as a tag team champion with Kane in Team Hell No. He also had one of the best rivalries of 2012 with CM Punk.
Still, these two great Superstars are caught in a numbers game in terms of their spots on the ladder of position in the WWE. And with the current roster of Superstars and how the company has hit and missed as of late, it may be a while before we see them or others who deserve a title shot even get a sniff at gold.
The WWE is in a precarious position with its talent. While relying on veterans like The Rock, Chris Jericho and John Cena for ratings, they also have other issues they must address. CM Punk is as important to this company as "Dwayne and Johnny," and other veterans such as Mark Henry and Kane also deserve another shot at gold.
Then, there is the case of newer talents like Rhodes, Bryan, Bo Dallas, Wade Barrett and, of course, Ryback.
Other talents like Jericho, Randy Orton, Big Show and even the WWE's current problem child, Jack Swagger, all have designs on a title.
Right now, The Rock and Alberto Del Rio are champions, with Barrett (Intercontinental champion) and Antonio Cesaro (United States Champion) holding the third and fourth most important titles in the company, respectively.
It's a problem Vince McMahon created when he bought WCW and ECW finally died an ugly death. Too much talent and not enough belts to go around is really the issue.
Bring back the Cruiserweight Title and the Television Championship and make the current "second-best belts" in the company mean something. This is not like the NWA where there could be an overabundance of titles because there was only one world champion and he toured from promotion to promotion defending the title.
Vince McMahon does not have that luxury.
Since there is such a talent overload, what does the company do? The Rock and Chris Jericho have proven to be part-time grapplers. Injuries always play a role in the business and, of course, there is the case of someone always getting caught with their tail between their legs. But Mark Henry's return has proven to me and others that the WWE has too much talent to deal with.
Oh, did I mention Dolph Ziggler and his Money in the Bank contract? What about the Miz, Sheamus and the awesome groups of 3MB and The Shield? Take a guess at which one doesn't belong here. They, too, are part of the problem and not the solution.
For the love of Harley Race and Gene Kiniski and Lou Thesz, bring back some of the "wrestling" to this entertainment. Outfits like World Class Championship Wrestling and the UWF and Don Owen's organization in Portland gave us some of that. And make more of a deal of the "other" belts.
If the problems do not correct themselves soon, this is a company that could burst at the seams. Usually that means something positive; however, in the wrestling business, it does not.
Now is the time for the WWE to be firing on every cylinder as it marches toward WrestleMania 29. The last thing the company needs is too much talent and not enough success.
This article is
What is the duplicate article?
Why is this article offensive?
Where is this article plagiarized from?
Why is this article poorly edited?