Houston Rockets vs. Brooklyn Nets: Postgame Grades and Analysis for Houston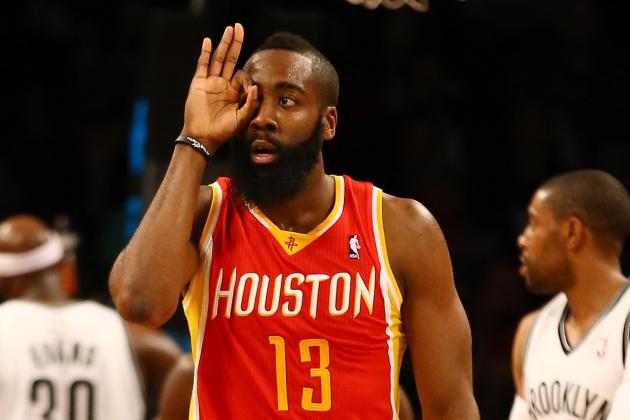 Al Bello/Getty Images

In their first game since trading Patrick Patterson, Marcus Morris, Cole Aldrich and Toney Douglas, the Houston Rockets' offense didn't skip a beat, looking like a team whose many defensive weaknesses can regularly be smoothed over by consistent three-point shooting. This was certainly the case Friday night as they defeated the Brooklyn Nets, 106-96.
With Carlos Delfino replacing Patterson/Morris in the starting lineup, Houston's offense was even more spread out than it normally is. They were madmen from behind the arc, going 6-of-12 from three in the first quarter alone (and making another six in the third quarter, 16 in total on 55-percent shooting).
After letting the Nets cut their double-digit lead to as little as three late in the fourth, Delfino was magical, scoring five points with less than two minutes to go.
Begin Slideshow

»
Jeremy Lin picked up two quick fouls in the first quarter, ceding playing time to Patrick Beverley. But as soon as he came back in the second quarter, he threw a beautiful (and I mean beautiful) bounce pass ahead of the defense to a streaking Donatas Motiejunas.
As the game went on, he showed an impressive display of no-look passes to the likes of Greg Smith and Motiejunas, finishing the night with nine points and six assists.
Grade: B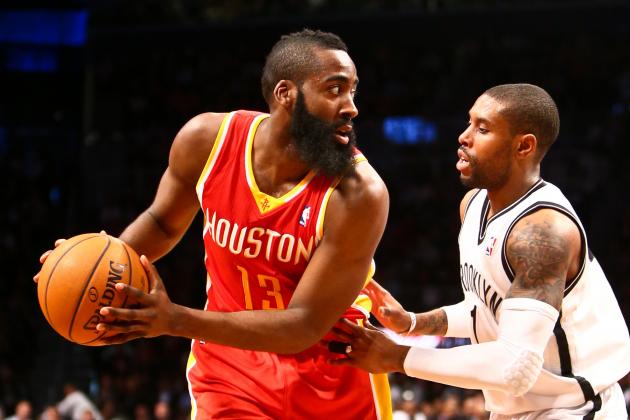 USA TODAY Sports

Defensively, James Harden started the game out on Deron Williams instead of C.J. Watson, and the result wasn't pretty. But after the Rockets moved him off the ball on defense, he began to do what he does best on offense—though not so efficiently in the first half, where he finished 3-of-8 for seven points.
Harden wasn't drawing fouls like he normally does, remarkably attempting his first two free throws with 4:39 left in the third quarter. This isn't to say he wasn't aggressive; he was. But the whistles just weren't being blown.
Late in the third quarter, he exploded from the three-point line, knocking down two quick shots that pushed Houston's lead to eight. Then, connecting on a dagger with less than a minute to go all but sealed the deal. He scored 22 points on 14 shots.
Grade: B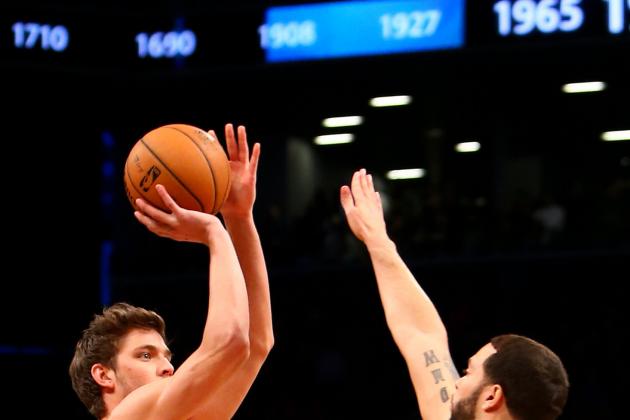 USA TODAY Sports

Chandler Parsons had seven quick points, showing his versatility by knocking down a three and slicing through the lane for a couple of layups. Always Houston's Swiss Army knife, Parsons' greatest contribution came on the defensive end, where he slowed down a burning-hot Deron Williams.
He scored just three points in the final three quarters, but the defensive contributions were huge.
Grade: B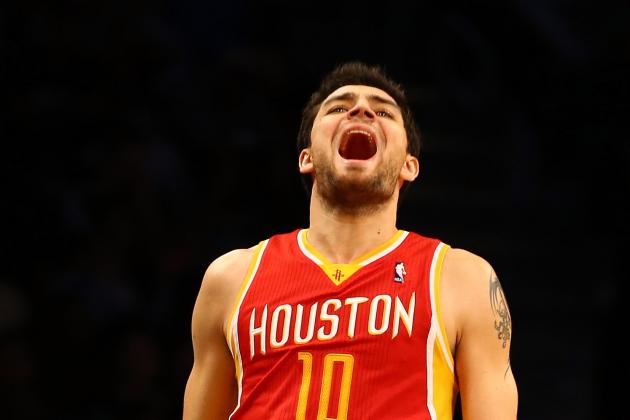 Al Bello/Getty Images

In a rare start for Carlos Delfino, he came out playing the same role he usually does coming off the bench, shooting (and making) deep threes. He finished with 22 points on six made three-pointers.
Delfino also created for others off the dribble, particularly Omer Asik, delivering two precise passes in the paint early on.
Showing even more versatility than normal, Delfino finished a nifty reverse layup as well. He was absolutely phenomenal, especially from behind the three-point line.
Grade: A-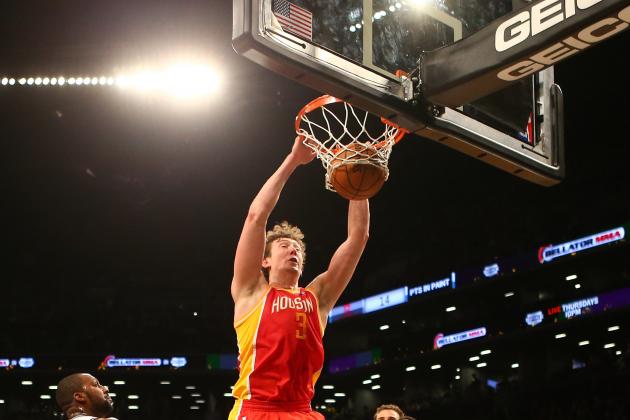 Al Bello/Getty Images

Typical offensive first half from Omer Asik. He was physical on the glass, getting himself one putback dunk, but showed inconsistency catching dump-off passes on pick-and-rolls. And he was brutal in those few post touches. Overall, he was solid in the first half, finishing with eight points and eight rebounds.
Brook Lopez went off and had an effective offensive night, but few of his baskets were one-on-one against Asik, who was constantly rotating along the back line in an attempt to cover his teammates' tracks. Overall, it was a good game for Asik.
Grade: B+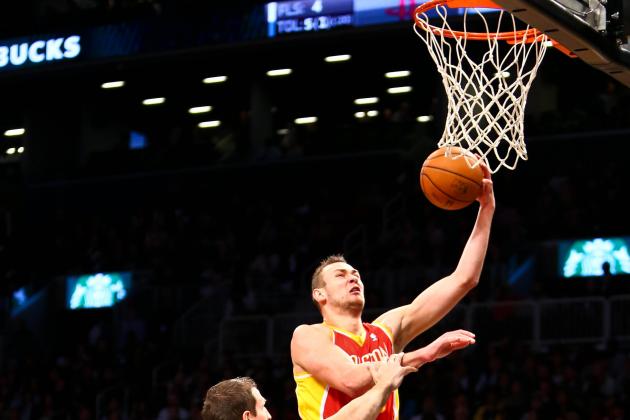 USA TODAY Sports

Donatas Motiejunas entered the game early in the second quarter and immediately showed his strengths and weaknesses. First, it was a poorly timed slide out of the lane on defense, allowing Andray Blatche to blow by Omer Asik for a layup. But on the other end, Motiejunas put Kris Humphries on a torture rack in the post with a beautiful up-and-under move.
A few possessions later, he took a charge, showing he was more than a shooter. He finished with nine points in 11 minutes.
Grade: B+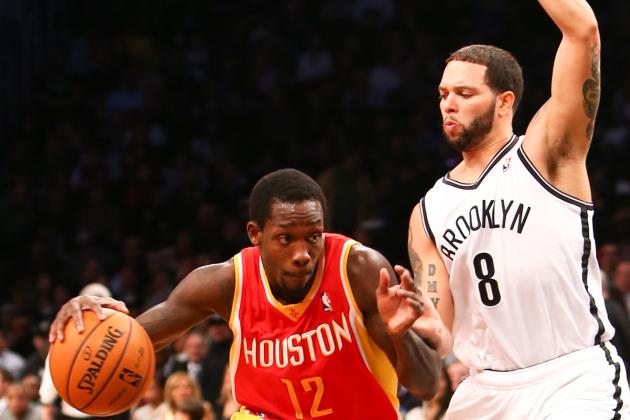 USA TODAY Sports

The synergy between Greg Smith and James Anderson was perfect at moments in the first half, most notably on a sequence late in the first quarter that saw Anderson penetrate and hit Smith for a point-blank layup. Elsewhere, Patrick Beverley knocked down a couple of spot-up threes from the corner in the first quarter.
Smith finished the game a perfect 5-of-5 from the floor for 10 points (in just 16 minutes). Overall, it was an incredibly efficient night from the thin bench.
Grade: A-