Houston Rockets vs. Brooklyn Nets: Live Score, Results and Game Highlights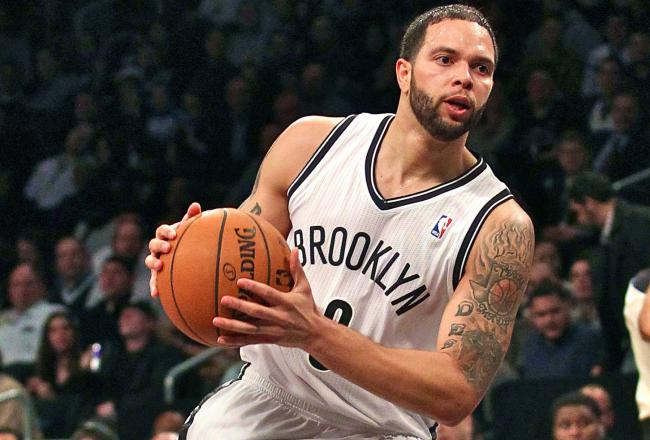 James Harden and the Rockets scored a big 106-96 victory the Brooklyn on the road at the Barclays Center in New York City. Commentary from the contest here.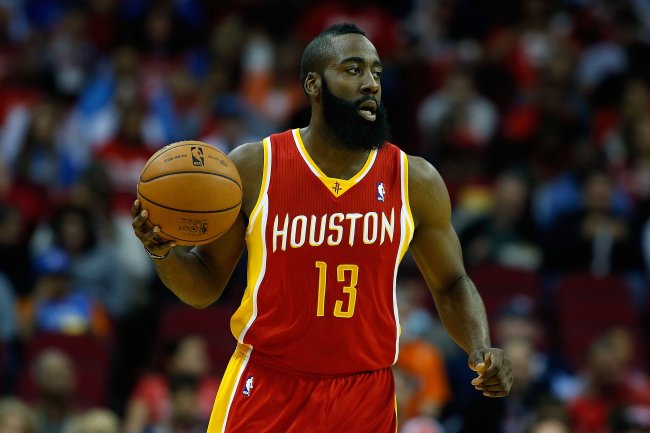 Scott Halleran/Getty Images
The Rockets scored a big win on the road to move five games above .500 and put further distance between themselves and the L.A. Lakers for the eighth playoff spot in the West. They now lead L.A. by 3.5 games, and if they do make the playoffs this season it will be the first time they have in four seasons.
The keys to the Rockets victory:
1) James Harden's Persistence: Harden began the game just 3-of-9 from the floor, but he hit four of his final five shots to finish 7-of-15 on the night. Harden's 22 matched a Rockets' team high (Carlos Delfino also had 22), and on a night when he had so much trouble getting it going, his refusal to give up on his offense made a big difference in the second half.
2) Stayed Competitive on board without a starting 4-man: The Nets started small forward Chandler Parsons at power forward and shooting guard Carlos Delfino at the 3-spot. Despite the small lineup, the Nets only had a plus-four advantage on the boards.
3) Shut down Nets backcourt: Deron Williams and C.J. Watson shot a combined 12-of-32 from the floor, while the Rockets backcourt of Jeremy Lin and Harden was a combined 11-of-25
ROCKETS 106, NETS 96 — FINAL
James Harden's dagger three should put this one away with the Rockets up six and just about half a minute left in this one. Another three sealed the deal, and this late Nets timeout will only serve as a chance for fans to matriculate out of the Barclays Center.
ROCKETS 105, NETS 96 — 39 seconds in 4th
Carlos Delfino hit a huge three from the left wing to give the Rockets a six point lead, but there's still a lot of time left in this one, and Brook Lopez's bucket following the three gave up only one point on the sequence.
Unfortunately for the Nets, Delfino struck again on the next possession to put the Rockets back up six.
ROCKETS 102, NETS 96 — Under 1 Minute, 4th
A Deron Williams turnover puts an anticlimactic mark on what was looking like a huge Brooklyn Nets run due to great defensive pressure. The Barclays Center was on the verge of erupting and they've been trying to come to life all night.
ROCKETS 97, NETS 94 — 2:18 4th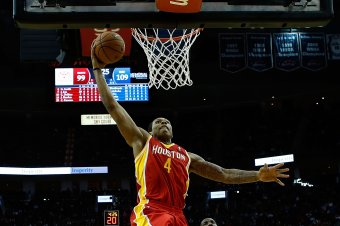 Scott Halleran/Getty Images
Omer Asik checks back into the game for Greg Smith at the 3:40 mark of the fourth quarter. Smith played well in backup duty tonight, hitting all five of his shots and scoring 10 points in 11 minutes while also snagging four rebounds. It's pretty clear Smith is making his case to never be sent to the D-League again.
ROCKETS 97, NETS 92 — 3:09 4th
The Rockets have six turnovers in the quarter to Brooklyn's one. The Rockets also had seven turnovers in the third quarter. The Rockets have turned it over on their last two possessions and are allowing the Nets back into this one.
ROCKETS 95, NETS 92 — 3:46 4th
James Harden drew a three-point play in transition as Brook Lopez picked up a foul trying to block Harden's shot. Harden has got it going after a slow beginning in tonight's game, and he now has 19 points on 6-of-13 shooting (including 3-of-6 from three).
ROCKETS 95, NETS 89 — 4:08 4th
C.J. Watson's three from the left wing caps off a 9-0 run by the Nets. Watson can get cooking in a hurry and now has 17 points on 7-of-14 shooting in the game.
ROCKETS 92, NETS 87 — 5:00 4th
Houston double teamed Andray Blatche when he caught it in the post on a rare half-court set for the Nets. It's been a while since Blatche has had to worry about double teams, and he passed proficiently out of it, hitting C.J. Watson for an open three at the top of the arc. Watson missed the triple, but Blatche's pass was the right decision.
ROCKETS 92, NETS 84 — 5:59 4th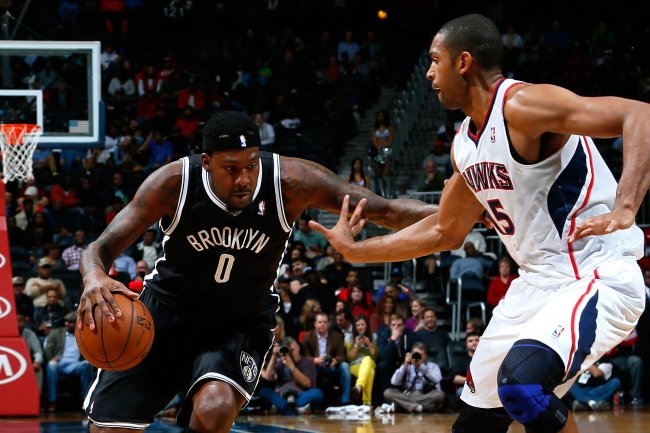 Kevin C. Cox/Getty Images
Andray Blatche is playing much more inspired basketball now that he's no longer in Washington. He stepped up and took a nice charge on the baseline to force a Nets turnover which led to an Andray Blatch explosive dunk.
Blatche is starting to show a lot of that potential that had caused him to be signed to such a huge contract in Washington, which the Wizards eventually used the amnesty clause on.
Sometimes all a guy needs is a change of scenery.
ROCKETS 92, NETS 84 — 7:25 4th
Donatas Motiejunas' hustle made the difference in the Rockets getting an extra possession following a sequence that almost resulted in a shot clock violation. Motiejunas and Greg Smith have both been huge off the bench, which makes the trading of Marcus Morris for a second-round pick not look so bad after all. The Rockets will not lack the depth necessary to remain afloat in the West.
ROCKETS 92, NETS 80 — 8:52 4th
James Anderson, a former Spurs reserve, hit a three from the corner to give the Rockets their largest lead. The Rockets bench has out-scored the Nets' 28-18 in the game, and despite expectations that Kevin McHale's team may lack depth post-trade, that just hasn't been the case at all.
ROCKETS 90, NETS 75 — 10:19 4th, Nets Timeout
The Nets foul on James Harden puts the punctuation on an awful close to the third quarter for Brooklyn. Harden's made one of two free throws to re-extend the lead to nine points. Houston's largest lead of the game was 10 back mid-way through the second quarter.
Heading into the fourth quarter, Brooklyn will have trouble overcoming this lead against a Houston team that scores so proficiently.
ROCKETS 84, NETS 75 — End of 3rd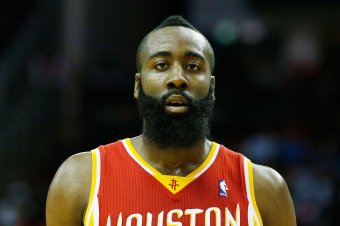 Scott Halleran/Getty Images
James Harden stroked a three from the top of the key and he's now 2-of-5 from downtown and followed it up with another three the next possession. Harden can get it going in a hurry, so Gerald Wallace will have to turn up his defensive pressure to prevent last year's Sixth Man of the Year from getting going.
ROCKETS 83, NETS 75 — 13.1 seconds remaining in 3rd
James Harden's shot clock beating jumper bricked badly off the backboard, and the Nets can win this game if they start producing more offensively, since their defensive intensity has been so good. They've held the Rockets to just 14 points through the first 10 minutes of this third quarter.
ROCKETS 75, NETS 73 — 2:00 3rd
The Nets' defensive pressure has been excellent and it's forced the Rockets into some turnovers. Jeremy Lin looks visibly frustrated with the backcourt pressure being applied by Gerald Wallace and C.J. Watson, while Deron Williams has been mobile enough not to be a liability. Brook Lopez is changing shots.
It's how the Nets have gotten back in this game after trailing by as much as 10 in the first half.
ROCKETS 73, NETS 68 — 3:45 3rd, Timeout In Play
Shot chart for James Harden and Jeremy Lin so far in this contest.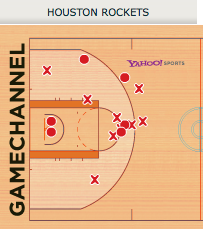 ROCKETS 71, NETS 68 — 5:00 3rd
The Nets have come out with a lot more energy in this second half, and with the Rockets starters likely to see big minutes in this contest, Brooklyn's great energy could be a difference maker in this one at home.
ROCKETS 68, NETS 68 — 5:28 3rd
The Rockets backcourt of Jeremy Lin and James Harden is just 6-of-16 from the floor in tonight's game and they still lead by four points. That indicates that if they got going, the Rockets could potentially run away with this.
The Nets have typically been a poor defensive team on the perimeter, but really it's just a matter of Harden having an off-night and Lin not being that good of shooter to begin with.
ROCKETS 68, NETS 66 — 6:01 3rd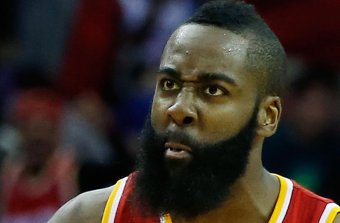 Scott Halleran/Getty Images
James Harden has had a slow night offensively, but it's mainly because so many Rockets are involved in the offense. Harden has run far fewer isolation sets, and it seems to be working to Houston's advantage as their more varied offensive sets are keeping the Nets guessing.
ROCKETS 64, NETS 64 — 7:47 3rd
Brook Lopez scored an aggressive block on Chandler Parsons. Lopez's defensive energy has been much improved, which may be part of the reason Shaquille O'Neal of TNT feels he is the league's best center, not Dwight Howard of the L.A. Lakers.
ROCKETS 64, NETS 62 — 8:35 3rd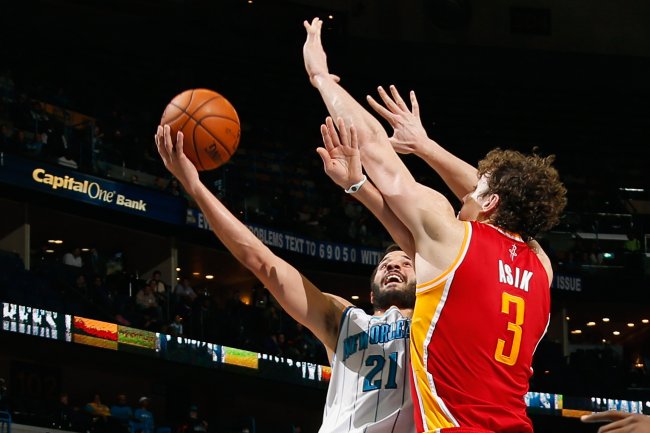 Chris Graythen/Getty Images
The Rockets really need to land a shot blocker. Going into this season, expectations were that Omer Asik would block and change more shots, as he looked to be that type of player in spot back up minutes in Chicago, but Asik is blocking just 1.4 blocks per-36 minutes, whereas last season for the Bulls Asik's per-minute block production was significantly better (2.5 blocks per-36).
Deron Williams take to the rim was met by Asik, but it'd be difficult to say the Turkish seven-footer really changed the shot much, despite the miss.
ROCKETS 61, NETS 57 — 9:12 3rd, Nets Timeout
Bruce Bennett/Getty Images
Both teams shot above 50 percent in the first half, and any concerns regarding the Rockets' lack of depth following the trade (temporary though it may be) have been quelled as Kevin McHale's squad has put together a nice team effort while using ten players, nine of whom have scored in the game.
Brook Lopez has a game high 15 points for the Nets, while Chandler Parsons is the only Rockets player in double figures with 10 on the night.
ROCKETS 61, NETS 53 — Halftime
C.J. Watson went flying into the crowd, as the shot was goaltended. Since a double-technical, the Nets went 8-2 run, before back-to-back Rockets' buckets, including a powerful dunk by Greg Smith, who was recently recalled from the D-League.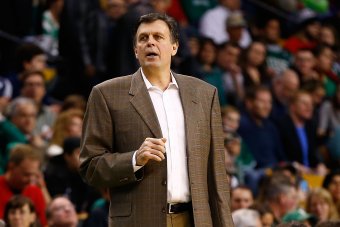 Jared Wickerham/Getty Images
Kevin McHale has played nine guys tonight, on a night when there were concerns he wouldn't be able to field a deep enough rotation. Eight of the nine players in tonight's game have scored, with the exception being James Anderson who missed his only attempt of the game.
ROCKETS 52, NETS 42 — 4:10 2nd
This article is
What is the duplicate article?
Why is this article offensive?
Where is this article plagiarized from?
Why is this article poorly edited?