New York Knicks vs. Toronto Raptors: Postgame Grades and Analysis for NYC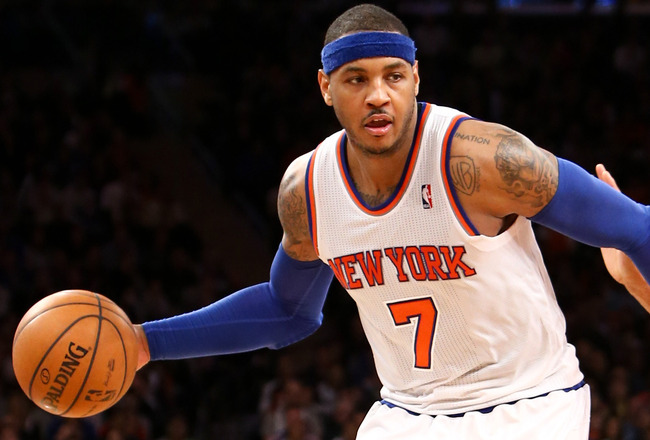 USA TODAY Sports
The New York Knicks crossed the border to play the Toronto Raptors Friday night at Air Canada Centre. It was a hard-fought game and the Knicks came up short, 100-98.
MSG announcers Mike Breen and Earl "The Pearl" Monroe agreed that it looked like four completely different Knicks teams played the game, one in each quarter.
After giving up 32 points in the first quarter and scoring 32 themselves, the Knicks renewed their defensive effort and allowed just 16 points in the second frame.
The wheels fell off in the third quarter when they were outscored 31-19. In the fourth, the Knicks revived their defensive effort, but it was too little, too late.
Rudy Gay led the Raptors with 32 points, 17 of them coming in the third quarter. Kyle Lowry sank a tough runner in the lane to break a 95-95 tie with 0:28 remaining.
Carmelo Anthony also had 32 points but missed what would have been a game-tying three-pointer with under 10 seconds left. It was a tough look with a hand in his face.
It was a sloppy loss for the Knicks, who made 17 turnovers and committed half a dozen offensive fouls.
Numerous Knicks players were complaining to the refs about non-calls. Though the officials seemed to call the game evenly and allow some contact on both sides, the Raptors went to the line 12 times in the first half to the Knicks' four.
New York came out of the half flat as as a pancake. In the first six-and-a-half minutes of the third quarter, the Knicks scored just five points and committed six turnovers. They made just four field goals in the entire third.
Early in the fourth quarter with two points separating the teams, a rambunctious fan in a Raptors shirt ran onto the court and caused a minor delay while he was restrained. When he entered the playing area, he yelled, "Bucket list!" (h/t Chris Herring, Wall Street Journal)
The Knicks entered Friday at 32-19, five-and-a-half games back from Miami. With their win on Friday, the Indiana Pacers took hold of second place in the East, and the Brooklyn Nets remain within a game of New York.
Toronto was just 22-33, but they have been invigorated by the acquisition of Rudy Gay. Somehow, they're only five games out of the last playoff spot.
Now let's see how the grades shake out.
Point Guard
Raymond Felton, PG: B
Raymond Felton started the game strong with 10 first-half points. While he failed to score in the second half, he did snag six rebounds and notch three assists.
Perhaps Felton should have taken more shots, as the offense became stagnant at times. He was also the only Knicks starter to finish with a positive point differential when he was on the court (plus-6).
Shooting Guard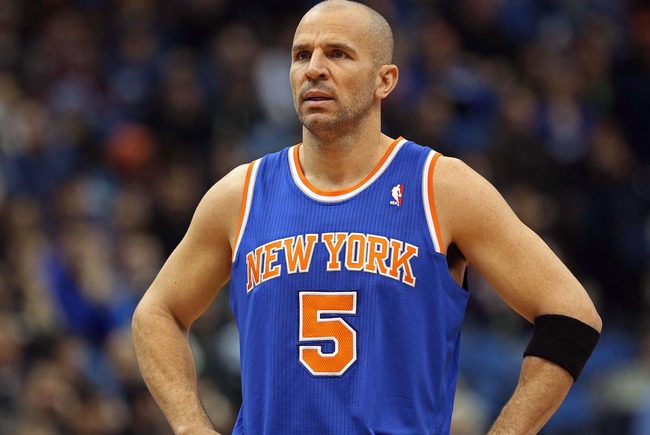 USA TODAY Sports
Jason Kidd, SG: B-
Jason Kidd stuffed the stat sheet.
In the first half, he hit a pair of three-pointers and showed more confidence in his jump shot. His field-goal percentage was just 19.4 percent over the past 10 games. He also had five boards and three dimes.
Kidd finished with seven boards and four dimes. He added two steals and a block on defense.
Kidd also passed up several open looks in the second half, in which he did not score. Obviously, that suggests his confidence may not be all the way back quite yet.
Small Forward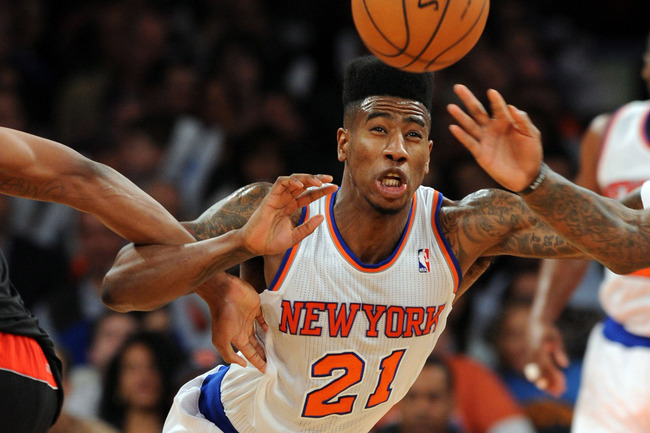 Joe Camporeale-USA TODAY Sports
Iman Shumpert, SF: D
Iman Shumpert's shot is still missing in action. In his 11 first-half minutes, he missed a three-pointer, which was his only field-goal attempt. He grabbed a couple of rebounds, too.
Shumpert was not a factor in the second half when he again missed the only shot he took.
It really does not appear that Iman is at 100 percent. Perhaps he just needs to build his legs up more as he comes back from knee surgery, but he does not seem to be working as the starting small forward.
The Knicks have signed Kenyon Martin to a 10-day contract, so that could alter the rotation somewhat (per Ian Begley of ESPNNewYork.com).
Power Forward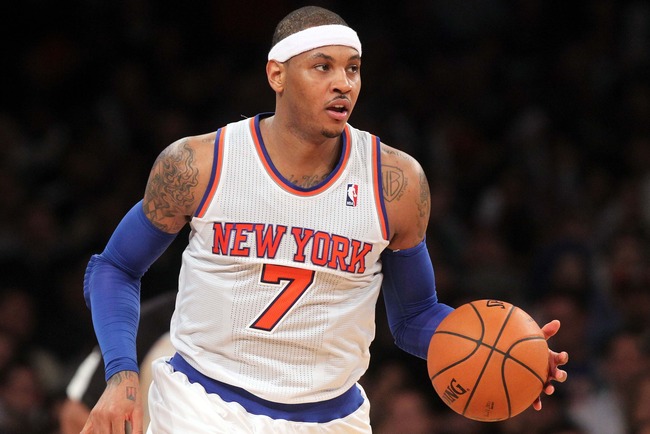 USA TODAY Sports
Carmelo Anthony, PF: A
Carmelo was percolating in the first half. After beginning the game 1-of-5 from the field, he warmed up and finished the first quarter with 13 points. He added four more in the second quarter and finished the half with four boards, but three turnovers.
Anthony ended up with 32 points, six rebounds and four assists (tied for the team high with Jason Kidd and J.R. Smith). Melo was active on defense for the most part, tallying a block and a steal for his effort.
Carmelo was cold from three-point range, however, shooting just 1-of-8 from downtown, including missing the potential game-tying trey in the waning seconds of the game. He also turned the ball over three times.
While Anthony did have a strong night, the Knicks offense got out of rhythm at points. Melo has to lead this team and help facilitate better ball movement and more consistency.
Center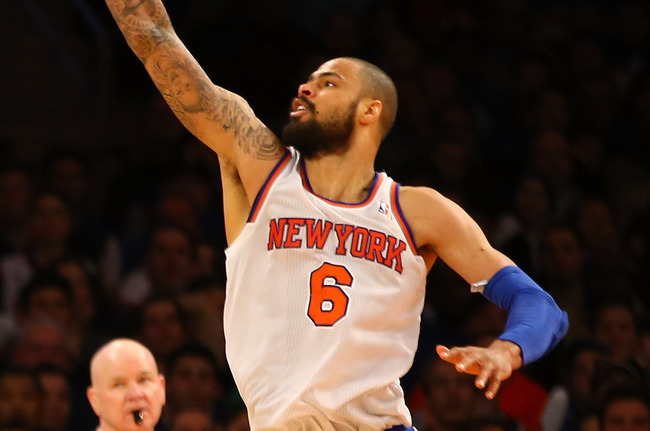 Al Bello/Getty Images
Tyson Chandler, C: B
Chandler had only two points in the first half, but he also snagged five rebounds. At one point, he blocked two consecutive shots on the same possession.
Chandler picked up his fifth personal foul with 10:43 remaining and headed to the bench.
But he returned late and made his defensive presence known. Chandler swatted five shots, which is good news for the team that is dead last in the NBA in blocks per game (3.7).
He fouled out with 21 seconds remaining, finishing with eight points and seven boards.
Sixth Man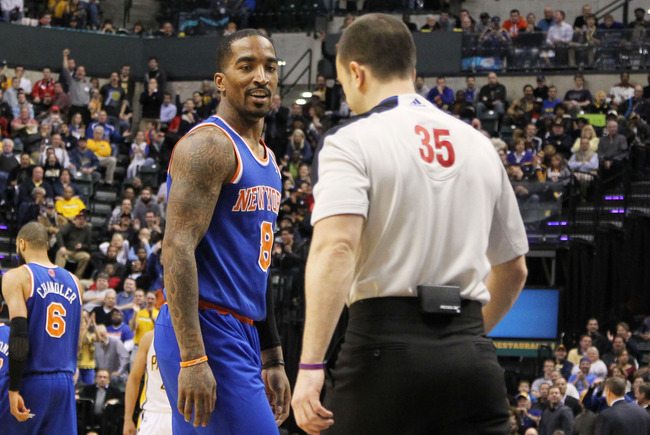 Brian Spurlock-USA TODAY Sports
J.R. Smith, SG: A-
After getting ejected from Wednesday's loss to the Indiana Pacers, J.R. Smith hit the court running in this one.
Smith had a hot shooting night (7-of-12) and finished with 19 points. He also dished four assists, pulled down four boards and had a steal.
But Smith's strong night wasn't enough as the Knicks dropped their fourth straight game.
Rest of Bench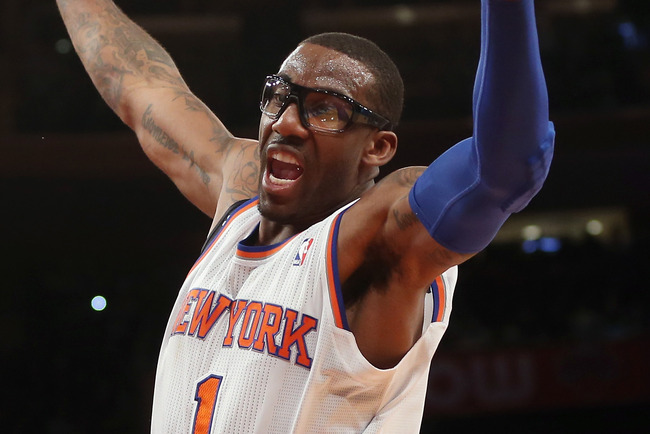 Bruce Bennett/Getty Images
Rest of Bench: B-
Stoudemire was effective in the first half, contributing six points. He was also victimized on several defensive possessions, including a few times in the third quarter.
But when Tyson Chandler headed for the bench early in the fourth, Stoudemire filled in and played very competent defense. Amar'e finished up a pretty good night with 14 points, six rebounds and a block. He also turned the ball over three times.
Steve Novak hit a pair of three-pointers, adding a rebound and an assist.
Pablo Prigioni also drained a three and snatched three boards in limited minutes.
Kurt Thomas, Chris Copeland and James White did not play.
The Knicks will have to hope that the addition of Kenyon Martin can bolster their rotation, as the team went into the All-Star break flat and emerged from it even flatter.
Next, the Knicks will attempt to snap their losing streak against the Philadelphia 76ers Sunday night at Madison Square Garden.
Keep Reading

New York Knicks: Like this team?