Boston Celtics vs. Phoenix Suns: Postgame Grades and Analysis for Boston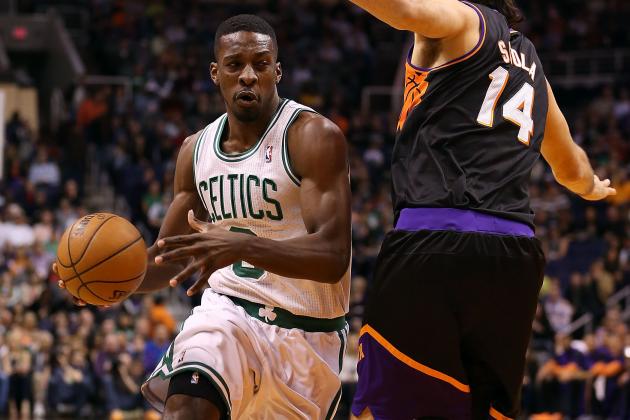 Christian Petersen/Getty Images

The Phoenix Suns' awesome retro jerseys couldn't save them against the Boston Celtics, who gave them a 113-88 beatdown Friday night.
Jeff Green finally put together the kind of performance Celtics fans expected from him, with 31 points, seven rebounds, five blocks, four assists and two steals.
It was an impressive night for Green, especially considering his 78.6 percent shooting from the field. He wasn't alone, though, in regard to efficiency, as the entire Celtics team shot an impressive 55.7 percent form the field and 45.5 percent from beyond the arc.
The Suns had no answer for the dribble-drive penetration from guys like Avery Bradley, Courtney Lee and Jason Terry.
Newcomers Terrence Williams and Jordan Crawford proved their worth with 19 points on 8-of-17 shooting coming off the bench.
While you could chalk this big win up to simply playing a very below-average Suns team, it's encouraging to see the Celtics coming together without Rajon Rondo on the court.
The Celtics got the win over Phoenix by playing like a well-oiled machine, and that's encouraging, because that's the only way they'll contend in the East as the second half of the season rages on.
Begin Slideshow

»
It's clear that even with Rajon Rondo out for the season, the Celtics still have a quality leader at the point in Avery Bradley.
With 13 points and four steals, on 50 percent shooting, Bradley put together an efficient performance, especially on the defensive side of the ball.
Bradley's greatest asset is his tenacious focus on defense, and the Suns saw that firsthand. Even though the game was out of hand, Bradley had two late steals that turned into easy dunks for the Celtics—showing off his opportunistic defense.
The one issue with his performance, though, is that he accounted for just two assists.
While he's not a point guard at heart, without Rondo, the Celtics need Bradley to be a more aggressive facilitator, especially against the more elite teams in the Eastern Conference.
Not a bad night for Bradley, as he proved that he's ready to be Boston's go-to option at the point as the season rages on.
Overall Grade: B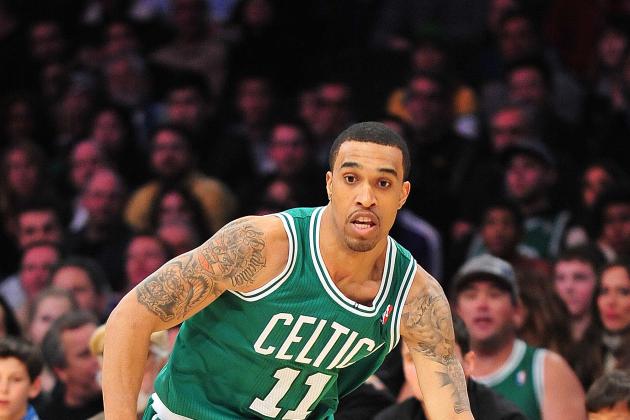 Gary A. Vasquez-USA TODAY Sports

Courtney Lee needs to start stepping his game up, because he has a few guys, Terrence Williams and Jordan Crawford, breathing down his neck for increased minutes.
While the Celtics still got out of Phoenix with an easy win, Lee didn't do much to help them with just eight points on 3-of-8 shooting from the field.
That kind of production isn't going to cut it, especially when he's getting 25-plus minutes on the floor.
Lee doesn't need to shoot lights-out every night, although that would be nice, but he has to be more efficient on the perimeter so teammates can have confidence in giving him the ball.
Defensively speaking, Lee wasn't anything remarkable either, but he got the job done on P.J. Tucker and Jared Dudley.
Lee better watch his back because Crawford and Williams are going to creep up on him and take his starting role if he doesn't step his game up.
Overall Grade: C-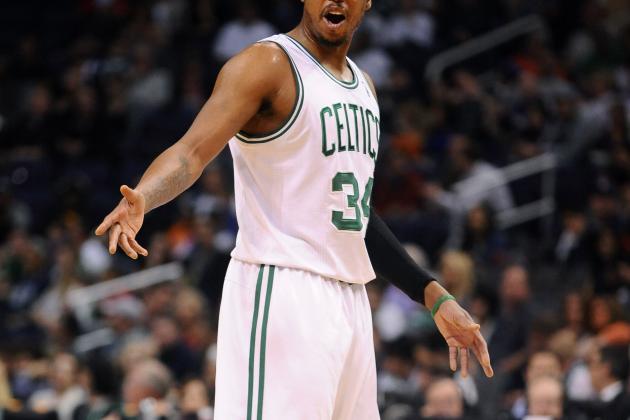 Jennifer Stewart-USA TODAY Sports

Kevin Garnett took Friday night's matchup with the Phoenix suns off to "rest," and so did Paul Pierce. Well, he was actually on the court, but he certainly wasn't giving 100 percent.
Pierce ended the night with just 26 minutes of action, scoring eight points on 60 percent shooting, and he accounted five rebounds and three assists.
It wasn't a great performance by Pierce, but let's be honest, the Celtics didn't really need his performance, thanks to Jeff Green's 31 points.
You can't blame Pierce, because he did what he needed to do to help his team get the win. He spaced the floor well by staying in open space on the perimeter, forcing the Suns defense to key on him even though he wasn't a major contributor.
His performance against the Suns just goes to show his level of basketball I.Q. He impacted the game with under 10 points in 26 minutes. That's certainly impressive.
I hope Pierce enjoyed his "light night," because there won't be many more matchups this season that he can take as lightly if the Celtics want to be in the playoffs.
Overall Grade: C+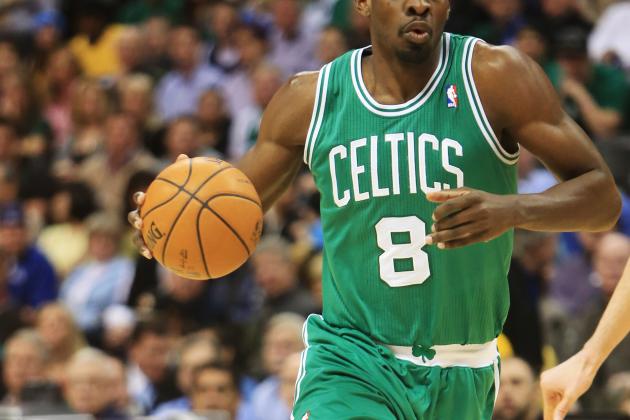 Chris Humphreys-USA TODAY Sports

Well hello Mr. Green, it's nice to see you putting out the kind of production that Celtics fans expected.
Jeff Green led the Celtics in every definition of the word, with 31 points on 75.6 percent shooting from the field.
Think that's impressive? Well don't forget that Green also absolutely dominated the Suns on the defensive side of the ball too, with five blocks and two steals.
Green's efficiency didn't stop there, though. He managed to get to the line seven times, hitting six of his free throws, and he shot 60 percent from beyond the arc.
It's almost like Green was trying to prove something. I'm not sure what his intention was, but he certainly proved that he's capable of being a major contributor to the Celtics' talented rotation.
If Green can keep putting up this kind of production, Celtics fans will start to forget that they're without their star point guard.
Well done, Green. You're finally starting to show that you're worth all that money Boston gave you this offseason.
Overall Grade: A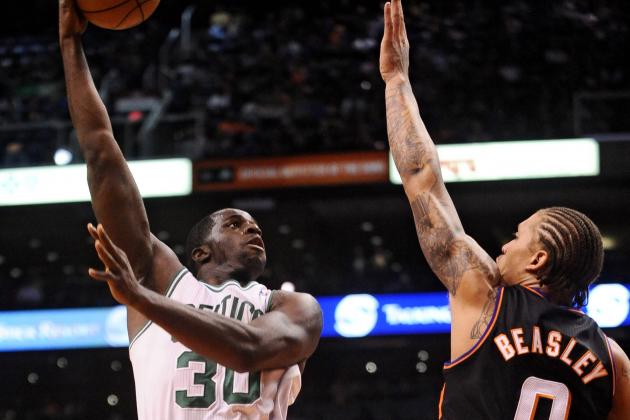 Jennifer Stewart-USA TODAY Sports

Brandon Bass's performance at the center position—thanks to Kevin Garnett's absence—brings one word to mind. That word is, "meh."
With six points on 37.5 percent shooting, in 32 minutes of action, Bass was certainly anything but impressive.
At least he was a force on the defensive side of the ball. For a player playing somewhat out of position, Bass didn't do all that bad. Sure Marcin Gortat got quite a few easy baskets, but he was a body in the paint, and that's all the Celtics needed from him.
He also created a few second-chance opportunities for Boston early on, and that helped the Celtics separate from the Suns early.
Bass is his best when he's alongside Garnett—that was made extremely clear with KG on the bench.
Overall Grade: C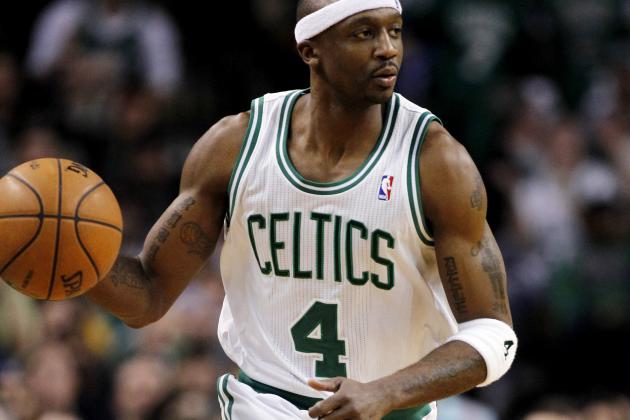 Greg M. Cooper-USA TODAY Sports

The Celtics are absolutely stacked with shooting guards, now that Terrence Williams and Jordan Crawford are on the roster, but Jason Terry isn't ready to give up any minutes.
He proved that he's still the Celtics' main man off the bench, with 13 points in 20 minutes, on 60 percent shooting from beyond the arc and 100 percent shooting from the charity stripe.
Instead of forcing offense, Terry waited on the perimeter for his teammates to create offense for him.
Patience was the name of the game for Terry, and boy was that refreshing to see.
It appeared like Terry realized his role coming off the bench is to be an opportunistic player, not an overly aggressive player, and if he can keep balancing that, the Celtics will be a much more complete team.
Overall Grade: B+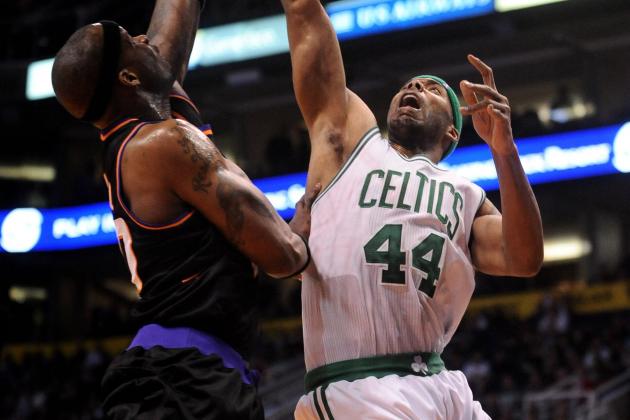 Jennifer Stewart-USA TODAY Sports

The Celtics bench couldn't have put together a better performance against the Suns.
All five players on the bench had time on the court, and as a unit, they combined for 47 points on 51.5 percent shooting from the floor.
Most exciting for Celtics fans, though, was the combined performance by Terrence Williams—with nine points, four assists and four rebounds—and Jordan Crawford—with 10 points, three rebounds and two assists.
Chris Wilcox was a revelation too, with 14 points and eight rebounds in just 20 minutes of action, shooting 7-of-9 from the floor.
One thing is clear, and that is that the Celtics aren't hurting for any backcourt production from their second unit.
The only question moving forward is how Doc Rivers will utilize all the talent and production he has riding the pine.
Creating an efficient and consistently productive second unit will be key to a late run for the top half of the playoff bracket in the Eastern Conference.
Overall Grade: A