Breaking Down the Top Big Ten Spring Football Running Back Battles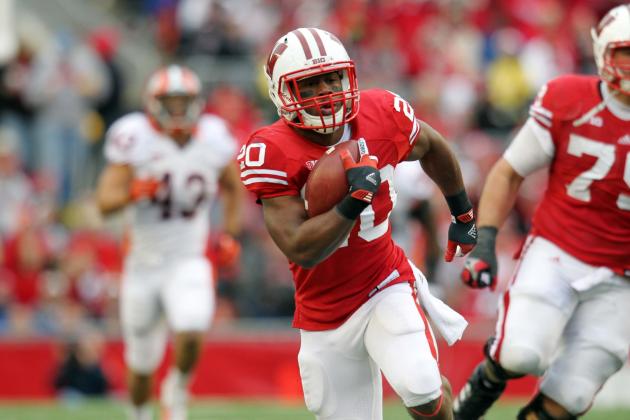 Brace Hemmelgarn-USA TODAY Sports

The Big Ten accomplished more on the ground than in the air in 2012, to say the least. Only two of the top 50 passing offenses in the nation came from the Big Ten (woof), while four teams topped 225 yards per game on the ground.
Unfortunately, several top rushers bid the Big Ten a fond farewell after the season, while other teams have promising prospects in town who could shake up the position races. As such, we've got a few battles at tailback brewing for the coming spring.
Penn State in particular has an intriguing battle shaping up, while Brady Hoke might have to wait until after spring to get an accurate reading on where his race stands. And who's going to be the next man in for the Badgers?
Here's a look at the biggest and best races coming up this spring in the Big Ten.
Onward!
Begin Slideshow

»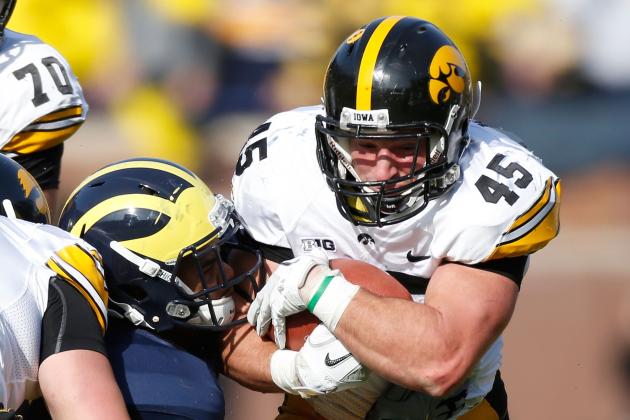 Gregory Shamus/Getty Images

Former walk-on backup fullback Mark Weisman established himself as a potential 1,000-yard rusher during his first season at Iowa, finishing with over 800 yards rushing on more than five yards a pop. He's one of our five top contenders for the Big Ten's leading rusher...and yet, he's still got a running back battle on his hands this spring.
That's because Weisman only got his hands on the starting tailback role after junior-to-be Damon Bullock went down with an injury in September. Bullock had been Iowa's RB of choice to start the year, gaining 150 yards and scoring the game-winning touchdown in Iowa's 18-17 win over Northern Illinois, and he finished with 513 yards rushing in six games.
Bullock and Weisman were both plagued by injuries in 2012, though none were of the season-ending variety that usually typifies Iowa's woes at tailback under the watch of Angry Iowa Running Back Hating God. If both can stay healthy—don't laugh, it could happen; someone's got to survive sooner or later—Kirk Ferentz has a decision to make.
Post-spring Prediction: Weisman and Bullock have such different styles that neither's going to be shut out of playing time, but Weisman is so much more productive (five more TDs and more than one YPC better than Bullock in 2012) that this starting spot will probably be his to lose. Don't be surprised by a big push by Bullock, though.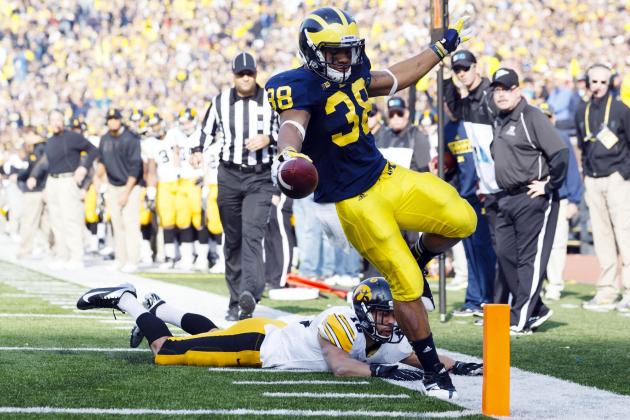 Rick Osentoski-USA TODAY Sports

The only reason this battle isn't higher on the list is that Michigan's real test at tailback comes after the spring. Top tailback recruit Derrick Green won't be on campus until summer practices, and Fitz Toussaint is unlikely to be cleared for contact after a serious broken leg, suffered late in the season against Iowa.
So with Vincent Smith out of the picture after graduation, Michigan's only real contenders at tailback in the spring are big junior Thomas Rawls and sophomore Justice Hayes. Rawls wasn't terribly productive when he had his chances in the backfield in 2012, and Hayes saw very little meaningful playing time.
Also in the mix is Drake Johnson, a local RB prospect from Ann Arbor who redshirted last season. He's got ideal size, but evidently wasn't good enough for coaches to burn his redshirt last year.
Perhaps, they would have if Toussaint had been injured before the second-to-last game of the regular season. We'll see. Also, Dennis Norfleet is back on offense, but he's small enough that starting at tailback seems extremely unlikely.
Post-spring Prediction: Look for Rawls to emerge as Michigan's best option during the spring, but he is by no means a solid favorite to retain that title when Toussaint and Green join the backfield.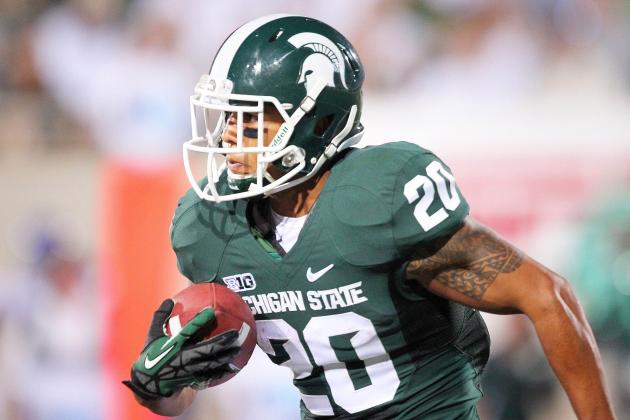 Mike Carter-USA TODAY Sports

Le'Veon Bell forewent his senior season and is now headed to the NFL. That's bad news for Michigan State. No, worse than you think.
How dire is the ground game situation in East Lansing? The leading returning rusher is Nick Hill. Hill's stats on the year are 21 rushes for 48 yards and a score. The second-leading rusher, Keith Mumphery, coming back? Mumphery is a wide receiver. He had 38 yards on six rushes.
Hill's main competition is Nick Tompkins, who was highly touted by most recruiting services, but redshirted in 2012. His size isn't ideal at 5'9" and 185, but it's close enough that he should still be more or less productive. Another 15 pounds would be nice to see if he wants to eventually work his way into the 20-carries-a-game type of role for the Spartans, though.
Jeremy Langford is also in the mix, although he's been more of a special teams contributor, thus far, and has bounced between positions during his time in East Lansing. Still, at 6'0" and 205 pounds, he's someone to keep an eye on as a between-the-tackles option.
Post-spring Prediction: Hill is the probable starter if 2012's depth chart is any indication, though the 2.3 yard-per-carry rate is more than a little concerning for a guy who has the athleticism to return kicks and puts, as Hill did last year. Don't expect a starter named until well into summer practices.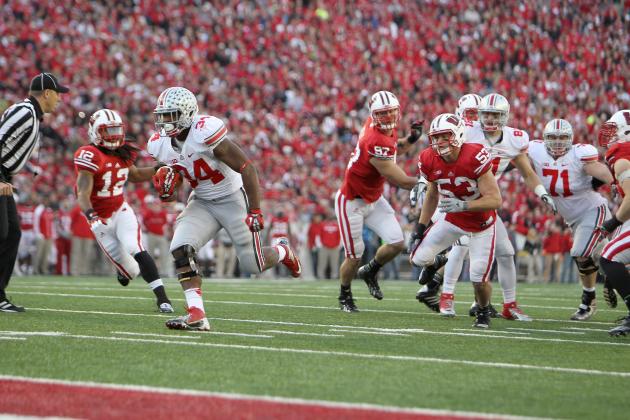 Mike McGinnis/Getty Images

Ohio State's got a great problem to have at running back: way too many options. Carlos Hyde returns after a stellar 970-yard, 16-TD performance in 2012. Jordan Hall returns after a medical redshirt season, and he brings a much-needed* level of versatility to the backfield. Rod Smith and Bri'onte Dunn were strong in limited backup action.
Hyde excelled last year, but we had very, very few opportunities to see both him and Hall healthy at the same time; so if there's anything resembling a "running back battle" in Columbus between the two, we have very little data to suggest what Urban Meyer's decision would be.
Obviously, the two backs have their own strengths and skills, and Meyer would find ways to use both extensively. Why not, right? But when Meyer's only got one running back out there, is it going to be purely situational, or will he have a favorite?
Post-spring Prediction: Jordan Hall appeared to have a slight edge going into last summer, but Hyde's productivity and reliability give him the temporary edge until Hall can prove he can outperform Hyde. His versatility in the passing game might help.
Meanwhile, Smith and Dunn are likely backups once again, and with highly touted Ezekiel Elliott coming to town in the summer, the backfield might be crowded enough to send one Buckeye RB looking for greener pastures.
*We say "much-needed" as if Ohio State didn't just go 12-0.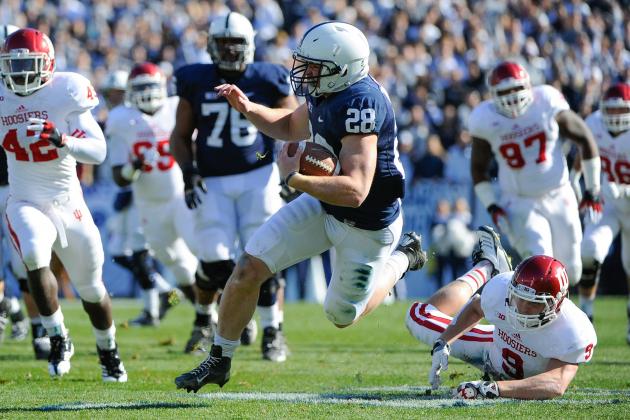 Rich Barnes-USA TODAY Sports

Bill Belton looked to be Bill O'Brien's weapon of choice at tailback coming into the 2012 season, but when the dust settled, Belton had struggled with minor injuries all season while lightly regarded RB Zach Zwinak was putting the finishing touches on one of the season's most improbably 1,000-yard campaigns.
Belton's healthy now, though he's got some ground to make up over Zwinak all of a sudden. RB Akeel Lynch redshirted last year after he stuck with his commitment to Penn State over a late post-sanction push from Iowa. He should be physically ready to contribute to this battle, although he's got some ground to make up over the incumbents.
Post-spring Prediction: Belton and Zwinak are different enough that they'll both have a role in Penn State's offense in 2013, especially as O'Brien breaks in a new quarterback. Expect Belton's more dynamic running style to give him the slight edge as long as both backs are healthy.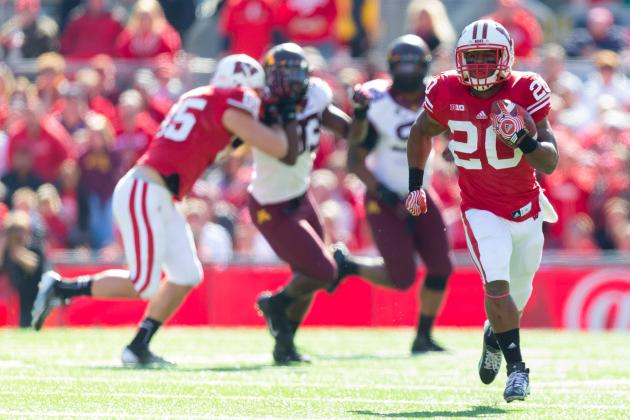 Jeff Hanisch-USA TODAY Sports

Le'Veon Bell may have been the Big Ten's preeminent workhorse in 2012, but nobody left bigger shoes to fill for the future than departing Wisconsin tailback Montee Ball, who leaves with a career 5,140 yards and 83 total touchdowns as he prepares for the NFL.
That leaves rising senior James White, the Big Ten 2010 Offensive Freshman of the Year and sophomore-to-be Melvin Gordon to battle it out for the top spot in the backfield.
The temptation is to say "both guys will get lots of carries since that's the way Wisconsin has done it over the years." But remember that Bret Bielema is down in Arkansas, and incoming head coach Gary Andersen isn't quite as backup-friendly as Bielema was.
In Andersen's four years heading up Utah State, his second-most heavily used tailbacks averaged 71 rushes per year; by comparison, White got 125 rushes as the primary backup last year, and Gordon saw 62 carries as the third option.
So while Andersen may be more open to a platoon of sorts at RB at Wisconsin, he's still probably going to pick a clear starter, and White probably has the advantage. He averaged 6.4 yards per rush last year and maintains a 6.1-yard average for his career.
Gordon went a long way in proving he could be a feature tailback with a 30-rush effort in Wisconsin's 2012 spring game, but he was most effective for the Badger in an auxiliary role when the season started—just ask Nebraska fans about Gordon's fly sweeps in the Big Ten championship game, then sit back and watch the PTSD wash over their faces.
Post-spring Prediction: This will be the single-hottest RB race in the Big Ten, with both White and Gordon talented enough to push each other to high levels of productivity. White should win this battle, but both are almost assuredly top-five backs in the Big Ten on talent alone, and if Andersen is smart, he'll use both extensively once the 2013 season rolls around.